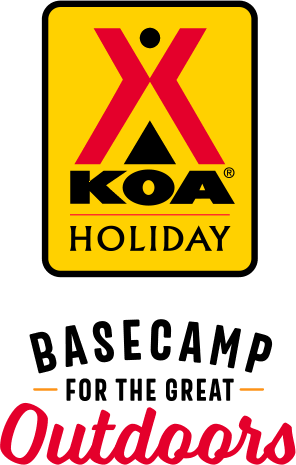 KOA Holiday Campgrounds
Whether you're exploring the local area or hanging out at the campground, KOA Holidays are an ideal place to relax and play. There's plenty to do, with amenities and services to make your stay memorable. Plus, you'll enjoy the outdoor experience with upgraded RV Sites with KOA Patio® and Deluxe Cabins with full baths for camping in comfort. Bring your family, bring your friends, or bring the whole group – there's plenty of ways to stay and explore.
KOA Holidays Feature:
RV Sites with a KOA Patio®
Deluxe Cabins with full baths
Premium Tent Sites
Group meeting facilities
Directions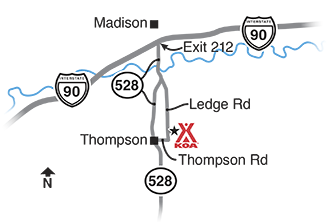 Located only 4 miles off Route 90 Exit 212/Route 528. Take 528 South 2 miles to Ledge Rd. Head east 2 miles; campground is on the left.  Road is dirt for about a mile.
If you would like to stay off dirt as much as possible.  Take 528 South past Ledge Rd.  Take the round about in the Thompson Square and head east on Thompson Rd.  Take a left on Ledge Rd. at the bottom of the hill.  You will still be on dirt but for a much shorter amount of time... less than 1/4 mile.
Get Google Directions
Oct 18, 2021
Great campground. Great cabin. Great people.
Oct 18, 2021
Steps for the cabin are extremely slippery when wet. I fell down them and bruised my right side from my ankle to my hip. We also had 3 kids fall down then and get hurt.
Oct 16, 2021
The place around the cabins can use a little work. Over all it's great, but there are some roots sticking up and a lot of weeds in the beds just in front of the deck. The cabin was wonderful.The pull out sofa bed was very uncomfortable and those can be better. We loved the ponds, we fished a lot of the time and caught some nice fish. Walking paths are a little rough and those need some atten.
Oct 11, 2021
Amazing stay, Friendly staff, friendly people, clean camp grounds. I plan to camp there once to twice a year. Very nice scenery off the water from rustic cabins. My family and I had a blast.
Oct 02, 2021
The cabin was so clean and the seating for outside faced a pond which made it so relaxing. Very beautiful place!
Oct 02, 2021
Very nice .The cabin was very nice and clean .
Sep 13, 2021
I really enjoyed my cabin! Cabin CA4 only thing wrong was the TV wouldn't give me more then 5 channels, wouldn't connect etc, otherwise it was great!!!
Sep 13, 2021
We had a great stay, people are friendly and the cabin was well kept. We love the patio furniture and fire pit is awesome, it really cranks out the heat. This Koa is a very nice place!!
Sep 09, 2021
We believe we reserved a 2 bedroom cabin we got a conformation was put in #5 a great room with separate bunks bar size fridge. We were very unhappy no place to sit other than the bed and a hard dinig chair. Office said they would left management know to this day never heard from anyone. Cabin was clean very nice just not what we spent a lot of money and time to come there for from fla. Camp ok
Sep 08, 2021
Place was very clean, friendly and helpful. We have been coming to this campground for past 15 years. Even though we have watched it change hands a few times, we were very satisfied with our latest trip. Only good things to come! Nice job, Glen!
Sep 08, 2021
Air conditioner didn't work, it got cool But not cold. It smelled musty! Golf cart broke night before our last stay.
Sep 08, 2021
Beautiful family friendly campground with very nice onsite owners who care.
Aug 30, 2021
Great place and staff
Aug 27, 2021
Everything was great. Only thing was it was very hot outside and only place to eat was outside on deck which was nice but no shade. But everything was clean and everyone was very nice.
Aug 25, 2021
Excellent! We really enjoyed out stay. Only suggestion would be dishes. Please replace non-microwave safe plastic dishes with ceramic. Add a serving bowl and spoon and some steak knives. Cabin was clean, bed was comfortable, staff was friendly. The kids had a great time. We will be back next year!
Aug 23, 2021
Beautiful campground and very clean. Our cabin was so clean it was as if no one had ever stayed in it before. Only issue is lack of good cable tv for rainy days.
Aug 23, 2021
Very nice staff and very clean campsite. Nice clean pool alittle chilly though. But one of the best camps around. Will return.
Aug 20, 2021
Very nice campground. The girls in the office were friendly. The teepees were not set up, so our reservation was switched to a tent site, but we were notified ahead of time and were prepared. Beautiful scenery and lots for the kids to do on their own. Already booked a cabin on the fishing pond for next year
Aug 16, 2021
Cabins were cleaner before and nicely made up. We had flies in our cabin. No garbage cans around camping area. Bathrooms by the pool were not cleaned well. I love this campground, must keep it up to par
Aug 14, 2021
We had a nice time. Cabin was very cleaned and comfortable! We will back to stay!
Aug 13, 2021
K'Lora in the office was amazing !! I will be back.
Aug 13, 2021
The facilities are so nice and clean. Everybody was very friendly even though the weather was less than stellar. And our dog loved having so many friends to play with, very dog friendly. We will definitely be back next year.
Aug 10, 2021
It was a great trip! K in the office, she was amazing. Definitely will be back! :)
Aug 10, 2021
The stay was amazing. The only thing that would have been better would have been if there was enough staff to open their food place in the store at the front. (But we know it's been hard for companies to find help so this didn't effect our rating at all)
Aug 07, 2021
Some of the staff was extremely rude, the swimming pond was no longer blue, it was brown and stagnant without the aerator on. It was pretty disgusting. The pool was advertised as heated but it definitely was not. The cabin was cozy but definitely need to bring your own pillows!
Aug 07, 2021
We loved the cabin, the pond inflatables and kayaks and generally the campground we saw. We didn't explore the whole place so we'll have to come back next year.
Aug 02, 2021
We had a wonderful time. My only request would be for you to build more cabins with bathrooms for us senior citizens who want to camp but are not able to have a RV.
Jul 31, 2021
The best KOA I have stayed at. The cabin was perfect. The grounds were exceptional. I only wish I were younger and could jump on the jumping pillow �
Jul 24, 2021
Stayed in luxury pet friendly cabin. Cabin was nice inside but all cement and stone outside with absolutely no shade, no grass. Not very pet friendly. Would be nice if your picnic tables at least had an umbrella. Did not call ahead so my fault. But no stove inside all cooking needs done on outside grill. Pool heater was broken so water very cold and swimming pond was very murky and brown.
Jul 23, 2021
The false advertising bothered me. The pool isn't heated - the nature trails are covered in poison ivy. The store has hardly anything in it. The pizza and ice cream don't exist because they do not have a food license. We had dead hanging plants thrown in our bushes at the cabin. Just simple things that show lack of care.
Jul 22, 2021
We loved the cabin we stayed in and it was super clean! There were a lot of weeds around the cabin and the whole park in general. Some things in the park didn't looked kept up. We were told the heater for the pool was "broken" so even on a day that was 83 degrees the kids were shivering due to the freezing cold water. Staff was friendly but young and had to ask older staff for answers.
Jul 22, 2021
There was an active bird nest in the peak of our cabin. This prohibited us from using the porch and also got us up very early in the morning from all the chirping. Other than that, we had a great stay.
Jul 21, 2021
Disappointed in new ownership. Multiple issues during our stay. Amenities "broken" or not in use do to this or that. Not like it was a year ago.
Jul 20, 2021
Not as well kept as under previous ownership. Bathrooms weren't as clean as they used to be or cleaned as often. Roads need stones added to fill large ravines (ruts)and chick holes can't park in cabin 1 & cabin 2 parking space without bottoming out undercarriage of cars. Multiple simple requests for garbage can liner bag, which should have been in place before we got there were not addresse
Oct 20, 2021
I didn't realize campgrounds of this quality were still in existence.
- Matt Tucci on Google
Oct 12, 2021
We really enjoyed our stay here! Had a Deluxe Cabin for 2 nights and it had many amenities included which made our packing much easier. Amenities aren't listed clearly on website. (Bedding,Towels, dishcloths,cups, plates,bowls,silverware, microwave, small fridge, coffee maker, toaster,(nostove),propane grill(they furnish propane,) dish soap, garbage bags, toilet paper, etc. Great kids park with a huge bouncing pillow. Large dog park! Swimming pool, ponds, beautiful views and landscaping. If you're into Halloween this place fills up and most everyone decorates their places! I guess it is a big deal for all ages! (We stayed Sept. 29-Oct1)
- Sherry on Google
Sep 24, 2021
Nice campground but would not pay $3100 a year for seasonal camping.
- Greg Varich on Google