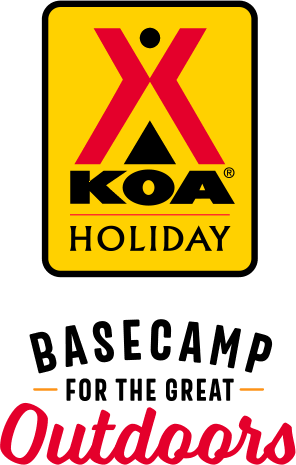 KOA Holiday Campgrounds
Whether you're exploring the local area or hanging out at the campground, KOA Holidays are an ideal place to relax and play. There's plenty to do, with amenities and services to make your stay memorable. Plus, you'll enjoy the outdoor experience with upgraded RV Sites with KOA Patio® and Deluxe Cabins with full baths for camping in comfort. Bring your family, bring your friends, or bring the whole group – there's plenty of ways to stay and explore.
KOA Holidays Feature:
RV Sites with a KOA Patio®
Deluxe Cabins with full baths
Premium Tent Sites
Group meeting facilities
Directions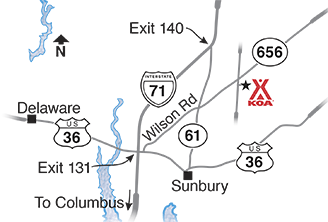 [b]EXIT 131: [/b]Use exit 131 Head East on State Route 37. Make a LEFT at the first traffic light onto Wilson Rd. You will stay on Wilson Rd all the way until you see our KOA sign to turn right onto Porter Central Rd. You will pass over the round-about over State Route 61. 
We are situated BETWEEN I-71 exits 131 & 140, approximately 8.5 miles off the interstate. SPECIAL TRAVEL NOTES: GPS will instruct you to take Chambers Road if your coming from the North headed South, which has a COVERED BRIDGE with height limit of 8' 10".  Go past Chambers and turn left onto 521, left onto 656 and then right onto Porter Central Rd.
Get Google Directions
May 24, 2021
We enjoy this place more and more! You've done an excellent job and we can't wait to come back soon.
May 24, 2021
It amazes me all of the changes and additions this place makes every season and during the season. Bestest campground ever!!
May 24, 2021
Too far out of the way. Think they were PRICE GOUGING. Said they had ONE back in site available and cost was "$70. Dollars" a night. I said cost too much and started to leave. Clerk said wait a minute and gave us a pull thru site for $40.00 and no tax. They actually had more sites. This is one reason I only stay at KOA as a last resort. Also too crowded etc..Rather Boondock at CrackerBarrel.
May 23, 2021
Excellent facility all around
May 23, 2021
Always a good time!! Love it , we will be back next month!!
May 23, 2021
Wonderful staff. Much to do for the kids. Loved it.
May 23, 2021
We are new to traveling in a motor home and were beginning a two week trip traveling to the New England States. This was our first and favorite stay of 6 different KOA campgrounds. The friendly staff, our perfect campsite, great value and the very nice family camping next to us made it a great stop over night. When we arrived a Mother/ Daughter team made us feel so welcome! Thank You so much!
May 22, 2021
Beautiful campground
May 22, 2021
It was a great experience. The place is huge with a lot to do. It is maintained very well. We will def be back.
May 21, 2021
This was our first trip this year, excellent campground and staff as usual. !00 % recommend this campground. We did get overcharged for the campsite, but the Staff is working to get the issue resolved.
May 21, 2021
The campsite was pretty level although the top was course gravel which cracked one of my plastic bases. The table at our site did not have an umbrella but our awning covered most of the concrete deck. The wifi was very good. The roads can use some calcium chloride to knock down the dust. No one sped by but even at a crawl the dust was heavy in the air. The campsite was clean and quiet too.
May 20, 2021
Your personnel were fun helpful & polite!! Rebooked 2 different trip in the near future!! Thanks for a memorable time� the Smiths
May 20, 2021
Stay was nice price was too high
May 19, 2021
Our stay was very enjoyable and pleasant
May 19, 2021
Nice facilities, friendly staff, constantly adding amenities.
May 18, 2021
Everything and everyone was great. We always love camping at Sunbury KOA!!!
May 18, 2021
Great campground, always have a nice stay at Sunbury KOA. They put a lot of work in this campground to make if bigger and better every year! Defiantly top notch!
May 18, 2021
We LOVE Sunbury KOA! The new Roadkill Cafe is awesome! We had a wonderful stay. Everyone is very nice and the amenities are top notch. We saw the Wibit being installed and that is VERY Exciting! I could go on and on about how much we love Sunbury KOA. We can't wait to return.
May 18, 2021
This was our first time staying here. So many people told us that we would love it and they are right. Unfortunately, the weather did not cooperate to allow us to enjoy more of the campgrounds so we will definitely be back when it's nicer. I want to specifically call out one of your staff who was TREMENDOUS! I did not get his name but he was laying down gravel in the Boondocks on Friday afternoon
May 18, 2021
Our family of eleven had an amazing time last weekend!! Thanks so much for a memory making weekend!! We will be back!
May 18, 2021
Wish the restaurant would have been open on Sunday some events didn't happen disappointing when they weren't. Staff and crew all were very responsive when we needed something though.
May 18, 2021
Excellent campground and restrooms!!
May 17, 2021
Best campground in Ohio and they keep making it even better!
May 17, 2021
Love it! Absolutely most friendly staff! Will revisit! Thank you!
May 17, 2021
Loved our first time there will be back soon!!
May 17, 2021
I was impressed by the amenities like firewood/food delivery. My five year old daughter loved the unique playground and the petting zoo. The grounds were well kept and the staff was very friendly. I would definitely stay again.
May 17, 2021
Absolutely everything about this place is first class. Form the people to the activities for the kids it was a wonderful first experience in our new camper. We will be coming back again and again to explore many of the new things that happening at the facility.
May 17, 2021
First time here and we really like it! They are adding more sites and looks like they are adding in wibits to a separate swimming lake. The petting zoo is very fun. There are many great site locations. The kids loved the playgrounds and kayaking. They caught fish in the lake too!
May 17, 2021
We have been to Sumbury a few times over the last few years. Only complaint is the lake, needs to be cleaned up. Smell can get strong
May 17, 2021
Really enjoyed our first stay and will def put this on our list of places to go.
May 17, 2021
Very much enjoyed our time here. The Friday pizza delivery was amazing.
May 17, 2021
Great place nice and quiet.
May 17, 2021
A wonderful weekend at a great RV park. We'll be back!
May 17, 2021
Site was nice. Staff was friendly and accomodating.
May 17, 2021
We stayed in Titans truck the obly complaint was that the water spicket did not work
May 16, 2021
Spacious sites. Lots of trees. Workers were very nice.
May 16, 2021
This was the first time that we have stayed at this KOA with our new pull behind! Everything was fantastic. They employees were so helpful and friendly, bathrooms were beyond clean and the site itself was great! We will definitely be back this year!!!
Sep 17, 2021
Great campground! Super employees! We love our site. Had dinner delivered from the on-site cafe, husband loved the burger and my Spaghetti with meatballs was delicious. They even called me this morning to see if we wanted to extend our stay. The people who reserved our site for Saturday canceled and we were given the opportunity to extend before the site was offered on the website. Wow! We will definitely come back!
- Linda Kay Rex on Google
Sep 15, 2021
Very nice Campground and clean. Friendly and welcoming staff. Will stay here again.
- Bob Smith on Google
Sep 08, 2021
The campground has many things to do but also has the calming effect of a small campground. Many amenities added in the recent couple years. Look forward to going back a couple times a year.
- Joshua Ross on Google