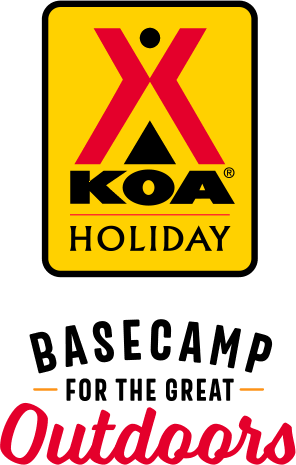 KOA Holiday Campgrounds
Whether you're exploring the local area or hanging out at the campground, KOA Holidays are an ideal place to relax and play. There's plenty to do, with amenities and services to make your stay memorable. Plus, you'll enjoy the outdoor experience with upgraded RV Sites with KOA Patio® and Deluxe Cabins with full baths for camping in comfort. Bring your family, bring your friends, or bring the whole group – there's plenty of ways to stay and explore.
KOA Holidays Feature:
RV Sites with a KOA Patio®
Deluxe Cabins with full baths
Premium Tent Sites
Group meeting facilities
Directions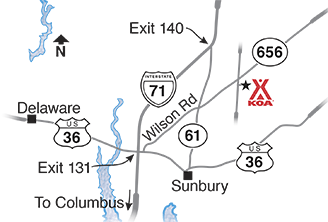 [b]EXIT 131: [/b]Use exit 131 Head East on State Route 37. Make a LEFT at the first traffic light onto Wilson Rd. You will stay on Wilson Rd all the way until you see our KOA sign to turn right onto Porter Central Rd. You will pass over the round-about over State Route 61. 
We are situated BETWEEN I-71 exits 131 & 140, approximately 8.5 miles off the interstate. SPECIAL TRAVEL NOTES: GPS will instruct you to take Chambers Road if your coming from the North headed South, which has a COVERED BRIDGE with height limit of 8' 10".  Go past Chambers and turn left onto 521, left onto 656 and then right onto Porter Central Rd.
Get Google Directions
Oct 14, 2021
We loved Farmhouse cabin! Except the Bee/Wasp situation didn't allow us to spend as much time outside and we were forced to stay inside or walk to our family's site way far away in RV land past the bounce pads. They were horrible and multiple people got stung. There has to be a nest close by. Otherwise great place! Ps. Fitted sheets would stay on beds better.
Oct 13, 2021
Loved it! We will be back. Only 4 instead of 5 because of the bugs!
Oct 13, 2021
Our stay was 'wonderful'. It was a very relaxing get-away. Enjoyed the 'tree house' experience.
Oct 12, 2021
We stay here a couple times a year and love it, especially in October. We enjoyed passing out candy to all trigger treaters.
Oct 12, 2021
Short trip for our son's birthday. Great amenities and setting. A bit pricey but worth it.
Oct 12, 2021
Even though you folks are still short staffed. It was not that noticeable. Appreciate the hard work and we look forward to 2022 Camping Season.
Oct 12, 2021
some frustrations with 1)not getting code to unlock door to treehouse or restroom. Called from our site & got lengthy phone tree & ended up texting to ask for codes & awaiting reply. 2)Rented golf cart On Sat that didn't hold charge for duration of rental and had it towed back 2.5 hrs early, no adjustment made to fee 3)seemed short staffed & often got "I'm not sure" to questions asked. Uno
Oct 12, 2021
Our stay was great, but I do want to say that something really needs to be done about the bees on your property (at the very least near the restaurant and playground). They were EVERYWHERE and landed on myself, my husband and children several times. We could not even get ANY food items out without a swarm of bees surrounding us. At the very least, the main areas should be taken care of.
Oct 11, 2021
I love it there but think there needs to be way more activities. Lacking in creativity for young and old. Was shocked to see the staff handing out pre package bean mixture of some kind for Halloween to the youngsters instead of donating to a local food pantry. But beyond that we will definitely be back.
Oct 11, 2021
Love the Adult Craft time!! I would appreciate no vehicles including golf carts during trick or treat. We were on foot and dodging carts taking their kids to each site. We also witnessed a boy in an inflatable costume fall of the back of a golf cart. Multiple families were yelling for the driver to stop. Said driver kept driving and didn't even come back to check on the kid.
Oct 11, 2021
50 amp not working when we arrived but was changed out within a half hour. Trick or Treat was nice except the vehicle/golf cart traffic while most children were walking. One golf cart had multi kids hanging onto the golf cart, the parent driving was going fast and one child fell off. Multi parents had to yell to get her to stop!! Loved the children's bingo, craft and Amish vendor.
Oct 11, 2021
This is a FANTASTIC campground!! Beautiful spaces with plenty of room between spots many big rig friendly. The grounds are well-maintained, there's tons of activities, and the the staff is awesome!
Oct 11, 2021
Not a fan of returning golf carts every night by 9. Have not experienced this before at other campgrounds.
Oct 11, 2021
This is a beautiful, safe, family campground! There is so much for the children to do and we enjoyed the Amish coming and making soft pretzels! These pretzels were the best I have ever had in my lifetime! Thank you so very much for our vacation weekend at the Treehouse!
Oct 11, 2021
Always a great time. Clean, friendly staff and a well organized campground
Oct 11, 2021
We come for the fall trick or treat every year with a small group of friends. We always say this is the best weekend of camping we have every year. We will always stay here October.
Oct 11, 2021
We loved our pet friendly campsite and the campgrounds. Our daughters loved the playgrounds. The only disapointing thing was that the crafts and fall activities were all in the morning, but chek-in isnt until 1pm, so we missed all of them. We wished that there were some afternoon activities for our young kids to enjoy. We enjoyed our stay and will definitely be back!
Oct 11, 2021
My family and I took our first camping trip ever to KOA Sunbury/Columbus and had a blast! There was plenty for the kids to do with TWO playgrounds and petting zoos. The bathrooms were very clean. Staff was super friendly and helpful. We couldn't have picked a better place for first time campers!
Oct 11, 2021
Nice place to camp everyone is helpful
Oct 10, 2021
very nice park with lots of activities for kids.
Oct 10, 2021
Best Koa I ever stayed at.
Oct 09, 2021
Everyone is very helpful and friendly. Check in is easy and when we were in the store, the lady that was in there was wonderful!
Oct 09, 2021
Friendly staff and great campground! We are looking forward to booking again next summer!
Oct 09, 2021
Beautiful campground with many activities. We love it there.
Oct 09, 2021
Great park… super clean and love the patios. Also, Bambi and Theresa were awesome!
Oct 09, 2021
Very well maintained park. Staff friendly, helpful staff.
Oct 09, 2021
A great place to stay! All of the facilities were updated and well cared for. Very quiet at night. Lots of things to do for all ages. Loved that they had a cafe....we were able to text ahead and have dinner ready for us! One of the best values out there!
Oct 08, 2021
It was probably the nicest we have been at. We enjoyed our stay.
Oct 07, 2021
Staff very friendly and willing to help. Texted for firewood and it was delivered in less than 10 minutes. My stay was in the beginning of October and was quit and peaceful.
Oct 06, 2021
Our only issue was the enormous amount of bees at the campground. I know they are part of nature but it felt as if they were everywhere, more obnoxious than bees usually are. Great place, great activities and friendly staff.
Oct 06, 2021
My husband and I stayed at 10 different KOA and other camp ground from September 11th till October 4 . Hands down this was the best KOA so far ,lots to do and lots of trees. The young lady who checked us in was very pleasant and helpful . Thank you for a wonderful stay. They also up graded or site little did they know that was my birthday ��� . We will definitely return again.
Oct 06, 2021
Awesome stay as always. The Halloween festivities were terrific even with the rain we had.
Oct 06, 2021
We had an amazing time! Staff was super friendly and helpful. I thought there was plenty of activities. My daughter loved trick or treat and everyone was very welcoming.
Oct 05, 2021
Very clean and friendly staff keep up the good work!!
Oct 05, 2021
Extremely nice campground. Have a lot for kids to do. Have some very unique cabins to rent. Very clean and well kept up
Oct 04, 2021
Had a great time
Oct 04, 2021
We had a wonderful weekend. Our campsite was awesome.
Oct 04, 2021
Trick or treat was fun for all. The kids loved the craft time, petting zoo and the playgrounds. We even hiked through the trails. Highly recommend pizza Friday night! And the Amish treats should be there every weekend! Definitely recommend the golf cart just wish there was a way we could keep it overnight- kind of an inconvenience for the price….
Oct 16, 2021
Great friendly staff, lots to do at the campground, nice cabins
- Denise Helton on Google
Oct 09, 2021
Great place to stay and a great value too! Lots to do for all ages, facilities are great, and we appreciated that we could text ahead and have dinner ready to pick up when we arrived. Highly recommend!
- Mary Anne W on Google
Oct 07, 2021
We have fallen in love with this place. We've been camping here through September and October with our 3 young children. Every day we get outside and use their unique playgrounds (gravity swing is a favorite!!), use the jumping pad and visit the animals. We bike ride throughout the park. People are very friendly here. Theresa at the front desk has helped us extend our stay twice! Easy to text and get fast response. We look forward to next summer to use the pool!
- Kelley Boorn on Google