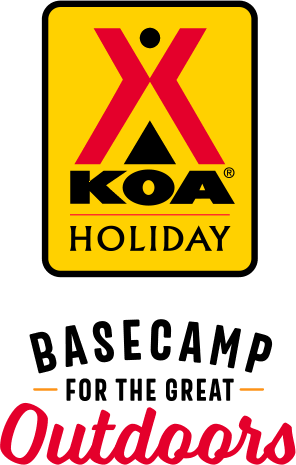 KOA Holiday Campgrounds
Whether you're exploring the local area or hanging out at the campground, KOA Holidays are an ideal place to relax and play. There's plenty to do, with amenities and services to make your stay memorable. Plus, you'll enjoy the outdoor experience with upgraded RV Sites with KOA Patio® and Deluxe Cabins with full baths for camping in comfort. Bring your family, bring your friends, or bring the whole group – there's plenty of ways to stay and explore.
KOA Holidays Feature:
RV Sites with a KOA Patio®
Deluxe Cabins with full baths
Premium Tent Sites
Group meeting facilities
Directions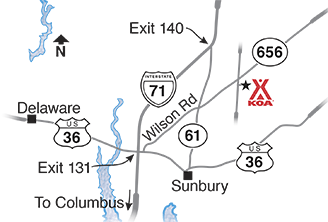 [b]EXIT 131: [/b]Use exit 131 Head East on State Route 37. Make a LEFT at the first traffic light onto Wilson Rd. You will stay on Wilson Rd all the way until you see our KOA sign to turn right onto Porter Central Rd. You will pass over the round-about over State Route 61. 
We are situated BETWEEN I-71 exits 131 & 140, approximately 8.5 miles off the interstate. SPECIAL TRAVEL NOTES: GPS will instruct you to take Chambers Road if your coming from the North headed South, which has a COVERED BRIDGE with height limit of 8' 10".  Go past Chambers and turn left onto 521, left onto 656 and then right onto Porter Central Rd.
Get Google Directions
Sep 21, 2021
The site itself was not a bad site; however, the concrete was surrounded by a "flower" bed which was simply a weed garden. Everything looked just a little rundown. There were many golf carts and cars driving around constantly - this does not make for a peaceful experience. Several times there were children driving the carts. Perhaps KOA should think about a 55 and over section!
Sep 21, 2021
Wonderful campgrounds. So much to do, optimal cleanliness. I can't say enough. Great for two old farts like us but exceptional for kids.
Sep 21, 2021
Site was fine but roads need work. Laundry was very dirty and needs maintenance. Otherwise good stop.
Sep 21, 2021
It was great
Sep 20, 2021
We had our annual family camp weekend, we had a deluxe site in the wooded area it was GREAT! We will definitely be back next camping season! Everyone was so friendly.
Sep 20, 2021
It was good as usual. Your staff is all top-notch. Our site (109) was nice and had good shade. It didn't seem to attract the flies and bugs that some did this season. We will be back for our 3rd visit this year on 10/14. Thanks for everything. Great Pizza Darrell & Lynn James
Sep 20, 2021
Love camping with the grandkids at Sunbury! Endless activities for them!
Sep 20, 2021
As always, Tremendous job from checkin to check out!
Sep 20, 2021
Great site, outstanding staff, wonderful stay!
Sep 20, 2021
Great place to camp. I was able to reserve a golf cart the night before which was great. There is always something new added every time we go. Friday night pizza's are the best. Had fun at bingo!! ( I lost ) lol. But over all had a good time. Thx.
Sep 20, 2021
Amazing campground with so much to do!
Sep 20, 2021
Great weather. Wonderful addition this year to have the swimming lake/pond with the jumpee things.
Sep 18, 2021
Wonderful stay. We will stay here again!!
Sep 18, 2021
Such an amazing campground. It truly offers everything. Staff was super nice. Very clean and maintained.
Sep 18, 2021
We stayed for five days and everything was fantastic. The site was large and very clean with cement patios. The staff was always pleasant and always helpful. The food in the cafe was very good - especially the hamburgers. We loved the different areas and the equipment designed for children, especially the beautiful pool. We have recommended Sunbury to neighbors and we will be back.
Sep 18, 2021
I should have said something but I felt we were in the worse site they had. It was the only one left besides the more expensive site. So not much choice. They were very pleasant, helpful and kind.
Sep 17, 2021
Quick over night but excellent.
Sep 15, 2021
Stay was fine once we got into our site. The young fellow that showed us in took us the wrong way. No way to pull into a pull through site. 120 degree turn. Had to find a spot to turn around and drive in
Sep 15, 2021
Nice park, very nice employees. The pool was beautiful. The camp store has just about anything you could need. We went into Columbus twice and the drive was not that bad. Don't drive on Chambers Rd, there is a covered bridge with low clearance.
Sep 15, 2021
Absolutely BLOWN away by this GEM of a campground! It's (fairly) local to us, and I can't believe this was our first trip here in all the years we've owned our RV! We will DEFINITELY be back!
Sep 15, 2021
Very nice KOA with many amenities, our pull through site with deluxe patio furniture & fit pit was excellent. Very quiet. Excellent WiFi , lots of activities for children !
Sep 14, 2021
Always a pleasure to go to Sunbury KOA
Sep 14, 2021
I stayed 2 nights on my own site. The site was great with FHU. I had friends also staying at the park for a wedding. Shower House was very clean. I didn't use any of the amenities other than wifi. This is a great KOA if you have children and want to keep them busy. They had activities and things planned that I could have done during my stay. Will stay again and take advantage of amenities.
Sep 13, 2021
We LOVE staying at this KOA! It's very well taken care of and the staff is always friendly and on top of things!
Sep 13, 2021
Was really great. Sunday was extremely smelly sewage in our area so glad we were not staying past that. Otherwise was great.
Sep 13, 2021
Very nice! Best around!
Sep 13, 2021
Staff was very kind and helpful. Have already recommended to our friends. We appreciated their hospitality.
Sep 13, 2021
This KOA is always amazing - from facilities to activities there's always so much fun to be had!
Sep 13, 2021
Very family friendly, lots of activities for kids and family.
Sep 13, 2021
Great amenities, sites are well kept, staff was very friendly, and restrooms/showers are good. My only issue would have been the bees on our site. Now to be fair, our site was right beside a crabapple tree so I get the bees like those. We just piled up the fallen crab apples away from our site and made the best of it. We will definitely be back. :)
Sep 13, 2021
These last two weekend have been the best camping visits we have had in years! We love our KOA's but Sunbury has done an amazing job with what they done to the place!
Sep 13, 2021
Kids had a great time. Can't wait to make it back for Halloween weekend.
Sep 13, 2021
Very clean and quiet park. Friendly personnel. Would stay there again but wish the nightly rate was less.
Sep 12, 2021
People at check in are great. Spaces are tree covered and very narrow. We have a 45' motor home with a tow. We had a difficult time (as did our neighbors) just getting into the site. I had asked for a site with no trees so I could use my satellite dish (no cable available) but our site was completely covered. The exit road is narrow and curvey. We had to drive to the pilot 8 miles away to hook u
Sep 12, 2021
Staff was awesome and very accommodating, would stay again. Fast and easy check in.
Sep 11, 2021
campground is close to family...have stayed here many times and the owners are wonderful and the campground beautiful
Sep 10, 2021
We have stayed here for many years It is a wonderful family owned KOA
Sep 10, 2021
One of the nicest KOA's we've stayed at. Clean , friendly, lots to do and the Host went out of her way to accommodate us. If you have children there is more than enough things to keep them busy. Just a great place!!!
Sep 09, 2021
Always a wonderful experience here!!
Sep 09, 2021
Always have a great time when we stay
Sep 09, 2021
Awesome campground, by far one of the best KOA's we've been to. Just drove across country from Montana to the east coast and this was a fantastic stay! The kids loved all the amenities. Highly recommend and will absolutely stay here next time we're in the area.
Sep 17, 2021
Great campground! Super employees! We love our site. Had dinner delivered from the on-site cafe, husband loved the burger and my Spaghetti with meatballs was delicious. They even called me this morning to see if we wanted to extend our stay. The people who reserved our site for Saturday canceled and we were given the opportunity to extend before the site was offered on the website. Wow! We will definitely come back!
- Linda Kay Rex on Google
Sep 15, 2021
Very nice Campground and clean. Friendly and welcoming staff. Will stay here again.
- Bob Smith on Google
Sep 08, 2021
The campground has many things to do but also has the calming effect of a small campground. Many amenities added in the recent couple years. Look forward to going back a couple times a year.
- Joshua Ross on Google