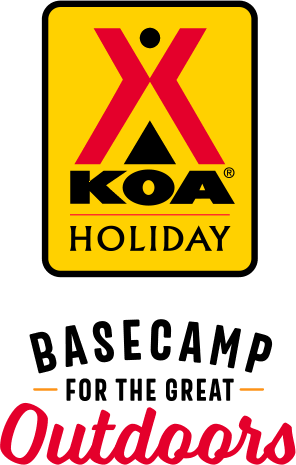 KOA Holiday Campgrounds
Whether you're exploring the local area or hanging out at the campground, KOA Holidays are an ideal place to relax and play. There's plenty to do, with amenities and services to make your stay memorable. Plus, you'll enjoy the outdoor experience with upgraded RV Sites with KOA Patio® and Deluxe Cabins with full baths for camping in comfort. Bring your family, bring your friends, or bring the whole group – there's plenty of ways to stay and explore.
KOA Holidays Feature:
RV Sites with a KOA Patio®
Deluxe Cabins with full baths
Premium Tent Sites
Group meeting facilities
Directions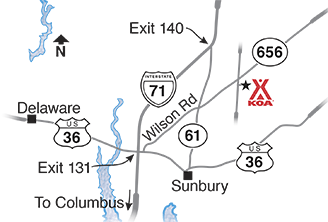 [b]EXIT 131: [/b]Use exit 131 Head East on State Route 37. Make a LEFT at the first traffic light onto Wilson Rd. You will stay on Wilson Rd all the way until you see our KOA sign to turn right onto Porter Central Rd. You will pass over the round-about over State Route 61. 
We are situated BETWEEN I-71 exits 131 & 140, approximately 8.5 miles off the interstate. SPECIAL TRAVEL NOTES: GPS will instruct you to take Chambers Road if your coming from the North headed South, which has a COVERED BRIDGE with height limit of 8' 10".  Go past Chambers and turn left onto 521, left onto 656 and then right onto Porter Central Rd.
Get Google Directions
Sep 13, 2021
The staff was outstanding! The campgrounds were awesome, beautiful, and a ton of activities to keep kids busy. The only critique I have is that our cabin was not clean. We don't expect the Ritz, but almost everything we touched was sticky & had a layer of dust. Our cabin, being pet friendly, had an overwhelming smell of animal urine. A good deep clean would go a long way. We will be back!
Aug 31, 2021
The cabin was great and had everything we needed. All the staff were great
Aug 31, 2021
The pool, the cafe, the general store and all it has to offer, and the friendly people make this the best family friendly camping spot!
Aug 25, 2021
Restrooms and grounds were spotless and beautiful. Food was delicious in the Roadkill Cafe and staff was friendly everywhere we went.
Aug 25, 2021
Loved our cabin! Clean, decorated so nice....better than any other campground cabin we've ever stayed. We will be back!
Aug 24, 2021
I was really happy with my stay with the Exception of Saturday while at the pool there was a lot of people drinking alcohol and people with over sized Flotation devices which made it hard for people to get in the pool
Aug 23, 2021
The stay was great. The only recommendation is that the mattress are TERRIBLE. It would be great to get ones that are more comfortable. Also the bunk bed in Tysons Truck is so loud anytime anyone moves even a little bit. These reasons made it reality bad for sleeping.
Aug 22, 2021
Our first experience at KOA. We are glampers so are used to staying in cabins. Our cabin was clean and well appointed with linens, etc. Lots of kids activities. Campground was clean as well. Will definitely stay at a KOA next time.
Aug 19, 2021
Everything was very nice. Lots for kids to and even else for adults
Aug 16, 2021
Had a great time with our nephew teaching him how to fish at the pond!
Aug 12, 2021
My six year old son and I stayed in one of the treehouses. We had a wonderful time. Lots for him to do and the staff was very friendly and helpful. The treehouse was very clean and had everything we needed. The outside area is beautiful. We will definitely be back!
Aug 11, 2021
Always have had a wonderful time. Love it
Aug 09, 2021
We truly loved our stay there. We rented Macy's Manor cabin and our kids brought their travel trailer. It was a great stay with everything available at the grounds. Definitely coming back.
Aug 09, 2021
We had such a wonderful time for our grandchildren's birthday. So many activities for all ages to enjoy!
Aug 09, 2021
Was very nice campground. The treehouse cabin was amazing! Just wish I could've brought my own golf cart in, but no gas allowed. Paid $45 to rent a golf cart from 3pm check-in to 9pm same day. rained first 3-4 hours was there, so paid $45 to use golf cart for 2 hours. Other than that everything was great. Will look for campgrounds though that allow my gas golf cart to be brought in in the future.
Aug 04, 2021
Our stay was pleasant. The cabin was very nice and It was helpful that it had so many dishes, sheets and towels. The staff was friendly.
Aug 02, 2021
First thing I noticed was how friendly and accomodating the staff were. We stayed in a tree house that was cool and different. Looking forward to returning in the future.
Jul 31, 2021
AC under powered and cabin a little dirty. Check in slow and didn't have the same schedule of events at store. We had to ask for them to open the slip slide. 2 different times for zoo we missed it but when we went to the store, they sent someone up there. swim lake was amazing! loved the fishing! Tie dye great, free snow cones refreshing. Staff was very friendly and helpful. We will be back!
Jul 31, 2021
We had the best time at the campground and the treehouse was gorgeous! Everyone was so friendly!
Jul 30, 2021
We were very impressed with how "up-to-date" and well maintained the grounds and amenities were during our stay.
Jul 27, 2021
Location was beautiful, lots of activities to keep kids interested, staff is friendly and helpful.
Jul 26, 2021
Extremely friendly !!. So many things to do for the kids. Love that you can text when have questions or just to communicate with the property. Fast response!!. Beautiful pool very clean..its salt water which is awesome. Thank you for a great stay!!
Jul 26, 2021
We had a great weekend in a treehouse cabin for our daughter's birthday party experience. It had everything we needed and more. The kids had a blast on the playgrounds and jump pads. We all enjoyed the pond beach and inflatables. Pizza Friday night was great and ice cream and activities made the stay even sweeter. We look forward to coming back for trick or treat this fall!
Jul 26, 2021
We stayed in Tysons Truck.... it was so fun! Very clean, beautifully decorated. The bathhouse directly across the road was very nice and clean also. So many fun activities for all ages. Well done!
Jul 26, 2021
Cabin is nice, AC works great, linens provided is a nice touch. It is a big stretch to say kitchen utensils and pots/pans are provided. The pans are basically unusable and there are so few utensils, spatulas, knives etc provided bring your own from home.
Jul 25, 2021
We had a wonderful vacation! Great staff! Great fun!
Jul 21, 2021
Stay was good. Buildings/pool were very nice. Wish the roads were paved to make biking easier around the camp ground itself.
Jul 19, 2021
Your staff was very courteous and responsive to everything we needed. A job very well done by all! We would definitely stay again if our travel brings us to the area.
Jul 19, 2021
Great campground with nice sites and lots to do.
Jul 19, 2021
The staff was very friendly, professional, and helpful. Their attitude of hospitality and promptness in request were a blessing. The facilities were clean and well maintained.
Jul 19, 2021
We had an excellent stay! This is not our first time at this KOA, however we feel the campground gets better each time we come back! We will definitely be back again next year!
Jul 17, 2021
We look forward to coming every year. The cabins are great and the workers are friendly and helpful. We're a little disappointed that we can't make our reservations for next year yet.
Jul 11, 2021
It was perfect stay. So much to do for the whole family
Jul 06, 2021
So many AWESOME things to do!! It was Very clean, fun, and well organized! I loved our experience...Highly recommend to anyone.
Jul 06, 2021
We stayed in a cabin one night before moving on to our next KOA. The kids did not want to leave. The amenities were great and staff was helpful. We already booked again.
Jul 05, 2021
We truly liked that there was plenty of things to do as a family. Everyone was so friendly. The place was well kept and clean. We stayed in the FH and loved it but the cooking pans were a hot mess as the teflon was coming off and I could not use them :-( The plates were in bad shape. I will make sure to bring my own pan the next time we come.
Jul 03, 2021
We had a great time at Sunbury KOA. We rented a cabin for our parents and an RVsite for ourselves. You can't beat the fantastic amenities. Our kids were entertained the entire time with wonderful things to do. We have a 1.5 and 2.5 year old and we enjoyed the bounce pad, splash pad, swimming lake/beach, petting zoo, bingo, and crafts. We haven't found any place like this for our family. Awesom
Jul 03, 2021
My spouse is handicapped and uses a wheelchair to get around. The Boathouse cabin was perfect because it had a ramp to get up into the cabin. Also, she loves to fish!!! It was awesome for her to be able to fish right off of the deck plus she caught 4 fish!! We will definitely be back!!!
Jul 02, 2021
Went there to go fishing the pond had too much sea weed pool was nice
Jul 01, 2021
We had such a great time! Will come back every summer. Owners are so nice and it's great to see them so involved. So many activities for the kids. Never a dull moment
Jun 25, 2021
Beautiful Property!!! We will be back!!! The ease for children to get around safely and the activities for them were outstanding (Especially Bingo Nights)! The cleanliness and upkeep were noticeable! Great job to the KOA Team in Sunbury/Columbus!
Sep 17, 2021
Great campground! Super employees! We love our site. Had dinner delivered from the on-site cafe, husband loved the burger and my Spaghetti with meatballs was delicious. They even called me this morning to see if we wanted to extend our stay. The people who reserved our site for Saturday canceled and we were given the opportunity to extend before the site was offered on the website. Wow! We will definitely come back!
- Linda Kay Rex on Google
Sep 15, 2021
Very nice Campground and clean. Friendly and welcoming staff. Will stay here again.
- Bob Smith on Google
Sep 08, 2021
The campground has many things to do but also has the calming effect of a small campground. Many amenities added in the recent couple years. Look forward to going back a couple times a year.
- Joshua Ross on Google