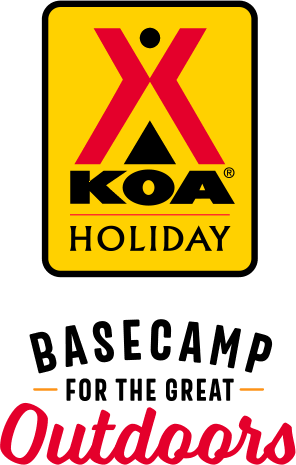 KOA Holiday Campgrounds
Whether you're exploring the local area or hanging out at the campground, KOA Holidays are an ideal place to relax and play. There's plenty to do, with amenities and services to make your stay memorable. Plus, you'll enjoy the outdoor experience with upgraded RV Sites with KOA Patio® and Deluxe Cabins with full baths for camping in comfort. Bring your family, bring your friends, or bring the whole group – there's plenty of ways to stay and explore.
KOA Holidays Feature:
RV Sites with a KOA Patio®
Deluxe Cabins with full baths
Premium Tent Sites
Group meeting facilities
Directions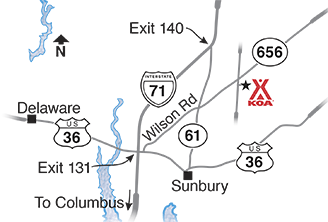 We are situated BETWEEN I-71 exits 131 & 140 approximately 8.5 miles off the interstate.  Your GPS may instruct you to take one of the other many routes but we have found that the routes below are the shorter with less turns. 
Headed North on I-71 (from Columbus): Take exit 131 (we are 8.5 mi off this exit).  Turn RIGHT off exit onto 36/37, get into left turning lane. LEFT onto Wilson Rd. (across from Burger King).  Never turn again (8.50 mi) until you reach PORTER CENTRAL RD. where you will turn RIGHT.  SPECIAL TRAVEL NOTES: (1) This is a busy exit.  If you notice it's busy and it's rush hour, stay on I-71 and just go up to exit 140.  (2) Wilson Rd. becomes 656 when you cross over 61 (3) Your GPS may instruct you to go through Sunbury, which is correct but is a longer route.   
 
Headed South on I-71 (from Cleveland): Take exit 140. LEFT onto St. Rt. 61 for 5 miles. LEFT onto 656 for 2.5 miles. RIGHT onto Porter Central Rd. SPECIAL TRAVEL NOTES: GPS will instruct you to take Chambers Road, which has a COVERED BRIDGE with height limit of 8' 10".  If your rig doesn't fit, go past Chambers and on up to either: 521 (left on 521 then left onto 656) or 656 (left on 656) to Porter Central.
Get Google Directions
Aug 05, 2020
Wonderful staff and love this campground. The kids love the animals, pool and splashpad especially. Fishing was fun because the kids were catching bluegill. .......................
Aug 05, 2020
Brief but comfortable and beautiful stay. I may return in the fall.
Aug 04, 2020
Our site was in the Backwoods. It was spacious and wooded. The entire campground was incredibly clean and well kept. Our weekend was a little rainy but there is so much to do we kept busy and had a great time. Lots of memories can be made here with your kids.
Aug 04, 2020
1st year camping so each month we have been going to different locations. This so, far has been my favorite.
Aug 04, 2020
Great Camp Ground, Every Friendly, Nice pool and Great food !
Aug 04, 2020
Long weekend getaway; Location was great for kayaking at Alum Creek State Park and shopping at the outlet mall and Gemini Place, Polaris, etc.; The campground pool, playground, lake, and petting zoo were great kid & family attractions, too!
Aug 04, 2020
Beautiful park. No freeway noise, no train horns, no aircraft taking off. Stayed for 5 nights. Voltage always seemed to be low. I could only run one devise, i.e. a coffee maker, or the air conditioner, or the water heater. Kept refrig on propane. Lost sleep listening to the "white noise" fan changing RPM's do to voltage changing. Staff were friendly. . .
Aug 04, 2020
Always a pleasure to stay with you. Love the staff and the grounds. Would like to find out about specials
Aug 04, 2020
Great for kids... we don't have kids!
Aug 04, 2020
Excellent facility....a very good value!
Aug 03, 2020
Rainy weekend but still had a great time, kiddos loved the splash pad, pool, crafts and jumping pad. Staff was friendly and check in was very smooth. Can't wait to stay again.
Aug 03, 2020
Very friendly, clean, a lot of activities for kids of all ages.
Aug 03, 2020
Always happy when I stay here! It's our favorite getaway.
Aug 03, 2020
Another phenomenal stay here for me and my family. The staff at this KOA go above and beyond to make a happy stay! Oh, and your pizza is out of this world!!
Aug 03, 2020
I loved everything about this campground.. there was so much for the kids to do, very friendly staff, extremely clean bathroom/shower facilities. We also had their pizza on Friday night and it was delicious! I would not only highly recommend this campground but also will be back!
Aug 03, 2020
The staff was super friendly & helpful! This was our 1st time staying & we loved the theme & that there was something for everyone. The campground was clean & quiet. We are new to RV camping & this is one of our favorites so far. We will be back!!!
Aug 03, 2020
This was a really nice campground with large sites. It has plenty of stuff to keep kids entertained. The only complaint that I have is the amount of poison ivy on the camp site. Something needs to be done with that. It was growing up the trees and was right in the grass. It was hard to make sure the kids did not play in it.
Aug 03, 2020
What a Great Campground!!!! Everything is very well maintained and clean!
Aug 03, 2020
The pillows in the cabin could have been better, but overall, we had a great time..
Aug 03, 2020
Beautiful campground with friendly staff and lots of things for the kids to do. We took our grandkids this weekend and they loved it and want to go back!!
Aug 03, 2020
Awesome staff and amenities!
Aug 03, 2020
We will be back to stay more than one day we stopped on our way home for one more day of camping thank you The Grants
Aug 02, 2020
Reserved my stay online and had a confirmation and total price for our stay and when we got there they charged me more saying some days are more money and that their computer there are different from online. Also cabins could use some maintenance.
Aug 02, 2020
Several activities for children. We arrived mid-week and found the Boondocks to be quiet,. Very clean facilities.
Aug 02, 2020
Very clean, lots to do.
Aug 02, 2020
We were on site 107. Will be pleased when the earth moving equipment is gone and the construction completed.
Aug 02, 2020
I think this may be the nicest KOA we have visited. I do have some feedback though. The 200 person capacity limit in the pool is not within state guidelines and the head blocks on the backboard are in the wrong end. Also, the cement pad was very nice on our site but needs gravel to level it with the rest of the ground as you can twist an ankle easily.. not complaints, just feedback!! Thanks!
Aug 02, 2020
Management was awesome!!!!
Aug 01, 2020
We were seasonal members there for 5 years and I couldn't have imagined a better experience. From the outstanding staff who were always willing to go the extra mile for their guests to the quality of the services and the maintenance of the facility it's no wonder they're top rated. Our life circumstances changed so we weren't able to come out as often as we liked or we would have stayed forever
Aug 01, 2020
Beautiful park. We stopped here for one night on our way south. Wish we would have had more time to stay longer. We will definitely be back.
Aug 01, 2020
Mostly peaceful. Nice amenities.
Aug 01, 2020
So much to do! Love this campground!
Aug 01, 2020
We brought our children and my niece and nephew for a weekend getaway close to home and not once did a child complain of boredom! The grounds were pristine and amenities very well maintained. The kids met friends and after telling our family we are booking four sites And a cabin in September with our extended family! Everyone was friendly and did their best to maintain social distancing !
Aug 01, 2020
The truck cabin was so cool! We enjoyed the jump pad, and swimming pool. I would like to make a recommendation and that is to actually build the bunk bed out of lumber. With our ten year old sleeping on top and his tossing and turning, the bed made a lot of noise which kept me up all night.
Nov 04, 2020
Next season, check out the boondocks. It is their newest section. Huge campsites with full hookups! On your way into the campground order pizza and have it delivered to your site. Staff are friendly and helpful.
- Scott C. on Google
Nov 04, 2020
We absolutely love this campground! We highly recommend it to everyone that we can. The sites are a perfect size, Chip, Bambi, Hayley and the rest of the staff are all fabulous people and will do anything to help make your stay fun and comfortable. There are activities available for both kids and adults, the perfect balance. If you want a fun and great stay, come on over to the KOA Sunbury!
- Buckeye_Veteran on Google
Oct 14, 2020
Nice place 1 year ago
- terry beaver on Google