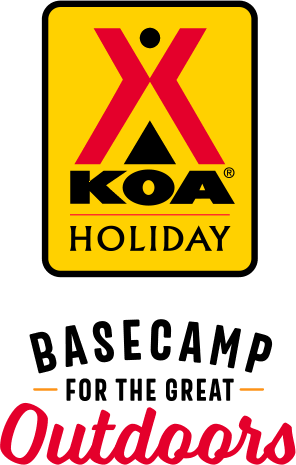 KOA Holiday Campgrounds
Whether you're exploring the local area or hanging out at the campground, KOA Holidays are an ideal place to relax and play. There's plenty to do, with amenities and services to make your stay memorable. Plus, you'll enjoy the outdoor experience with upgraded RV Sites with KOA Patio® and Deluxe Cabins with full baths for camping in comfort. Bring your family, bring your friends, or bring the whole group – there's plenty of ways to stay and explore.
KOA Holidays Feature:
RV Sites with a KOA Patio®
Deluxe Cabins with full baths
Premium Tent Sites
Group meeting facilities
Directions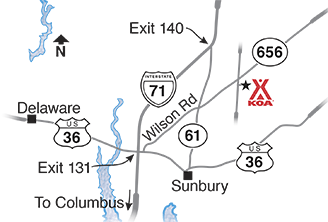 We are situated BETWEEN I-71 exits 131 & 140 approximately 8.5 miles off the interstate.  Your GPS may instruct you to take one of the other many routes but we have found that the routes below are the shorter with less turns. 
Headed North on I-71 (from Columbus): Take exit 131 (we are 8.5 mi off this exit).  Turn RIGHT off exit onto 36/37, get into left turning lane. LEFT onto Wilson Rd. (across from Burger King).  Never turn again (8.50 mi) until you reach PORTER CENTRAL RD. where you will turn RIGHT.  SPECIAL TRAVEL NOTES: (1) This is a busy exit.  If you notice it's busy and it's rush hour, stay on I-71 and just go up to exit 140.  (2) Wilson Rd. becomes 656 when you cross over 61 (3) Your GPS may instruct you to go through Sunbury, which is correct but is a longer route.   
 
Headed South on I-71 (from Cleveland): Take exit 140. LEFT onto St. Rt. 61 for 5 miles. LEFT onto 656 for 2.5 miles. RIGHT onto Porter Central Rd. SPECIAL TRAVEL NOTES: GPS will instruct you to take Chambers Road, which has a COVERED BRIDGE with height limit of 8' 10".  If your rig doesn't fit, go past Chambers and on up to either: 521 (left on 521 then left onto 656) or 656 (left on 656) to Porter Central.
Get Google Directions
Aug 13, 2020
Nice out of the way camp ground. Quite, clean and sites have a lot of space.
Aug 12, 2020
We've camping at this facility for about 6 years, one of our favorite places. The golf carts are really becoming very annoying!! Loved the whole down home family feeling. Feel the golf cart traffic isn't just a way to travel from point A to point B ... it's now just for recreation for the teens.
Aug 12, 2020
We had a wonderful time there. The staff is amazing! The delivery to your campsite is on of the best things ever!
Aug 12, 2020
We were passing through the state of Ohio and selected the Sunberry KOA. Was so pleasantly surprised at the site. Very beautiful KOA if we are in the area again we definitely will be back.
Aug 11, 2020
Wonderful place. Great people. Love it!
Aug 11, 2020
Great time there and many activities for kids
Aug 11, 2020
Great place to stay, friendly helpful staff, clean restrooms! Alot of activities and amenities to keep the kids active. Very pleased with the overall package that KOA Sunbury had to offer!
Aug 11, 2020
Great stay, as usual. Our site had some dirt and trash upon arrival that I needed to clean up, but everything after that was awesome
Aug 11, 2020
Tripped on a small stump on site three times but had a great stay. Stumps should be ground or buried!
Aug 11, 2020
We are new to camping and live just a few doors down. We decided to try out our new camper close to home. It felt like we were at some far away resort. We only stayed one night and wish we could've stayed longer! Beautiful facility.
Aug 11, 2020
Very nice campground. This was one of our favorites so far. Look forward to staying there again.
Aug 11, 2020
Your camp ground is very nice. I would like to know if you offer work camper options.
Aug 10, 2020
Very clean and well maintained. Plenty to do for all. Nice updates.
Aug 10, 2020
That amenities were good. We were in site 412. I would not rent that site due to drainage ditch running through it. It was really close to fire pit not leaving us much room. My wife and I almost twisted our ankles several times,especially at night. My wife and I also saw alot of children,young children,horseplaying. One child almost hit head when pushed into pool on side of pool.
Aug 10, 2020
Loved the campground and the staff was very friendly, but our campsite (624) was a nightmare with leveling. The slope was so bad that the front of our camper was basically sitting on the ground. Other than that we would definitely come back again.
Aug 10, 2020
Wonderful experience, very clean, staff was polite and helpful, would recommend
Aug 10, 2020
Have stayed many times and is always pleasant. Always have a pleasant staff on hand to help in any situation. Clean and well kept facilities.
Aug 10, 2020
Great lot loved the size an shade. Staff was pleasent. Clean and neat, will be back
Aug 10, 2020
The staff is courteous and very responsive to needs. The campground is clean, well run, and continuously improving. Our family had a wonderful time.
Aug 10, 2020
Beautiful setting with plenty of activities for everyone to enjoy
Aug 10, 2020
Thank all of you for the greatest trip this year. Your park is set up wonderfully and whenever we get the chance, we will be returning
Aug 10, 2020
We came to visit family. The campground provided more than we anticipated. Great time.
Aug 10, 2020
Really great stay here. Clean park, friendly staff, great amenities. Best campground bathrooms we've ever seen. One star removed due to the pool was freezing cold and unenjoyable, and animal food (for petting zoo) was not for sale in the store as advertised on the website (easily fixed with a trip to the local grocery store, but we would have come prepared had we known).
Aug 10, 2020
Nice campground with lots to do. Would be even more fun once social distancing is not required. Only 2 suggestions to make it better. Widen lanes at entrance and exit. Tight with big rigs. 2. Clean more high touch surfaces. Will definitely be back. Quiet, great service, very well maintained.
Aug 10, 2020
This is our favorite campgrounds. Very friendly and clean. Lots of things to do.
Aug 10, 2020
We had a great time staying in the new Tyson's Truck cabin. It was our first visit to the Sunbury KOA and we really enjoyed it. We hiked, fished, kayaked, and ate quite a bit of their Velvet ice cream. The Friday night pizza delivery was really good and a nice bonus. We also enjoyed the Sunday morning church service in the shelter house. We hope to return soon.
Aug 10, 2020
Always enjoy our stays here, was a little disappointed with the water condition of the pond and the algae growth was kind of hard to fish. But still had a great stay.
Aug 10, 2020
We had a great tent camping experience! The stay was super friendly and there was so much to do and everything was convenient, including pizza delivery on Friday nights:-)
Aug 10, 2020
Very nice area. Friendly staff, well stocked store for last minute items. The facilities are in very good condition and very clean. I wish we could have stayed longer.
Aug 09, 2020
Great Campground , Great hosts ,Chip & Bambie make so many improvements that every time we go There's something new to do. It is actually getting difficult to get a weekend that's not already booked ! Hopefully they add a few more sites when the renovations are complete . We love it here.
Aug 09, 2020
We love Sunbury! We stay in a cabin there, & it is well stocked with essentials and other extras, well kept, and nicely laid out. The grounds themselves have lots to do, between the playgrounds, jump pad, boats, basketball court, pool/splash pad, & fishing pond, there's something for everyone in our family. We have been multiple times & will be back!
Aug 09, 2020
Very nice campground. Hope to stay there again
Aug 08, 2020
The staff is great and the grounds are beautiful with many activities. We rented a cabin. The reason I'm giving 4 stars instead of 5 is because for the daily rate, the bathroom was not quite as expected (no sink) and the plastic mattress and pillows were very uncomfortable. Overall a very enjoyable experience.
Aug 08, 2020
Great place to stay!
Aug 08, 2020
It was great as usual. There were two things that need attention. The first is the rail ride needs the "car" or trolley repaired. I believe the bearings or wheels are a problem. Two years ago, a rider could go all the way around the track but this year the rider could only get about 1/3 of the way around.
Aug 08, 2020
Best KOA we've stayed at so far. Heading back next week. Booked the private dog fence site! Excited!!!
Aug 08, 2020
We stayed in a tent rite by the lake for fishing and pool and park and petting Zoo we loved it and they had a bounce pad just a few mins away everyone there was very friendly and there was a little store my 13 year old daughter didnt even want to leave .
Aug 07, 2020
Lots of activities for the granddaughters which they enjoyed. Thank you for a fun and clean campground.
Aug 07, 2020
Very nice place. A lot of activities for kids. Had a problem with a picnic table and maintenance was there within five minutes to fix it for us ! Also, level campsite
Aug 07, 2020
This is our second stay at the Sunbury KOA, both times were one night stays on our journey further west. We like this campground very much. It is neat, clean, organized, with pretty surroundings, level sites and a very friendly staff. We own a class A motor home, so the drive in from the highway on the country roads is a little tight but it is worth the trip. Would recommend this campground.
Aug 06, 2020
Weather was less than optimal for an august weekend. Stayed in a cabin. Had everything we needed plus more! The outside/dining/fire pit area and front porch were our favorite places (when it wasn't raining). Kids had a blast fishing, riding bikes, hiking and playing on the play ground. We be back every year if the mattresses were more comfortable ��. Recommend bringing a blow up mattress or
Aug 06, 2020
Such a great place! Staff were super nice and helpful with anything we needed or had questions about. The kids had so much to do with swimming, fishing, pedal boats, kayaks and canoes. The jump pad was fun for all of us. We will be back for sure!
Aug 05, 2020
Very clean, lots of activities to do. Most relaxing vacation I had in a long time!
Aug 05, 2020
Beautiful campground, the facilities were extremely clean (bathhouse, laundry etc). There were many activities for kids including a beautiful, clean pool, playground, jump pad and hiking trails. Many extra amenities such a firewood and food delivered straight to our site. I can't say enough wonderful things about this KOA. We're already planning another trip for the fall!
Nov 04, 2020
Next season, check out the boondocks. It is their newest section. Huge campsites with full hookups! On your way into the campground order pizza and have it delivered to your site. Staff are friendly and helpful.
- Scott C. on Google
Nov 04, 2020
We absolutely love this campground! We highly recommend it to everyone that we can. The sites are a perfect size, Chip, Bambi, Hayley and the rest of the staff are all fabulous people and will do anything to help make your stay fun and comfortable. There are activities available for both kids and adults, the perfect balance. If you want a fun and great stay, come on over to the KOA Sunbury!
- Buckeye_Veteran on Google
Oct 14, 2020
Nice place 1 year ago
- terry beaver on Google