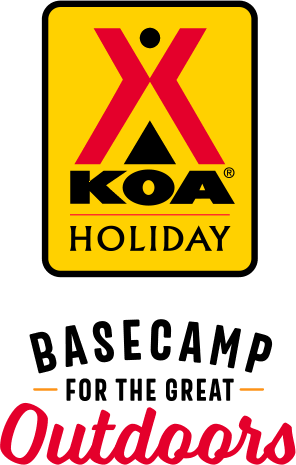 KOA Holiday Campgrounds
Whether you're exploring the local area or hanging out at the campground, KOA Holidays are an ideal place to relax and play. There's plenty to do, with amenities and services to make your stay memorable. Plus, you'll enjoy the outdoor experience with upgraded RV Sites with KOA Patio® and Deluxe Cabins with full baths for camping in comfort. Bring your family, bring your friends, or bring the whole group – there's plenty of ways to stay and explore.
KOA Holidays Feature:
RV Sites with a KOA Patio®
Deluxe Cabins with full baths
Premium Tent Sites
Group meeting facilities
Directions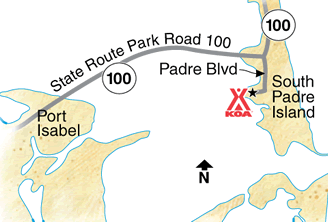 Cross the causeway at Port Isabel. Take the first right after crossing the bridge, travel one quarter mile and take the first right to the KOA entrance. GPS: N26.079219, W97.166637
Get Google Directions
Sep 06, 2021
We had a great time and the staff was extremely helpful.
Sep 06, 2021
dogs barking ,office woke me up thinking it was my dog . wrong then texted me and knocked to my door.also leave after 11 and they charge you $25.00, and at high prices
Sep 05, 2021
We love all the palm trees and greenery. It makes it feel like home. The pool area was kept clean.
Sep 04, 2021
the location was beautiful and the campground was very clean. The only thing we have and had an issue with was the cleanliness of the cabin we stayed in KL4. This was a oceanfront cabin the "light house landing". Inside was not cleaned and the floors in all the rooms had sand, dirt and hair on the floor. The water pressure was very very low and made it hard to shower or clean dishes.
Sep 04, 2021
This park was in a great location, right after the bridge. Very clean, nice showers, had a great pool. The staff was friendly and helpful. We definately plan on coming back!
Sep 03, 2021
We are 3 month occupants during the summer and have been doing it for the past 8 yrs. We love it there but as long as we have been returning the whole place needs to be updated. Lots of work to do there. The non-KOA resident issue has been controlled but need more work to be done. Pool needs to be improved as well. Hear new things to come next year looking forward to it. Good luck!
Sep 02, 2021
Pool was constantly dirty. They need to work on the landscaping. The staff is awesome dotty at the front desk was so nice she is always smiling and just so happy
Sep 02, 2021
Great location. However, we were not able to obtain wifi the whole time we were there for a total of 4 days. I take classes so I had to go buy a Hotspot to complete my assignments. That was disappointing considering the advertisement of free wifi.
Sep 01, 2021
It's a nice place to stay on the island. They have clean restrooms and keep the grounds quite clean as well. I would not stay in the first row closest to the entrance, pull throughs. You here delivery trucks very early in the morning as well as all the late arrivals. Other than that we enjoyed our stay.
Sep 01, 2021
Cabin was super nice. A/C kept us cool and it was easy to keep clean. Fit my whole family and luggage easily. Had all of the amenities we could ask for.
Sep 01, 2021
Business stop, as usual.
Aug 31, 2021
Loved it !�� Our rv site was perfect! # 002. Everyone was friendly & nice. Didn't like the wrist band on all the time, but I understand why you have it in place. � like the fact that we had a choice the pool or beach. �
Aug 31, 2021
Area is nice. As frequent winter guests at this KOA, we were disappointed that since Tom and Stacie were gone bigger improvements had not been undertaken. The shrubs on the fence had not been trimmed. The back row close to Sea Ranch Marina building had not been kept trimmed so the guests along that row could not see the water. We hope to notice a big difference when we arrive on Dec. 1
Aug 31, 2021
Wow!! We had not stayed at this KOA in quite sometime, Due to there customer service let me tell you your new team makes you feel so welcome it amazing. Will defiantly return in one week. I Made sure I reached out to the 15 couples that stop going to this KOA about our experience.
Aug 30, 2021
We stayed for 10 days in site 4 and had a great experience. We used the pool daily! Grounds were well maintained and we had a great stay with no issues. Short walk to Pier 19 for brunch is a plus!
Aug 30, 2021
Very friendly staff . Super clean restrooms and showers . Pool on site was awesome. Washer and dryer clean and all worked great . Only issue was ants on our site but no big deal it's nature . Hook ups were great .
Aug 30, 2021
My wife and I enjoyed our stay. The bed was very comfortable and the space in the cabin we got was just enough for the 2 of us. Next time we will take our 2 younger children. Our little mini vacay for just the two of us was perfect!! Thank you KOA!!
Aug 30, 2021
The staff is wonderful. 3 stars only because we didn't find it as dog friendly as other KOA's that we've visited. There is only one dog yard and it is close to the entrance pulling in but some distance from other rv sites. There is only gravel and blacktop for the dogs to walk on and it burns their feet (I tested this). It would be nice if dogs were permitted in the Pier 19 restaurant as well.
Aug 30, 2021
Easy to check in and get setup. Pool cleanliness was lacking. Location and Guide was great.
Aug 27, 2021
My friend and I wanted a quick little getaway to relax. We really enjoyed our stay here. The Deluxe cabin was well worth the money. We watched the bay at night time and it just was so peaceful. We were lucky because there was barely anyone at the campground the days we were there. Hope to be back again some day.
Aug 25, 2021
Great RV park, LOVED the private little deck and patio. Clean bathrooms, laundry & pool. Couldn't find a grill or a fire ring ANYWHERE! but other than that - it's a fabulous place. I was bummed about the " no fire" .
Aug 24, 2021
The campground is clean and managed well. The staff is superb and will make sure you have everything you need to enjoy your stay. We will definitely be returning here often.
Aug 24, 2021
We stayed the first 3 days in a tent, it was very hot! I was happy to see that shelters were being constructed as we left. We then stayed in a cabin for 2 nights. It was very convienent! This is our second time to this KOA and hopefully will not be our last.
Aug 23, 2021
The grounds are really nice. Everyone was so pleasant and accommodating. We will stay again.
Aug 23, 2021
Well run location (as our impression of all KOA's visited so far). We were able to relocate to another site when the three palm trees at our first site blocked 5 of the 6 satellites available to DISH. Problem was solved. Immediate response when we called about an electrical concern. Had full view of SpaceX launch site at Boca Chica. Site was level, crushed rock, tight but Ok for 45 ft with Jeep
Aug 22, 2021
Fantastic customer service. Very friendly helpful staff. Dottie was so nice!!! One of the best campgrounds we ever stayed at!!!!
Aug 22, 2021
We had a great time. The campsite was very clean and we'll taken care of. Everyone was friendly and helpful. We had a pull through space and it was easy to manipulate.
Aug 22, 2021
Enjoyed it, lots of good fun
Aug 20, 2021
No issues other than we wanted a spot closer to the pool maybe next time. Very kind and helpful employees.
Aug 19, 2021
Very helpful and attentive employee, made rounds in evening
Aug 19, 2021
Great place to stay. But in restrooms in blue building a fan needs to be put or a/c
Aug 18, 2021
Always clean and friendly staff
Aug 18, 2021
We had a great time! All the staff was friendly and helpful. The condo was perfect for our family of five. We would definitely stay here again next time we visit SPI.
Aug 18, 2021
I felt the campground was kept clean and orderly. Great location to things to do in the area.
Aug 18, 2021
We have been there all summer and truly enjoyed the convenience of the laundromat, s'mores night and the clean grounds and friendly atmosphere. The staff is very helpful, friendly and go out of their way to make you feel at home. Thank you �
Aug 17, 2021
Great service, family friendly and very clean.
Aug 17, 2021
Excellent, clean, well organized and great staff. Pool is great.
Aug 17, 2021
Everything was ok. No problems during our 2 day stsy
Aug 17, 2021
Overall stay was amazing with good amenities. Biggest issues were the spaces are very close together and parking is tight - if you drive a large vehicle it's a tight fit - and there is no visitor parking - they were forced to park outside the park across street -
Nov 21, 2021
Nice place to visit
- Lenore K on Google
Nov 20, 2021
A Real beautiful place!
- Kenny G Budz Bretag on Google
Nov 19, 2021
nice here not crowded at all. very helpful and friendly
- alan senn on Google