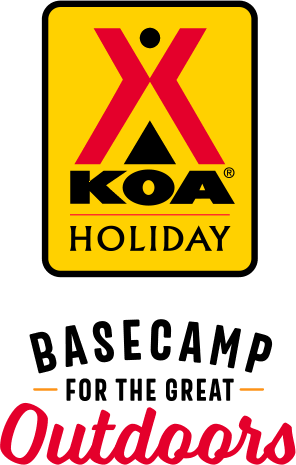 KOA Holiday Campgrounds
Whether you're exploring the local area or hanging out at the campground, KOA Holidays are an ideal place to relax and play. There's plenty to do, with amenities and services to make your stay memorable. Plus, you'll enjoy the outdoor experience with upgraded RV Sites with KOA Patio® and Deluxe Cabins with full baths for camping in comfort. Bring your family, bring your friends, or bring the whole group – there's plenty of ways to stay and explore.
KOA Holidays Feature:
RV Sites with a KOA Patio®
Deluxe Cabins with full baths
Premium Tent Sites
Group meeting facilities
Directions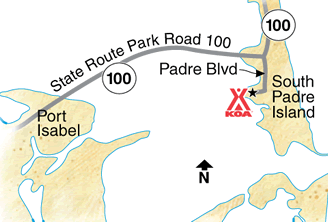 Cross the causeway at Port Isabel. Take the first right after crossing the bridge, travel one quarter mile and take the first right to the KOA entrance. GPS: N26.079219, W97.166637
Get Google Directions
Nov 22, 2021
Great experience. Very clean and well maintained facility. Quiet and peaceful. Staff was very positive and helpful.
Oct 19, 2021
This park is excellent for RVs but not suitable for tent camping. The pool is awesome! The park is beautiful and well-maintained. The problem is the tent sites are separate, far from bathrooms, and on the entrance to the park and restaurant. Left early as I could not sleep due to the traffic in and out and long walk to bathroom.
Oct 18, 2021
The tent spots are in the wrong location, to much traffic there. I personally think the tents should be in the back of the campground, where there is less traffic. But the employees where very courteous and helpful.
Sep 27, 2021
absolutely loved everything! Super clean bathrooms and showers, the ease of checking in and out. The tent site was superb. Everyone was super friendly !
Sep 27, 2021
All the workers I've encountered were super helpful and nice. The only problem was the distance between the tent camping and the restroom.
Aug 18, 2021
We have been there all summer and truly enjoyed the convenience of the laundromat, s'mores night and the clean grounds and friendly atmosphere. The staff is very helpful, friendly and go out of their way to make you feel at home. Thank you �
Aug 02, 2021
Stay was good.
Jul 31, 2021
Staff was greatly helpful and attentive to details! The grounds were clean and the restrooms were a delight! Loved the stay!! Will go back.
Jul 29, 2021
Friendly staff and nice service; Good communication; Good set up for the sites; Clean bathrooms & showers;
Jul 27, 2021
Friendly staff, easy access for showers & restroom. Great stay for tent!
Jul 17, 2021
Conveniently and easy to use. Ladies at front desk were accommodating. WIFI at the tent area and calling customer service went nowhere. Walking by the dumpsters to the Pier was horrendous due to the smell.
Jul 12, 2021
The staff was amazing, I was somewhat annoyed by the amount of traffic at the park. Also the gravel pad was nice to set tent up on but there were lots of stickers still. At $57 a night to camp I expected a little more
Jul 07, 2021
Our stay was great, very friendly staff, and helpful. Definitely will be staying there in the future. I will highly recommend this to my family and friends. The only problem was power going out and 1 restroom stall in one of the restroom areas, other than that we had a great time. Thank you to all the staff.
Jul 06, 2021
Some of the staff were very rude about security. I understand it was 4th of July weekend and that they wanted to keep "the riff raff" (their words, not mine) out, but when my kids drove out to meet us, which I had informed the front office about and had already gotten a second car permit/wristbands for them, the staff member went out of her way to interrogate them and made them feel very unwelcome
Jun 29, 2021
Booked a tent/camp spot mistakenly, they were happy to accommodate us still. We had a great weekend
Jun 28, 2021
Great staff just hated the environment, we had to get a bug net to keep the roaches away from our dog. We sealed up the tent because roaches were all over our tent, our tent is mounted to our truck. The mice that came out as well were horrible. We had to be done cooking and packed up by 10 to avoid the roaches. Spent one night there and decided to camp on the beach instead. Waste of money.
Jun 28, 2021
Everything was great! The only thing was the pool looked really green and cloudy and it had a lot of debris floating around edge of pool. We did not get in it ..it was really full of people.
Jun 21, 2021
Super clean bathrooms/ Showers. Extremely friendly and welcoming staff. Wish there was a actual pier that we could fish off off. You cant fish off of Pier 19, you can do wade fishing but I was expecting a actual pier. But over all super nice place and staff.
Jun 16, 2021
They put us in a spot next to the swamp. Huge cockroaches were everywhere and rats too. They said they would spray but didn't. In fact they blew it off and said they were palmetto bugs. They had a shower at the pool with no drain...water pooled and was nasty and hot.
Jun 06, 2021
Friendly staff. Shannon went out of his way to help us. We will definitely stay here again.
May 25, 2021
Limpio. Muy agradable. Buen precio
May 10, 2021
Easy reservations; front staff were great. very clean; all as advertised
May 10, 2021
Loved it but I would add more restrooms im 7months pregnant with 3 kids the restrooms were farther away complicated to come and go from the tent and kids area. Other than that loved every moment we spent there ��
May 08, 2021
Not really ideal for a tent camper, in spite of a great location. First, no hot water in the showers! Showers not conveniently located for the tent area. Then, there was a street light which shined into my tent ALL night long, making it difficult to sleep. I understand the need for safety reasons but maybe the tent area could be away from these bright lights and the main road to Pier 19.
Apr 30, 2021
I would have given more STARS if the pool would have been cleaner .The restrooms and showers were very clean. Staff were very friendly
Apr 26, 2021
Awesome experience, my family and I used the tent site and there was ample room for a 10 person size tent plus a canopy. Water and light was provided which helped a bunch and their Laundry area has a bathroom and shower station which was soo much help when it was time to freshen up. Great place to stay!
Apr 19, 2021
One of the nicest KOAs I have ever camped at. Staff are very friendly and helpful. Bathrooms are spotless. All facilities are well maintained. Great pool! And the Pier 19 restaurant on the same property is a real convenience. Food there is excellent!!
Apr 06, 2021
The space was nice and beautiful. It was frustrating to not have a fire pit, which we didn't realize, but we know for the future now. We called about noise when people beside us were extremely loud and appreciate how promptly it was handled.
Feb 20, 2021
I wasn't able to stay here due to the historic storms in Texas. I got stuck in Austin and it was unsafe to travel. I left a message on Sunday asking to cancel my reservation and never got a response. And was charged anyway. In an emergency situation. It may be a nice a campground but this is a terrible way to treat people.
Feb 14, 2021
There was so much to do. The cabin was spacious and the bed was comfortable. Pier 19 was AWESOME. Can't wait to go back
Nov 21, 2021
Nice place to visit
- Lenore K on Google
Nov 20, 2021
A Real beautiful place!
- Kenny G Budz Bretag on Google
Nov 19, 2021
nice here not crowded at all. very helpful and friendly
- alan senn on Google