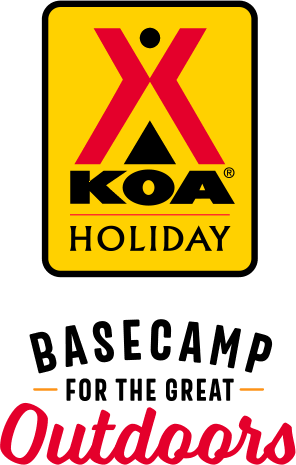 KOA Holiday Campgrounds
Whether you're exploring the local area or hanging out at the campground, KOA Holidays are an ideal place to relax and play. There's plenty to do, with amenities and services to make your stay memorable. Plus, you'll enjoy the outdoor experience with upgraded RV Sites with KOA Patio® and Deluxe Cabins with full baths for camping in comfort. Bring your family, bring your friends, or bring the whole group – there's plenty of ways to stay and explore.
KOA Holidays Feature:
RV Sites with a KOA Patio®
Deluxe Cabins with full baths
Premium Tent Sites
Group meeting facilities
Directions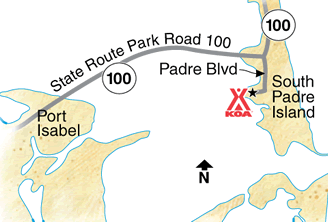 Cross the causeway at Port Isabel. Take the first right after crossing the bridge, travel one quarter mile and take the first right to the KOA entrance. GPS: N26.079219, W97.166637
Get Google Directions
Nov 15, 2021
Had great time. Slept well. Cabin was small but cozy. Next time will be considering a bigger cabin.
Nov 09, 2021
No hot water during our stay
Nov 01, 2021
Great cabin, great service, beautiful view.
Oct 31, 2021
It seems that the customer service has gone away quite a bit. It used to feel more accommodating. Our cabin was also not very clean when we moved in for the week, the bed was broken - like obviously broken and terribly uncomfortable! We had to turn it around so we could sleep on it and when we told them about, they said they thought it was broken! Something has changed since we first started going
Oct 31, 2021
Very clean, tasteful nautical theme; wonderfully courteous and upbeat staff -- great location & amenities. Definitely returning soon!
Oct 29, 2021
It was so amazing room was super clean, cute and it was just perfect. I will probably be staying at KOA instead of hotels from now on.
Oct 27, 2021
It was nice as unusual. But the cabin we had have a crack in the tub and no stopper to wash the dishes we used but I got them washed. Also to much light come in that cabin from the spot light. But it is a very nice, clean and peaceful place to stay. We will go back and stay there as we have in the past.
Oct 26, 2021
Always great to stay in a cabin. It's more private and you don't hear the next door children crying or the TV full blast like at hotels. Great Stay and AWESOME Staff!!
Oct 25, 2021
Accommodations were great as always. Office staff very helpful and friendly
Oct 25, 2021
Very relaxing time, no problems with cabin, will definitely be back
Oct 24, 2021
restful and peaceful.
Oct 18, 2021
great place to stay...very nice and clean....great pool and hot tub.
Oct 18, 2021
All was pretty good. I stayed in a cabin and was told that there would be a light housekeeping service on my third day. It didn't happen. Staff were friendly and the unit was clean enough. Probably could use a deep clean in the corners of the bathroom.
Oct 18, 2021
Nice clean place the only thing I need to complain about is the showers, they didn't even get hot enough. Besides that it was easy to get in and out of, friendly staff.
Oct 18, 2021
Clean, well organized facility. Disappointed this time because the "no pet" loft cabin we rented smelled of dog. They gave us air freshener and discounted the first nights stay. We would come back.
Oct 15, 2021
I usually enjoy staying at the cabins. But my last stay was not pleasant at all! There was a huge dip/hole/crease in the bed! And our shower leaked and bathroom was not cleaned well at all.
Oct 15, 2021
Nice folks, great location, and great restaurant onsite! We'll definitely be back!
Oct 12, 2021
2nd time here...... enjoyed the stay.
Oct 12, 2021
This is our 3rd time staying here. Cabins got more decrepit. Our blow dryer GFCI broken, back slider hard to pull open until maintenance adjusted, bunkbeds & sofa sheets stained, pull out sofa blanket dirty, with a handful of hair, feet were black from walking around the room, pullout mattress stained, told no extra towels allowed only can switch once every 3 days, so when we check out? Gym closed
Oct 11, 2021
I went there for a couple of days. With my adult children. We all had a great time. For a camp ground it was surprisingly quite. The cabin we stayed in was clean. The people were friendly. The only reason gave a 4 is because of all the construction going on. Also I feel the office should be open later than 5pm. We would be happy to go back and highly recommend this campground.
Oct 05, 2021
We always love to stay at the SPI KOA! The staff is friendly and welcoming. The cabins are clean and perfect for a stay at the beach.
Oct 04, 2021
I check in after hours a storm rolled in prior to my arrival and the instructions were on the ground next to the broad soaking wet luckily I found my reservation and place the others back on the broad
Oct 04, 2021
It rained but had an amazing time everyone was nice studio clean and well equipped
Oct 02, 2021
Beautiful cabin and great staff
Sep 27, 2021
I stayed in one of the condos inside the retired water tank. I will not return to this spot. The overall noise and slamming of doors is unbearable. I did not sleep well. If I return to this location, I will stay in a cabin. This was my first stay here, thus I gave it a 3 star rating, because I have not stayed in their cabins. But as far as the condo goes, 1 star. I do not recommend it.
Sep 27, 2021
Great service from smiling staff.... They were right there when ever we needed their service!
Sep 27, 2021
Thank you for an awesome stay especially thank you to dotty for your war welcome and fond farewell your a gem and made us feel so welcomed through the weekend.
Sep 27, 2021
i would give it 5 star but the cabin we stayed was not very clean due to covid I think they need to Do a deep cleaning BEFORE another family comes in!
Sep 27, 2021
Had a great time. The cabin was perfect for my wife and I. Our cabin was next to the water and we had a great view the water. We even got to see a few dolphins from our patio.
Sep 26, 2021
Very disappointing stay, multiple issues and could not get any items resolved on-site so had to leave unit. If you are truly concerned you will contact us.
Sep 26, 2021
Location nice but the cabin smelled terrible.
Sep 24, 2021
Nothing to stop my toddler leaving the cabin and wandering down to the ocean at 2am. everything sharp and breakable placed in the lowest drawers and cabinets. Could not lock the cabin door with the key so just had to leave it open when we left. Tv's did not work at all. pool was closed on a perfect day and no one in the office to do anything about any of it. Left after 12 hours of our 3 day stay.
Sep 21, 2021
To start after check in, nice escort from the management to show us where the cabin was located, at the cabin we were getting bit by gnats or fleas, anyways thru out the trip and mostly around the yellow couch we felt like we were being bitten to often, I found a wasp or hornet nest above patio door, wife said lets go home, SO WE LEFT EARLIER THAN EXPECTED, wasted vacation, not worth the expense.
Sep 21, 2021
Staff is very friendly and always available to help from the moment you arrive.
Sep 14, 2021
Our stay was wonderful. Cabin was clean. A/C was cooling really nice. It was quite and restful. Staff at desk was polite and friendly.
Sep 14, 2021
Everything was nice. We really had a good time at the KOA SPI. Thank you to all staff and Dottie and Ramona
Sep 14, 2021
The condo was great! Would definitely stay again.
Nov 21, 2021
Nice place to visit
- Lenore K on Google
Nov 20, 2021
A Real beautiful place!
- Kenny G Budz Bretag on Google
Nov 19, 2021
nice here not crowded at all. very helpful and friendly
- alan senn on Google