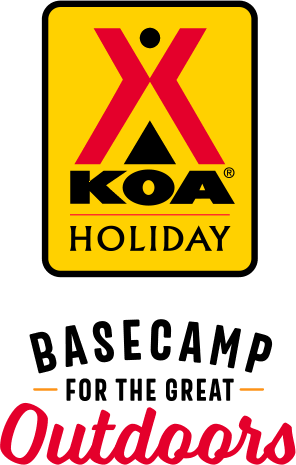 KOA Holiday Campgrounds
Whether you're exploring the local area or hanging out at the campground, KOA Holidays are an ideal place to relax and play. There's plenty to do, with amenities and services to make your stay memorable. Plus, you'll enjoy the outdoor experience with upgraded RV Sites with KOA Patio® and Deluxe Cabins with full baths for camping in comfort. Bring your family, bring your friends, or bring the whole group – there's plenty of ways to stay and explore.
KOA Holidays Feature:
RV Sites with a KOA Patio®
Deluxe Cabins with full baths
Premium Tent Sites
Group meeting facilities
Directions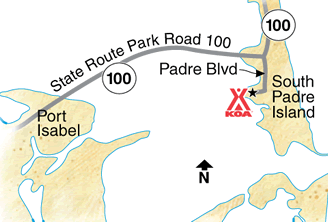 Cross the causeway at Port Isabel. Take the first right after crossing the bridge, travel one quarter mile and take the first right to the KOA entrance. GPS: N26.079219, W97.166637
Get Google Directions
Feb 21, 2021
It's a run down park , maintenance is not a priority and the park is not clean. When we had the winter storm , power outage and no water(Feb 14-17) the office closed and the employees disappeared, there was no one there to help find propane, fuel or anything else for campers who are not from that area.
Feb 20, 2021
I wasn't able to stay here due to the historic storms in Texas. I got stuck in Austin and it was unsafe to travel. I left a message on Sunday asking to cancel my reservation and never got a response. And was charged anyway. In an emergency situation. It may be a nice a campground but this is a terrible way to treat people.
Feb 20, 2021
Texas was a mess. We didn't have power other than our generator. Didn't always have water. It was too cold to enjoy any amenities. None of this was the fault of KOA. They did what they could and were respectful of our questions.
Feb 19, 2021
Weather — not the fault of the KOA or staff. Outdoor help was very good. Indoor help was hit or miss. Very Stressful time gets a pass. Dog poop throughout our campsite on arrival scored negatively. Size of the site was also less than expected — very tight. Neighbors were, like, right there, y'know? My wife would not give a single star, if that were possible. Not planning a return visit
Feb 19, 2021
Reservations 2/11-2/18 2021. Was not able to enjoy amenities due to weather. With the loss of water and power early 2/15 - we were not using any of the features of the KOA other than the place to park. Bathrooms locked, office closed. I understand it was an extreme weather event - but there was no information posted nor staff available for questions. We left early and did get a day refund.
Feb 19, 2021
Seemed like nice place but had misfortune of visiting during freak cold front and power outages. We will go back to check it out when warmer, liked the site and employees were great, just bad luck.
Feb 19, 2021
Not the best experience this time..power outage, no facilities, and sewer back up into our campsite. A male KOA staff member asked my husband to try and tighten sewer cap, REALLY? I know it all wasn't KOA's fault but there seemed to be no backup plan...I think a partial refund for the terrible experience is the right thing to do for ALL campers.
Feb 18, 2021
We had a great waterfront space,001A,. There were some moderate vehicle traffic but not much of a distraction. Sunsets were an extra bonus .
Feb 17, 2021
South Padre Island is great. It works to keep everyone heathy from COVID-19, but still plans activities. It is nice because usually the events can held outdoors. We have a dog and on South Padre Island, the dogs are allowed on the beaches on leashes. If you go to the park at the north end, you can let your dog run free when you find a place on the beach with no one insight (not on a weekend).
Feb 15, 2021
Had an awesome view of the water from our cottage however, the weather did not cooperate for us, it was raining, windy and cold. Record setting bad weather but we enjoyed our visit with friends camping there. Would love to try the campground again and truly experience the island in better weather.
Feb 15, 2021
Very cozy and great place to relax!!
Feb 15, 2021
We had a nice stay while we were there. It seems that you have a lot of mixers that you do for the campers and that is great. Unfortunately we had bad weather while we were there so we weren't able to spend much time outside. Maybe next time!!
Feb 14, 2021
We were met with smiling friendly faces at check in and the entire 2 weeks that we were there. Lots of fun activities that were held outside and spaced out for social distancing. DJ does a great job with planning and carrying out events. We had root beer floats one evening, live music and entertainment on the Sunset deck and a superbowl party. Our beautiful lot faced the Laguna Madre.
Feb 14, 2021
We enjoyed our stay, unfortunately the weather did not cooperate. Luckily we brought books and games. I would like to see the cabins add collapsible suitcase stands. We brought the end table in from the deck outside to use for our suitcases.
Feb 14, 2021
There was so much to do. The cabin was spacious and the bed was comfortable. Pier 19 was AWESOME. Can't wait to go back
Feb 13, 2021
It was awesome except for the weather :-( we had to leave early and come back home!
Feb 13, 2021
Very clean campground! Only downside is the spaces are so tight! We had to move our trailer practically on the patio so our slide would not be on our neighbor's patio. Didn't have anyone in front of us thank goodness! We had to listen to the kids behind pound on a keyboard till 10 pm, just no privacy at all in the campground. We would stay again only because there is no other decent place to c
Feb 13, 2021
It was another great visit as usual!
Feb 13, 2021
A very clean koa. Very nice and caring people working for this KOA. Would diffidently go again.
Feb 13, 2021
Koa employees/staff are unfriendly. Campground very crowded. Sites are so close you can hear your neighbors inside their Rv. Feel like site rates are overly priced for the size and condition. Will not recommend this koa or stay there again.
Feb 12, 2021
Loved the deluxe cabin we stayed in. Beautiful view of the bay. Upon arrival the cabin was very clean, had everything we needed, and great WiFi connection.
Feb 12, 2021
First time at this location and first time to rent a cabin. Awesome! Very clean and positioned right on the bay view side. Dolphins right off the porch on day 1! Walking to restaurant and getting a discount was very convenient. We did not use any of the RV facilities or pool. We felt safe and found the unit spotless!
Feb 12, 2021
Good people, easy web site, clean
Feb 11, 2021
Great service, facilities super clean and handy, wonderful.
Feb 11, 2021
Extremely helpful personnel Very clean campground
Feb 10, 2021
We really enjoyed our stay as always, loved the lot we were in. People are always so friendly. I do I have one comment. The wifi at the lot we were at had very low signal which was only an issue since our children are doing virtual school. Aside from that everything was great
Feb 10, 2021
Wonderful stay we will return the staff are amazing friendly the best ever
Feb 09, 2021
Very clean restrooms, laundry room.and park site . Extremely friendly staff and very helpful. Great place@
Feb 09, 2021
Comfortable campground. Unfortunately we were next to someone in a motor coach that would sit outside in the middle of the night and talk and fight on the phone with someone between 1-3am. Think there was a substance abuse issue, that was spinning a bit out of control. The South Padre Island police showed up the day before we left and had a conversation with the gentleman. Disturbing.
Feb 09, 2021
Great park. All the staff are nice and accommodating. Good location to all the South Padre Island activities.
Feb 09, 2021
Great site, friendly people
Feb 09, 2021
love it always very clean
Feb 09, 2021
South Padre Island KOA was a wonderful place to stay. The sights were roomy, pet area was clean and nice, it was close to the beach and resort areas, and the atmosphere was welcoming. Loved it �
Feb 08, 2021
We love this campground! We have found the accommodations to be excellent and the staff to be friendly. They have extra activities planned for all different age ranges of guests. We already have another trip planned to this campground! The Burrells from Bogart Georgia �‍�����������
Feb 08, 2021
Clean and level sites. Very friendly and helpful staff.
Feb 08, 2021
Could use more groceries and supplies in the office store.
Feb 07, 2021
At check-in: unfriendly staff-unwilling to consider any changes. At campsite: a welcome sign, no table on patio, sewer connection left by previous camper-site did not seem to have been cleaned or checked. Sites small and close-nice landscaping between sites. Good wifi signal. Ladies showers small, no water pressure and only warm.
Feb 07, 2021
Great location to stay while enjoying South Padre Island. Very clean, site was perfectly level, spacious, and staff very attentive. Two dog parks that were immaculately kept. We accidentally left a piece of equipment at the site when we left and the fantastic staff contacted me about it and mailed it to our home for us. Cannot say how much we appreciated this effort! We will return!
Feb 07, 2021
This place is clean, friendly, and so tropical. It is my favorite RV Park.
Feb 05, 2021
This was our first time in a cabin with amenities but it won't be our last!
Feb 05, 2021
Very clean. Sites were awesome. Staff was friendly and helpful.
Feb 05, 2021
Great. RV Park!
Feb 20, 2021
Great place to RV. On the Laguna Madre and near the beach ⛱️
- Sharon Dascher on Google
Feb 13, 2021
Absolutely incredible. This cozy slice of heaven is your gateway to all things south padre.
- Jeremy Wirtner on Google
Feb 09, 2021
Just visited friends
- MICHELE EIKEL on Google