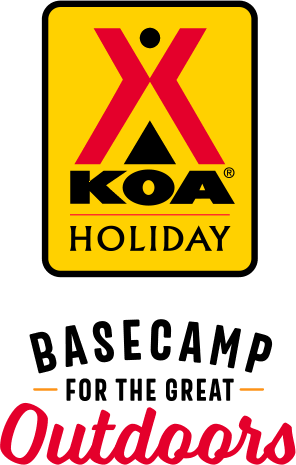 KOA Holiday Campgrounds
Whether you're exploring the local area or hanging out at the campground, KOA Holidays are an ideal place to relax and play. There's plenty to do, with amenities and services to make your stay memorable. Plus, you'll enjoy the outdoor experience with upgraded RV Sites with KOA Patio® and Deluxe Cabins with full baths for camping in comfort. Bring your family, bring your friends, or bring the whole group – there's plenty of ways to stay and explore.
KOA Holidays Feature:
RV Sites with a KOA Patio®
Deluxe Cabins with full baths
Premium Tent Sites
Group meeting facilities
Directions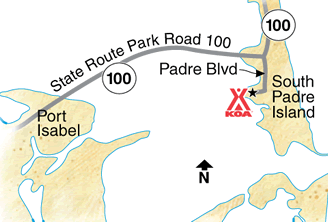 Cross the causeway at Port Isabel. Take the first right after crossing the bridge, travel one quarter mile and take the first right to the KOA entrance. GPS: N26.079219, W97.166637
Get Google Directions
Jul 27, 2021
The sites are sooo small would be fine if it was on the gulf side. But it's on the sound side. Biggest problem is there is no overview of how and what to do. That's really community problem.
Jul 27, 2021
This is a very clean and orderly camp ground. Our quarter's were nice. We had a pleasant stay.
Jul 27, 2021
Great Cabins, clean, adequate space, comfortable beds & sofa sleeper. Friendly & polite staff.
Jul 27, 2021
My room had a horrible smell. Cabin was a lot smaller than what I expected. Staff was nice & courteous. The parking is terrible.
Jul 27, 2021
Friendly staff, easy access for showers & restroom. Great stay for tent!
Jul 26, 2021
Pool needs updated !
Jul 26, 2021
It was a decent place to set up camper. Cable was bad, very poor reception.
Jul 26, 2021
Wi-fi and cable bad!.
Jul 26, 2021
The location is good. Sites are way too tight and way too close to each other. Couldn't get WIFI. Limited to no cell service. When we made our reservation, I was lead to believe we were getting a site with a large wood deck, but we got a concrete patio. The concrete patio was nice, but we had different expectations.
Jul 26, 2021
We had a great time with the family at the koa spi. We are planning next stay very soon.
Jul 26, 2021
Office staff is very friendly. Facility needs to be properly maintained. Many sites with weeds/grass growing wildly and that looks trashy. And the mosquitoes but that comes with the climate. Overall it's a great place. Would go back
Jul 25, 2021
Overall was a good stay. Two things was a bad experience. First was the security lady questioning and harassing me if I'm in the right place, if I belong here, if I hit the parking pole, and assuming I stole my 5 year old beach kart from someone in the park because it looked the same. Also what's with all the gnats in the room? So many gnats. Other than that, everything was awesome!
Jul 25, 2021
it was great! First time experience, only downfall was someone who threw up by our vehicle other than that we'll be staying again.
Jul 24, 2021
When I got to the cabin it was infested with flies and mosquitoes. It was not very clean. Only the main bedroom bed was made. The garbage from the restaurant was right by the cabins. I had to run from the car to the cabin because of the mosquitoes and flies. They should at least have put filters on the AC units. And clean the rooms more thorough. And move the garbage away.
Jul 24, 2021
Stay was great, bathrooms were clean, park was clean!
Jul 24, 2021
Everything was excellent! Loved the clean bathrooms!
Jul 24, 2021
Very calming and relaxing
Jul 24, 2021
Very peaceful and quiet. Staff was great and helpful. Cleanest resrooms/showers ever.
Jul 24, 2021
Site we were put in was too small for our rig so despite being a pull thru we had to unhitch from tow vehicle just to fit which defeats the purpose of a pull thru also the parking situation for handicap is poor as there is only one handicap parking spot at the front office/showers. Would I stay here again maybe would I recommend it to anyone else probably not.
Jul 23, 2021
This review has been removed by KOA due to profanity.
Jul 23, 2021
Very clean site. Friendly fellow campers.
Jul 23, 2021
The cabin was just right in size for our needs, the linens were clean, it had everything we needed, and the K-Cups were a great touch. We will be back for sure.
Jul 20, 2021
Initially made reservations for a 30ft camper back in March. We then purchased a 44ft camper and immediately contacted KOA and informed them of the change . When we arrived in July our camper barely fit into the lot! Our truck stuck out on road! They never made change to 44ft camper, still had us listed as 30ft. Management was very moody!
Jul 19, 2021
Dog friendly good amenities but too crowded for my taste
Jul 19, 2021
Staff were very un organized & unprepared when our party arrived. Had to do some running around with workers to get our complete bracelets. The place was VERY crowded & parking absolutely sucked!
Jul 19, 2021
Very nice stayed busy. Lotra things to do.
Jul 18, 2021
I love it here...love the Island...staff is so friendly....clean sites
Jul 18, 2021
The campground were clean well maintained, the staff helpful..good place but busy...but campsites are very close...not much patio space...the sewer outlet could have been a better place not by the picnic table. Had fun time. Would stay at KOA South Padre again...Laguna Madre... Beautiful.
Jul 18, 2021
Everything was so perfect and peaceful. I totally loved it will definitely be my place to rent when staying at the island.
Jul 17, 2021
Was really disappointed in how small the site are the people driving you to the sites sit there telling you to back up if I wasn't outside the truck my husband would have hit a truck and a boat and the whole time telling him to keep coming back. Also daughter-in-law father also was at park same thing they told him he was clear to keep coming back even after he hit another RV. Pool filthy
Jul 17, 2021
Stayed in one of the premier sites by the playground. Playground was a disappointment. Also, kids at the pool (teenagers) without supervision we're out of control and rowdy. Not fun for families to be around. Understand there is new management so hopefully they will resolve the issue. Front desk staff could also smile once in a while. Just sayin.
Jul 17, 2021
Conveniently and easy to use. Ladies at front desk were accommodating. WIFI at the tent area and calling customer service went nowhere. Walking by the dumpsters to the Pier was horrendous due to the smell.
Jul 17, 2021
Nice site with plenty of room. Enjoyed our stay.
Jul 16, 2021
The only opportunity is the size of AC in the cabin was to small in the main room, had to buy a fan for bunk room for kids to stay kool. Other than that it was clean and well care for park. Would be better to add a fishing pier for park guest only in the bay
Jul 15, 2021
Park was clean, quiet even though busy. We had a great site and already re-booked for another trip. Staff is friendly and helpful. Dottie helped us with our future reservations.
Jul 14, 2021
Una pareja de trabajadores se la pasaban molestando, párese ser que la persona era la asistente de manejante y su esposo, fueron mis peores vacaciones
Jul 14, 2021
We felt like we were on top of our neighbors! This KOA basically divided up a section of their single sites into two sites which made everything extremely cramped. Very difficult to back in. Staff did not enforce some of the rules such as more than one vehicle per site. Vehicles parked on the already narrow roads blocking RV access. Grounds were clean but perimeter of property was trashy.
Jul 14, 2021
We stayed because of the water towers condos and beach access! Great novelty! Staff is fabulous! Very safe! Fully stocked kitchen. Condos needs sprucing: black mold in bathroom vents & water temp control issues & outside door lock sticks. Rental rate is too high; flat rate + per person. But, you cannot beat the beach access! Overall, good vacation.
Jul 14, 2021
The location is great and staff was nice. But I couldn't get over the uncleanliness of the cabin, especially given the COVID times we're in. Every wall had weird drips/stains, the TV remote was crusty and sticky, honestly I didn't want to touch anything. No instructions for checkout, and the pool was closed 2 days we tried to go. It was a great value but at the expense of cleanliness.
Jul 14, 2021
Everything was great
Jul 25, 2021
This was a great place to camp.
- Barbara Hutchens on Google
Jul 23, 2021
This is a first rate operation!
- Roxanne Ray on Google