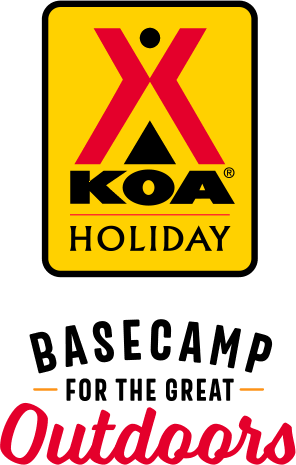 KOA Holiday Campgrounds
Whether you're exploring the local area or hanging out at the campground, KOA Holidays are an ideal place to relax and play. There's plenty to do, with amenities and services to make your stay memorable. Plus, you'll enjoy the outdoor experience with upgraded RV Sites with KOA Patio® and Deluxe Cabins with full baths for camping in comfort. Bring your family, bring your friends, or bring the whole group – there's plenty of ways to stay and explore.
KOA Holidays Feature:
RV Sites with a KOA Patio®
Deluxe Cabins with full baths
Premium Tent Sites
Group meeting facilities
Directions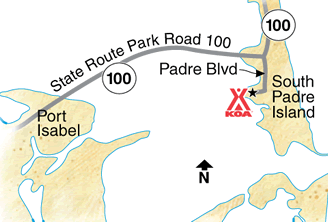 Cross the causeway at Port Isabel. Take the first right after crossing the bridge, travel one quarter mile and take the first right to the KOA entrance. GPS: N26.079219, W97.166637
Get Google Directions
May 08, 2021
Customer service was great. Our cabin had an issue with the electrical system, which caused us to have to move cabins. We had to seek that option, it wasn't given up front, but we were upgraded for free which was appreciated. Highly disappointed in the lack of employees following COVID precautions. We came here all the way from El Paso for a safe vacation, and didn't feel that way.
May 08, 2021
Not really ideal for a tent camper, in spite of a great location. First, no hot water in the showers! Showers not conveniently located for the tent area. Then, there was a street light which shined into my tent ALL night long, making it difficult to sleep. I understand the need for safety reasons but maybe the tent area could be away from these bright lights and the main road to Pier 19.
May 07, 2021
Perfect location to watch the rocket launch. Very clean and quiet.
May 06, 2021
Site hookups were great. Access to Pier 19 (excellent food) was a plus. Easy access to shopping/dining via bicycle was a plus for us. Large reason for low rating was the repaving activity that started our second day. No notice given, before, at check-in, or during stay. Rain water from street thrown up on RV during crews cleaning of road. Tar and rocks from paving stuck to shoes, van, etc.
May 06, 2021
stayed for a week everything went well nice set up and location
May 05, 2021
The pool, the staff, the ambiance are all stellar. We love it there.
May 05, 2021
This was our first time staying at the cabins! It was an amazing experience and we loved it! Everything was clean and beds extremely comfortable! We are going to return soon!!!
May 05, 2021
Awesome place. Will surely bring more friends next time
May 05, 2021
Absolutely the best campground for RVs on South Padre Island. It is on the bay side but has some of the best sunsets in south Texas. While covered with coarse rock the sites are large enough for larger RVs with some small for the smaller rigs. Pier 19 (short walk) is one of the best island restaurants. We also hoped to see a SpaceX launch from the area but was postponed.
May 04, 2021
Suggestions for you for handling future rallies. Have the rec hall, kitchen, tables and chairs clean for your guests usage. Have ramp entrance available for mobility challenged and caterers. Periodically check to see if trash bags or anything is needed. Unlock and unblock all exits per local fire codes. We were only thanked by Dottie for bringing 48 RVs and filling 2 cabins.
May 04, 2021
Terrible service, unfriendly people, ridiculous price for what you get. Even with the location, I'll never stay here again.
May 04, 2021
This park has WAY too much daily maintenance going on. Plus the cable was out for the last few days. Sites are very close together like your awning will/can touch your neighbors RV. Also our site had a pole by the end that was so close to our rear side door we were not able to open it. Look elsewhere for a better more open park.
May 04, 2021
Everything was great at my first stay only thing is I wish we had more options to stay or more spots to choose from but overall great service and stay was awesome no issues. Thank you for the hospitality.
May 04, 2021
We got 1 day of sun while there. But, the park was clean and organized. We will be back to stay again.
May 04, 2021
Stay was a little different. But overall good. Will come again. Understand new management. See you then..
May 03, 2021
Only one restroom available. No restroom in meeting hall. Restroom wasn't cleaned often
May 03, 2021
We were with the LTV group. Overall stay was pleasant. Wish the Commons had wash rooms that work. The RV sites were spacious only downside is the sewage connection is right next to sitting area. That is a big negative. Could not enjoy the patio due to that.
May 03, 2021
To much rain!! If KOA is associated with Pier 19, their outside bartender it was a very, very, very grouchy man. While we were there he ran off half of the customers, including eight of us.
May 03, 2021
We were plagued by party time people in the campground next to ours. The showers sometimes ran out of hot water and the pressure was low.
May 03, 2021
Everyone was very cordial and helpful throughout our stay. Our group of approximately 90 used your facility for our meetings but there was only one exit available should we need to get out. All the other doors were locked and even after a request they were never unlocked. We would come back and hopefully without 3 days of rain.
May 03, 2021
Everyone there was very friendly. We had a large group and they took good care of us.
May 02, 2021
Had a wonderful time. No complaints, however, it would be nice if there was some staff supervision to deal with the unattended barking dogs and the occassional loud after hours party people.
May 02, 2021
Although the weather wasn't 100% cooperative, the staff and amenities were! We have a fantastic high school retreat. The cabins were clean, comfortable, and we felt very safe all week!!
May 02, 2021
We stayed in one of the patio studio cabins. On the surface the cabin appeared to be clean. But when you looked around you noticed the window valences that were covered in dust, the ceiling fan that appeared to have never been dusted as well as the musty, mildew smell due to the AC units filter not being changed out. People with allergies have a hard time in such an environment. Find a hotel.
May 02, 2021
Everything was outstanding except the bed discomfort.
May 02, 2021
The first stay in site 116 was very nice - but the second stay in 165 was small and crowded. Thank you for recycling.
May 01, 2021
Great KOA, only complaint is the hot water in the main bath house does not get hot every time. If it does get hot it takes a few minutes. The other bath house has hot water.
May 01, 2021
everything was perfect........very friendly staff
May 01, 2021
The deluxe cabin was very clean, had everything you needed to stay including K-cups for the coffee machine. Overall very nice visit
May 01, 2021
Friendly attentive staff. Beautiful property, beautiful view. Close to beaches, restaurants and shopping.
May 01, 2021
Great check in!!
Apr 30, 2021
I would have given more STARS if the pool would have been cleaner .The restrooms and showers were very clean. Staff were very friendly
Apr 30, 2021
It's our favorite KOA!
Apr 30, 2021
Helpful, professional staff.
Apr 30, 2021
Laura did an outstanding job helping me with future reservations. Also, it should be noted that this wonderful performance may have been done in a short handed environment; the office is quite busy.
Apr 29, 2021
Water was off from Fri. @ 6:00pm until noon on Sat because a trailer ran over main water line. Was not prepared to be without water for that length of time at the beach.
Apr 29, 2021
The pool was very dirty and the place needs a paint job.
Apr 28, 2021
Nice place but the RV sites are not big rig friendly. Had to back in after assigned a pull thru. Another site may have worked out better.
May 09, 2021
Quit and relaxing. Will go back again
- Mary Bailey on Google
Apr 30, 2021
Playa,Olas,Sol Todo,😎
- Homero Luis Chacon on Google
Apr 26, 2021
Just got here. So far so goid
- George Cupa on Google