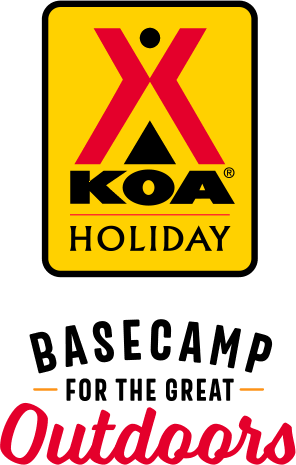 KOA Holiday Campgrounds
Whether you're exploring the local area or hanging out at the campground, KOA Holidays are an ideal place to relax and play. There's plenty to do, with amenities and services to make your stay memorable. Plus, you'll enjoy the outdoor experience with upgraded RV Sites with KOA Patio® and Deluxe Cabins with full baths for camping in comfort. Bring your family, bring your friends, or bring the whole group – there's plenty of ways to stay and explore.
KOA Holidays Feature:
RV Sites with a KOA Patio®
Deluxe Cabins with full baths
Premium Tent Sites
Group meeting facilities
Directions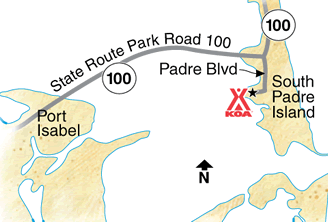 Cross the causeway at Port Isabel. Take the first right after crossing the bridge, travel one quarter mile and take the first right to the KOA entrance. GPS: N26.079219, W97.166637
Get Google Directions
Dec 02, 2020
Great people Clean an nice
Dec 02, 2020
Great place super nice staff
Dec 02, 2020
Great place and location only issue I had with it was the spaces were small and very hard to get into.
Dec 01, 2020
Great views of the water from the cabins!! And very clean! Its great to have all essentials provided incl plates, cooking utensils, hair dryer, coffee, clean sheets and blankets! Also great TV lineup! Love the staff and the Pier19 discount! Pool is clean and very pet friendly!
Dec 01, 2020
Very nice we will be back
Dec 01, 2020
Spaces are fairly tight but the hookups worked well. If you have pets, beware of stickers in the grass.
Dec 01, 2020
We always enjoy our stay at So Padre KOA
Dec 01, 2020
Lack of hot water in the showers near the office and the lack of rational response from the staff.
Nov 30, 2020
we had an excellent stay thankyou ( weather was great too)
Nov 30, 2020
It was awesome. We were close to the boat dock and my husband and son enjoyed taking the boat out to fish and relax. Grandkids enjoyed fishing from the peer and playing at the beach. Relaxing getaway for all. We are planning on returning soon.
Nov 30, 2020
Pleasant, quiet, great amenities!
Nov 30, 2020
Thank you so much for the Thanksgiving lunch. It was amazing and so thoughtful of you to do that. The staff was very friendly and the area was perfect. I highly recommend KOA South Padre Island...
Nov 30, 2020
Staff was excellent, very friendly and helpful, couldn't ask for anything more from them. The Campground is clean and well maintained. The spaces are very tight though you are very close to your neighbors, and this takes away from the enjoyment of the location. It would be much better if there was a good place to go fishing. Its possible to fish at the campground, but not very easy at all.
Nov 30, 2020
This was our 3rd Thanksgiving at your park. We've always stayed on the Regal sites which have a great outlook. However, the sites all need some refurbishment. The decks look to need some maintenance and lighting repaired. The site we had also needed some serious leveling. It was good to see garden work being done. Thanks for helpful friendly staff.
Nov 30, 2020
Very nice stay clean restrooms and easy to move around in with my 27' slide out and the spots weren't too tight. Great fishing access.
Nov 30, 2020
Everything was excellent! The staff even went out of their way to make sure we were in a spot that would accommodate our awning. We stay here a few times a year and each visit gets better. The park is clean and the staff is helpful and polite. The restrooms are the cleanest I have ever seen at an RV park. Even with COVID they have many amenities open!
Nov 30, 2020
Nice spot. Small sites.
Nov 30, 2020
Beautiful place to stay
Nov 29, 2020
Awesome and relaxing. Will definitely be back.
Nov 29, 2020
We stayed in the pull through parking with great patio with tables and chairs. Everything was well kept up and we had a great stay. The shower heads in the restroom need changed to adjustable but restroom was.clean and well maintained. We had a great stay and there is lots to do in South Padre.
Nov 29, 2020
Nice people great managers clean facility �
Nov 29, 2020
We had a wonderful time, staff was great, we loved the pool and hot tub!
Nov 29, 2020
The woman at the front desk was rude. The wifi didn't work. I stayed in a cabin where the toilet ran and the ceiling fan made a clicking noise. I paid $115 a night for this and was next to a busy road. There are hotels on the island that are WAY cheaper. I should have stayed there.
Nov 28, 2020
Great visit! Everything was ready for our arrival and made us feel right at home. This was our first experience with KOA, and it was a good one! No issues with hookups, or the grounds. Dog area was terrific! Perhaps some attention needed for guests to pick up after their dogs all around the park. Friendly staff! Thank-you for a great week!
Nov 27, 2020
My family and I enjoyed our stay. The staff was very welcoming, the amenities and cabins were clean, and the food nearby at the places we visited was delicious.
Nov 27, 2020
The park was beautiful, clean and friendly. The rv washers that aren't connected to the KOA washed and waxed my truck and trailer. They only did one side of my trailer. I thought it would be a great idea to get my trailer done. Highly disappointed they ripped me off. Came back to make it right all they did was sprayed it down with water and wiped it off! Don't use Garcia's.
Nov 26, 2020
Beautiful, clean, easy access to beach and restaurants. The staff were friendly and helpful. We will definitely be back!
Nov 26, 2020
spaces were tight, amenities limited, dog area a postage stamp
Nov 26, 2020
Great place but the mattress has to be replace worn out has a dip in the middle of mattress and the water is run in the toilet
Nov 25, 2020
LOVED IT!! Wish we had booked a longer trip. Planning to return next year :)
Nov 25, 2020
RV travel provides independent option for vacationing without having to depend on facilities or services at destinations. However, we booked a trip with Osprey Cruises for dolphin watching since everyone was required to wear face covering. The friendly and helpful campsite staff wore face mask at all times. The campsite is clean and well-maintained! Great weekend trip!
Nov 25, 2020
Very friendly and immaculately clean! We're coming back for a week in January!
Nov 24, 2020
liked it a lot. hope to return
Nov 24, 2020
I frequent this KOA several times a year and the staff and customers are very nice. The staff have always been very accommodating.
Nov 24, 2020
Very nice / staff very friendly
Nov 23, 2020
Convenient place, close to Pier 1 restaurant, pool. Great people.
Nov 23, 2020
Great place.Very clean and well maintained
Nov 27, 2020
Loved it! Very nice!
- Patricia Weinhold on Google
Nov 22, 2020
Enjoyed our stay accommodation were great. Had a very pleasurable time. Thank you for your hospitality.
- Sara Martinez on Google
Nov 20, 2020
My husband and I were in our camper. We asked for a spot near the cabins side our friend was going to stay in the cabin. Laura was very helpful and gave us a couple of options. We were right by the boat ramp and had an impressive view of the Queen Isabella Bridge and the Laguna Madre Bay. The sites are ok not huge but we understand that the SPI real estate is expensive. My friends cabin was great. It had a commanding view of the bay. Fantastic sunsets and even dolphins frolicking. Watching the herons, egrets and pelicans was fun too. It was a small kitchen but sufficient for our needs. She said the bed was comfortable too. Nice rocker bench on the deck. Adirondack chairs and a table plus a BBQ were in front of the cabin. The staff were very friendly. The communal bathrooms were spotless. The pool was a very nice tempersture as was the hot tub. There was even a singer guitar player on an outside deck one evening.
- CathyDArizona on Trip Advisor