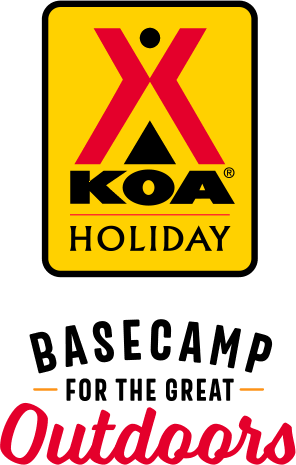 KOA Holiday Campgrounds
Whether you're exploring the local area or hanging out at the campground, KOA Holidays are an ideal place to relax and play. There's plenty to do, with amenities and services to make your stay memorable. Plus, you'll enjoy the outdoor experience with upgraded RV Sites with KOA Patio® and Deluxe Cabins with full baths for camping in comfort. Bring your family, bring your friends, or bring the whole group – there's plenty of ways to stay and explore.
KOA Holidays Feature:
RV Sites with a KOA Patio®
Deluxe Cabins with full baths
Premium Tent Sites
Group meeting facilities
Directions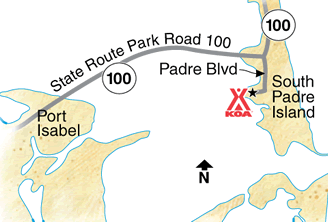 Cross the causeway at Port Isabel. Take the first right after crossing the bridge, travel one quarter mile and take the first right to the KOA entrance. GPS: N26.079219, W97.166637
Get Google Directions
Nov 24, 2021
Beautiful campground. Very clean and well maintained. Loved the big dog park! Loved we could walk to Pier 19 for delicious food! Close to everything. We will definitely stay here again and again!
Nov 20, 2021
Staff were super friendly and efficient. Tight spot but excellent KOA guide to assist in parking. Amazing location! Great amenities and store on site.
Nov 19, 2021
Wonderful for families and awesome views of the bay!
Nov 19, 2021
Camp ground was clean and well cared for. Everyone was very friendly and accommodating. We will be back!
Nov 17, 2021
My wife and I had a weekend getaway! It was perfect!
Nov 17, 2021
Showers to small needs to be updated!
Nov 16, 2021
I loved it there, everyone was amazing
Nov 16, 2021
Absolutely loved it and recommend it 10xs more than isla blanca Rv park down the road.
Nov 15, 2021
Very nice. Pretty setting near the water and very convenient to all of the Island.
Nov 15, 2021
Wonderful. Lots to do. Clean. Quiet. Only 2problems- exercise room was closed and GPS and actual location do not match.
Nov 15, 2021
The only reason I gave them 5 stars was because I could not give them 6. Very sweet people, very clean and well managed site. Will keep coming back.
Nov 15, 2021
We found The South Padre Island KOA to be well organized, clean with a friendly and efficient staff who made our stay there very pleaswant. We will definately return for more of iut!
Nov 15, 2021
KOA Holiday is great and has mostly all you need and very accessible. Pool area is awesome! Great place to relax! It was our 4th stay this past weekend. HOWEVER I got charged a 25$ mysterious fee I had never been charged before�. Clerk wasn't clear on why just said "It's a new thing". Disappointed, we'll have to go back to Park Center in the future!
Nov 11, 2021
We understand construction needs but it was very annoying. Plus we had enjoyed the sunset deck during previous visits but this trip the bushes on the sunset side obscured the setting Sun. There was one gap to photograph through but two smokers were blocking the view and they're smoking finally drove us away. Should be a no smoking area!!! Otherwise nice park.
Nov 09, 2021
Everything was great as always! Hope the Commons area can be opened soon.
Nov 09, 2021
We had a nice relaxing weekend. We went to the beach and just spent time visiting with family.
Nov 08, 2021
We will be back!
Nov 06, 2021
This was our second visit to this camp grounds! We love it and will be back again. I would have loved to stay longer! We had to get back to Amarillo! Last trip was end of summer. Flowers were all in bloom!
Nov 04, 2021
Location, location, location. On the water, quiet, clean, hard working staff. Will return.
Nov 02, 2021
Great park and staff.
Nov 01, 2021
We love staying at KOA friendly staff and everything is near by
Oct 31, 2021
Loved how clean and well maintained the KOA was. Very friendly staff too.
Oct 31, 2021
We had a great time and staff were wonderful. Everything was very clean and well kept, showers, restrooms, laundry, pool area. While the spaces were tight, it was all ok and our big rig fit in where we had reserved.
Oct 31, 2021
We enjoyed our stay at Koa South Padre Island. The campground was well- groomed. The bathrooms were clean. The staff was very friendly. We would stay here again.
Oct 30, 2021
The hot water in the men's shower was lukewarm
Oct 28, 2021
Lovely facilities, friendly staff, wish we'd spent more time there.
Oct 27, 2021
Loved the park, location and the people. WIFI sucks. The world is moving to streaming for entertainment/movies/sports/TV. The WIFI at the park serves email and limited capacity for browsing. Unfortuneately most RV parks aren't upgrading their WIFI for their customers wants and needs.
Oct 26, 2021
What a great place to stay like always the staff is courteous friendly and always there to help. Thank you guys so much for the good weather to
Oct 26, 2021
Wonderful and helpful staff. Onsite facilities are clean. The shower facilities are in need of updates. Stalls are small, showerheads need to be replaced.
Oct 26, 2021
Great stay... my boys thought the bathroom was a little dirty, but I thought it was fine.
Oct 25, 2021
Perfect ! We saw a Dolphin swimming 5 minutes after we arrived! Very good sign. My wife says the staff were exceptionally positive . We had visitors for breakfast and they actually financed a KOA years back and were exceedingly impressed.
Oct 25, 2021
We had a great time the pool and facilities were very clean the water pressure in the showers needs a little work but everything was great
Oct 25, 2021
Great place, a little more then we wanted to spend, but is kept up very well. The staff are all pleasant and helpful. Pier 19 the adjacent restaurant is very good.
Oct 24, 2021
Wonderful. Nice people. Very clean
Oct 23, 2021
Clean, well kept. Enjoyed our visit.
Oct 22, 2021
Beautiful place but the odor bothered my wife.
Oct 21, 2021
In a month long trip through Texas we have stayed exclusively in KOAs. The Padre office staff was very nice & helplful but the other outdoor staff were not so friendly. I know Padre is a small area & not many camp grounds, but the in comparison to other KOAs the campspots are sooo tight between units. Having Pier 19 there is a great benefit as the food, drinks & wait staff are excellent!
Oct 19, 2021
Very nice park just very crowded and close together camper slots.
Oct 18, 2021
Loud music from an adjoining property was awful from 8pm to 11pm on Saturday night. Was a mix up on site location for my trailer that delayed my set up about 30 minutes. Plenty of spaces to choose from but had to wait until one was assigned as a trailer was in the spot that I was originally assigned to.
Nov 21, 2021
Nice place to visit
- Lenore K on Google
Nov 20, 2021
A Real beautiful place!
- Kenny G Budz Bretag on Google
Nov 19, 2021
nice here not crowded at all. very helpful and friendly
- alan senn on Google