South Padre Island KOA Holiday Recreation
Spring, summer, fall, winter — South Padre Island is the new hot spot for vacationing. This oasis is found on the coastal tip of Texas, right by the Gulf of Mexico and the Laguna Madre, so it is the perfect place to enjoy plenty of water activities all year round. Whether you are looking for a grown-ups only weekend escape or an affordable beach vacation for your entire family, South Padre Island KOA Holiday® is your gateway to everything fun and fabulous happening in SPI.
SPI Water Activities and Recreation
If you are looking for water activities and other recreation in South Padre Island, look no further than your local KOA. We have a little something for everyone —  a 25-meter swimming pool and a large hot tub, two rec rooms, basketball, horseshoes, tetherball and so much more. Our friendly staff at the front desk would be happy to offer some advice on specific activities available during your stay. Reserve your place today. If you are looking for a homier setting, try our fully furnished Deluxe Cabins or Vacation Rentals. We also have Pull-Thru RV Sites complete with a KOA Patio®. Keeping it old school? Pitch your tent right next to the bay and enjoy a lovely bridge view. Whatever you choose, we know you will enjoy your stay at our beautiful island paradise.Now that you have booked your reservation, start browsing our wide assortment of water and landlubber activities here at our SPI campground.
Book Your Island Getaway Today
If you would like to enjoy a trip to a beautiful island destination without even leaving the U.S., South Padre Island is the place to go. Book your stay at South Padre Island KOA Holiday® and enjoy our amazing scenery, fun amenities, relaxing Deluxe Cabins and more — all for a budget-friendly price!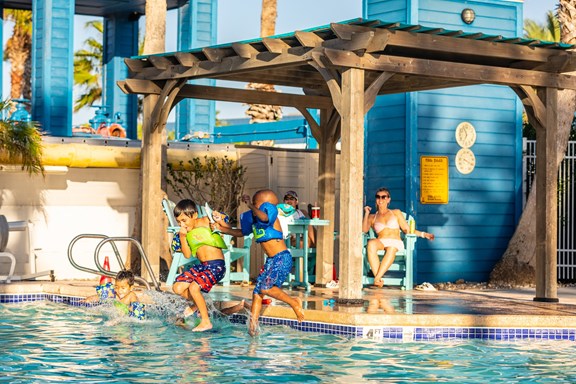 Have Some Splashy Fun in Our 25-Meter Swimming Pool
Water activities and South Padre Island go hand in hand, and our campground and the surrounding area offer plenty of watery excitement year-round.Our 25-meter swimming pool is an ideal place to relax with friends after a long day of fun in the sun and for the kids to play and cool off. The pool is equipped for lap swimming if you want to fit a quick workout into your fun-filled vacation schedule as well. We also offer plenty of organized activities, such as pool aerobics and Aqua Zumba classes. As the weather cools a bit in winter, don't worry — our pool is heated, so you can still splash around to your heart's content.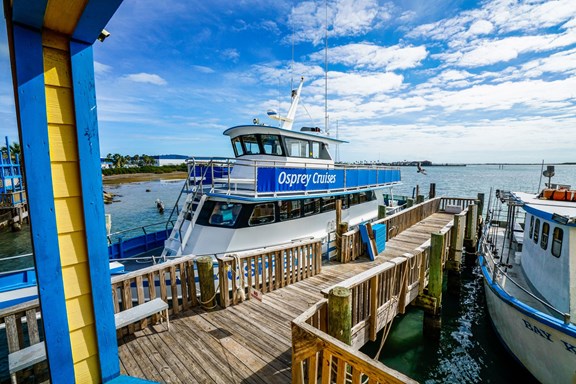 Fishing Excursions and Sea Life Safaris With Osprey Cruises
Get an up-close view of the incredible wildlife found in and around the Gulf Coast. Osprey Cruises are conveniently located right at our KOA Docks, offering incredible excursions you will not want to miss. Fishing is one of the most popular water activities in South Padre Island. Set up an unforgettable day of bay fishing or deep sea fishing, as you reel in a variety of catches native to our waters. You can also take part in a Sea Life Safari with breathtaking panoramic views and dolphin watching. Osprey's vessels use the latest technology for comfort and stability. The captains and crew are experienced, helpful and friendly. Call 956-761-6655 to schedule your watery adventure.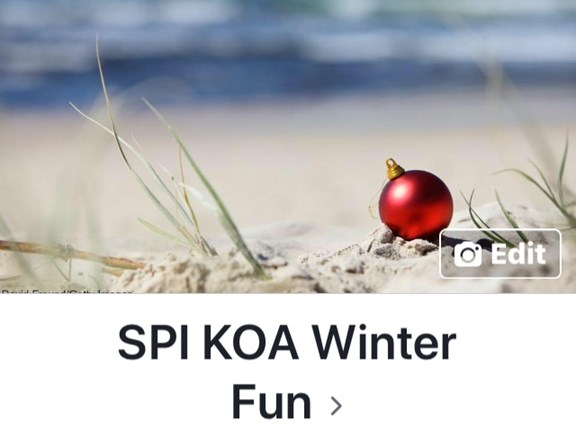 SPI KOA Winter Fun Group on Facebook
As snow and ice invade the rest of the United States, South Padre Island enjoys warm, tropical weather all winter long. If you want to avoid the crowds, this could be your ideal season to pay us a visit. We have many seasonal activities you're sure to love, and it's easy to stay in the loop with Facebook. In winter, join the SPI KOA Winter Fun Group to stay updated on all of our events. For general information about year-round activities, follow the Facebook page for South Padre Island KOA Holiday.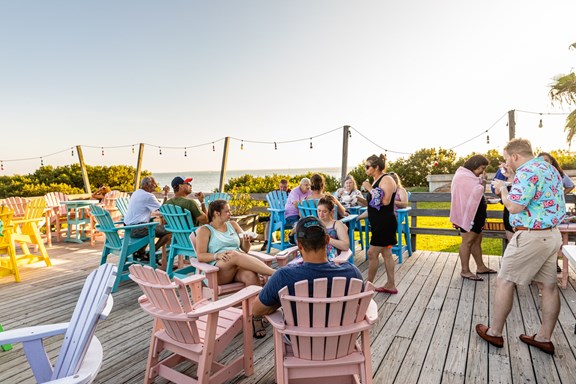 Our Bayside Sunset Deck, Where It's Always Happy Hour
What could be better than watching a beautiful sunset with your friends? As the sun slips silently behind the water, toast with a delicious cocktail in hand to another incredible day in SPI. Besides serving as a lounge area for our guests, our bayside Sunset Deck is a photographer's dream and the perfect location for a gorgeous commemorative photo that captures your time on our shores. You can also enjoy live musical performances including acoustic guitar, electric slide, piano and even cello.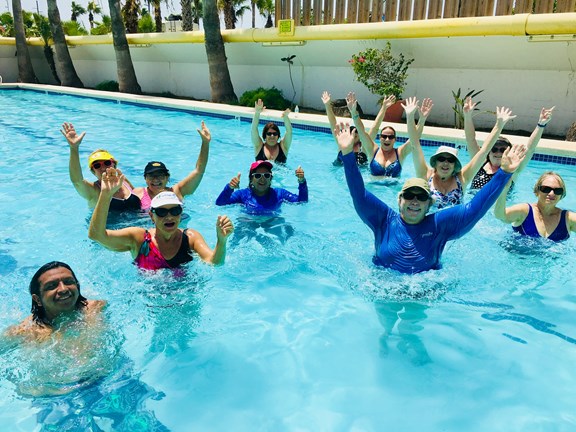 Have Fun and Stay Fit With Floor and Pool Aerobics
Even if you are enjoying a tropical vacation, you can still squeeze in a workout or two. At South Padre Island KOA Holiday®, we ensure you have plenty of options to get you moving and working up a sweat. Join Mary on Mondays, Wednesdays and Fridays for floor aerobics at 7:30 a.m., followed by pool aerobics at 9 a.m. Seasonally, starting in October, we also have tone and strength class at 7:30 a.m. on Tuesdays.
Soak in One of the Largest Hot Tubs on the Island
As the sun makes its final descent behind the bay, our large 3,000-gallon hot tub is a delight after an exciting day of seeing the local sights. Its expansive size means you can relax and unwind with all your friends, not just one or two. It is also a great place to meet your fellow campers and swap stories about all your SPI adventures. Take a dip before or after enjoying a meal at Pier 19 Restaurant & Bar, located on-site for your convenience.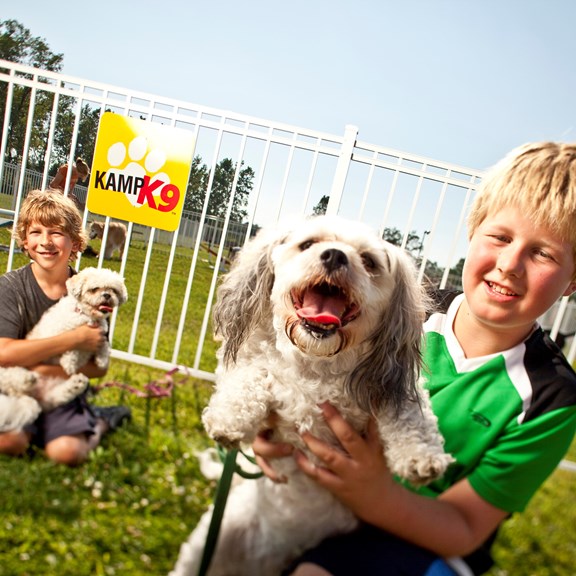 Your Furry Friends Will Love Our KampK9® Dog Park
At South Padre Island KOA Holiday®, we believe everyone should be able to enjoy a luxurious SPI vacation — even our furry, four-legged visitors. Our KampK9® Dog Park is a great way to let your pup enjoy our campground just as much as you do. They can run, jump or just hang out. We have seating so that you can sit back and watch your pup play. We also have two dog walk areas complete with bags for clean up where you and your pup can take a little stroll as you enjoy waterfront views.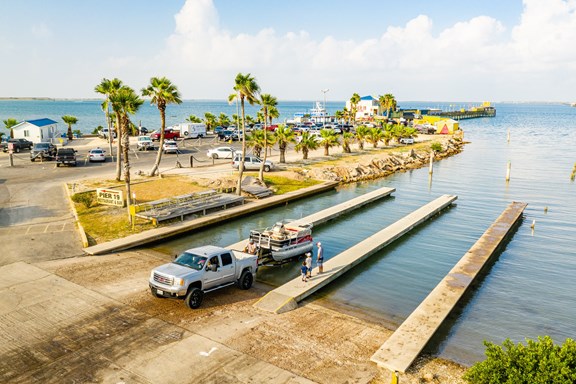 Launch your boat or kayak at our boat ramps, free to guests
Come and get your boats in the water with our boat ramps next to Pier 19 Restaurant! FREE to KOA Campers and $5.00 fee for non-KOA campers.