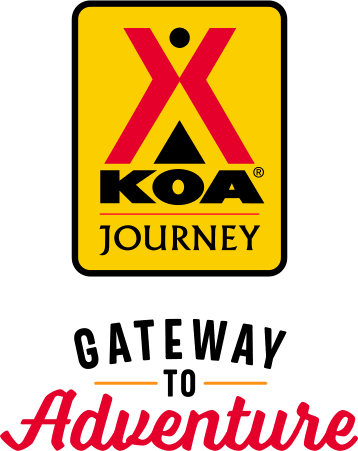 KOA Journey Campgrounds
KOA Journey campgrounds are the perfect oases after a day on the road. Whether it's along the way or a quick getaway, they've got you covered. Located near the highways and byways of North America with long Pull-thru RV Sites, they deliver convenience to the traveling camper. Pull in, ease back and take a load off.
KOA Journeys Feature:
Pull-through RV Sites with 50-amp service
Premium Tent Sites
Well lit after hours check-in service
Directions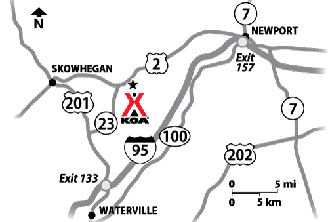 Route 2: 10 miles east of the intersection Route 201 and Route 2
I-95 Northbound: take Exit 133, turn right at the end of the ramp. Go 7 miles north on Route 201, turn right on Route 23 and follow to the stop sign. At the Irving Station take a right on Route 2, we are on the right approx.1.5 miles.
I-95 Southbound: Exit 157, turn right and go to the first major traffic light, turn left onto Route 2 West towards Skowhegan. Go approx. 15 miles west on Route 2. We are located on the left in Canaan.
GPS: Use 18 Cabin Road, Canaan, Maine 04924. N44.76971, W69.543704
Get Google Directions
Oct 17, 2021
We've had a wonderful season at the Skowheagan KOA!! The staff is always helpful and friendly! There is always entertainment scheduled for both Adults as well as Children. They really make the stay there special for the whole family.
Oct 17, 2021
When they raised their rates by $500 and only gave us a week to decide. That was a one that broke the camel's back.
CAMPGROUND RESPONSE / COMMENTS:
We are sorry that you did not agree with our new seasonal pricing, which by the way only went up $150.00 this year. And we did give you 2 weeks to decide as we do have a long wait list and this has been our practice since day 1.
Oct 16, 2021
Kid friendly with free activities, good walking paths, great variety in the store and conveniently located within 20 min of shopping and local attractions.
Oct 14, 2021
We had another amazing experience here. The owner's and staff treat you like family and go above and beyond to make sure your stay is phenomenal. Our kid's are already begging to go back!
Oct 13, 2021
Had such a fantastic Halloween weekend! Everyone was so attentive! Made sure we had what we needed and there was so much for the kids to do! And as always Bob definitely a crowd favorite! He delivers top notch service! The owners are the best as well! I always look forward to seeing them! Skowhegan koa has become family!
Oct 12, 2021
I would recommend that staff monitor the bounce pad. Or better yet, don't have it. Some of the kids played very, very rough while on it. Kicking and hitting and tackling. It is a dangerous activity for them. Some suggestions to take its place are water balloon toss games, craft time, a coloring contest. I loved the duck hunts for the kids! Our family had a great time.
Oct 12, 2021
Owners really care about all their campers
Oct 12, 2021
Skowhegan/Canaan KOA is our go-to campground. We love the people, the atmosphere and all the kid-friendly events to keep the kids busy!
Oct 12, 2021
Friendly, helpful staff. Clean, neat campground. They do nice things for the kids. I love the pool (it would be great to have a couple hours set aside for adults only). The internet and cable could be improved.
Oct 12, 2021
Our family loves the skowhegan Koa for how close it is to home but still a get away, and the staff is just icing on the cake. Literally every person that works there is so friendly and helpful we absolutely love camping here!
Oct 10, 2021
Nice site. Had a dog park. Bathrooms were clean
Oct 10, 2021
Beautifully kept camground! Very friendly staff! We were pleasantly surprised when we pulled into the campground. Very nice entrance! The grass is well maintained throughout. The disc golf trail through the woods is fun! Just an overall great experience and we can't wait to come back next year!
Oct 06, 2021
Staff very friendly! Camp was clean and neat! Gravel sites but mostly level. Would stay again when in the area.
Oct 05, 2021
Beautiful campground! The owners keep the campground in spotless condition. Everything we needed was right there. Couldn't have asked for anything more. We will be back!
Oct 05, 2021
They led us to our site, loaned our friends a coax cable to get TV, and stayed around camp for 15min to make sure everything went smooth. Great guys working there to help campers out with anything they need. There were lots of kids activities, including a blowup jumping island, and other climbing type playground pieces.
Oct 03, 2021
Very nice people. nice quiet place to relax and go hiking.
Oct 02, 2021
Love this campground. The staff is wonderful. We didn't get a chance to stay while everything was open for the season, but it didn't make too much of a difference. Next year will book more stays earlier in the season and get a chance to use all the available amenities. Was very fortunate to be able to rent the Bear Lodge and enjoy our weekend here. Thank you!!!
Oct 01, 2021
Nice staff and nice camping spot. Clean and convenient bathrooms and showers. A well run operation.
Oct 01, 2021
It was a quick one night stop for me on my way home to Vermont. I was arriving a bit later than expected (9pm) and all was ready for me with a camp ground map and the firewood id requested. :) very quiet and safe campground.
Sep 29, 2021
very friendly, clean would stay there again
Sep 27, 2021
Great campground. Lots of pull thrus and large campsites.
Sep 27, 2021
Friendly and pleasant campground
Sep 26, 2021
This time our stay at Skow KOA was interrupted by a breakdown of our tow vehicle. Jeff and Mel were incredibly helpful with providing us rides to the vehicle repair shop to accommodating us, on short notice, with us needing to stay another day. We look forward to our return next fall and truly thank them for all they did. Sometimes campers run into problems and this KOA team will have your back.
Sep 26, 2021
Friendly people and nice facilities
Sep 25, 2021
Great campground, well maintained, good amenities. Looks like a wonderful place to stay with children. Offers seasonal spots.
Sep 25, 2021
The owner was very friendly and willing to go out of his way to help. It was a quiet place with beautiful trails in the woods along the frisbee golf course
Sep 25, 2021
Very fast in and out for a one night traveling stay.All facilities neat and clean.
Sep 23, 2021
Everything I needed worked well.
Sep 23, 2021
It was a nice quite campground. Sites were clean and big. Some stuff was a little expensive. They need a bigger shower for people with leg and back injuries so that these people can move around to dry off easier. I would (will) come again.
Sep 22, 2021
I absolutely love this koa!! The owners are wonderful and my kids always have a great time when we are there! Cant wait for next camping season!
Sep 22, 2021
excellent wi-fi and staff was very helpful, checking us in past working hours.
Sep 22, 2021
Very nice for our overnight stay. Staff stayed late to get me checked in and escorted to my site.
Sep 21, 2021
Very nice campground, great staff. Very few activities for kids none for adults.
CAMPGROUND RESPONSE / COMMENTS:
We are sorry you did not enjoy your stay with us in September. We have kids activities every weekend even in the off season when kids are back in school. We have some adult activities on weekends as well. We always have sugg. of placed to go and things to see.
Sep 16, 2021
Owners are exceptional. They are welcoming and don't hesitate to help out with any problems you may have. Staff is equally helpful. The KOA has wonderful entertainment for all ages and all their rules are respected and followed, They do a wonderful job with reservations and take time being sure you are happy with your camp site. I have been up for several years and have booked for next season.
Sep 16, 2021
Great stay, clean park, friendly, helpful staff.G
Sep 15, 2021
This is like camping in your families yard. Everyone is friendly and helpful with any questions that you might have. The campground is kept up to the highest standards of clean and functional. This is why we keep coming back every year.
Sep 14, 2021
Friendly, accommodating staff. Clean rest rooms and showers. Hope I didn't tear up the sod too much when I pulled out.
Sep 14, 2021
It was fun and relaxing. I enjoyed the ceramics class the best.
Sep 14, 2021
Everyone is friendly.
Sep 13, 2021
Melanie and Jeff go overboard to help with issues and make you feel at home. Our best camping experience every year. Grounds are perfect with trees and tons of walking trails.
Sep 13, 2021
Was very accommodating and we all had a wonderful experience thank you for this time we had
Oct 26, 2021
What a fun weekend we had on Halloween trick or treat.
- Bill Anderson on Google
Sep 28, 2021
This place is a gem! It's in a beautiful location an easy drive from both Skowhegan and Palmyra. Dan, one of the seasonal workers (and his bird Josephine) was a lot of fun and full of information about things to see in the local area. The campground also has plenty of activities for kids.
- Linda Ward on Google
Sep 16, 2021
We stop to do some hiking and it was great.
- Larry E. Aiken on Google