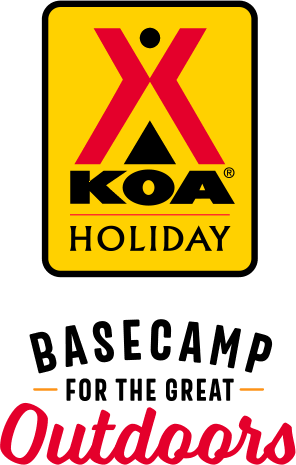 KOA Holiday Campgrounds
Whether you're exploring the local area or hanging out at the campground, KOA Holidays are an ideal place to relax and play. There's plenty to do, with amenities and services to make your stay memorable. Plus, you'll enjoy the outdoor experience with upgraded RV Sites with KOA Patio® and Deluxe Cabins with full baths for camping in comfort. Bring your family, bring your friends, or bring the whole group – there's plenty of ways to stay and explore.
KOA Holidays Feature:
RV Sites with a KOA Patio®
Deluxe Cabins with full baths
Premium Tent Sites
Group meeting facilities
Directions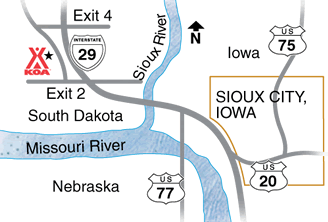 NEW Driving Directions: Road Construction Directions for the Sioux City North KOA 
Northbound Traffic: Take Exit 2. Off the Interstate take a left onto River Drive. Streeter Drive Entrance is CLOSED. Head one more block West to Sodrac Drive-The Hampton Inn will be on the left. Take a right and drive past the fire station. Sodrac Drive will turn into Streeter Drive and you can take this road all the way to the campground. 
Southbound: No changes, Take Exit 4 off I-29, turn right, then make an immediate left on the first service road. This will be Streeter Drive. Continue on Streeter Drive until you reach the campground.
If you have any questions, please call 605-232-4519.
Get Google Directions
Aug 20, 2021
This is a very nice KOA, easy access on and off the interstate. Well maintained, very nice and polite employees. The area has nice large trees, great pool, dog park area and nice playground for the kids. Gets a lot of road noise from the interstate but you don't hear it in the RV. Would definitely stay here again.
Aug 20, 2021
Staff very kind. Sites perfect for a nights rest.
Aug 19, 2021
We always enjoy our stay at your KOA. The camp is well kept. The staff is very helpful. Also, we like the pizza.
Aug 19, 2021
Had an awesome time!!!!! Super clean and super friendly staff!!!
Aug 18, 2021
Very helpful, friendly staff. Fun amenities for the kids - just what we were looking for. The cabin was completely ready for our arrival and met our needs. And I'm sure the staff arranged for the beautiful weather that we enjoyed too!!
Aug 18, 2021
Very close to the highway lots of street noise but the staff was friendly and helpful loved that they deliver pizza to your site nice! Bathrooms and showers were clean and nice
Aug 18, 2021
Excellent place to get in with a big coach! Very clean, friendly, secure and pizza delivery!!! Pizza was GREAT!
Aug 17, 2021
Very easy access from the interstate. Very friendly and helpful staff. Nice big sites.
Aug 17, 2021
Great overnight stay! Pizza was great and pool was warm! Bounce pad is perfect for our daughter!
Aug 17, 2021
Great place to stay. Even for just one night.
Aug 17, 2021
Only issue, tree's and no cable TV People very friendly and accommodating.
Aug 17, 2021
We had the best time here! So clean, so fun for the kiddos, and a great time was had with all the amenities. We were in South Dakota for two weeks and the kids liked this campsite the best.
Aug 17, 2021
Friendly staff and convenient to interstate. Large pull thru spots, and you can have them deliver their pizza or wings to your campsite after a long day on the road:)
Aug 17, 2021
we were on our way to Ogden, IA and we just stayed over night. Very friendly staff and nice pet area.
Aug 17, 2021
My husband and I only stayed for one night and came in late evening but I can say the campground was very clean. There was an area for the kids with many free activities. With a quick glance of the office/store I could see there was alot to offer for purchase if needed. The staff was great and pleasant. I appreciated the security gate to enter and code required to enter restrooms and showers.
Aug 16, 2021
Though we didn't use it, I loved the "room service" option and menu. The owner and staff were extremely friendly. The campground itself was well maintained. We'd absolutely return if in the area.
Aug 16, 2021
Great amenities & exceptionally friendly staff! I would say it's a little pricey for gravel driveways & parking pads, yet we really enjoyed our stay.
Aug 16, 2021
Had seven grandkids with us, they loved it! The hosts are very helpful and friendly! The kids always want to stay at the North Sioux KOA!! And they have good pizza!
Aug 16, 2021
We stayed in the teepee. It is too close to the interstate, the noise was terrible. But it is very cute and clean
Aug 16, 2021
The pool area needed someTender care,weeds needed to be pulled out.pool water was really clouded little dirty. Wish the miniature golf had better landscape instead of Dirt and ugly weeds. I would said the employee were really nice to us and Polite.should have more activities on friday, Saturday, Throughout the day.l wish the site were little more bigger and grass was cut.we had a nice stay.
Aug 16, 2021
Wonderful as always, great staff, clean and good food.
Aug 16, 2021
The best KOA I have stayed in. The staff were super friendly and helpful. The bathrooms and showers were super clean as well as the laundry area. Ordered pizza & wings on site and they brought to my campsite. Can't say enough good things about this facility.
Aug 16, 2021
Staff was very helpful and friendly.
Aug 16, 2021
I love Sioux City. Campground was clean, quiet and friendly. Great amenities and location
Aug 16, 2021
Great place!
Aug 16, 2021
We were on the road traveling cross country and needed somewhere to stay for one night. I called when we were a couple of hours away and they were able to accommodate us. The campground was clean and had a lot of amenities. Unfortunately, we were on a tight time line so we weren't able to do so. We will definitely keep this site in mind on our way back home to SC.
Aug 15, 2021
Friendly, helpful staff. Clean and easy. Great over ight stop.
Aug 15, 2021
We stopped for one night on the way to Sturgis and will definitely be back. This is a great KOA! We loved that you have pizza and delivered to the cabin. Perfect after a long drive.
Aug 15, 2021
The WiFi was GREAT, my husband had no issues working remotely for 4 days! No issues downloading/uploading documents & taking zoom calls! Even before we arrived I was impressed w/ how this location communicated with us. Directions were sent via text & we also received daily texts regarding additional services. The property was clean, well maintained & the staff was very nice. Thank you!!
Aug 15, 2021
Should tell which gate to come in or have parking at the entrance. Had to unhook the car and back up the unit. They wouldn't let a person drive in and turn around through the other gate or area.
Aug 14, 2021
Overnight stay. Was good. Pool was clean & employees were good. Had activities planes through out the day which was nice.
Aug 14, 2021
Phenomenal stay, as always. Incredibly welcoming staff. Accommodations were perfect. Beautiful, clean campground. Can't wait to come back.
Aug 14, 2021
Nice clean campground. A little bit pricey for a nights stay, especially since your pads are gravel.
Aug 13, 2021
We needed a quick overnight stop. Staff were accommodating and friendly. Easy access, safe, clean and quiet. We have no issues to report. Very convenient stay.
Aug 13, 2021
Easy check in, very helpful staff. Nice camp store, bathrooms very nice and clean. So glad they left so many shade trees.
Aug 13, 2021
Loved my stay. It was my second visit and I picked it because of the beauty and location. Keep up the good work. Would love to return someday. Have a great year!!
Aug 13, 2021
It was great clean! Customer service was great. I would recommend moving the front sign or information person which entrance to use. I was facing north entrance when needed the south for B. Road construction text need to be fixed also. The stumps need to be finished being removed so kids don't fall like mine did.
Aug 13, 2021
Grounds and facilities were well-kept and efficiently laid out for convenience of guests. Staff were friendly and helpful.
Aug 12, 2021
Staff was courteous, helpful and knowledgeable. Area was very clean and well kept. Very good amenities.
Jul 20, 2021
We spent two nights here on our way to Rapid City. We have been to a lot of KOA campgrounds and, by far, this one had the most helpful, friendly, knowledgeable, hard working staff we have met! The sites were long, level and shady. The pool, laundry and grounds were very clean and well maintained. They have a pizza kitchen in the office for take out orders and they have many, fun weekend activities. The camp store was stocked with lots of goodies, necessities and souvenir items. I definitely recommend this KOA!!
- KZK13 on Trip Advisor