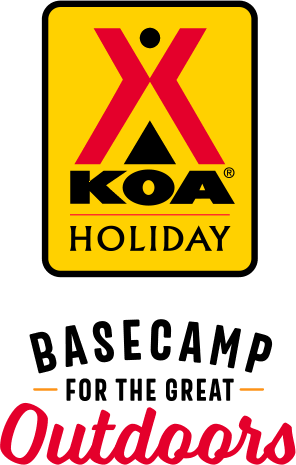 KOA Holiday Campgrounds
Whether you're exploring the local area or hanging out at the campground, KOA Holidays are an ideal place to relax and play. There's plenty to do, with amenities and services to make your stay memorable. Plus, you'll enjoy the outdoor experience with upgraded RV Sites with KOA Patio® and Deluxe Cabins with full baths for camping in comfort. Bring your family, bring your friends, or bring the whole group – there's plenty of ways to stay and explore.
KOA Holidays Feature:
RV Sites with a KOA Patio®
Deluxe Cabins with full baths
Premium Tent Sites
Group meeting facilities
Directions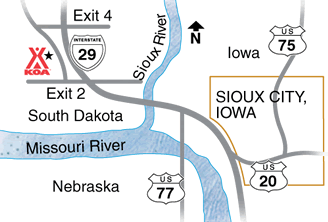 I-29, Exit 2 or Exit 4 in SD. 1 mile on West Service Rd. If sites are available and you wish to check in prior to noon we do have a $15 early check in fee, please call to verify your site is available.
Get Google Directions
Jan 23, 2021
Although we arrived late in the day. It was a nice place. I walked around and looked at all that was offered. If I had young kids this would be the place for us. As is I only have dogs and the dog park was a nice area for them to run around. Thanks for the great stay
Dec 29, 2020
The girl that checked us in was kind and helpful. She offered to make and deliver pizza. We saw her running pizzas to campers in the snow. The temp was single digits...THATS CALLED SERVICE! I hope she is paid and tipped well.
Dec 06, 2020
WE HAD A FANTASTIC STAY. THE PEOPLE WERE VERY FRIENDLY, THE RESTROOMS AND OUR TEEPEE WERE CLEAN AS WAS THE ENTIRE PLACE. PLANNING ON COMING AGAIN.
Nov 25, 2020
The folks were great getting us checked in and to our spot. It's a beautiful property and we look forward to visiting in summer weather.
Nov 22, 2020
Stayed one month to be by family staff and owner very friendly and helpful appreciate him staying open all year long
Nov 19, 2020
Fantastic customer service as I called to get info. Then I went ahead and bought a membership and reserved for the night. The only thing that wasn't spot on (but not a problem for us) was someone else was in our designated spot. But I don't feel it effected our stay as long as we didn't get charged for someone else. Other than that. We will be back.
Nov 13, 2020
Wonderful staff. Everything you need. They go the extra mile in everything. Highly recommend!
Nov 04, 2020
Friendly and accommodating
Nov 02, 2020
Very nice people to deal with and enjoyed our brief stay
Nov 02, 2020
Awesome people. Great facilities. After a long day on the road you could not ask for a better place to stay.
Nov 01, 2020
Sam in the office was very helpful. And she makes a very good pizza! Easy site access and quick ckeckin. Well done.
Oct 31, 2020
Lovely, spacious campground!!
Oct 31, 2020
Awesome people, dog park worked out great, nice level site.
Oct 29, 2020
Very friendly staff and very clean site
Oct 27, 2020
Great facilities Awesome people who work here. Always friendly
Oct 24, 2020
Great stay friendly professional people with a smile.
Oct 24, 2020
Well kept and friendly staff
Oct 22, 2020
The owners are wonderful people. The pool is nice. I love the little store, they have everything including pizza that they bring to your camper. There is also an amazing area for kids. It is only a couple blocks to McCook lake for for boating and kayaking.
Oct 22, 2020
Very friendly and helpful staff. We were there in the fall but it looks like a fun summer destination. Plenty to do there.
Oct 21, 2020
Well maintained, nice pet are, cordial hosts waited past closing until our friends joined us so they could go over the details re/their cabin.
Oct 21, 2020
We paid for 7 nights and left after 6 nights because of bad weather warnigns for N Souix City SD; without asking for a refund; this KOA refunded 1 night stay. Needless to say, we were pleasantly surprised. The staff was very helpful; facilities clean and a quiet stay.
Oct 21, 2020
Just a one night stop over, but was happy to find nice clean bathrooms and showers with plenty of hot water. Also very easy access from interstate. Would stay again.
Oct 20, 2020
Excellent place to stay. Jules looks after the campers and is super friendly and helpful.
Oct 19, 2020
called on our way and they fit us with a perfect sight, Very pleasant
Oct 17, 2020
Clean and great cabin. Enjoyed it all. Easy check-in.
Oct 17, 2020
We thoroughly enjoyed are stay at Sioux City North KOA. We had to change our arrival date and were able to do that with ease! Check in was quick and we found our spot without any trouble. We were especially thrilled to find that access to the bike trail was right by the KOA. We look forward to staying again and hope to bring our grandchildren as we are sure they will love all the amenities!
Oct 17, 2020
4.5 Nicely shaded sites. Ours had a concrete patio, patio set and propane grill. As with many KOA sites, a lot of road noise so couldn't give it a 5. Friendly staff. Nice facilities. We would stay here again.
Oct 16, 2020
This is the nicest KOA we have yet to stay at
Oct 16, 2020
Entry and exit a little tight for large units, but very nice overall. We travel with our dogs and particularly enjoyed the excellent Kamp K9 with good nighttime lighting.
Oct 15, 2020
Small K9 area. Not a lot of area to walk dogs. Felt like we were right on top of the homes on the perimeter. Appeared it could use some maintenance. Staff of one but she was very helpful.
Oct 15, 2020
If it were not for Covid this KOA would be the best! They really put a lot of effort to keep everyone safe and happy. Mission accomplished! Easy to pull in and park our 40 ft Class A. Easy access to a walking/bike path that wet before miles each direction! We were there in October so Halloween activities were a real plus. Quiet, convenient and everything we needed for a one night stay!
Oct 15, 2020
Reservation via phone very easy. Nice facilities and very friendly people (Sam). Only thing lacking was cable TV. Overall an excellent experience.
Oct 15, 2020
Excellent staff! Very helpful! We Will be back when traveling through the area for sure.
Oct 13, 2020
Super friendly staff and clean campground
Oct 13, 2020
Terrific! Next time we will shoot for the end of the row for a little more room. We'll be back.
Oct 13, 2020
We love staying at the KOA in North Sioux City! Very friendly staff, lots of fun family activities, clean and safe campground! The Halloween weekend was well planned out and my kids had a blast!
Oct 13, 2020
Perfect!! Our maiden voyage as full time RVers. Some interstate noise, but easy off, easy on. Friendly & Clean.
Oct 13, 2020
The camp ground was nice. But it is getting to expensive and they didn't have cable. Not everyone has access to shows online. We go as A group with our children and love to sit around the fire and watch football. No cable so that was out.
CAMPGROUND RESPONSE / COMMENTS:
We were saddened to not be able to continue with our cable service due to tripling fees. Instead of raising rates to continue this service we invested in our wi-fi service as more and more are streaming. We hope the premium patio site worked well for Your group for our Big Halloween event!
Oct 12, 2020
Always awesome hospitality when we camp here!! Best campground we have ever camped at!! The Grooms family have the activities very well thought out! Always a great time!! Highly recommend camping here!
Oct 12, 2020
We have stayed here a few times now, and it is by far our favorite. It is alway clean. The store is well stocked. No matter how busy it is, James and Teresa and the whole staff always make you feel like you are the only ones there