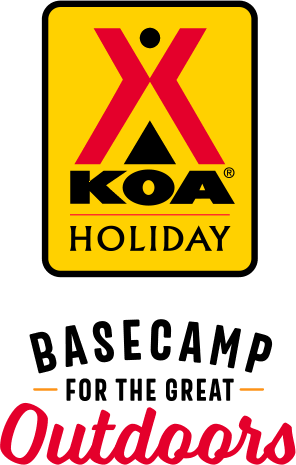 KOA Holiday Campgrounds
Whether you're exploring the local area or hanging out at the campground, KOA Holidays are an ideal place to relax and play. There's plenty to do, with amenities and services to make your stay memorable. Plus, you'll enjoy the outdoor experience with upgraded RV Sites with KOA Patio® and Deluxe Cabins with full baths for camping in comfort. Bring your family, bring your friends, or bring the whole group – there's plenty of ways to stay and explore.
KOA Holidays Feature:
RV Sites with a KOA Patio®
Deluxe Cabins with full baths
Premium Tent Sites
Group meeting facilities
Directions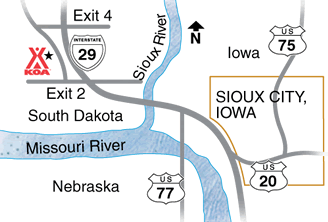 I-29, Exit 2 or Exit 4 in SD. 1 mile on West Service Rd. If sites are available and you wish to check in prior to noon we do have a $15 early check in fee, please call to verify your site is available.
Get Google Directions
Jun 19, 2021
The stay was great. We had a problem with the 30 Amp breaker & it was fixed within 10 min. The pool felt great on the 100 deg evening.
Jun 19, 2021
Great play area for children. Nice dog park. Staff was outstanding.
Jun 19, 2021
Very clean, nice pool, staff is great. Pizza and wings were good
Jun 18, 2021
Pizza delivered to the site was great! Nice clean area and staff was great! Cute store!
Jun 18, 2021
Very clean restrooms, friendly staff, great pool. Our kids loved the jumpy pillow and playground. Easy pull thru sites. Nice place to stop for the night. Clean laundry room with multiple units.
Jun 17, 2021
Great family friendly and helpful
Jun 17, 2021
The only sugestion I have is the men's bathroom shower floor was a little to slippery and should be addressed before someone gets hurt.
Jun 17, 2021
loved the pizza at the check-in
Jun 17, 2021
Overnight, the folks working were very friendly & helpful.
Jun 17, 2021
It was pretty. The sites are a bit close, but not as close as some other places. We were only there for sleeping, basically. We were in and out all day. For that, it was a great place. I would prefer to stay in a place with more privacy.
CAMPGROUND RESPONSE / COMMENTS:
Thank you for your 5 night stay. We hope you were able to take part in some of the scheduled events that occur on weekends as we usually have full occupancy!
Jun 17, 2021
We had a problem with our septic & needed to rely on the bathrooms for a few nights. Our camping spot was far from the building. They were kind enough to let us move to a spot right next to the building for the rest of our stay. The only negative for us was the checkout time. We were at a championship hockey game that was going to run late. We texted, but they were adamant about being out AT noon.
CAMPGROUND RESPONSE / COMMENTS:
We are glad you enjoyed your stay. Unfortunately, we can not always accommodate a late check out on short notice. We had a group of 40 traveling with the Fantasy RV tours that was scheduled to arrive between 12 and 1 that day. With more notice we could have accommodated but would have to move again.
Jun 17, 2021
This was our first time at a KOA, as we are first time RV owners. We had been gone from home for a month and this was our last night on the road. The KOA of North Sioux City knocked it out of the ballpark! Best campground of our entire trip!!! We'll definitely be back. The campsite was level and spacious. Campground was quiet, despite being right off of interstate 29. The pool was great! Thank
CAMPGROUND RESPONSE / COMMENTS:
Thank you for your wonderful review! We hope to see you again sometime.
Jun 16, 2021
Best KOA we've stayed at. Amazing staff made the weekend extra special.
Jun 16, 2021
This KOA is beautiful, but pricey for full timers.
Jun 16, 2021
Wonderful! Very nice staff and so friendly.
Jun 15, 2021
Very clean and staff very friendly.
Jun 15, 2021
Great stay. Great customer service. Site was clean, level, and right size for our large camper. Very clean campground, lots of amenities. Close to Interstate but road noise wasn't an issue. This was our second stay at this campground and will definitely stay here again. Highly recommended.
Jun 15, 2021
Absolutely outstanding crew of employees you have! Jordan and I believe his name was Jason? Regardless grounds were kept clean everything was tidy crew was outstanding it was our second stay there on the way to and from Yellowstone
CAMPGROUND RESPONSE / COMMENTS:
Thank you for your kind words. We take great pride in the employees who help us out! I will be sure to let Jordan and Caleb know of your kind words!
Jun 14, 2021
Check in was very easy and helpful!
Jun 14, 2021
We had a blast - this is the second year we've made this weekend trip to stay in the cabin and enjoy some family time! We have young kids and they love the activities available and the bunk beds in the big cabin!!
Jun 14, 2021
Nice campground in a convenient and accessible location. Overall, the campground is showing some age and could use a refresh but the amenities all worked and everything was kept clean and organized. The best part was the communication...the team at Sioux City KOA were amazing at providing thorough, timely, and clear communication on every detail of our trip, arrival, park news and everything else!
Jun 14, 2021
Loved it! Everyone was friendly and very helpful. Kids enjoyed the activities and they were all patient and understanding.
Jun 14, 2021
Very happy!! Stayed one night while heading home from vacation. Will definitely stay there again.
Jun 14, 2021
Love this place. Perfect for families with the clean pool, fun activities for the kids, and great amenities for either overnight or longer term stays.
Jun 14, 2021
The campground was very clean and had lots of amenities. Even though it was close to a major highway, it was quiet at night.
Jun 14, 2021
The pool was closed and their was no cable at sites.I asked to be on a lot that I could use my satellite and they put me on one that didn't allow me to connect?
CAMPGROUND RESPONSE / COMMENTS:
Our pool has been open daily since Memorial Day 9am-9pm and gets lots of use. We do have a select my site option available for guest to pick exact locations if needed. We do try our best to accommodate needs as we can but did have a full park.
Jun 14, 2021
BEST.CAMPGROUND.EVER! Staff makes the difference and we love the pool, kids train, play area, kids events, ect.
CAMPGROUND RESPONSE / COMMENTS:
Thank you Larry for you kind words! We take pride in our employees and having great teams that work together! I know we will be seeing you again soon!
Jun 14, 2021
Our first KOA stay in North Sioux City! And it won't be our last! Saturday was a huge hit with Harry Potter Day. Our granddaughter can't stop talking about her wand and Potions Class making glittery slime!! Thank you so very much!!
CAMPGROUND RESPONSE / COMMENTS:
Our activity staff is sure to please! We have scheduled activities every Saturday in the summer. Come check us out again, our list of events is on our website and Facebook page.
Jun 13, 2021
Outstanding service and clean facilities.
Jun 13, 2021
Good place for overnight stay. Staff friendly. Pizza available and delivered to our site.
Jun 13, 2021
The hospitality was exceptional. The bath/shower rooms were spotless (better than some hotels I've stayed in). And the location was convenient to the interstate highway and food.
Jun 13, 2021
We stayed here while passing through for a cross country trip. The grounds are well maintained and clean. The kids loves the playground, putt-putt, jumping pillow and basketball courts. On a busy Friday night, there were plenty of areas for the kids to spread out.
Jun 13, 2021
Tight turns, narrow rows. Clipped a rock trying to miss cars parked partially in row.
Jun 13, 2021
Very pleasant folks! Very helpful and genuinely compassionate about making your stay a memorable one.
Jun 12, 2021
Nice people great wifi and like the spots where all pull through
Jun 12, 2021
Very nice, easy pull through sites. convenient to everything.
Jun 12, 2021
Two night stay, one in the deluxe cabin with loft and the second in a smaller cabin. Both furnished with everything we needed. Very clean, and a nice pool and playground. A family retreat that we will return to!
Jun 12, 2021
It was excellent. The grandkids loved the pool and playground. The entrance gate made us feel safe. The grounds were kept. Staff courteous.
CAMPGROUND RESPONSE / COMMENTS:
Thank you for your wonderful review! We take lots of pride in the safety of our guests and making them feel welcome! Our family is your family.
Jun 11, 2021
Everyone was very kind and helpful and it was super clean! We had a tire blow out when we were on our way and were pretty tired and stressed out. They connected us with a local RV mechanic who came and checked everything out and out our mind at ease! Nicely shaded park too!
Jun 12, 2021
Probably the best RV park we have ever stayed in. Super friendly, family owned park. Lots are large, shaded pull through with picnic tables and fire pits. If you have kids, this park has two indescribable play areas and a great pool. They have a gift shop and small convenience store. They even fix their own pizza and deliver to your door.
- 553elainen on Trip Advisor