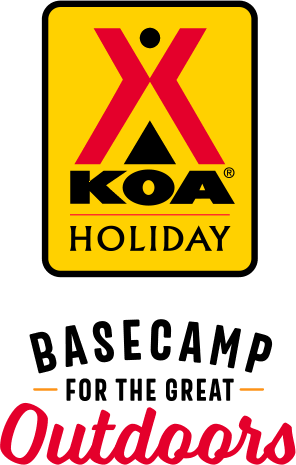 KOA Holiday Campgrounds
Whether you're exploring the local area or hanging out at the campground, KOA Holidays are an ideal place to relax and play. There's plenty to do, with amenities and services to make your stay memorable. Plus, you'll enjoy the outdoor experience with upgraded RV Sites with KOA Patio® and Deluxe Cabins with full baths for camping in comfort. Bring your family, bring your friends, or bring the whole group – there's plenty of ways to stay and explore.
KOA Holidays Feature:
RV Sites with a KOA Patio®
Deluxe Cabins with full baths
Premium Tent Sites
Group meeting facilities
Directions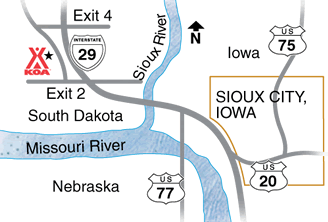 NEW Driving Directions: Road Construction Directions for the Sioux City North KOA 
Northbound Traffic: Take Exit 2. Off the Interstate take a left onto River Drive. Streeter Drive Entrance is CLOSED. Head one more block West to Sodrac Drive-The Hampton Inn will be on the left. Take a right and drive past the fire station. Sodrac Drive will turn into Streeter Drive and you can take this road all the way to the campground. 
Southbound: No changes, Take Exit 4 off I-29, turn right, then make an immediate left on the first service road. This will be Streeter Drive. Continue on Streeter Drive until you reach the campground.
If you have any questions, please call 605-232-4519.
Get Google Directions
Sep 30, 2021
Great showers - helpful staff - always KOA if I can!
Aug 31, 2021
We enjoyed our short stay at your KOA. The facilities were clean and accommodating. Although the adjacent highway noise was objectionable, there is no remedy for that. Otherwise, keep up the great work in supporting us campers!
Aug 18, 2021
Very close to the highway lots of street noise but the staff was friendly and helpful loved that they deliver pizza to your site nice! Bathrooms and showers were clean and nice
Aug 17, 2021
We had the best time here! So clean, so fun for the kiddos, and a great time was had with all the amenities. We were in South Dakota for two weeks and the kids liked this campsite the best.
Aug 13, 2021
Grounds and facilities were well-kept and efficiently laid out for convenience of guests. Staff were friendly and helpful.
Aug 11, 2021
Horrible stay Paid for electric site & didn't have electricity! When I informed them we did not have electric & of our misery due to the heat & no fans I was refunded a whopping $ 2.94 no apology nothing!!! The young girl at the counter explained the owners were not available since they were on a well deserved vacation! I wouldn't recommend this place to ANYONE! Extremely Rude, worst KOA EV
CAMPGROUND RESPONSE / COMMENTS:
The lack in electricity was due to a previous guest turning off a breaker. Due to this staff adjusted to a non-electric tent site which was the difference in cost. It was 110° during the week.We do have staff onsite after hours but no calls were received to remedy or would have been fixed quickly.
Aug 05, 2021
We stayed in souix city koa for one night in a tent space. The amenities were clean and well kept. Thank you
CAMPGROUND RESPONSE / COMMENTS:
Thank you for your 5star review! We hope to see you again sometime.
Aug 02, 2021
We LOVED all the amenities! The pool, playground, jump pillow, and mini golf kept the kids entertained during our whole stay! The tent sites were very close to the highway, so the noise made it quite difficult to sleep. But the other activities and staff were great, and we would go again (just pick farther from the front)!
Jul 27, 2021
Tent campng and all tent spots were right in front by highway. Impossible to sleep. I should have just pulled off side of road and but tent up there and saved money. No rest at this KOA ! Tent sites should at the least be in back so you have some noise dampening.
Jul 25, 2021
Convenient off highway, but traffic noise fort enters will require earplugs at night. Bicycle/walking path for miles is nice too.
Jul 23, 2021
Nice campground, only complaint is the constant highway noise from being so close to the interstate.
Jul 22, 2021
Very clean and friendly staff
Jul 19, 2021
The site for the tent is too close to the highway, so it's very noisy to sleep. Maybe they should put the tent sites further in the back
Jul 11, 2021
We stayed on Independence day. Campground was clean, showers clean and friendly workers. Town around campground was wild. Fireworks blasting for hours. We loved it
Jul 05, 2021
Nice accommodations and activities, we really enjoyed our stay!
Jul 02, 2021
The welcoming staff did everything in their power to make my stay comfortable. The pool and bathrooms were clean and the tent sites were as well. The only yucky part was the sound of the freeway and the associated lights - especially if you are in the ones in the front corner. I would come back, but request a tent site at the back of the property.
Jul 01, 2021
Kampground was clean and well-maintained. I was a late arrival and instructions were easy to find and follow. The extra touch given to the envelope containing my site info made me feel very welcomed and should I have been there during open hours, I am certain the staff would reflect that. The gates made me feel safe during my stay. Restrooms/showers were clean and met my expectations of KOA.
Jun 26, 2021
I had a koa employee in a side by side utv in the driveway to get to camp spot t4. When he wouldn't let me in I drove in a circle to talk to him. He proceeded to tell me that I can't cut through empty rv spots, and that I can't drive on the grass. Which I wasn't. He royally pissed me off and I should have left as the rest of the stay was tinted in a bad energy from that guy.
Jun 17, 2021
Great family friendly and helpful
Jun 07, 2021
Great stay, helpful staff!
Jun 05, 2021
Very friendly staff, nice/convenient store and well kept campgrounds.
Jun 05, 2021
Only there over night but it was clean and the staff was very helpful.
Jun 04, 2021
So wonderful! Welcomed with smiles, Graciously escorted to campsite, Heated pool, huge bounce pillow, mini-golf, and PIZZA delivered right to your site! WOW
May 28, 2021
It was a great place to stay. This was my first time tenting on my own and things went good. Hopefully, I'll be back!
May 25, 2021
Always clean and friendly!
Oct 05, 2020
it was okay. They basically just gave us our keys and said alright your campsite is at the end of the road. Didn't tell us about anything else. We kinda had to figure it out on our own.
CAMPGROUND RESPONSE / COMMENTS:
In fall the office is open a few hours in the morning and in the evening. Instructions are left in our night registration box with guest notes for early arrivals. Instructions are listed to return to finalize check in. Outdoor staff often is a outside service That may be unfamiliar with rules.
Sep 29, 2020
Super clean and fun campground!! Awesome stay!
Sep 13, 2020
Very friendly young lady at the front desk. Odered pizza after our long drive, very delicious. Restrooms clean and secure. Definitely would stay again if in the area.
Sep 08, 2020
Power to tent site was initially not working. Had to search out someone to fix it. Was ultimately resolved. Staff could have done a better job of explaining amenities. Seemed not to care. Other KOAs we have been led to campsite by an employee, which didn't happen at this one, and we had to go look for someone to show us where our tent site was next to parking.
Sep 05, 2020
The facility is really nice and it has tons of great amenities especially for kids like the pool and play area. The only reason I rated it a 3 is because it is so close to a major highway and the highway noise was constant. In an RV, it would probably be fine but I would not recommend tent camping here.
Jul 20, 2021
We spent two nights here on our way to Rapid City. We have been to a lot of KOA campgrounds and, by far, this one had the most helpful, friendly, knowledgeable, hard working staff we have met! The sites were long, level and shady. The pool, laundry and grounds were very clean and well maintained. They have a pizza kitchen in the office for take out orders and they have many, fun weekend activities. The camp store was stocked with lots of goodies, necessities and souvenir items. I definitely recommend this KOA!!
- KZK13 on Trip Advisor