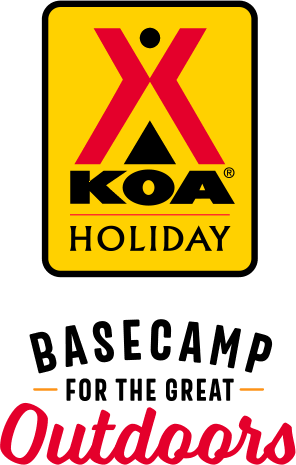 KOA Holiday Campgrounds
Whether you're exploring the local area or hanging out at the campground, KOA Holidays are an ideal place to relax and play. There's plenty to do, with amenities and services to make your stay memorable. Plus, you'll enjoy the outdoor experience with upgraded RV Sites with KOA Patio® and Deluxe Cabins with full baths for camping in comfort. Bring your family, bring your friends, or bring the whole group – there's plenty of ways to stay and explore.
KOA Holidays Feature:
RV Sites with a KOA Patio®
Deluxe Cabins with full baths
Premium Tent Sites
Group meeting facilities
Directions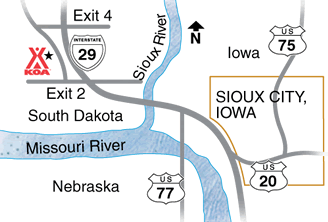 NEW Driving Directions: Road Construction Directions for the Sioux City North KOA 
Northbound Traffic: Take Exit 2. Off the Interstate take a left onto River Drive. Streeter Drive Entrance is CLOSED. Head one more block West to Sodrac Drive-The Hampton Inn will be on the left. Take a right and drive past the fire station. Sodrac Drive will turn into Streeter Drive and you can take this road all the way to the campground. 
Southbound: No changes, Take Exit 4 off I-29, turn right, then make an immediate left on the first service road. This will be Streeter Drive. Continue on Streeter Drive until you reach the campground.
If you have any questions, please call 605-232-4519.
Get Google Directions
Oct 12, 2021
Great place to stay! Awesome hosts!
Oct 11, 2021
Amazing time! It was our 2nd time for the Halloween weekend! Awesome staff! The haunted house was fantastic! The cabin was really clean! Great family time!
Oct 06, 2021
Had a great one night stay in a camping cabin. Bathrooms were clean and functional, and the cabin was great. I will say that the dog run was very messy so keep an eye out! But we had a great stay.
Sep 12, 2021
We had a one night stay in a deluxe cabin. The cabin was very nice and clean. We loved having the pizza delivery. This was our first time staying at a KOA campground, and we will definitely stay again.
Sep 08, 2021
We stayed in a small cabin and LOVED our time at the campground the activities and games were Excellent to give kids something to do each/every day. Bathroom/showers were Exceptionally clean and spacious. Staff is VERY pleasant and helpful Sammie and Evan were the BEST!! And the younger lady that helped us with the Tie Dye shirts!! Pool was warm, very clean and spacious. Will b back!!!
Sep 07, 2021
Super friendly staff. Clean restrooms and amenities. Lots of activities packed into one site. Cute and comfortable cabins. 10/10 would recommend.
Sep 05, 2021
The camp grounds were lovely and the cabin was perfect! I can't wait to come back again next year!
Sep 05, 2021
Very clean bathrooms, friendly staff. Maybe too many texts/emails though
Sep 05, 2021
Not a fan of the location. Very noisy right next to the main interstate. The camp is kinda run down; old shower fixtures, tired playground equipment. Probably won't be back. On the bright side, the staff was very helpful on a whim, switching our reservation from tent to the Teepee since it was raining hard and we didn't have a good tarp.
CAMPGROUND RESPONSE / COMMENTS:
We are sorry to hear that our park didn't meet your needs. The jumping pillow and jumping pad may not have been a good fit since you were not traveling with children but we do offer FREE Mini Golf along with other activities for all ages when it is not raining.Try us again when you have more time.
Aug 31, 2021
We loved the free jumping pillow and mini golf. The young workers were friendly and helpful. We appreciate the clean, pet fur free cabin! We hope to return next summer �
Aug 28, 2021
Very clean laundry, bathrooms and showers. Wish we could have spent more time there.
Aug 28, 2021
We stayed in the tee pee and due to it being right next to the busy hwy it was SO loud that we packed up our things and 2 little kids at 2:00 in the morning and got a hotel room down the road.
Aug 24, 2021
Wonderful place to stay! The large cabin was great for our family of 6 and very clean! Staff was amazing! So friendly and helpful, you could tell they enjoyed their jobs! So many things to keep the kids entertained, from bouncing pillows to Gaga ball, train rides to mining gems and swimming to mini golf! We all had a great time! So many memories made! Thank you!
Aug 22, 2021
We stayed in the teepee for one night as we were passing through. It was amazing! The beds were so comfortable. I wish we could have stayed at this Koa a few more nights because there was a lot to do with kids. It was Christmas in July while we were there and they had lots of themed activities going on all day. We will definitely be back!
Aug 18, 2021
Very helpful, friendly staff. Fun amenities for the kids - just what we were looking for. The cabin was completely ready for our arrival and met our needs. And I'm sure the staff arranged for the beautiful weather that we enjoyed too!!
Aug 16, 2021
Had seven grandkids with us, they loved it! The hosts are very helpful and friendly! The kids always want to stay at the North Sioux KOA!! And they have good pizza!
Aug 16, 2021
We stayed in the teepee. It is too close to the interstate, the noise was terrible. But it is very cute and clean
Aug 16, 2021
I love Sioux City. Campground was clean, quiet and friendly. Great amenities and location
Aug 15, 2021
We stopped for one night on the way to Sturgis and will definitely be back. This is a great KOA! We loved that you have pizza and delivered to the cabin. Perfect after a long drive.
Aug 14, 2021
Phenomenal stay, as always. Incredibly welcoming staff. Accommodations were perfect. Beautiful, clean campground. Can't wait to come back.
Aug 11, 2021
The staff here are AMAZING. Alway friendly, helpful and going above and beyond. Some of the best costumer service I've experienced in a long time! I love that you can charge from the store to your room card on file and even have pizza delivered right to your site. Everything here is very clean and well kept, the pool being my favorite ;)
CAMPGROUND RESPONSE / COMMENTS:
Thank you for your wonderful comments! We hope to see you again soon!
Aug 10, 2021
Had Family Reunion there! Lots of activities, clean. Friendly employees! Grandkids had great time! Will definitely come back �
Aug 06, 2021
The staff were extremely pleasant and the deluxe cabin we rented was very nice. The main reason we rented a deluxe cabin was the private bathroom and shower; unfortunately the extremely low water pressure made the shower unusable. If we had the benefit if a usable shower it would have been 5-star.
Aug 04, 2021
Deluxe cabin was very clean, had everything we needed including linens and towels and nicely located to the pool. however the gate to the dark park made a horrible screeching sound which could be heard every time it was opened or shut. We loved that we could have pizza delivered right to our site and it was delicious. Enjoyed our stay very much!
Aug 04, 2021
The stay was great. Facility was clean and fun! Only downside is the highway, otherwise great!
Aug 04, 2021
Bathroom was far away we stayed in a cabin �
Aug 04, 2021
Always enjoyable.
Aug 03, 2021
Great experience; clean cabins & grounds; great staff!
Aug 03, 2021
Waited till well after 3pm to get the keys to our cabin due some water issues I was told. I was also told that no one can check in before 3pm for a cabin to allow time for cleaning. I witnessed several times throughout our stay several people check in way before 3pm. Otherwise stay was decent.
Jul 26, 2021
Love this clean place for the pool and kid's activities. Kind and helpful staff throughout the grounds and well-stocked shop.
Jul 25, 2021
Both of the cabins were in excellent condition and very clean. The campground had great activities and amenities for our family. Two minor things that you might consider to improve it even more: a shuffleboard court would be an awesome addition (and something we've seen at other campgrounds) and a toddler swing would be great for little kids. Also, we were disappointed the pedal carts were gone
Jul 19, 2021
This location is half way between us and our kiddos. Sioux Falls/Omaha. We always get the Deluxe Cabin and the kids bring their RV/Campers. We love the crafts, weekend themes (we embraced the Luau theme and decorated our cabin deck), barrel rides, being right by the pool, etc. What a great get-away. We enjoy our twice yearly annual visits with friends and family! Made many new friends!
Jul 19, 2021
Very clean, excellent customer service.
Jul 12, 2021
Staff was AMAZING!!! Everyone was very friendly. Pool was clean, plenty of things for kids to do.
Jul 12, 2021
Two "rcomplaints": 1. The beds in the cabin that we stayed in (no bathroom) were some of thee most uncomfortable beds I have ever slept on in my entire life. My kids and I all woke up sore and dreading having to sleep on them again. 2. The toilets in the bathrooms either did not flush or barely flushed. With that being said, every staff member that we encountered were SUPER friendly and helpful!
Jul 12, 2021
It was a wonderful 1st experience at KOA with grandkids 7& 5, staff was helpful& knowledgeable. We're already talking about our next stay at KOA.
Jul 09, 2021
We were in after 9 p& the after hours registration was easy. We had the teepee which was behind a cabin amd hard to find abd the folks in the cabin had parked blocking the entry way. Fortunately they were out and moved there cars. We
Jul 08, 2021
Everyone we ran into for staff was absolutely so helpful and nice! The KOA was very clean, tons of fun to be had. Would recommend to anyone to come and stay with North Sioux KOA! Thanks for the great little get away.
Jul 06, 2021
Loved our stay overall! Cabin L3- The queen mattress was awful- worn out and tipped off to the side. And the shower had very poor water pressure.
Jul 01, 2021
The staff is GREAT!!
Jul 20, 2021
We spent two nights here on our way to Rapid City. We have been to a lot of KOA campgrounds and, by far, this one had the most helpful, friendly, knowledgeable, hard working staff we have met! The sites were long, level and shady. The pool, laundry and grounds were very clean and well maintained. They have a pizza kitchen in the office for take out orders and they have many, fun weekend activities. The camp store was stocked with lots of goodies, necessities and souvenir items. I definitely recommend this KOA!!
- KZK13 on Trip Advisor