Alert
Effective June 12, 2020: SANTA MARGARITA KOA IS OPEN FOR ALL TYPES OF CAMPING WITH A TWO-NIGHT MINIMUM STAY…BUT California is still under a Stay-At-Home Order. Please assess your health risk and ability to travel at https://covid19.ca.gov/stay-home-except-for-essential-needs/ before making a reservation. We will follow the California Department of Public Health (CDPH) Guidelines. Guests are encouraged to bring their own hand sanitizer and disinfecting products, to practice social distancing and frequent handwashing, and to not gather in groups of more than 10.

***All Summer Group Activities have been cancelled.
***Our public restrooms and showers are open.
***Our pool is open to 40 Guests at one time in two-hour sessions.
***Our Jumping Pillow and playground are officially closed.
***No linens or towels are provided in Deluxe Cabins.

*****Thank you for your patience during the COVID-Craziness. You may close this Alert box to explore our website. Please call us to check availability...even if the website says, "These Sites Are Not Available." We are still Happy Campers at Santa Margarita KOA (805)438-5618.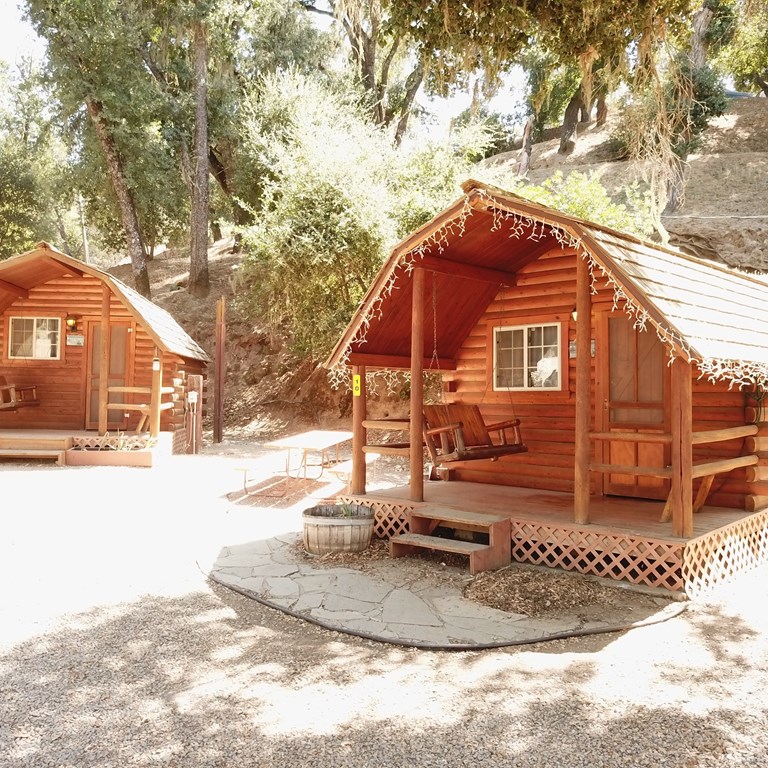 Santa Margarita KOA Reviews
The Best Kept Secret in Central California!
Directions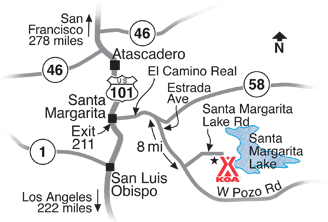 From Hwy 101 North and South:
Take Exit 211 for Santa Margarita Lake.
Go east 1.7 miles thru the little town.
Turn Right on Estrada Ave./Highway 58 East
Estrada Ave. becomes "J" St. which becomes W. Pozo Rd.
(Do not turn left on Hwy. 58 East)
Continue straight on W. Pozo Rd. for 7 miles.
Turn Left on Santa Margarita Lake Rd.
Go 1/2 mile up the hill.
The KOA will be on your right.
From East and Northeast of Santa Margarita KOA:
From Highway 41, 99 or 5...
Take Highway 46 West to US 101 in Paso Robles.
Take US 101 South to Exit 211.
No matter what your GPS, Google Maps or Mapquest says...
DO NOT TAKE HWY 58 WEST, HWY 41 south of HWY 46 or HWY 229 TO REACH US.
These roads are narrow, winding and likely to cause car sickness.
We want you to be a Happy Camper when you arrive!
Get Google Directions
Jul 09, 2020
Santa Margarita KOA is always our first choice in all KOA site and our favorite KOA ever. Me and my husband always booked at SANTA Margarita as the cabin is complete, clean and feels like you're staying at your own home, specially the deluxe. The staff are all nice and very accommodating, friendly and the owner as well Karen when I spoke to her over the phone. Very helpful.
Jul 07, 2020
Staff was friendly and funny and extremely helpful - we had some noisy neighbors, and staff was sure to follow up to make sure they weren't disturbing us. Bathrooms smelled great and were well maintained. We loved our campsite and had so much fun!
Jul 06, 2020
each night and morning there was a loud drone flying close to our site and our family as we walked around the area. we alerted the front desk but it continued to happen.
Jul 06, 2020
Great location having restrooms and showers was great , all the staff members I met were very friendly
Jul 06, 2020
It was lovely! All staff was friendly happy and helpful!! It was the kids first camping experience and they did not want to leave!
Jul 06, 2020
What a beautiful campground! Very spread out and spacious. I will definitely be coming back.
Jul 04, 2020
We had a wonderful time. Our campsite was big, shady and super quiet. The bathrooms were close by and very clean. I would definitely recommend to others. The location gave us easy access to nearby beaches. We would stay again.
Jul 04, 2020
I was very pleased with the campgrounds. The staff, especially the lady that checked us in..
Jul 02, 2020
Loved this place! So many kid friendly activities. Staff was amazing! We are planning our next trip.
Jul 01, 2020
My family camping trip here was great! The staff was very informative and accommodating, especially since we booked last minute. This KOA has everything you could possibly need to have a fun trip. We had small children in our group and they had a blast. I would definitely come back in the future.
Jul 01, 2020
I had to make a last minute reservation for a stay over during a road trip. I left a message and quickly received a reply! Very accommodating for both my dog and myself. Had a range of options from tent site all the way up to a cabin. Should I find myself in the area again, I would not hesitate to stay here again!
Jun 29, 2020
We had a amazing time this weekend thank u so much so much fun we will b returning with the kid. Thank u
Jun 29, 2020
Perfect weekend getaway! Staff was so friendly, helpful and welcoming. We stayed in a Yurt and that was amazing! This location is awesome. Close enough to go to the beach or the lake for the day! Can't wait to go again.
Jun 25, 2020
This place is awesome. My family and I have been to many KOA's and the staff here are by far the best. Overly accommodating when they can be and some of the nicest people we have ever met. This is by far our favorite KOA to visit. Largely because of the staff. Thank you guys again and we can't wait to return
Jun 22, 2020
Hade a great time. everything was clean, other campers were pleasant and very considerate. Store staff were very kind and helpful.
Jun 22, 2020
Kim Ann was the receptionist, she went out of her way to accommodate our group, and make us feel welcomed. Will be back again.
Jun 22, 2020
This is a great campground with very friendly staff! Kim was very professional and made us feel very welcome. Her upbeat personality is awesome! Bathrooms/shower area was kept clean as well as the rest of the grounds. Will go again for sure and will recommend to anyone who wants to enjoy a fun camping experience! Thank you!
Jun 22, 2020
Amazing staff!
Jun 22, 2020
The ladies at the store/check in were so sweet and the campsite was beautiful + the bathrooms were spotless! Coming back ASAP
Jun 20, 2020
Great views, friendly staff, clean facilities!
Jun 18, 2020
The yurt was more than enough room for our family of two adults and two tweens. The radiator helped to keep the night comfortable (overnight temps dropped to the 40'sF). The staff were friendly, professional and accommodating. The amazing variety of the wildlife was the real cherry on top. We spotted a deer our first night, woodpeckers and blue jays in the morning, quails in the afternoon.
Jun 15, 2020
Beautiful and unique campground! The staff were wonderfully friendly and the campground is beautiful! We will be staying again. Thank you!!!!
May 15, 2020
The Friendly Staff Really Makes It Hard To Want To To Go Home.... You Guys Make Memories Happen..
Feb 26, 2020
The water failed in the men's room after lathering up. Otherwise awesome camping, great staff!
Feb 17, 2020
Nunca había tenido la experiencia de acampar con KOA y fue muy agradable utilizar sus instalaciones. Su personal es muy atento con las personas que vamos a disfrutar de un tiempo de relajación. Gracias por compartir esta experiencia con nosotros. Esperamos volver a utilizar sus instalaciones en otra localidad. Saludos.
Dec 05, 2019
We really enjoyed staying in the Yurt!
Nov 11, 2019
Our scout troop reserved a spot. Staff was amazing and helpful from start to finish of or trip. Clean and big spaces.
Nov 07, 2019
The staff are the best ever
Nov 02, 2019
I had such an enjoyable stay , the employees were so sweet and accommodating, the entire campground was clean lots of different animals to see the weather was perfect the entire time I was there I had such fun
Oct 16, 2019
Easy check in, beautiful grounds, spotless bathrooms!
Oct 15, 2019
We had an amazing time at the KOA. The staff were friendly and accommodating . The grounds were clean. Will definitely stay here again.
Sep 24, 2019
Great secluded site amongst trees!
Sep 09, 2019
I've been to KOA camps since the 80s and this one is beautiful, but our site was tight. If we had brought two cars, not sure if they would have fit. The main issues were the lack of privacy between sites (too close) and no site administrators making rounds to quiet down campers past 10 - I had to yell extremely loud at other campers after 11 PM to shut off music and stop singing - ridiculous!
Sep 04, 2019
Very hard to get to the bathroom, water spigot was damaged and could not connect a hose, need more shade, otherwise an ok trip...
Sep 03, 2019
It's a beautiful area with stars very clearly visible at night and a gorgeous lake a half mile away. Only thing that I didn't like was that it was super hot and that it was also super dusty. The nice pool is a great way to cool off though! Very close to San Luis Obispo, Pismo Beach and Hearst Castle (an hour away).
Sep 03, 2019
Visiting the area for a couple of weeks beautiful hills to climb nice camping lots clean bathrooms refreshing pool clean laundry room nice general store felt very safe
Aug 27, 2019
We loved everything about it. It was beautiful and quiet, and the staff was wonderful. We enjoyed the pool too.
Jul 07, 2020
My grandchildren especially liked the pool and we all enjoyed fishing at the nearby lake. The KOA staff is exceptional and they made our trip pleasant and stress-free. We locked our keys and phones in our camper and Kim stayed way beyond her duty time to make sure we were able to get help from AAA. We frequently popped into the well-stocked office/store and were always greeted with helpful/pleasant personnel.
- Susan992 on Trip Advisor

Santa Margarita KOA
Open All Year
4765 Santa Margarita Lake Road
Santa Margarita, CA 93453
Check-In/Check-Out Times
Accommodations, Deluxe Cabins, Log Cabins & Yurts
Check-in: 3:00 pm, Check-out: 12:00 pm
RV Sites, Tent Sites, RV & Tent Sites
Check-in: 1:00 pm, Check-out: 12:00 pm
Operating Hours
Sunday: Open 24 hours
Monday: Open 24 hours
Tuesday: Open 24 hours
Wednesday: Open 24 hours
Thursday: Open 24 hours
Friday: Open 24 hours
Saturday: Open 24 hours
Get Google Directions

© 2020 Kampgrounds of America, Inc.