Alert
Effective June 12, 2020: SANTA MARGARITA KOA IS OPEN FOR ALL TYPES OF CAMPING WITH A TWO-NIGHT MINIMUM STAY…BUT California is still under a Stay-At-Home Order. Please assess your health risk and ability to travel at https://covid19.ca.gov/stay-home-except-for-essential-needs/ before making a reservation. We will follow the California Department of Public Health (CDPH) Guidelines. Guests are encouraged to bring their own hand sanitizer and disinfecting products, to practice social distancing and frequent handwashing, and to not gather in groups of more than 10.

***All Summer Group Activities have been cancelled.
***Our public restrooms and showers are open.
***Our pool is open to 40 Guests at one time in two-hour sessions.
***Our Jumping Pillow and playground are officially closed.
***No linens or towels are provided in Deluxe Cabins.

*****Thank you for your patience during the COVID-Craziness. You may close this Alert box to explore our website. Please call us to check availability...even if the website says, "These Sites Are Not Available." We are still Happy Campers at Santa Margarita KOA (805)438-5618.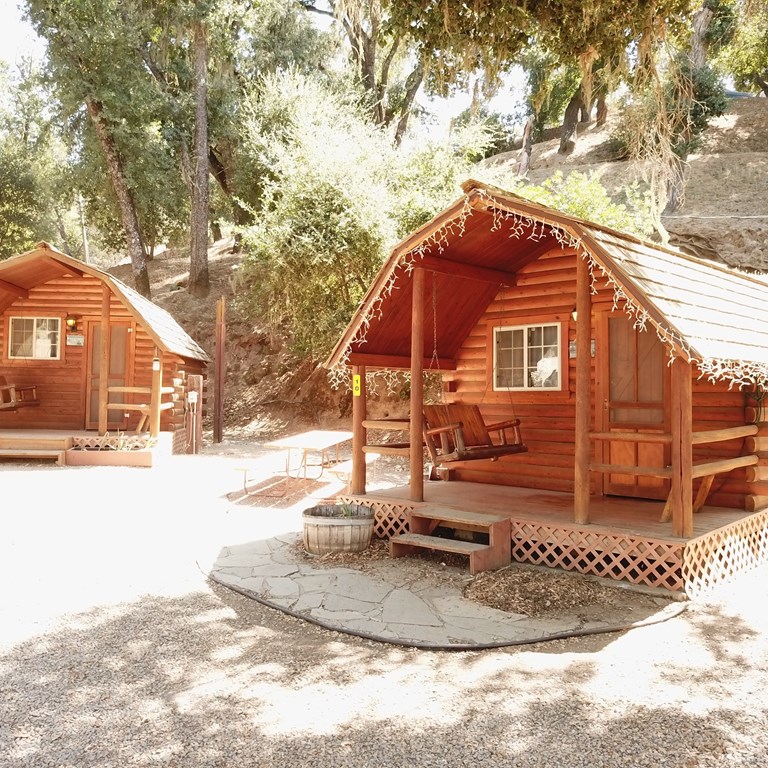 Santa Margarita KOA Reviews
The Best Kept Secret in Central California!
Directions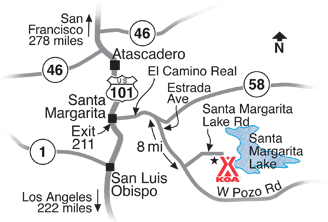 From Hwy 101 North and South:
Take Exit 211 for Santa Margarita Lake.
Go east 1.7 miles thru the little town.
Turn Right on Estrada Ave./Highway 58 East
Estrada Ave. becomes "J" St. which becomes W. Pozo Rd.
(Do not turn left on Hwy. 58 East)
Continue straight on W. Pozo Rd. for 7 miles.
Turn Left on Santa Margarita Lake Rd.
Go 1/2 mile up the hill.
The KOA will be on your right.
From East and Northeast of Santa Margarita KOA:
From Highway 41, 99 or 5...
Take Highway 46 West to US 101 in Paso Robles.
Take US 101 South to Exit 211.
No matter what your GPS, Google Maps or Mapquest says...
DO NOT TAKE HWY 58 WEST, HWY 41 south of HWY 46 or HWY 229 TO REACH US.
These roads are narrow, winding and likely to cause car sickness.
We want you to be a Happy Camper when you arrive!
Get Google Directions
Jul 11, 2020
The staff was so kind and helpful! I had car trouble twice(!) and both times the staff helped me out right away! I really appreciate their help! The campground was amazing and we had a wonderful, relaxing vacation. I am already planning our next trip back!
Jul 10, 2020
Staff went above and beyond! Facilities were clean and well-maintained. We had a wonderful time and the experience was like medicine for us. Staff and other guests were respectful of social distancing, too.
Jul 09, 2020
The cabin was cozy and the bathrooms were very clean. I would definitely come back again.
Jul 07, 2020
This was our first time at a KOA and it was the best camping experience. It was exactly what my family needed in these crazy times. I love the cabins and the fun activities that they had. The staff was incredibly friendly.
Jul 07, 2020
Everything was perfect. Restrooms were kept clean. The staff was awesome We had a blast.
Jul 06, 2020
always hav the best times @ Santa Margarita Lake KOA .friendly staff & campers plus ,we got to see a bear in a field on our way out 1/4 mile from lake
Jul 06, 2020
The site has a good amount of amenities and the entire staff was incredibly helpful and friendly.
Jul 04, 2020
Great time and kids enjoyed the pool and Kevin!!
Jul 02, 2020
Loved this KOA site!!!! I've been to different KOAs throughout Northern California and this one was gorgeous and the staff were great!
Jul 02, 2020
Our stay was last minute and we got there a little early and they were very accommodating and had our cabin clean and ready for us even before check in. Then we had some friends come visit and they ended up renting a cabin nearby and the staff was very friendly and helpful to any of our questions. We will most definitely be staying here again!!
Jun 29, 2020
Cabin 88 was AMAZING! cabin 21 -perhaps it would have been best if we had known it shared a wall with a couple that decided to have a fight and made lots of noise. Space #27 Will not be chosen again for our daughter. With 7 family members all together it was a good thing we had 88 as the other 2 sites were not conducive for shared meals. WE WILL BE BACK though, we have our spots picked out.
Jun 29, 2020
A few things need to be fixed #3 cabin Outside handrail loose Loose outside stepping stone Needs a new air conditioner One of the electrical stove not working Stove fan not working Curtains need cleaning And all window seals Toilet was leaking (it will feel up sewer tank fast Other than that - we had a great time . We understood the Pool situation but you accommodated us great -
Jun 29, 2020
We loved our stay!! Extremely happy and will be back soon!!
Jun 27, 2020
Too far from the bathrooms
Jun 22, 2020
Great stay! Friendly staff and love the music video on YouTube!!
Jun 20, 2020
Kim is awesome and we had a wonderful time! We'll be back!
Jun 15, 2020
All was great except for one main thing: THE MATTRESS was terrible just old and absolutely uncomfortable. It crunched and no support what so ever to the point of unable to sleep...fortunately we only stayed 3 nights. Again we really enjoyed everything just couldn't sleep.
Jun 10, 2020
Amazing. Staff was super accommodating!! Felt safe and extremely relaxed and comfortable. Hope to be back sooner than later :)
Jun 09, 2020
I have nothing but POSITIVE WORDS for my stay here! From the beginning of the process (BOOKING) until check out...The customer service was EXCELLENT..SPECIAL Thank You to Michelle & Kim...My family and I was extremely Blessed..WE WILL BE BACK!! We've already told multiple family and friends to go check you all out! THANK U AGAIN!
Jun 08, 2020
Fantastic time Helpful and friendly staff Quiet and peaceful
May 26, 2020
Amazing place, amazing people!
May 22, 2020
Our family loved our stay at Santa Margarita KOA!
May 18, 2020
Hi! Koa Santa Margarita. I just want to say that we had an amazing weekend. Thanks to the staff Michele, Sylvia, Kim, and the guy I didn't get his name. I apologize for any inconvenience we have created. I'm looking forward in staying at your koa. I hope I'm still welcome. I promise I will recommend this koa to my friends. Thank you again to the owner Karen and sir..
May 09, 2020
The camp ground was great, people were helpful and friendly but I didn't appreciate the water shut off at all. If this was going to be the plan then the facil should not have opened up to the public. For this reason I can not give this place a high rating and I will warn anyone going to ensure they ask a bunch of questions before booking.
May 04, 2020
We discovered this little gem last year and so greatful that we did! It's always been an amazing time with wonderful memories made. The office staff is always friendly and accommodating, the maintenance staff is always working and it's a great sight to see, knowing they are always on top of the upkeep of the park. I highly recommend.
May 04, 2020
We really enjoyed our stay. Cabins were immaculate, staff is friendly, plenty of activities for the kids, and the scenery is breath taking.
Apr 28, 2020
Beautiful place with the most accommodating and kind staff!
Apr 27, 2020
My sweetheart turned 60 during our current pandemic situation, so there was not much I could plan to make it special for him. A weekend in a deluxe cabin at the KOA in Santa Margarita made it an amazing birthday despite all the challenges. The cabin was perfect, the surroundings lovely. Even without the pool, and general store being open, it was a wonderful to get outside safely. 5 Stars!
Apr 27, 2020
Wonderful stay. We love this campground. Sorry to see pool closed, but due to COVID19, might not have used it anyway. Air-conditioner in unit 31 was a fan at best. It was a warm weekend and no cold air. The freezer could also use a defrosting. Will definitely be back.
Apr 26, 2020
Need to upgrade frigerator also need a television the plumbing in the restroom wasn't the best
Apr 23, 2020
Thank You Michelle your always so welcoming and quick to help!!
Apr 10, 2020
This place is a hidden paradise beautiful scenery and the staff treated me better than a five star resort very hospitable. Highly recommend nice place to relax and decompress. Their the best.
Apr 08, 2020
Loved the deluxe cabin and the staff! This wasn't our first time staying there and are already making plans to go again! Thank you KayAnn for being so hospital!
Mar 18, 2020
checked in Fri March 13th cabin 11 cabin had dirty tissues on top bunk and trash can full of trash was givin cabin 16 porch along with swing seat was dusty dirty and could not sit on them bathrooms extremely dirty.both friday and Saturday the showers did not work properly.was in the shower and lost water pressure not fun with a face full of soap!at 90 dollars a night i did not expect this.very bad
Mar 18, 2020
We had an amazing time, very clean and cozy. Enjoyed our stay, will definitely be doing it again.
Mar 04, 2020
Quiet, peaceful and beautiful!
Feb 28, 2020
My husband and I came to stay for our 5 year anniversary. We stayed here on our 1st anniversary too. It's so beautiful and everyone is so friendly! Our favorite thing is how dog friendly the camp is, and their new dog park! Our 2 pups enjoyed running around the agility course. We loved petting and feeding the friendly emu named Kevin too. We can't wait to come back again!
Feb 24, 2020
Very clean ,quiet , and comfortable. We hope to visit again later this year
Feb 20, 2020
Great location for a quick getaway (live in Salinas) and beautiful hiking trails around Santa Margarita Lake. Also a couple of great restaurants in Santa Margarita if you do not feel like cooking. Friendly staff and loved our cabin!!
Feb 18, 2020
Great location, staff, services and accommodation. Thank you!
Feb 04, 2020
WONDERFUL, we will be back.
Jan 27, 2020
Definitely will comeback to santa margarita koa again. Koa Staffs are super accommodating and super nice. Highly recommended and will be to my friends and family. This will be my #1 favorite KOA then 2nd fav SD KOA. Will be back soon.
Jan 22, 2020
We had such a great time at the KOA in Santa Margarita. The staff we very welcoming and accommodating to our needs. We brought our dogs with us and they really enjoyed their time as well. The cabin we stayed in was perfect and very clean. We will definitely be staying here again for a quick weekend getaway.
Jul 07, 2020
My grandchildren especially liked the pool and we all enjoyed fishing at the nearby lake. The KOA staff is exceptional and they made our trip pleasant and stress-free. We locked our keys and phones in our camper and Kim stayed way beyond her duty time to make sure we were able to get help from AAA. We frequently popped into the well-stocked office/store and were always greeted with helpful/pleasant personnel.
- Susan992 on Trip Advisor

Santa Margarita KOA
Open All Year
4765 Santa Margarita Lake Road
Santa Margarita, CA 93453
Check-In/Check-Out Times
Accommodations, Deluxe Cabins, Log Cabins & Yurts
Check-in: 3:00 pm, Check-out: 12:00 pm
RV Sites, Tent Sites, RV & Tent Sites
Check-in: 1:00 pm, Check-out: 12:00 pm
Operating Hours
Sunday: Open 24 hours
Monday: Open 24 hours
Tuesday: Open 24 hours
Wednesday: Open 24 hours
Thursday: Open 24 hours
Friday: Open 24 hours
Saturday: Open 24 hours
Get Google Directions

© 2020 Kampgrounds of America, Inc.