Alert
As of June 24th WE ARE OPEN and following CDC and Covid best practices. All guests and must be registered on a site with a max of 6 people per site. Sorry No Visitors. Currently the playground, jumping pillow and other group recreation is closed. (POOL IS OPEN! with restrictions reservation are required for a time slot) Our grocery store, laundry facilities, petting farm, dog park and propane are available with social distancing and more frequent sanitizing for your protection. Facial coverings are required inside buildings. Reservations can be made online www.petalumakoa.com (recommended) or at (707)763-1492. We look forward to seeing you all back for another great summer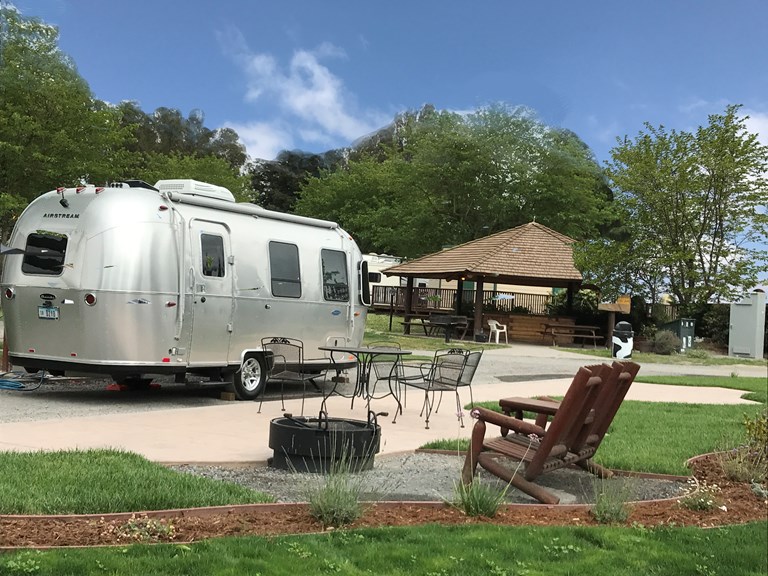 San Francisco North / Petaluma KOA Reviews
Directions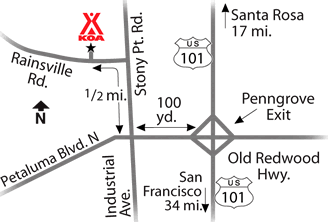 US 101 at Exit 476 - Penngrove. Most Northern Petaluma exit. Proceed to South/West side of freeway. Right turn on Stony Point Rd and Left on Rainsville Rd. See you Soon
Get Google Directions
Aug 17, 2019
Friendly & courteous staff, very accommodating clean facility- perfect stay, plan on returning soon
Aug 17, 2019
we had a great stay! everything is very clean, lots of kids activities.
Aug 17, 2019
Nice helpful staff great campground
Aug 16, 2019
The staff and activities were great but the number of barking dogs and amount of dog poop was over the top!
Aug 16, 2019
When I sign a document stating the time of "quiet time" I expect that that applies to everyone on site. I expect that there will be a process in place to ensure that this happens. It does not at this KOA. Don't stay here if you want sleep is the message I will be telling people.
Aug 15, 2019
Big park with a lot of activities and excitement. Fun seeing kids having the times of their lives! Suits every size RV and tent, plus has multiple styles and sizes of cabins. Very friendly and helpful staff!
Aug 15, 2019
The spaces are too crowded, nice facility but you are on top of one another.
Aug 15, 2019
Excellent stay and loved the updated RV spots.
Aug 15, 2019
They had beeping fence all night, cold shower, and sprinkler ran for 6 hours behind site. Besides that we loved it.
Aug 14, 2019
We loved the accommodations. The staff was friendly and there was lots to do.
Aug 14, 2019
It's a great place. Under the trees. Wonderful. Clean. Nice people. Easy to get around. One of the best !
Aug 14, 2019
It's a great place to go ! Mellisa is very helpful very friendly and is just awesome : Eve is also very Friendly and very helpful ! I've been coming here for quite a few years now my grandkids just love it:I only wish they would bring back day use: also it would be great if you could rent cabins for one night again instead of at least 2 nights ! Thanks !
Aug 13, 2019
I would give a higher rating because the park is nice with lots for the kids to do but our site #46 was awful, completely un-level & the huge tree/roots made it impossible to open our awning, it was a tripping hazard as well. We were unable to fully relax next to our RV or to sit level near the fire pit due to the tree & huge roots.
Aug 13, 2019
Always nice to come and stay, especially with our grandchildren. We like to stay until Monday because it gets very quiet Sunday afternoon
Aug 13, 2019
Excellent place to stay. Lots to do and see in the area and they have great activities for children and families.
Aug 13, 2019
Had a nice stay, my only complaint is others did not understand camping manners and continued to walk through our campsite often. I know your facility cannot manage others manners but maybe a few more walk though paths so they can get to their location without impeding on others I ther site.
Aug 13, 2019
We had a wonderful time! Our campsite was Awesome. We had Q230...beautiful site and very clean KOA. Staff was very friendly and helpful. We will definitely be back!��
Aug 12, 2019
This KOA is so beautiful!! It is a very well kept park. The pool is huge. We happened to be there for Polynesian Weekend. All kinds of activities for the kids to do as well as Hula Dancers performing by the pool. The Manager, Mike is great. Great customer service! We love comeing here. Never disappointed.
Aug 12, 2019
We will definitely stay here again! The camp is beautifully landscaped and immaculately clean. The sites are all beautiful and well-spaced. There are lots of activities for adults and kids alike. If you want to stay in a fantastic KOA, this one is the one for you!
Aug 12, 2019
Great location and wonderful amenities.
Aug 12, 2019
We love the Petaluma KOA. Great family vacation spot
Aug 11, 2019
Absolutely loved our stay. Great for little kids, big kids, and adults. They had karaoke on Friday night. I hate karaoke but my two kids loved it...so then it didnt seem so bad. Beautiful sites with grass and trees.
Aug 11, 2019
Great activities for kids!
Aug 11, 2019
Great park, love the patio spots, little cramped to the neighbors, the redwood chair in our spot was sadly broken, clean, well kept.
Aug 11, 2019
Thank you so much for the SAFE camping experience. I really appreciate the cigarette butt free camp site. I have sent a lot of camping families to Petaluma and will continue to recommend this KOA.
Aug 11, 2019
Just amazing experience! So many funny things to do. Best time we ever had at a KOA.
Aug 10, 2019
Large campground with lots of activities for the kids. That also means lots and lots of people with kids running around everywhere. Not a park for relaxing in peace. If you know what to expect, you will have a great time. Good location to Sonoma and San Francisco. Gotta love the goats in the petting zoo. I also appreciated how late the store/office was open.
Aug 10, 2019
Always something to do during the day and always quiet at night!
Aug 09, 2019
Clean. Lots of kids activities. Quite busy and loud during day. Quiet at night.
Aug 09, 2019
This KOA is one of our favorites. They are making lots of improvements to an already nice campground.
Aug 09, 2019
Fun great things to do love the pool
Aug 09, 2019
Had a great time during out recent stay - as usual. Our campsites are always just right. The staff is great. Everything works. And it's a beautiful park. Very fun place to stay.
Aug 09, 2019
Clean, friendly, beautiful place
Aug 09, 2019
Loved our cabin and just got to enjoy time with the family. Nice location in Petaluma. Definitely coming back.
Aug 08, 2019
Was very good. Did not enjoy the wristband but do understand the theory behind it. Needs better wifi signal
Aug 08, 2019
Most everyone very nice grounds were kept clean plenty of things to do during the day my only concern was on two nights we had neighbors that were very loud and I didn't know who to contact to have somebody come and talk to them
Aug 08, 2019
Very busy campground but expected being close to SF and wine country. Still, quiet at night, friendly staff, cabin was very clean and well supplied. Very satisfied with my stay. This is one of the best KOAs in the northern part of California. I will be back again when my travels take me back to this area.
Jul 07, 2020
great location, nice & clean with lots of trees for shade
- Denise Gonçalves on Google
Jul 08, 2020
We were thrilled to come across a great campground after our dump we stayed at in Eureka. The only downside to our stay at this KOA was not everything was available due to COVID rules. It would have been kind of KOA to not charge full price when the amenities were not available. If the campground was fully operational it would have been worth staying at more than one evening.
- rwheeler1977 on Trip Advisor

San Francisco North / Petaluma KOA
Open All Year
20 Rainsville Road
Petaluma, CA 94952
Check-In/Check-Out Times
Accommodations
Check-in: 3:00 pm, Check-out: 11:00 am
RV Sites, Tent Sites
Check-in: 2:00 pm, Check-out: 11:00 am
San Francisco North / Petaluma KOA
Get Google Directions

© 2020 Kampgrounds of America, Inc.