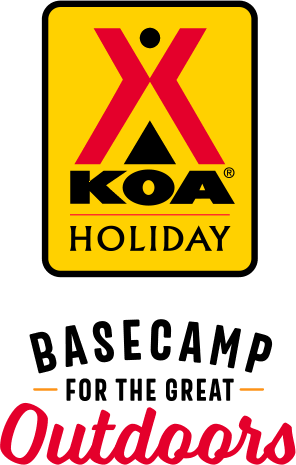 KOA Holiday Campgrounds
Whether you're exploring the local area or hanging out at the campground, KOA Holidays are an ideal place to relax and play. There's plenty to do, with amenities and services to make your stay memorable. Plus, you'll enjoy the outdoor experience with upgraded RV Sites with KOA Patio® and Deluxe Cabins with full baths for camping in comfort. Bring your family, bring your friends, or bring the whole group – there's plenty of ways to stay and explore.
KOA Holidays Feature:
RV Sites with a KOA Patio®
Deluxe Cabins with full baths
Premium Tent Sites
Group meeting facilities
Directions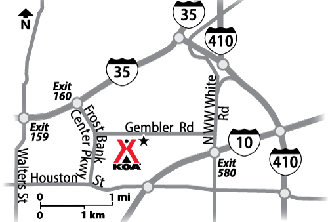 I-35 S Exit 160 AT&T Center Parkway, turn left under bridge to second light Gembler Road, turn left, go 3/4 mile.
I-35 N Exit 159B Walters/AT&T Center Parkway go 1 mile to AT&T Center Parkway, turn right to second light, turn left on Gembler Road, go 3/4 mile.
I-10 Exit 580 WW White Road, turn north to second light Gembler Road, turn left, go 1 mile, entrance on the left.
GPS: N29.433963, W98.422737
Get Google Directions
Oct 14, 2021
Although we had a power supply issue, SA KOA really worked at trying to make things right and make sure we were take care of. Great park to stay at and a friendly staff. We will return here, and enjoyed our stay.
Oct 14, 2021
Very clean and spacious. So-so grassy areas for pet walking. Nice little breakfast cafe for take out and very convenient bus service. Pleasant staff!
Oct 14, 2021
Friendliest, cleanest KOA! Staff welcoming and always ready to answer questions and offer recommendations…. Kelly, sandy, lyn are so helpful on the front desk. Emmet and TJ will come and help on campsite if needed. See ya next month�ϋ�
Oct 14, 2021
Convenient, nice facility with food and activities available Standard sites are ok with good shade but grass areas need some attention. Patio sites are very nice!
Oct 14, 2021
Our stay was absolutely perfect! We will definitely be coming back many more times and we also told all of our friends and family to visit as well. Everyone was so sweet and very helpful, the amenities were super nice and the upkeeping of the grounds were on point. You need for nothing!
Oct 14, 2021
Lots of helpful friendly staff. Great site
Oct 14, 2021
It was a beautiful park. Well maintained. Helpful and friendly staff!
Oct 14, 2021
Great RV resort! Fantastic staff! Very clean, great level sites, bike trail access, minutes from downtown San Antonio.
Oct 14, 2021
When we arrived, the only thing available for 2 nights was water/electric. No problem. The site we were on was covered in grass burrs to the point after walking around our RV to hook up, the bottom of our shoes was completely imbedded with burrs. I went to office to see if any other site was available and what do you know, a full hookup had just opened up. Burrs need to be eradicated.
Oct 14, 2021
Everyone was so friendly and helpful. The campground was so clean and the RV spaces had adequate room. We will definitely be back and stay next time we are in the area.
Oct 13, 2021
Friendly Staff clean quiet Park This is our 4th Stay and we enjoy it every time That's what an Holiday KOA is with many Amenities for Kids and Adults.Breakfast and Hunt's Pizza excellent.Highly recommended Park
Oct 12, 2021
Great place, clean park, offered dinner and breakfast delivered to your site! Close to attractions and friendly staff!
Oct 12, 2021
Beautiful area, friendly staff, will definitely come back and stay in the future.
Oct 12, 2021
Excellent location for Riverwalk and pro BB. Sites are roomy with shade. Pool is always a delight as is the staff. See ya soon!
Oct 12, 2021
Thank you so much!
Oct 11, 2021
It was clean and large site. The manger helped us out with our group get together. We had a great time with the bike trails. It's a beautiful park, great for families and groups.
Oct 11, 2021
Love the changes since we last visited. Friendly staff also very helpful.
Oct 11, 2021
Alamo KOA has a really nice location with lots of trees. The staff is very friendly and helpful. They also keep the grounds very well maintained and clean. The restroom and shower facilities are always keep super clean. Our favorite amenity is access to a fantastic paved bike trail which is part of San Antonio's Salado Greenway trail system.
Oct 11, 2021
Staff was awesome. Site was great. Dog Run was perfect (I wish our dog had been with us). Only negative was for the snack bar it took about 45 minutes to get breakfast. That could have been much more efficient.
Oct 11, 2021
Great - had to stay an extra day -- Staff was GREAT!!!
Oct 10, 2021
Great convention, WAY TOO MUCH to eat!!!! Looking forward to Montana next year!
Oct 10, 2021
Great staff, super clean, well maintained, nice dog park
Oct 09, 2021
Staff took great care if our group. Facilities and sites are very nice. So close with easy access to so many things to see and do in and around San Antonio.Thank you
Oct 09, 2021
I was in site S01, I got up in the morning and took some items out of my washer and put in the dryer. Hit start and the breaker on your power pole tripped. I no other items on, AC was off so no power draw. may want to check it out.
Oct 09, 2021
Staff was very friendly and accommodating. It's a very clean KOA.
Oct 08, 2021
Good stay. Would recommend to friends and family.
Oct 08, 2021
Very pleasant, quiet and well maintained campground.
Oct 07, 2021
Very nice park. Staff was excellent! Enjoyed having the bus to town available in front of the park, and the pizza they offered for sale at the office!
Oct 07, 2021
I was very happy with the cleanliness of the camp, the bathrooms and hot showers. Being able to propane as I arrived saved me time from having to try and find it elsewhere. Having access to the Salado Creek bike trail was a great treat. Will definitely come back here.
Oct 06, 2021
Great area close to downtown. Having an air filling station that can go up to 125psi is also a big plus. Park was clean and had nice dog park.
Oct 06, 2021
Great stay except for the cutting of trees everyday in the park. I wish it would have stopped earlier in the day .
Oct 05, 2021
I was unpleased with my spot. I ask to be put towards the pool. Which I wasn't. I was 3rd row to back. My spot was extremely small. My camper was so close to the next camper. There sewer line was right in my walk way. I had no campfire pit. For the price I paid for 9 days I was very disappointed. Would not stay again.
Oct 05, 2021
Had a very nice stay. We were there only a couple of nights but the park was kept clean, the staff was very friendly, did not have any issues. Would definitely stay again if we decide to travel back through San Antonio.
Oct 05, 2021
Very nice campground
Oct 05, 2021
Always clean, everywhere. Easy, secure in&out. Most of the sites are a bit too close if you are planning on having a fire with family or friends. Our pit was eight next to our neighbors.'s sewr connection...gross.
Oct 05, 2021
The staff was great, and so nice and helpfull with everything, Thanks so much. John&Mary Mead, Earlysville Va.
Oct 14, 2021
Very good, go there once a yeat
- pam hunter on Google
Oct 13, 2021
Best Koa so far we stayed the 4th time that what a KOA Holiday supposed to be. Friendly Staff Clean well maintained Park,highly recommended
- CARL Watt on Google
Oct 10, 2021
Nice staff, nice pool. We enjoyed this KOA. The grass wasn't great, but I think that's just Texas😂
- Ashley Peeples on Google