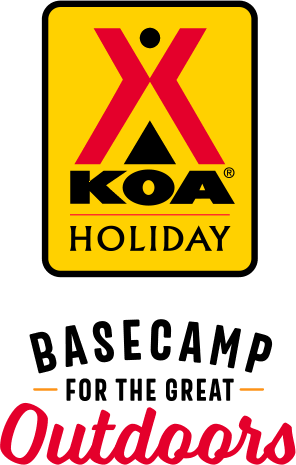 KOA Holiday Campgrounds
Whether you're exploring the local area or hanging out at the campground, KOA Holidays are an ideal place to relax and play. There's plenty to do, with amenities and services to make your stay memorable. Plus, you'll enjoy the outdoor experience with upgraded RV Sites with KOA Patio® and Deluxe Cabins with full baths for camping in comfort. Bring your family, bring your friends, or bring the whole group – there's plenty of ways to stay and explore.
KOA Holidays Feature:
RV Sites with a KOA Patio®
Deluxe Cabins with full baths
Premium Tent Sites
Group meeting facilities
Directions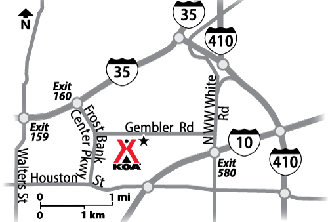 I-35 S Exit 160 AT&T Center Parkway, turn left under bridge to second light Gembler Road, turn left, go 3/4 mile.
I-35 N Exit 159B Walters/AT&T Center Parkway go 1 mile to AT&T Center Parkway, turn right to second light, turn left on Gembler Road, go 3/4 mile.
I-10 Exit 580 WW White Road, turn north to second light Gembler Road, turn left, go 1 mile, entrance on the left.
GPS: N29.433963, W98.422737
Get Google Directions
Jan 14, 2021
Great location close to everything...bus pickup outside gates... great employees...AAA rating from me
Jan 14, 2021
Good accommodations, great staff!
Jan 13, 2021
Very nice campground
Jan 13, 2021
The campground was neat and clean, as was the laundry and restrooms. Nice amenities, friendly staff.
Jan 13, 2021
Long open pull-thru, rooftop satellite friendly. Would definitely stay again when in the area.
Jan 13, 2021
Just a one night stop . We found it to be clean and staff very friendly. If back in the area we would stay agian.
Jan 13, 2021
My family enjoyed there stay so much It was a wonderful way to spend time out doors. Everyone was so friendly. And I felt very good about how clean and sanitized it was.
Jan 12, 2021
Awesome campground. Great staff and store. Clean modern bathrooms and showers. The bus stop to the River Walk and Alamo are at the entrance to the campground.
Jan 12, 2021
We didn't get to enjoy the campground because it rained while we were there. But we did enjoy the breakfast.
Jan 12, 2021
I was expecting a mini fridge as show in the picture when I made the RSVP but there was none so we were disappointed in that. The bigger issue was you might have a bed bug problem I got bit up bad on the bed. Other than that we enjoyed our time there as always.
Jan 12, 2021
We wanted to camp with our friends which Kelly coordinated our reservations so that our campsites were the 'Buddy' sites. Any time we had questions or needed anything, the staff were very helpful. The sites are a nice size and the grounds are kept very clean. There is a big playground, cabins, trail & a creek that runs behind the KOA. We will definitely camo here again.
Jan 12, 2021
Just stayed one night on way home
Jan 12, 2021
Excellent campground
Jan 12, 2021
Beautiful site and wonderful staff!��
Jan 12, 2021
Love this KOA campground and the Hunt Brothers Pizza place they have makes a delicious pizza and wings!!
Jan 11, 2021
We absolutely Love it! Our cabin was beautiful & so clean! Staff is very nice & helpful! We will definitely be coming back!
Jan 10, 2021
Wonderful clean quiet campground near the city. Staff was friendly and helpful. The breakfast available to purchase on weekends was a nice treat!
Jan 10, 2021
Great sites. Level and quite. Convenient to downtown. Friendly staff. Definitely stay here again
Jan 10, 2021
Staff and everyone was excellent they went out of their way to accommodate us. Can't wait to come back and see him again.
Jan 10, 2021
This was one of the best campgrounds we have ever stayed. Very friendly and helpfully people. Everything was spotlessly clean. At night it was quiet and we had good neighbors. We will be recommending you to our friends and family. Keep up the good work.
Jan 08, 2021
Long sites, easy access, clean, cute pond for fishing, great pool and playground. Loved the birds chirping, I felt like I was in the woods right in the city. Nice and quiet location. Staff was very friendly and helpful. The one downfall is our FirePit was placed right next to our neighbors sewer. We didn't care to sit at their sewer while enjoying a fire.
Jan 08, 2021
Totally disappointed as a KOA Member that the management would not make a copy of a form we needed for getting our covid vaccine. We even offered to pay for the form.
Jan 07, 2021
Clean, well maintained, bath house is excellent, friendly staff
Jan 07, 2021
I thought my site was a little cramped. My site was barely long enough to fit my 33' 5th wheel along with my pickup. Had to park my truck sideways to get it out of the road.
Jan 07, 2021
We were happy with our stay. Clean showers and restrooms, friendly staff, good location!
Jan 07, 2021
Convenient to all of San Antonio's attractions.Staff super friendly/helpful Breakfast Cafe and pizza/wings. Green space, access to 8 mile city bike/hike trail, propane fill, fishing pond and playground. Sanitized sites after campers left. But sites were close together at odd angles.Sewer hookups are right next to your neighbor's picnic table! Could have laid it out better. Would stay again 100%
Jan 07, 2021
Not a large enough site and put us in a spot with very sloppy noisy people next doir
Jan 07, 2021
The staff was so friendly, it was concierge like service at an RV Park. Amazing! I joined the KOA Discount Club based on my stay at this San Antonio/Alamo Campground!
Jan 06, 2021
I have always enjoyed this KOA. I have stayed multiple times now, but this time, the KOA associate was so kind and helpful. I am truly thankful to her for help me find a more accommodating location for my stay. I am grateful for her attention and time to assist me.
Jan 06, 2021
I called to change my reservations multiple times because the weather was better at the beach where I was staying and they were patient and kind with me every time. My spot was very nice. I often ask the desk person to pick out a favorite spot of theirs. I immediately enjoyed a bike ride on the trail steps from my spot. I was able to do laundry in a clean facility with a change machine. Great stay
Jan 06, 2021
Wonderful place to stay.
Jan 06, 2021
Did not receive the site I reserved and paid for. Customer service was no help in resolving issues, owner of this location would not take or return my phone calls to discuss issues. I was mislead, and treated unprofessionally, the site was in bad condition, there was water ponding at site and dump station, trash overflowing, loud guests, people appearing to be living there, and many other issues.
Jan 05, 2021
Excellent! Outstanding staff. Clean, quiet and convenient to many local attractions.
Jan 05, 2021
Staff was very friendly and made check in a snap. Place is kept very clean. Lots of stuff to do and very close to downtown area. Would stay here again. The only negative was that they didn't have anyone to fill propane tank in our RV.
Jan 05, 2021
We felt very welcome. Kelly and Lyn in the from office were most obliging and went out of their way to help. I was very impressed with the friendliness of the ground staff; as well as how spotlessly clean they kept the park. We've stayed at a KOA park once before at Santa Fe. That was a bit cramped. The San Antonio park is very nice. Lots of space and very nice facilities. A park to come back
Jan 05, 2021
Had a great stay for a quick weekend getaway.
Jan 04, 2021
Excellent campground. Great amenities, spacious dites and friendly staff. Will stay here again
Jan 04, 2021
great campground and great workforce
Jan 04, 2021
Nice campground but sites and streets are a bit tight.
Jan 15, 2021
Like this campground 👍! Staffs are friendly. Very well maintained, clean, quiet and comfortable. Breakfast was wonderful.
- Y Deng on Google
Jan 12, 2021
We stayed three nights, the weekend before Christmas. Excellent location for visiting the Alamo and the River Walk, 4 mile drive! We were in back-in site by the bike trail, beautiful! Bathrooms tiled and super clean. Next time when we visit San Antonio we will stay again!
- Dave Kawa on Google
Jan 08, 2021
Top place near Riverwalk.
- nolito S on Google