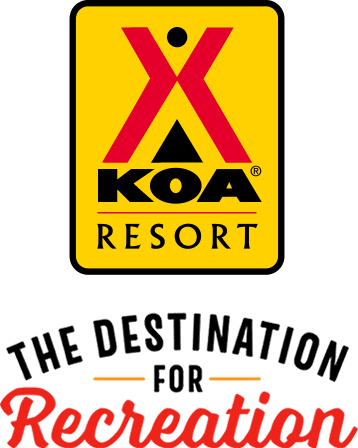 KOA Resort Campgrounds
KOA Resorts offer a carefree vacation in the great outdoors. Enjoy robust recreation and staff-led activities, kick back and relax by the resort-style pool, or grab a bite to eat, all while never leaving the campground. And with plenty of RV Sites with KOA Patios® and Deluxe Cabins with full baths to meet your needs, it's the ultimate camping getaway.
KOA Resorts Feature:
RV Sites with a KOA Patio®
Deluxe Cabins with full baths and linens
Premium Tent Sites
Resort-style pools
Indoor and outdoor group facilities
Directions
5 miles west of Port Huron. I-94 Exit 262 (Wadhams Rd), then north 8 miles to Lapeer Rd, east 1/4 mile.
From I-69 Exit 196 (Wadhams Rd), then north 1/2 mile to Lapeer Rd, east 1/4 mile.
GPS: N42.984442. W82.528936
Get Google Directions
Apr 02, 2021
Been going KOA for 15 years love our stay everyone is so kind all your staff that's why we keep coming back just wish one day KOA will build a hot tub pool 2 or more you have plenty of room. See you in May 2021 hope everything will be open
Mar 31, 2021
The camp grounds were gorgeous but a lot of the activities that the website and rep stated that would be open was not. The cabin was way smaller then pictured, did not include the items listed on the website and definitely could not comfortably fit 8 ppl. Also the loft mattresses were very uncomfortable for the kids, did not include enough thickness.
Nov 08, 2020
I did not have a good experience with making reservations at the KOA in Tawas so I was so happy that I found this location. I liked the cabin, there was plenty for us to do (on site and local), maintenance was prompt and efficient and the onsite store was very convenient. Only gripe was that our cabin was not cleaned very well but we did bring cleaning supplies
Nov 03, 2020
We had a great time! Hope to be back in the summer
Nov 03, 2020
We had a fantastic time! We are already booked for next year.
Nov 02, 2020
The heat in my cabin went out multiple times. The first time it went out it was supposibly fixed. I feel like the quick fix was a serious fire hazard. They replaced the cord but we heard them say they replaced it with the wrong cord. Later that night the heat went out again. No surprise to us honestly. We were then given 3 space heaters and that was the solution. It was our first stay too.WE FROZE
Nov 02, 2020
clean friendly a very nice to stay.
Nov 02, 2020
It was upsetting that the magical pumpkin patch was only at 3pm. Checking in at 3 didn't give us the chance to participate. It should've been a 2 hour window for that and all other special activities that weekend. There was very little direction on where the special activities were located. A special map for that weekend would have been great. Cabins need more electrical outlets inside.
Nov 02, 2020
Site was very nice, long enough to accommodate our trailer & golf cart. Had cable wi-fi signal not very strong.
Nov 02, 2020
We always really enjoy staying at Port Huron KOA. The staff does a great job.
Nov 02, 2020
We have been Halloween camping at your place for the past 5 years. It is by far the best.
Nov 02, 2020
moving further away from a campground!! Too much concrete and structures, gazebos, cabins. Too many underage people operating golf carts. Water pressure is low. Your nightly fee is getting too high!! I camped here when this park was Crazy Horse KOA. We do enjoy our stays but not as much as we use to. You're way over developing the park! I assume you'll get defensive as in the past..
Nov 02, 2020
Stay was great . However the cabins were not sanitized. A lot of dust and dirt ant the babble top was very sticky. The phone was also sticky in the back room. However we had a ball .
Nov 02, 2020
Nickel and dime. Had friends visit one night and was told they needed to pay as if they visited two nights. That was the only way they would let them in..
Nov 02, 2020
Our site was small and zero trees and very windy at the end. With half the campsites being open wish they would have offered a closer spot with trees. When there in summer it was not at all Covid compliant, seemed to be run by teenagers. No one checked on large numbers of kids without parents in the pools etc until someone went to the office and complained. I do like the fire pit areas
Nov 02, 2020
Great as usual. Bathroom needed cleaning more often but everything else was great!!
Nov 02, 2020
Great facilities, great staff, overall great time! Only challenge we had was the heater not getting hot enough - we ran home to get ours and didn't bother to ask. K27 was a tad bit cold but we handled it.
Nov 02, 2020
it was nice but we had young kids that really wanted to ride the train by it was sold out so was the golf carts i wish we were told to reseve everything early
Nov 02, 2020
Great Halloween weekend my kids loved it would do it again next year.
Nov 02, 2020
The floor of the cabin was disgusting. I had to wet stiffer mop it myself to get solid chunks off of it and soak some in cleaner to get them off. I ended up going through 6 New pads to get the cabin floor clean and they were all dark grey/ black in color when done. There is no way Alyssia cleaned the floor.
Nov 02, 2020
Clean Cabin and Restrooms. Variety of activities for the kids.
Oct 30, 2020
Stayed the last week of the season in our new 5th wheel, which was very quiet. We had a nice stay.
Oct 28, 2020
We had a wonderful weekend!!! During these times it is nice to feel normal. The cabin and bathrooms were very clean which was a plus. The staff was great from check in with Kendall to check out, can not wait till next year already booked.
Oct 27, 2020
We had a nice time despite the pandemic and limited activities for the kids. I do wish the sites were not so small and we had some challenges with noisy neighbors violating the noise curfew until well after midnight. The restrooms near the trading posts could use maintenance/updates - hence the four star rating.
Oct 27, 2020
Great campground. A ton of amenities and options for camping. Friendly staff.
Oct 27, 2020
This is a great place to stay with family and friends! Many choices of things to do. Well kept and clean tio!
Oct 27, 2020
My stay was great! My dogs had a great time and the cabin was neatly cleaned prior to our arrive. However, I did have one discrepancy with my stay...there was a mouse in my cabin. I'm not too upset at this mishap because I understand it is a cabin, however, when my kid walked in the cabin that was the first thing she noticed and that was all she could think about the entire stay!
Oct 27, 2020
Great weekend, everyone had fun the decorations were amazing but the mix up on the train ride on Saturday Oct 24th, was very frustrating. Someone bought the whole train and we waited in line ( six from front of line) and never got tickets.
Oct 27, 2020
Site #31 that we reserved had NO CABLE TV at all, as did all of the rest of the original part of the campground. Your office staff was considerate and honest enough to tell us the truth. They were aware of the problem, and had had contacted your cable guy, but they were not sure when he could come to asseFortunately, the newer part of the park -- by "Kamp K-9" has a separate Cable Feed.
Oct 27, 2020
First time at this KOA. Very nice place.
Oct 26, 2020
Our family had a great time for Halloween Weekend! We have already booked again for next year and will be coming back in the summer to spend some more time. Great KOA for young families!
Mar 18, 2021
Great place to camp! Lots of great activities for the kids to do! Fun for whole family! They have a go-kart pizza delivered to your campsite a great little store swimming pool lots of stuff for the kids to do great times!
- Carrie Wriston on Google