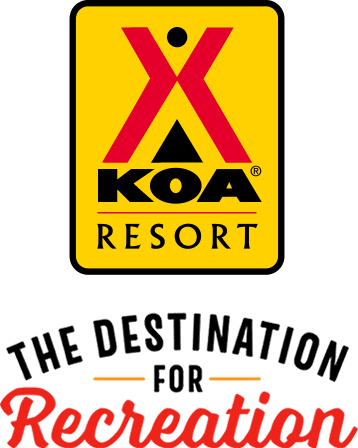 KOA Resort Campgrounds
KOA Resorts offer a carefree vacation in the great outdoors. Enjoy robust recreation and staff-led activities, kick back and relax by the resort-style pool, or grab a bite to eat, all while never leaving the campground. And with plenty of RV Sites with KOA Patios® and Deluxe Cabins with full baths to meet your needs, it's the ultimate camping getaway.
KOA Resorts Feature:
RV Sites with a KOA Patio®
Deluxe Cabins with full baths and linens
Premium Tent Sites
Resort-style pools
Indoor and outdoor group facilities
Directions
5 miles west of Port Huron. I-94 Exit 262 (Wadhams Rd), then north 8 miles to Lapeer Rd, east 1/4 mile.
From I-69 Exit 196 (Wadhams Rd), then north 1/2 mile to Lapeer Rd, east 1/4 mile.
GPS: N42.984442. W82.528936
Get Google Directions
Sep 16, 2021
Wasn't happy about the different information family was given and we were not.
Sep 15, 2021
This campground is very clean and well cared for. The quality of all materials used is top notch. Will definitely go back!!
Sep 15, 2021
We enjoyed our stay. Can't wait til next year to do more camping. Employees very helpful and friendly. Camp ground very clean.
Sep 15, 2021
We were happy with our trailer site - further away from the congestion of other campers. Thank goodness we were not close to the giant groups! Even with all of the people, we were pleased with the rules being followed - such as the "quiet" at appropriate times, no loud music, no fireworks, and decent control of crowds. Thank you!
Sep 15, 2021
There was 8 tents on 1 site next to us, and six on the site on the other side. They took all the electric outlets. There was loud movies and music playing until 3am. This was our second time to this KOA and our first experience was amazing. The second time was like a laundry list of violated rules being tolerated.
Sep 14, 2021
Great weekend away. We used the golf karts and laundry room everything was nice and clean.. the wifi here is not the greatest//
Sep 14, 2021
The cabin was not a good place to stay. The mattress was horrible. My husband and I are small people and we rolled to the middle as soon as we laid down. It was missing items listed on the sheet that were supposed to be in it. We were very disappointed.
Sep 14, 2021
Very nice camping resort. Very clean and staff friendly
Sep 14, 2021
My wife and family had a wonderful time campground is awesome staff does a great job Thank you for a wonderful time
Sep 14, 2021
Charged me for bringing my own golf cart and I done even have one. Never got reimbursed
Sep 14, 2021
Campground clean and grounds well maintained
Sep 14, 2021
All employees were knowledgeable and courteous
Sep 13, 2021
Loved the site we were on. Very friendly staff, park very clean with beautiful flowers throughout.
Sep 13, 2021
Nice folks running the place. CLean bathrooms. No hassel except at check in. Need more help in office on Fridays. Need to direct campers to sites rather than just hand over a map. Otherwise, I had a great time!
Sep 13, 2021
Ladies bathroom by back pool were always dirty and always out of toliet paper had to bring my own. During weekend garbage never picked up on a timely matter.
Sep 13, 2021
The cabins were dirty and tired and most activities for the kids were closed. Won't be coming back.
Sep 13, 2021
The cabin was nice. But there was so much dust on the fans we could not use then. Both me and my daughter have bad allergies
Sep 13, 2021
Are stay was plesent and relaxing.We forgot a few essentials and was able to buy at the main store. Thanks!
Sep 13, 2021
Overall it was a very nice campsite, but our site had cigarette buts everywhere outside around our cabin as well as miscellaneous garbage. We didn't notice until Sunday because we were at our family's cabin all weekend aside from sleeping. But their sites were clean. I'd say it was the campers who used the cabin before us that were the real issue. My kids had a great time, as did we. A lot to do!
Sep 13, 2021
Stayed in the small cabins. Toilets were broken and plugged most of the time.
Sep 13, 2021
This review has been removed by KOA due to profanity.
Sep 13, 2021
Love this Campground, Excellent staff, clean beautifully kept. We went 9/10 - 9/12 they were decked out for Halloween already. Full staffed. This is by far the best KOA in Michigan. Spacious sites not crammed in like others I've been to In Michigan. We will definitely go again. In fact I tried to book another weekend online for Oct. but they are full. Which tells you it's a great place! �
Sep 13, 2021
The extremely bright light in the over flow parking shined directly on our site which could give my mom a seizer. We went up to the office to see what could be done. Emily was very polite and helpful. She worked hard to fix the situation, the manager never came out and I was told they would not. I am in customer service and was aghast at the lack of professionalism by management.
Sep 13, 2021
Being handicapped I appreciated the golf cart rental. Bathrooms clean and easy to get around. Employees helpful and friendly. Loved our stay and will be back.
Sep 13, 2021
The grounds and atmosphere is great! The cabin didn't appear clean. The bathrooms in the back were filthy and never appeared to have a deep cleaning. The staff did walk Throughs, but we never saw a cleaning crew. Not very safe especially during covid. Lots of germs. The toilets, showers and sinks had the same stains and dirt for the first two days until I called mgt.
Sep 13, 2021
We stayed in a lodge for the first time (L316) and although it was nice, it was not very clean. The floors were very dirty and hadn't been mopped in a while and there were a lot of spiderwebs and dust up high. The stay was otherwise really great!
Sep 13, 2021
We had a nice stay. I know your staffing is short now, but it was weekend while we were here. We did not have trash pick up and critters got into our trash on Saturday night. There was trash all over the road in front of our site. My husband had to clean it up. I understand not having it during the week, but on a booked weekend, please have someone pick it up.
Sep 13, 2021
Nice stay very relaxing stay
Sep 13, 2021
We love the Port Huron KOA.
Sep 13, 2021
The closet bathroom to my site had only one stall open out of 4. The park was very loud and busy.
Sep 12, 2021
Must see!!!!!
- Samantha leon on Google
Sep 10, 2021
A great place to take your kids very friendly staff and they went all out to help locate my granddaughter s phone she left at the pool very family friendly lots to do or just relax . Thanks KO A and my son who took us there to camp in Aug2021
- Sharon Provenzino on Google
Sep 08, 2021
I had a BALL here. This was a VERY different experience for myself and my daughter. We will definitely be back! Next time I'll be brave and sleep in my tent instead of a cabin. Favorite event we did was the water wars
- BKbyCris Michigan on Google