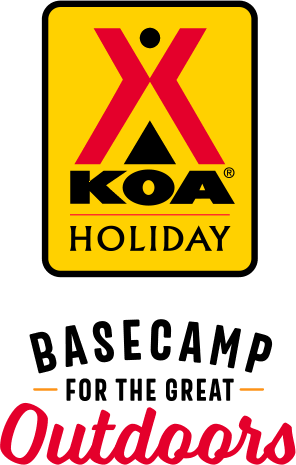 KOA Holiday Campgrounds
Whether you're exploring the local area or hanging out at the campground, KOA Holidays are an ideal place to relax and play. There's plenty to do, with amenities and services to make your stay memorable. Plus, you'll enjoy the outdoor experience with upgraded RV Sites with KOA Patio® and Deluxe Cabins with full baths for camping in comfort. Bring your family, bring your friends, or bring the whole group – there's plenty of ways to stay and explore.
KOA Holidays Feature:
RV Sites with a KOA Patio®
Deluxe Cabins with full baths
Premium Tent Sites
Group meeting facilities
Directions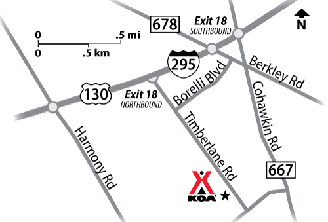 Traveling Southbound on I-295: Go to exit 18. Take the first right off the exit. Take Rt. 667 South (approximately 1 mile) and turn right onto Friendship Road. Go one block and turn right onto Timberlane Road.  GPS: N39.8077, W75.2367
Get Google Directions
Mar 31, 2021
It was very fun and relaxing. My 3yr old loved it as well. Everyone is super friendly.id deff recommend
Mar 31, 2021
Great night in the Deluxe Cabin. Friendly, helpful staff. Clean and well-maintained cabin, great jumpy pillow for the kids to play on. Lovely stay.
Mar 31, 2021
Could not connect to internet with the wifi code. It is apparently a problem, according to folks who stay there.
CAMPGROUND RESPONSE / COMMENTS:
Thank you for taking the time to write a review. It can be difficult to fix problems when they are not reported to us. I do know that being inside a cabin can make connecting harder.
Mar 28, 2021
Nice and quiet !! We are a family of 5 we stayed in a deluxe cabin. The cabin was roomy nice, clean and well situated near the pond. The water pressure was awesome after a long day in Philly. Very quiet and family friendly.
Mar 24, 2021
We stayed in one of the deluxe cabins. So clean, beautiful interior! We brought chairs & sleeping bags but did not need either of those camping essentials! This was like staying at a hotel while still being part of the outdoors. Our kids enjoyed the jumping pillow and playground area. Everyone was very friendly and the staff attentive to our needs. A nice experience! Thank you for a great weekend!
Mar 24, 2021
Great amenities, clean cabin WITH LINENS and PILLOWS! Great staff. Will be back with family and friends.
Mar 22, 2021
The cabins were impeccable, clean and featureloaded. The campground have a lot of amentities and ample options for kids to play with. Out stay here was a nice experience. Thank you
Mar 15, 2021
Loved the bunk beds and everything was very clean and inviting! � Thank you.
Mar 14, 2021
Both beds were broken. I immediately advised management of this. They sent two maintenance personnel to fix the issue. Later on that night same problem again! If you sat on one side of the bed, the other side would go flying up in the air. The following morning I was feeding my 10 month old daughter and FELL OFF THE BED WITH HER. Luckily we weren't hurt. Grill was dirty! Found hair on towel.
Mar 08, 2021
My stay was wonderful! Was looking for a weekend getaway for me and my husband for the weekend for our anniversary. Came across this campground that wasn't too far of a drive from Philadelphia. After checkin someone even escorted us to our site. Staff was friendly and helpful. We will definitely be back and have already recommended to family and friends!
Feb 22, 2021
Always love the hospitality! Thank you see you this weekend again.
Feb 21, 2021
We stayed in cabin 302. The WiFi was good enough that we were able to use our Fire TV stick with the cabin TV. This KOA also sent a text greeting when we checked in, & communication was simple & easy. We sent one text and in 10 minutes someone showed up to deliver our firewood (that they charged to the card on file). With three kids and two dogs, this KOA made things easy. Highly recommend.
Feb 18, 2021
I wasn't crazy about cabin location. It wasn't private at all. The description sounded different than actual location. Also, there was shrimp and nut shells on the ground around andbehind the cabin BBQ. Checking in was great but I was very disappointed and somewhat nervous that when checking out, three employees in office all Not wearing masks. (I was wearing my mask.) Grounds were cleanand qu
Feb 16, 2021
This was our first KOA experience. We stayed in a deluxe cabin and were completely impressed with the accommodations and the staff. We will definitely be staying at KOA again!
Feb 16, 2021
Check in was ok. The people in the office weren't very nice, maybe they were preoccupied. Also, we stayed in cabin 302. The 2 person rocking chair was broken, the gas grill was rusty and the directions for lighting the grill were obscured by dirt, and the bunk room had no linens....I have stayed at this KOA twice before and I like the location. Anyway, I like the property and will be back.
Feb 15, 2021
Fabulous as always!! Very clean and comfortable!
Jan 31, 2021
Always a pleasure going to this campground!!!! Alicia and Chris are the BEST!!!
Jan 26, 2021
Awesome place for a quick get away!
Jan 26, 2021
Very nice setup
Nov 01, 2021
Beautiful and serene location...quick 40 minute ride from Philadelphia. Just have to risk your life on that Walt Whitman (the driving is abysmal)! Lol
- Michelle Wilson on Google
Oct 30, 2021
Philadelphia is close and one of my favorite cities. Even though it's Halloween weekend were able to get a reservation at last minute. The park is very well organized and plenty of trees for shade if needed. Located in a guilt residential neighborhood. Close to grocery stores and much what one may need. Laundry and bathroom with showers as one should be able to expect. Store on site with essentials. To many extras to mention. The park couldn't be any better. It has it all.
- John O'Carroll on Google
Oct 26, 2021
Loved it so much this spring I booked a deluxe cabin for my honeymoon in 2 weeks!!
- Melanie Murray on Google