Alert
Due to the joint issued travel advisory by NY, NJ and CT, we are notifying all campers of the 14 day quarantine for any travelers coming from the following states: Alabama, Arkansas, Arizona, California, Florida, Georgia, Iowa, Idaho, Louisiana, Mississippi, Nevada, North Carolina, South Carolina, Tennessee, Texas, Utah, Delaware, Kansas and Oklahoma. Please contact the campground with any questions you may have on this order.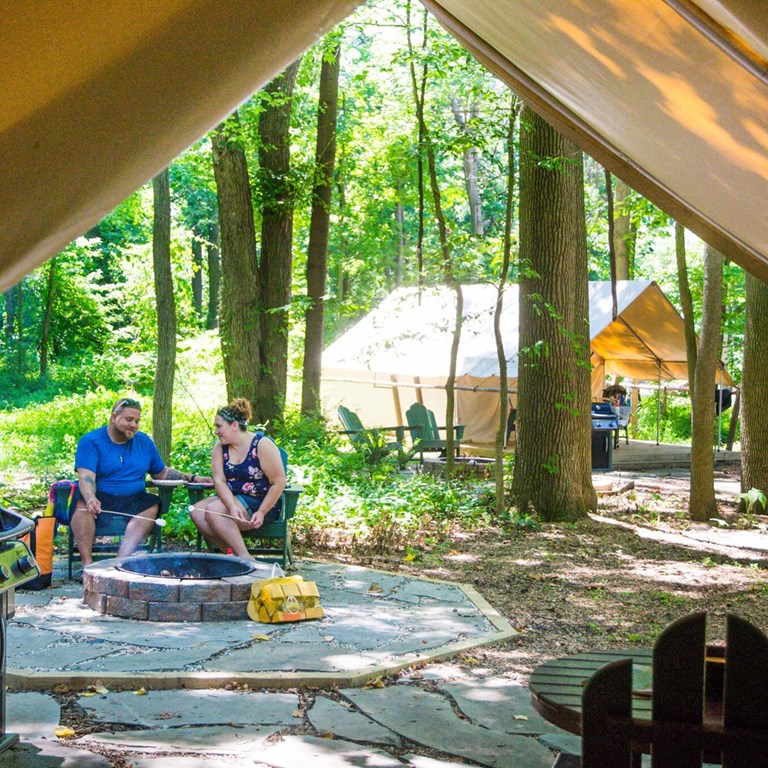 Philadelphia South / Clarksboro KOA Reviews
Check out our Fall Cabin Deal $25 off a Night
Directions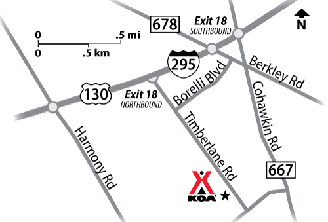 Traveling Southbound on I-295: Go to exit 18. Take the first right off the exit. Take Rt. 667 South (approximately 1 mile) and turn right onto Friendship Road. Go one block and turn right onto Timberlane Road.  GPS: N39.8077, W75.2367
Get Google Directions
Oct 16, 2020
The staff is great. I've stayed long term twice. Each time a month. I was luck to get a spot at all, but the found a way to help me out.
Oct 16, 2020
The staff is very friendly and outgoing. The facility is well maintained. The immediate area is like a little oasis with major metropolitan centers close by. Kudos to the staff.
Oct 16, 2020
Staff was pleasant and helpful. I stayed in a 2 room cabin. Accommodations were very good. Plan to return.
Oct 15, 2020
The people were friendly and restrooms were clean. We stayed for one night as we were traveling and found it was not as close to 95 as we hoped, otherwise nice campground.
Oct 15, 2020
It was a one night stay. Compared to other KOA facilities this one is far enough away from highway noise that it is quiet at night. Staff there is knowledgeable and efficient. Guide to our site made sure we had a handle on everything before leaving.
Oct 15, 2020
The women's restroom was out of hand soap and toilet paper in at least two stalls. The service log said it had not been cleaned in over a week.
Oct 13, 2020
Everything was great, employees are very friendly and helpful. I love the pull thru sites and I like that I was escorted to the campsite. The only negative is my cousin booked our sites next to each other months ago but my site was moved. We were within walking distance but would have prefered to be next to her.
Oct 13, 2020
We were very happy with our stay. We were fortunate enough to get one of the bigger spots on the park. Lots ofveoom, quite, beautiful setting, and very nice folks operating the facility. We will be back. Thank you
Oct 12, 2020
This is the second time I stayed here will most definitely be coming back a few times next year had a great relaxing time and you can't beat the price. Love it here!
Oct 12, 2020
First timing staying in a deluxe cabin. Absolutely beautiful! Loved that there were 11/2bathrooms. We'll be back and will recommend�
Oct 12, 2020
Very clean campground , friendly people and the sound of the water fountain at night is amazing .
Oct 11, 2020
Great place to spend a relaxing few days. The only knock is the spotty WIFI. We'll be back!
Oct 09, 2020
Great amenities, internet, TV and water pressure all worked extremely well compared to other places we've stayed.
Oct 06, 2020
I love camping and have stayed at several KOA's in the Northeast Area. I have to say this KOA is by far the best. The cabins were cleaned and well prepared for our stay. Upon checking in we were supplies with additional pillows and bedding, for our party of 6. So appreciated. Staff was friendly as well other campers. Will be going back next year, cant wait!!!
Oct 05, 2020
The woman in the store was not wearing a mask and was very rude when I went to her about the fact that you can see through the bathroom window in cabin 307. Her response was I'll let the manager know and see if he wants to do anything about it. My brother spoke with maintenance who finally taped a shower curtain to the outside of the window. Within hours it was coming down & anyone could remove it
Oct 05, 2020
Loved the deluxe cabin!!!!! It exceeded expectations. We had a GREAT time! Everything was neat and clean. Loved our patio. KOA property is much smaller than it looks online. Would like to see more information/hours posted ON the website. (i.e. camp store closed early!) Think about renting fishing poles. Didn't know we had to bring our own. Definitely would've fished if KOA rented pol
Oct 05, 2020
We love this camp ground. It's close to home, clean and friendly.
Oct 05, 2020
Positive: The campground was clean and well equipped. Fire pit was big. Negative: But our next site users were so loud even after 12 am. No one wore masks in public restroom including a cleaning lady. No child wore masks in playground and jumping dome area.
Oct 05, 2020
Sites were very tight, and we had loud neighbors until 11:30pm.
Oct 03, 2020
Lovely environment friendly staff. Wonderful cabin
Oct 02, 2020
Had a great time no issues as usual.
Oct 02, 2020
Beautiful park! Stopped on our way back to FL. Will be back!
Oct 02, 2020
Best camping in the region
CAMPGROUND RESPONSE / COMMENTS:
Thank you for your review. We hope to see you again soon.
Oct 01, 2020
We love �ϋ� Clarksboro . Coming back in the spring! The staff were amazing and so helpful with information about everything from where to shop or sightsee to helping with extending our stay to bringing us ice and wood. So close to Philly, and Delaware and really easy highway access. Lots of wineries and shopping nearby.
Oct 01, 2020
The cabin was exceptionally clean and modern with everything you need. We enjoyed the amenities. The staff was friendly. Everyone was following the social distancing recommendations. We had a great time. Wished we could have stayed longer.
Oct 01, 2020
Staff was friendly. Well groomed park. So glad we found it. Only 20 mins from home
CAMPGROUND RESPONSE / COMMENTS:
Thank you for taking the time to write a review. We look forward to seeing you again soon.
Sep 30, 2020
Awesome people! Chris and ken helped us in the rain for a few hours getting our power fix in our coach! The grounds are clean and well kept! Well be back!!
Sep 30, 2020
Staff was friendly and very helpful. Cabins are clean and the campground is a perfect place to get away and relax.
Sep 30, 2020
Love this KOA. We will go back anytime we are in the area. So nice.
Sep 30, 2020
Convenient location just off I295. The bathrooms were very clean and park was well maintained...but the sites were VERY close together and the dog park was a mess since people feel they don't have to clean up after their dogs??
Sep 30, 2020
Philadelphia South/Clarksburg is a wonderful place to camp, whether you are solo, or with your family or friends. The staff there is incredibly nice and accommodating. The grounds are CLEAN, and beautiful. There is a lot to do for kids and adults alike. They have a fishing pond, and there are some woods surrounding the grounds to explore. I was there for 2 months and enjoyed every day.
CAMPGROUND RESPONSE / COMMENTS:
Thank you for your review. We hope to see you in the future.
Sep 29, 2020
We always enjoy our stay!! Clean, friendly staff, pet friendly!! Awesome!
Sep 29, 2020
Friendly staff and nice location. Dog park is bigger than most we've been too and the bathrooms are always clean. We enjoy visiting this spot at least 3 times a year!
Sep 29, 2020
What a perfect site for an overnight stay. The staff was friendly and helpful, and the campground was clean and neat.
Sep 29, 2020
The rustic cabin was clean and the staff was very friendly and helpful from arrival all the way to departure. We hope to be back soon!
CAMPGROUND RESPONSE / COMMENTS:
Thank you for your review. We hope to see you again soon.
Oct 04, 2020
Corporate-owned and operated KOA. Extremely clean with nice level sites. Friendly and professional staff, extremely clean bathrooms and showers. Close to 295, shopping and Philadelphia. Management is outstanding and it shows. Great playground for kids.
- David N on Trip Advisor
Sep 29, 2020
Great spot!
- Carl Santino on Google
Sep 26, 2020
Just passed through for a night- we haven't had a bad experience at any KOA so far- the fishing pond and jump pillow were great for kids. I like that they guide you to your site and help back in.
- Justin Tsuchida on Google

Philadelphia South / Clarksboro KOA
Open All Year
117 Timberlane Rd
Clarksboro, NJ 08020
Check-In/Check-Out Times
RV Sites
Check-in: 1:00 pm, Check-out: 11:00 am
Accommodations
Check-in: 2:00 pm, Check-out: 11:00 am
Philadelphia South / Clarksboro KOA
Get Google Directions

© 2020 Kampgrounds of America, Inc.