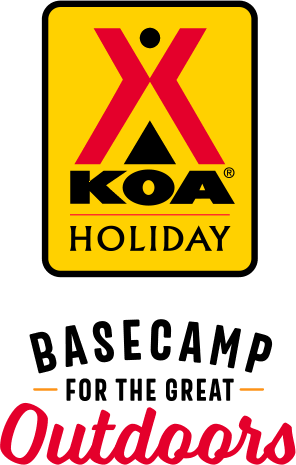 KOA Holiday Campgrounds
Whether you're exploring the local area or hanging out at the campground, KOA Holidays are an ideal place to relax and play. There's plenty to do, with amenities and services to make your stay memorable. Plus, you'll enjoy the outdoor experience with upgraded RV Sites with KOA Patio® and Deluxe Cabins with full baths for camping in comfort. Bring your family, bring your friends, or bring the whole group – there's plenty of ways to stay and explore.
KOA Holidays Feature:
RV Sites with a KOA Patio®
Deluxe Cabins with full baths
Premium Tent Sites
Group meeting facilities
Directions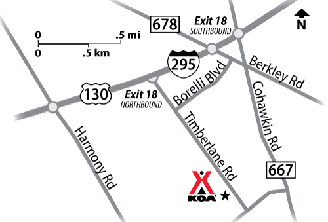 Traveling Southbound on I-295: Go to exit 18. Take the first right off the exit. Take Rt. 667 South (approximately 1 mile) and turn right onto Friendship Road. Go one block and turn right onto Timberlane Road.  GPS: N39.8077, W75.2367
Get Google Directions
Jan 20, 2021
Clean and cute cabin with lots of amenities!
Jan 14, 2021
Very pleasant stop-over. Delighted to find you open on our mid-winter travel to Florida.
Jan 13, 2021
Very friendly hosts, clean sites and restrooms. v
Jan 12, 2021
Very nice KOA campground. Clean bathrooms and grounds. Large dog park which our dog loved. Very friendly staff . We Definitely will be staying here again.
Jan 11, 2021
Was amazed at how convenient it was to get to downtown Philadelphia from the campground. Campground itself was well maintained and perfect for our weekend getaway.
Jan 07, 2021
I absolutely loved my cabin! I was looking for a campground that was open all year. I came across KOA and I was so happy I went. It's small, but nice. My 5 year old twins were so excited to be in the cabin and loved that we were right by the playground! I booked for the following weekend for just my boyfriend and I for a relaxing night. Can't wait to go back!
Jan 06, 2021
Easy late check in. Good services, great location when passing through the 95/295 corridor. Thanks for being open all year!
Jan 06, 2021
Overall the grounds and amenities were clean. It was disappointing we were so close to the RV to one side that we couldn't open our awning,... or have a fire. Both our neighbor's vehicle and ours were 3 or so feet from our fire ring. Might I suggest that the individual that guides us to our sites be sure we are within our "area" for maximum enjoyment of the outdoors. Thank you!
CAMPGROUND RESPONSE / COMMENTS:
Thank you for your review. Please be sure to let us know if you are unhappy with your site, we are more than happy to move you if possible. We hope to see you again.
Jan 05, 2021
Wonderful...a great place to be. I already have recommended it to our friends.
Jan 04, 2021
everything was wonderful.
Jan 03, 2021
Clean, quiet, well kept grounds!!! Very professional staff!!!! We look forward to visiting again soon!!!!!!
Jan 03, 2021
Philadelphia South/Clarksboro is a great campground. It is quiet, clean and the people are very friendly. With a play set and bouncing area for the kids, horseshoes and cornhole for adults and even an off-leash area for dogs, there's something for everyone in the family to do. We will definitely recommend it and be back.
Jan 03, 2021
Me and my wife stayed in the rustic cabin. Wonderful , clean, updated cabin. Very clean. Only suggestion is to get a small dining table and a shelf to store items on. What a awesome New Year's Eve experience we had. Camp store stockef well, bath house very clean and warm. Great water pressure. Great get away holiday. Definitely will be returning
Jan 02, 2021
It's very quiet, very professional will operated camp grounds.
Dec 30, 2020
Great Christmas stay. Nice site by the pond. Park in great shape. Really nice big dog park! Staff friendly and helpful.
Dec 30, 2020
Called to stay for an emergency and they were so caring set us up with a site ASAP thank you KOA
Dec 29, 2020
Always a pleasure to stay here. It is a stopping point for us when traveling to/from Florida. Easy on and off the highway. Close to I95. Great pull thru sites and staff is always pleasant
Dec 28, 2020
We've stayed here for years enroute to and from Florida each winter. Every year the property is just a bit better. Staff is friendly, helpful and professional. Our sites have been level and fully functional with good water pressure and correct electrics. We stay in a 36 foot 5th wheel.
CAMPGROUND RESPONSE / COMMENTS:
Thank you for your review, we hope to see you again soon.
Dec 27, 2020
Dec 23 till 25 piece and quiet, nice fire first night, heavy wind and rain the next but Great KOA
Dec 26, 2020
Sites were muddy and very close together. This park is sort of out in the middle of nowhere in a residential area. If not in the area for work, I can't imagine why anyone would stay here more than one night. We appreciated the large dog park and it looked like they had a fun play area for kids and a seasonal pool.
CAMPGROUND RESPONSE / COMMENTS:
Thank you for your review. We are 20 minutes from Philadelphia and 1.30 minutes from the shore. NY is 2.30 hours away, some guests just come for the peace and quiet.
Dec 23, 2020
Entire grounds needs to be graveled, sticky muddy mess in the rain and snow, messed up interior despite our best efforts. Snowed the day before we arrived, site not cleared despite reservations. and 3pm arrival. They swiped a 6'swath for our camper,had to borrow their shovel and clear ice and snow where we parked the car and walked to enter our rig. Not easy for 76 and 78 year old Disappointing.
CAMPGROUND RESPONSE / COMMENTS:
Thank you for your review. All roads were cleared of snow, we cannot, unfortunately, clear all individual sites.
Dec 22, 2020
The site was very icy hard to set up A little sand around would have been a bid help
Dec 21, 2020
Seamless check in, well-maintained camp site and clean bathrooms.
Dec 19, 2020
Nice people and helpful
Dec 16, 2020
Always excellent, friendly, clean and accommodating. I get the small cabin every time. Solar cooking, open fire cooking and the like- and I plan to come every other weekend to enjoy it. Worth the trip. See you again very soon.
Dec 16, 2020
The facilities were very clean. The sites in the back of the campground seem much nicer. We were in the front and it seemed more like a parking lot. It fit our needs for an overnight with full hookups.
Dec 15, 2020
This KOA was very well maintained and a convenient location. We used one of their Kamping Kabins.
Dec 10, 2020
My family and I love it here. The staff is so nice and very attentive. The cabin's are very clean. The only thing that I don't like, the beds....they are so uncomfortable. Other than that, I'm looking forward to our next get away.
Dec 10, 2020
There's a lot of good things in this park - mind you, I said PARK! There are bad people treating good people so extremely morally wrong here. The park seemed to be fun for children. Granted you keep a close eye on some dangerous areas. We had great neighbors. Nice fire pit. We had a great time with the people that stayed there. If you don't have any issues with your site, you'll be ok.
Dec 08, 2020
We rented a cabin for a 2 night stay. The cabin was awesome! All the comforts of home. Which was especially enjoyable because it was not only cold outside but it rained one of the days of our stay. Also the KOA staff were friendly, knowledgeable and accommodating.
Dec 07, 2020
Great experience, this was our 1st time here and we found everything to be as advertised. We stayed in our RV. My grandchildren loved it and even caught some fish even though the weather didn't cooperate. A great place for families.
Dec 07, 2020
We had an amazing stay in one of your deluxe camping cabins! It was so close to home yet felt like we were far away in the mountains :) So close to Delaware County! The cabin and surrounding property was clean and sanitized. The beds were pretty comfy and if it weren't raining we would have made more use of the outdoor activities. (wish there was a dvd player) We will certainly be staying again!!
Dec 07, 2020
The showers are really difficult to use because the water faces right at you and the showers are small, but they are clean and accessible.
Dec 06, 2020
Quick overnight. Site was muddy, but it was raining hard so very tough to tell. Looked like it would have hit our "ok" mark.
Dec 05, 2020
Staff was very friendly Campground was clean and well Organized. Lots of campers but very quiet!
Dec 02, 2020
Very nice people!
Dec 02, 2020
we love Clarksboro! point blank!
Jan 21, 2021
Great place to stay for the winter if you need to be near Philadelphia
- Dawne Seifert on Google
Dec 31, 2020
Great place close to the city for a quick getaway. Stayed in a cabin this time and had everything we needed. Only request would be for a stronger hotspot signal on the grounds, it was in and out a bunch but not a huge deal.
- Tom V on Google
Dec 07, 2020
Although we were here on a chilly night and unable to use some of the amenities, our visit was warmed by our phone call and arrival greeting. In these challenging times please know we appreciate great customer service. Thank you.
- Margaret Campbell on Google