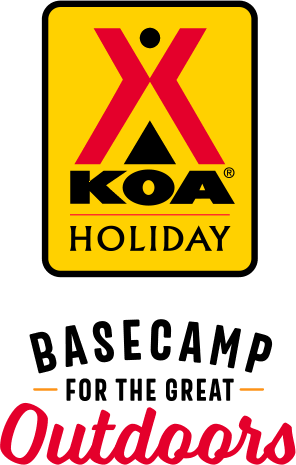 KOA Holiday Campgrounds
Whether you're exploring the local area or hanging out at the campground, KOA Holidays are an ideal place to relax and play. There's plenty to do, with amenities and services to make your stay memorable. Plus, you'll enjoy the outdoor experience with upgraded RV Sites with KOA Patio® and Deluxe Cabins with full baths for camping in comfort. Bring your family, bring your friends, or bring the whole group – there's plenty of ways to stay and explore.
KOA Holidays Feature:
RV Sites with a KOA Patio®
Deluxe Cabins with full baths
Premium Tent Sites
Group meeting facilities
Directions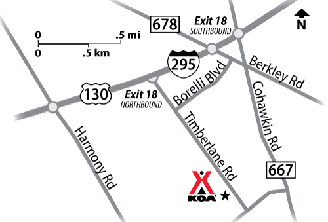 Traveling Southbound on I-295: Go to exit 18. Take the first right off the exit. Take Rt. 667 South (approximately 1 mile) and turn right onto Friendship Road. Go one block and turn right onto Timberlane Road.  GPS: N39.8077, W75.2367
Get Google Directions
Sep 17, 2021
A great campground in a great location.
Sep 16, 2021
Good stay for traveling thru, spaces are a little tight, but overall it's doable
Sep 16, 2021
Nice clean campground, close to phili
Sep 15, 2021
Read review on TripAdvisor
Sep 15, 2021
Had an awesome time! The cabin was perfect and the staff were all helpful and courteous! Cant wait to book another stay!
Sep 14, 2021
Loved the facilities! Staff was wonderful. Location is fantastic for a wide variety of activities in South Jersey, Philadelphia and Delaware. Lots of on site things to do as well. Will certainly visit again!
Sep 14, 2021
Everything was great except for some reason now they have gas maintenance buggies going back and forth all day long which was very annoying. Other then that it was great
Sep 14, 2021
Nice level sites. Staff friendly and helpful. Almost everyone in the campground was friendly. very pleasant stay
Sep 14, 2021
Some trouble with the wifi otherwise great location.
Sep 14, 2021
Nice park and nice staff
Sep 14, 2021
Our tattoo shop was in Philly for the tattoo convention. We couldn't find a safe place to park our 25ft toy hauler. And you guys came to the rescue. We truly appreciate it. The grounds were clean and pretty. Wish we could have had more time to enjoy it. Thanks again. War Horse Ink
Sep 14, 2021
We were extremely disappointed as we made our reservations six months ago, and upon arrival we were not given the unit that was on our reservation. We were supposed to have a two bedroom with two queen beds, they gave us a two bedroom, which one of them had four bunkbeds, which did not suit our needs. I was told by the staff that the other units we're already reservedAnd that they could not swit
CAMPGROUND RESPONSE / COMMENTS:
Thank you for your review. Please be sure to check your reservations when you book online. A cabin with bunks is what was chosen and, unfortunately, by that time we were full and could not move you. Calling to make reservations always ensures you get the correct lodging.
Sep 14, 2021
Loved it. Nice sized lots. Very flat. No hills to walk up and down. The best and tiniest treats were the text messages of when the pool will open and what time the band will start. East access off the highway with many places to eat with a 10-15 minute drive.
CAMPGROUND RESPONSE / COMMENTS:
Thank you for your review. We hope to see you again soon.
Sep 13, 2021
Excellent and relaxing for my birthday weekend
Sep 13, 2021
Very clean, beautiful, and quiet. The staff was friendly and had activities for the kids. Loved site 57. Beautiful view of the fishing pond. Close enough to Philadelphia so a great jumping off point
Sep 13, 2021
Good site as advertised
Sep 13, 2021
Squeezed in a quick weekend trip. Has everything for adults and kids to enjoy a relaxing weekend. Friendly staff. Great value. Will be back in a few weeks.
Sep 13, 2021
Park was nice but our table was right up against the neighbors sewer line. Not nice to look at nevermind trying to sit out and eat.
Sep 13, 2021
Our stay was great, we loved our site nice, big and shady! We will definitely be back next year!
CAMPGROUND RESPONSE / COMMENTS:
Thank you for your review. We look forward to seeing you again.
Sep 12, 2021
Our stay was clean and comfortable and the staff was excellent. We already booked another stay
Sep 12, 2021
As always, the campground was clean and the staff was very helpfull.
Sep 10, 2021
We stayed here last year also. This year was a little different due to a flat tire. I waited over 90 minutes for road service that never arrived. Here's where my hat goes off to Kelly who changed my tire, made sure my spare had air. I've had abdominal cancer surgery and couldn't do it myself. Kelly made our stay so much better and I really appreciate it. Please tell him THANKS again.
Sep 09, 2021
We were very impressed with this campground. Too bad more campgrounds are not run as well as the Philadelphia South/Clarksboro KOA! The amenities (especially the playground) were a plus; our daughter & family stayed in a cabin & it was clean & nicely appointed. Staff were very nice & helpful. We extended our stay one day to relax & had friends from Philly visit, & everything was well done. Kudos!
Sep 09, 2021
Our 5 day stay had a terrible beginning, but after that, it improved. Our mistake was in arriving 45 minutes before check in time. We were told that we would have to pay $25 for earlier arrival. We declined and said we would wait the 45 min. We were then told that there was nowhere we could wait that wouldn't be in the way and told we would have to leave the campground until the 1pm checking time.
Sep 09, 2021
Campsite was clean and laundry was great and accessible. The only problem we had was getting there due to heavy traffic, construction, and detours coming from the north. Our GPS did not recognize the address, and then took us on an indirect route. It was nice that the office allowed us to stay till noon the next day!
Sep 09, 2021
Enjoyed our stay very much. The staff was very welcoming and friendly. Stayed in the glamping tent and loved it. It was very clean and comfortable. The only issue we had was the campers at a neighboring site were very loud and disruptive in the evening hours, playing loud music and yelling. However, KOA staff handled the issue adequately when complaints were made.
Sep 09, 2021
Friendly staff, very clean bathrooms!! Very nice pool!
Sep 08, 2021
Awesome employees at your KOA Clarksboro
Sep 07, 2021
Loved the campground, not a huge fan of the city. Thanks for a great stay!
Sep 07, 2021
Wasn't fan of our site #102 faced the construction garage, after walking around I saw other sites that were also pull through I'd request them next time. There was no schedules of events we notice live music Sat. night while walking around, wish we would have known. The campground was clean and staff was very friendly.
Sep 07, 2021
The campground was clean & employees were friendly & helpful. We enjoyed the "woodsy" feel & still being close to the city. We had a ginormous pull-thru site with a paw pen, fire pit, patio & picnic table. All of those things made it great stay!
Sep 07, 2021
Campground is well maintained and the staff is friendly and accommodating. We camp there several times a year.
Sep 07, 2021
It was wonderfull! Relaxing, closes to all I needed to get to, friendly and helpful employees, clean everything.
Sep 07, 2021
We had a great time at this KOA. The staff was friendly which made it enjoyable. The grounds were kept up as well as great amenities. The staff was routinely out around the grounds maintaining them and ensuring it was clean. The facilities were newly renovated. There was a large K9 park as well as poop stations around the walking trail. We have no complaints! We will stay there again!
Sep 07, 2021
Nearest c.grnd to M.W.Center in Cherry Hill for my 2 days of med.appts./lab work. After traveling 3.5 hrs from home, we were thrilled/relieved that a dog park greeted our entry! Before check-in, our 2 aussies (ages 7 yrs. & 7 mos.) enjoyed it! PERFECT! After registering, a man escorted us to site 67, & gave directions to Wawa's. We were tired & hungry! Quiet, friendly, caring community! Well kept!
Sep 13, 2021
I stayed here on 2 occasions both times in September (2020 and 2021). Both times were good experiences. I booked a glamping tent in 2020 and had no issues and in 2021 a deluxe cabin. I only wish parking was on-site, but no big deal for me. The accommodations were clean and well maintained. The grounds were very nice and relaxing. Not too loud and I didn't feel overcrowded. The tent sites and trailer sites look very tight though. I love the atmosphere and the greenery. I also love that it's very close to Philadelphia so just a short drive from home for a quick weekend getaway. The staff were very helpful and kind. I believe I will be returning to this KOA.
- Christine DeVose on Google
Sep 12, 2021
The staff is always kind and helpful, the whole place is always clean, and we have had no problems with electricity or connections. We can't wait to go back!
- Jennifer Robinson on Google
Sep 06, 2021
Beautiful grounds. Very nice staff. Playground and pool were well kept.
- Michael King on Google