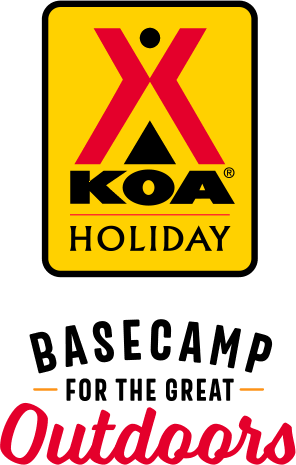 KOA Holiday Campgrounds
Whether you're exploring the local area or hanging out at the campground, KOA Holidays are an ideal place to relax and play. There's plenty to do, with amenities and services to make your stay memorable. Plus, you'll enjoy the outdoor experience with upgraded RV Sites with KOA Patio® and Deluxe Cabins with full baths for camping in comfort. Bring your family, bring your friends, or bring the whole group – there's plenty of ways to stay and explore.
KOA Holidays Feature:
RV Sites with a KOA Patio®
Deluxe Cabins with full baths
Premium Tent Sites
Group meeting facilities
Directions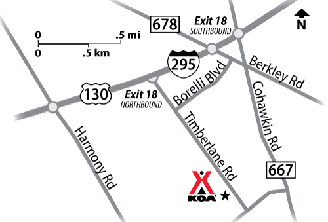 Traveling Southbound on I-295: Go to exit 18. Take the first right off the exit. Take Rt. 667 South (approximately 1 mile) and turn right onto Friendship Road. Go one block and turn right onto Timberlane Road.  GPS: N39.8077, W75.2367
Get Google Directions
Apr 06, 2021
Our site was PERFECT, however, one employee particular was less than friendly. She made us (a group of 9 families) apprehensive about booking your campground again. She was rude to children and while speaking to her on the telephone she was extremely dismissive towards me. I don't know her mane, but she has a remarkable accent. Alicia on the other hand was fantastic!
CAMPGROUND RESPONSE / COMMENTS:
Thank you for your review. Unfortunately, we do not tolerate dogs off leashes, hockey sticks on the jumping pillow and loud music disturbing other guests. Unruly children disturbing other campers is also not tolerated. Hopefully you will find a campground that suits your group better. I will pass your kind words onto Alicia.
Apr 06, 2021
We loved the pond and the kids loved the jumping pillow, staff not the most helpful (especially for a KOA) they didn't have any firewood available to buy.
Apr 06, 2021
We loved our Deluxe cabin, it was clean and had a great set-up!
Apr 06, 2021
we just stayed 1 night but were very pleased with the campground. easy access from i-295, wi-fi, pull thru site, met some nice people.
Apr 05, 2021
We had a nice time. The cabin and the campground were clean and in great shape. All of the staff that we encountered were friendly and helpful.
Apr 05, 2021
The only downfall I can come up with is my cabin was full of ants the entire time I was there. I had to throw anything that we opened food wise in the trash before I left because I didn't want to bring them home. Other than that it was great.
Apr 05, 2021
IT was great, what we expected.
Apr 05, 2021
For 1st time campers everything was great. Staff very helpful. Campgrounds well kept.. we will return.
Apr 05, 2021
The staff is extremely friendly and the campground is very clean. They really seem that they care for all of their guests and their experience. We only live 20 min from the campground will become our quick get away. Highly recommend this campground.
CAMPGROUND RESPONSE / COMMENTS:
Thank you for your review. We hope to see you again.
Apr 05, 2021
In my opinion it's for people with RV's not tents. It wasn't much scenery and we felt to close to the other folks who where in tents.
CAMPGROUND RESPONSE / COMMENTS:
Thank you for your review. I am sorry our campground wasn't for you. Keep looking, there is a campground for everyone.
Apr 03, 2021
Good stay. Pleasingly quiet. Unfortunately learned the on-site dog pen is not suitable for small dogs. They slip right through the bars.
Apr 03, 2021
The staff are friendly and I love that you can text someone to fill up your gas bottles. The park is family friendly and also has quiet space for those wanting to be away from the family areas. Some of the spaces at the back area of the campground are really close together which can make it a tight squeeze for larger 5th wheels with slide outs on both sides. But that isn't a show stopper.
Apr 03, 2021
Given a site upfront & unimpressed. If you are looking for more than a quick stopover on the way north/south make sure you ask for a site towards the back of the property. It is so cute w/ a pond, updated amenities, cabins etc!! Our 2 night visit would have been completeIy different/more relaxing/enjoyable if we were out back! Conveniently located. Easy to find.
Apr 02, 2021
Very clean cabin. Clean campground. Poor drainage on property. High 5 to the cleaning crew. I have been to other KOA campgrounds, this was the cleanest cabin I stayed. Thank you. Keep up the great work. Hope to return soon.
Apr 01, 2021
Very well maintained and friendly staff.
Apr 01, 2021
Our family was able to enjoy all the things like the jumping pillow, some play tools and walking around the pond together. It's not that big but enough to feel cozy inside the cabin. It would be better to have more spacious dining room for 6-8 ppl's cabins.
Apr 01, 2021
Friendly staff, clean restrooms.
Apr 01, 2021
Two days after my first stay I visited again but stayed at a different cabin which has a loft. Unlike the first visit, the loft was not cleaned at all and has a lot of ants. I had to clean for my 2 kids after checked-in to let them play. Other than that part, it's one of my good stays with KOA.
Mar 31, 2021
The office was very helpful when we needed to extend our stay by a day. The site was great, and easy to leave from with the tow attached.
Mar 31, 2021
Just a quick weekend away to check out philly with the family! Clean and quiet campground really friendly and helpful, plenty of stuff for kids to do would definitely go back!
Mar 31, 2021
The staff was very friendly and knowledgeable. They offer free wi-fi, however, when we went to connect there was no listing for the KOA. It took several hours for someone to respond to our call. Once they did, it was a simple fix, but frustrating. The sites are very close together - opening slides we worried about encroaching on the neighbors. Very convenient to Philadelphia.
Mar 31, 2021
They went out of their way to get me situated. I had a small leak when I hooked up to city water and without even asking the gentleman who escorted me to the sight said " let me get that" and it was done.
Mar 31, 2021
It was very fun and relaxing. My 3yr old loved it as well. Everyone is super friendly.id deff recommend
Mar 31, 2021
Great quiet stay !!
Mar 31, 2021
great staff, clean bath and shower area, great services, nice sites
Mar 31, 2021
Great night in the Deluxe Cabin. Friendly, helpful staff. Clean and well-maintained cabin, great jumpy pillow for the kids to play on. Lovely stay.
Mar 31, 2021
Could not connect to internet with the wifi code. It is apparently a problem, according to folks who stay there.
CAMPGROUND RESPONSE / COMMENTS:
Thank you for taking the time to write a review. It can be difficult to fix problems when they are not reported to us. I do know that being inside a cabin can make connecting harder.
Mar 28, 2021
Nice and quiet !! We are a family of 5 we stayed in a deluxe cabin. The cabin was roomy nice, clean and well situated near the pond. The water pressure was awesome after a long day in Philly. Very quiet and family friendly.
Mar 28, 2021
Pleasant. Quiet sites in the back.
Mar 26, 2021
Quick stop-over on our way to Florida. Clean restrooms and nice people. Thank you for the respite.
Mar 24, 2021
We stayed in one of the deluxe cabins. So clean, beautiful interior! We brought chairs & sleeping bags but did not need either of those camping essentials! This was like staying at a hotel while still being part of the outdoors. Our kids enjoyed the jumping pillow and playground area. Everyone was very friendly and the staff attentive to our needs. A nice experience! Thank you for a great weekend!
Mar 24, 2021
Great amenities, clean cabin WITH LINENS and PILLOWS! Great staff. Will be back with family and friends.
Mar 23, 2021
The location was great. The site we were given appeared to still be under construction it was an electrical box half dug up sticking out of the ground right when you enter and exit your camper went on the site. It appeared much more landscaping needed to be done on that site before it should be utilized.
Mar 23, 2021
Large uneven areas around my site could have tripped in a hole. It eas very easy to get in and out which is great and all the services worked.
Mar 22, 2021
This was our shakedown run for a new travel trailer. The sites were nice and clean. Others in our outing got propane, and wood got delivered. All went well great spot to enjoy some time.
Mar 22, 2021
The cabins were impeccable, clean and featureloaded. The campground have a lot of amentities and ample options for kids to play with. Out stay here was a nice experience. Thank you
Mar 22, 2021
Stayed at this campground with our young grandchildren. The staff we very friendly and the amenities were clean. Will camp here again.
Mar 22, 2021
Enjoyed our stay very much. Short weekend close to home! Very friendly and clean!!
Mar 22, 2021
Great stay as always! Friendly staff and great facilities.
Mar 21, 2021
Clean, safe, and conveniently located near Philadelphia
Mar 21, 2021
Easy in. Clean bathrooms. Close to the highway and Philadelphia
Apr 10, 2021
All of the staff was extremely nice and very helpful. Our site by the lake was beautiful. Facilities were very clean. It's close to home for us (about 40 minutes) so it gives us a chance to have friends visit while we camp. After a year of Covid restrictions it truly was a breath of fresh air.
- Phyllis Hessler on Google
Apr 03, 2021
Lol gotem OwO
- DarthWither on Google
Mar 28, 2021
Me and my family had a ton of fun
- April Vaino on Google