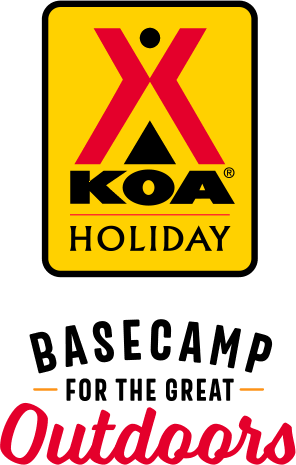 KOA Holiday Campgrounds
Whether you're exploring the local area or hanging out at the campground, KOA Holidays are an ideal place to relax and play. There's plenty to do, with amenities and services to make your stay memorable. Plus, you'll enjoy the outdoor experience with upgraded RV Sites with KOA Patio® and Deluxe Cabins with full baths for camping in comfort. Bring your family, bring your friends, or bring the whole group – there's plenty of ways to stay and explore.
KOA Holidays Feature:
RV Sites with a KOA Patio®
Deluxe Cabins with full baths
Premium Tent Sites
Group meeting facilities
Directions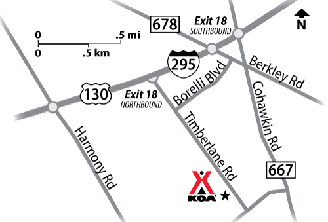 Traveling Southbound on I-295: Go to exit 18. Take the first right off the exit. Take Rt. 667 South (approximately 1 mile) and turn right onto Friendship Road. Go one block and turn right onto Timberlane Road.  GPS: N39.8077, W75.2367
Get Google Directions
Oct 18, 2021
On the second afternoon of our stay, there was a blackout caused by a transformer fire. We didn't have electricity/wifi in our deluxe cabin for 4 hours. We had planned on preparing dinner in the cabin but we couldn't (no cook top or microwave). We had to get take out. This was an inconvenience. When we checked out, no one mentioned it or apologized. I was very disappointed!!!!
CAMPGROUND RESPONSE / COMMENTS:
Thank you for your review. We did message all guests and apologise for the inconvenience. We look forward to seeing you again.
Oct 17, 2021
For the money, it is a great deal. However, two things were an issue. The smaller bathrooms in the luxury cabins are so small it's basically impossible to go to the bathroom. No room to maneuver. Also, in the rustic cabin, the matress is so thin it's hard and uncomfortable. I don't expect a luxury mattress, but I shouldn't be able to feel the wood on the frame.
Oct 16, 2021
Smelled like wet dog and the smell didn't leave even with the windows open. Next time we will pick another cabin as this one fell short from the last.
Oct 15, 2021
We stayed one night in your Glamping Tents and loved them!!!
Oct 13, 2021
This was our first day. We had a great time. Hope to be back! I only feel there was a hiking area missing. Not sure if we just didn't know where it was marked.
CAMPGROUND RESPONSE / COMMENTS:
Thank you for your review. Please be sure to ask in the office for directions to get to the trails next time.
Oct 11, 2021
Easy check in, employees very friendly & the community is really nice. Cabin was really clean. Will be back again! Thank you!
Oct 03, 2021
Super clean!! Very nice staff! Reasonable price!!
Oct 01, 2021
Everyone was so nice & helpful! Cabins are very nice & super clean!
Sep 29, 2021
Fabulous time…..hosted 11 women on a weekend to Koa and it was more than we expected good discussion, food , fishing hoping to making it an annual event
CAMPGROUND RESPONSE / COMMENTS:
So glad you had a good time, we hope to see you again soon.
Sep 21, 2021
Everything was perfect and your staff is top notch!!
Sep 15, 2021
Had an awesome time! The cabin was perfect and the staff were all helpful and courteous! Cant wait to book another stay!
Sep 14, 2021
Loved the facilities! Staff was wonderful. Location is fantastic for a wide variety of activities in South Jersey, Philadelphia and Delaware. Lots of on site things to do as well. Will certainly visit again!
Sep 14, 2021
We were extremely disappointed as we made our reservations six months ago, and upon arrival we were not given the unit that was on our reservation. We were supposed to have a two bedroom with two queen beds, they gave us a two bedroom, which one of them had four bunkbeds, which did not suit our needs. I was told by the staff that the other units we're already reservedAnd that they could not swit
CAMPGROUND RESPONSE / COMMENTS:
Thank you for your review. Please be sure to check your reservations when you book online. A cabin with bunks is what was chosen and, unfortunately, by that time we were full and could not move you. Calling to make reservations always ensures you get the correct lodging.
Sep 13, 2021
Excellent and relaxing for my birthday weekend
Sep 12, 2021
Our stay was clean and comfortable and the staff was excellent. We already booked another stay
Sep 09, 2021
Enjoyed our stay very much. The staff was very welcoming and friendly. Stayed in the glamping tent and loved it. It was very clean and comfortable. The only issue we had was the campers at a neighboring site were very loud and disruptive in the evening hours, playing loud music and yelling. However, KOA staff handled the issue adequately when complaints were made.
Sep 07, 2021
Loved the campground, not a huge fan of the city. Thanks for a great stay!
Sep 05, 2021
Cabin was nice but put the bed on the outside wall opposite from where it is so you have more room to get around the bed. And move the clothes area in the corner next to the air conditioner. The amenities for kids is great. Some RV lots are packed to tight and more room is need between them. The store can be updated to carry more items. All in all a very clean cabin and park and we will stay again
Sep 04, 2021
We enjoyed this campground very much. As the first two nights in a long road trip, it set a good start! It's smaller, but that worked great for us because it allowed our son to explore! Would come again.
Sep 01, 2021
Alicia and Ryan are SPECTACULAR. This location is absolutely immaculate - kudos to those running the show. I've already booked my return stay in a few months!
Aug 29, 2021
I would rate 5 stars if the customer service was like other KOA campgrounds. I can see why other ratings say the customer service wasn't good. I had a cabin which had 4 Keurig coffees but only 2 cream and 2 sugars. I went to the office to see if I could have more and they said no. Our friends arrived 1 hour early the day after and they wouldn't let them check in even though their cabin was ready.
Aug 28, 2021
We were having some work done on our home in Philly and needed somewhere to take the kids and our dog to get out of the house. We booked a cabin for a few nights. The cabin was awesome! Very clean, with a well equipped kitchen, linens, outdoor furniture, fire pit and a grill. It was 95 degrees all week so we really appreciated the pool and the AC. Kids loved the jumping pad as well!
Aug 26, 2021
The camp ground is small, but very nice. The facilities are clean and very well maintained. There are a few nice hiking/walking trails within a 15 minute drive. My kids really enjoyed the banana peel bikes. We stayed in a deluxe cabin and it was perfect for the 6 of us. Customer service was great. There was a hornet's nest in the eve of our cabin and the staff came by to take care of it ASAP
Aug 26, 2021
Stayed at one of the deluxe cabins which had everything we needed for my family. Next to our cabins, were nice little pond, playground, jump pad and other games available for everyone. Swimming pool was great for kids. My kids had so much fun and my family would love to come back. Nice little campground with everything that you can ask for. Highly recommend for the family with kids and pets.
CAMPGROUND RESPONSE / COMMENTS:
Thank you for your review. We hope to see you again.
Aug 25, 2021
The staff was extremely friendly and the grounds around our cabin was nicely landscaped and well kept. We had a wonderful time!
Aug 25, 2021
Deluxe cabins were nice and our family was able to reserve five in a row. No planned activities like we've seen at other KOAs that we've stayed at. Staff in the store and office are not the friendliest people at all. The office and golf cart guys were great but the younger and older women were abrupt and seemed annoyed, so much that we went out to the store instead of going in there to bu
Aug 25, 2021
Great location. Everyone was friendly and helpful. There was a small problem with ants but traps were already in the cabin.
Aug 25, 2021
Workers not the friendliest but overall clean cabin and nice stay
Aug 24, 2021
Campground and staff were great but our 2nd night in the cabin we had an ant infestation crawling all over us while we were asleep we had to leave at around 11pm and go stay at the beat western up the street which cost us an extra $150 so I probably won't be staying in the cabin again
Aug 20, 2021
very very nice loved everything
Aug 17, 2021
Cabins, Staff and grounds were wonderful. Thank you for your hospitality!
Aug 17, 2021
The grounds were very nice as were staff and our accommodations. We just didn't appreciate that our site was not cleaned or ready until 30 min after our 3:40 arrival when check in was at 3pm. We were only staying one night so the time set back really put a nail in our overnight stay.
Aug 16, 2021
It's was the first time that the family got away since my husband passed in October 2020. We had cabin 304 and 305. It was so nice to relax
Aug 16, 2021
Enjoyed every minute of our stay! The location is beautifully landscaped and taken care of. Facilities are sparkling clean. We stayed at a tent and glamping sites which are the most private/secluded sites in beautiful shaded area . Dog park is maintained better than some private backyards! We will definitely come back and recommend Clarksboro KOA to friends and family.
Aug 16, 2021
It was fantastic the dogs left at my kids loved it my sister came to visit and she loved it it's just quiet and peaceful and dog friendly. The staff was amazing
CAMPGROUND RESPONSE / COMMENTS:
Thank you for your review. We hope to see you again.
Aug 16, 2021
This was our first time here and it was simply the best bday wkend for my son :) my kids enjoy every moment! cabin stay was beautiful & clean :) on the day of check out I realize I had a flat :( as a single mom I needed help! I went into the office & explain my situation and in just mins the Maintenance guy was there to help me and fix my flat tire in less than five minutes :) we really appreciate
CAMPGROUND RESPONSE / COMMENTS:
Thank you for your review. Glad we could be of help. We look forward to seeing you again.
Aug 15, 2021
Very clean, staff was friendly and knowledgeable. Really enjoyed our stay!
Aug 13, 2021
When we 1st arrived we had a small problem we did not get the cabin that we booked but they did rearrange things and we were able to get it which I was thankful for. The biggest problem was our Cap'n had fleas I am bitten up so bad and my sister's husband we left A-day early. I called the next day and talked to the manager Her response was That's not hard to believe And she's sorry and that was it
CAMPGROUND RESPONSE / COMMENTS:
Thank you for your review. Glad we were able to help when you made an error in your reservation. Happy trails.
Oct 14, 2021
Clean well kept campground . Well stocked store.
- Timothy Pilla on Google
Oct 14, 2021
I stayed in delux cabin and it was super clean and nice. And the staffs were very helpful and kind.
- Kim Michelle on Google
Oct 14, 2021
We stopped here on our way up to Maine, and absolutely loved this little gem. Super easy to get to from the interstate. It was delightfully quiet and clean and nice. We stayed in the Glamping Tents and if you haven't, you absolutely should!!! What a great experience!!!
- SarahandJeff2013 on Trip Advisor