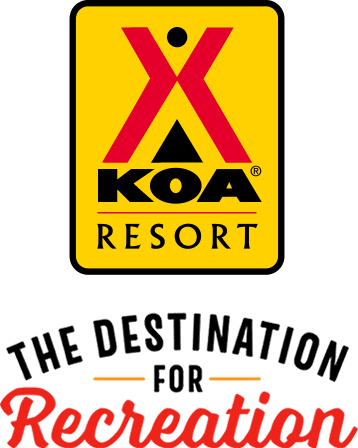 KOA Resort Campgrounds
KOA Resorts offer a carefree vacation in the great outdoors. Enjoy robust recreation and staff-led activities, kick back and relax by the resort-style pool, or grab a bite to eat, all while never leaving the campground. And with plenty of RV Sites with KOA Patios® and Deluxe Cabins with full baths to meet your needs, it's the ultimate camping getaway.
KOA Resorts Feature:
RV Sites with a KOA Patio®
Deluxe Cabins with full baths and linens
Premium Tent Sites
Resort-style pools
Indoor and outdoor group facilities
Directions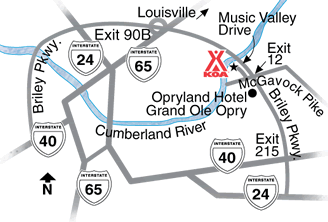 Exit 12 off Briley Parkway: Head west on McGavock Pike (toward Music Valley Drive). Turn right on Music Valley Drive. KOA is 1.5 miles ahead on the left.
Get Google Directions
Jun 20, 2021
Great sites & amenities- very close to opryland.
Jun 20, 2021
Best campground yet!! We had a deluxe site and it certainly was!! Campground very clean and friendly!
Jun 20, 2021
They need after hours number in paperwork. Dog continually barking for several hours one evening. Several people used our campsite as a cut thru. Actually walked between our table and chairs. Very disruptive to our dogs. We left a day early that we had paid for to get away from rudeness.
Jun 20, 2021
Nicest physical KOA we have ever visited. Asked to change site for shade. Request granted.
Jun 20, 2021
4 stars for the place, the rude employees bring it down to 1 star, I have never been treated so rudely
Jun 20, 2021
Easy check-in, spacious sites, well maintained green areas. Lots of activities for children. Shaded pet areas
Jun 20, 2021
nice campground with lots of amenities. However lacks personal touch and pride of ownership maintenance. Biggest complaint was lack of available 24 hour security. Phone number is posted on window of office but not provided in literature, we had an incident where the number would have been extremely helpful. enjoyed music by couple at swimming pool Shuttle to downtown Nashville very convenient
Jun 20, 2021
The communal amenities are wonderful, for the most part. The dog park had dog poop from others because there were no bags and the trash was full (not that that is excusable, people should always clean up after their dog). We stayed at a back-in site and they are small, there was trash left in our fire pit, and the pavement was heaved, cracked, and unleveled. The patio sites looked really cool.
Jun 19, 2021
Great park. we had shade and a pull through. Access to the downtown shuttle was awesome!
Jun 19, 2021
Nice clean park with all the amenities. Also has a shuttle available to take you downtown.
Jun 19, 2021
Easy check in, nice site, grounds are clean.
Jun 19, 2021
Well kept property with lots to do at the campground. Located close to Opryland and not to far from downtown, Nashville KOA is a great place to stay. Campground was pretty quiet during our stay and staff was pleasant and helpful. Only negative: I wish the hot tub jets sprayed harder.
Jun 19, 2021
Nashville KOA is our favorite. We are going back there in 4 weeks on our return trip from South Dakota.
Jun 19, 2021
Very Nice Koa. Friendly staff, clean grounds, restrooms, cabins. Fantastic Resort amenities.
Jun 19, 2021
Perfect rv spot for visiting Nashville plus there is even a low cost shuttle into town. Perfect
Jun 19, 2021
Fun relaxing stay. We had a campsite and cabin. Both were very nice and provided everything we needed while there. Great time in the pool and really enjoyed the movie night.
Jun 19, 2021
Wonderful amenities and staff.
Jun 19, 2021
One of the cleanest, best campgrounds in the US. We have stayed here overnite for years on the way to and from the gulf. Clean, quiet, friendly, and convenient.
Jun 18, 2021
Beautiful and peaceful. No drama! Loved it.
Jun 18, 2021
Some of bathroom not child friendly
Jun 17, 2021
Staff was very friendly, it was clean, you didn't feel like you where sitting on top of the next camper, and there is so much to do. We will be back!!
Jun 17, 2021
I was very pleased with the Staff and most of the facilities. I have 2 concerns . 1.Office/shop hours of 8 to 5 are not sufficient. 2.The WIFi is totally unacceptable. If you are going to advertise Free WIFI it should be sufficient to support your Campers. Most of the time I could not get on and when I could it was very weak. I would rather pay a nominal fee for WIFI to insure I could use it.
Jun 17, 2021
This is our 2nd time staying here the staff is very friendly and helpful. The resort is very well maintained. We will definitely stay here again.
Jun 17, 2021
Beautiful pool! The shuttle was super convenient Sites were a little short but doable
Jun 17, 2021
Beautiful resort! Grounds and facilities are well taken care of and the staff were very helpful. We loved the shuttle service on site that takes you downtown where you can easily walk to many attractions. The pool is wonderful and there are so many things to enjoy right at the KOA. A wonderful place for families as the kids will love it but also for couples who just want a nice getaway.
Jun 17, 2021
Enjoyed the quiet atmosphere!
Jun 17, 2021
We love this park The downtown shuttle is a big plus Need better signage telling you where to park for check in Need to offer early check in for a reasonable fee Thank you
Jun 17, 2021
All five of our children enjoyed the beautiful pool and the well-inflated giant bouncing pillow. We all had fun with the life-sized chess, checkers, and outdoor bowling. The bathhouses and restrooms were clean and well stocked. The campground was well-maintained. Thank you!
Jun 17, 2021
Awesome experience. Clean, quiet, friendly. Well managed.
Jun 17, 2021
Great time, location and services. Wife was comfortable at the pool alone. Bath house well cared for. Sites clean, close but this is not a problem. Good neighbor's.
Jun 17, 2021
I love this koa and I know because of COVID no food served so I suggest some food choices in the coolers so we could microwave something
Jun 17, 2021
Nice camp sites. Friendly people. Great amenities. What more could you ask for? I've stayed in the past and will stay again in the future.
Jun 17, 2021
They screwed up the reservation and had us departing one day prior to the date requested. However, they were able to find an suitable slot for our last night but we did have to move for the last night. Also, it seemed overpriced for what was available but the staff was friendly, helpful and pleasant to work with when resolving the problem described above.
Jun 21, 2021
We have visited Nashville 5 times & KOA is exactly what pleasures us
- Gerald Seichter on Google
Jun 17, 2021
Awesome experience for camping with a large fifth wheel. Large spaces. Clean, quiet, friendly. Well managed RV resort.
- Wanda Matasick on Google
Jun 16, 2021
Very nice campground
- Victor Jennings on Google