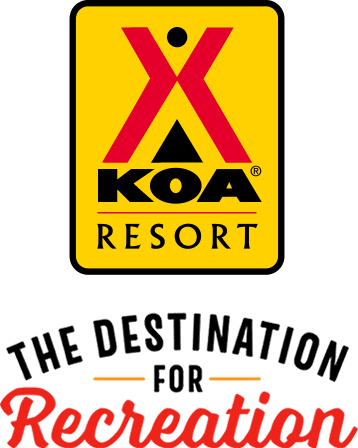 KOA Resort Campgrounds
KOA Resorts offer a carefree vacation in the great outdoors. Enjoy robust recreation and staff-led activities, kick back and relax by the resort-style pool, or grab a bite to eat, all while never leaving the campground. And with plenty of RV Sites with KOA Patios® and Deluxe Cabins with full baths to meet your needs, it's the ultimate camping getaway.
KOA Resorts Feature:
RV Sites with a KOA Patio®
Deluxe Cabins with full baths and linens
Premium Tent Sites
Resort-style pools
Indoor and outdoor group facilities
Directions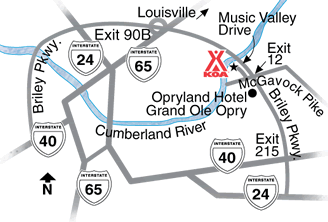 Exit 12 off Briley Parkway: Head west on McGavock Pike (toward Music Valley Drive). Turn right on Music Valley Drive. KOA is 1.5 miles ahead on the left.
Get Google Directions
Jan 18, 2021
Was an okay stay here close to everything we needed. Just didn't have the same feel as other KOA resorts that we have stayed at.
Jan 18, 2021
Very ckean and well maintained
Jan 16, 2021
We arrived right before the office closed, but the staff person was friendly and helpful and not rushed.
Jan 14, 2021
I have traveled for work for the last nine years. KOA has always been one of the more pleasant stays, usually with the most amenities. Unfortunately, proximity usually wins over campground amenities and rating. Anytime there is a koa closebye, it is my first choice for accommodations
Jan 13, 2021
Wonderful campground even in the midst of a cold January trip during a pandemic. Everything was top notch!
Jan 12, 2021
Allowed early check in which we greatly appreciated!
Jan 11, 2021
Stopped for two nights on the way south. Were able to dewinterize trailer snd having the camping world and gander rv close by was nice. Very clean park friendly staff.
Jan 09, 2021
We stay here almost every time we are heading south for the winter or north for the summer. Love KOA!
Jan 08, 2021
Had issues with the shower not draining and they send someone to fix it right away!! Thanks
Jan 06, 2021
The staff was especially helpful. Nice to know that they are equipped with a jumper box as our towed car's battery died! The sites are large and have easy access to hookups. The amenities look amazing and I'm sure we will take advantage of them when we return in the spring. It's close to everything we needed and wanted to do - hiking, exploring the city, getting a taste of southern food. 5 s
Jan 06, 2021
Had a great stay! Lady in office not very friendly.
Jan 05, 2021
The person at the front desk that checked me in was rude. Also i payed a good amount of money for my sight with full hook up but that was not the case as i couldn't even use the water cause the water spicket was cracked and spraying water everywhere. The woman at the front desk received my complain and was supposed to send someone out but never did. Really bad experience for my first koa stay
Jan 04, 2021
I wanted to share that we thought it was a nice park, but we paid for the dog enclosure and due to rain it was a muddy mess majority of time. Others dried fast, ours was mud entire time. I also saw so many people using the dog enclosures when they did not even have a spot with one. I would have not upgraded for that if I knew drainage was a issue and that I could just use them regardless.
Jan 04, 2021
It was great as usual
Jan 04, 2021
This is the nicest KOA I have ever been to. We visit every year. It's clean quiet, and has a lovely pool/ hot tub area
Jan 04, 2021
Beautiful Deluxe Cabin, amenities and grounds. Lovely helpful staff. Would 10/10 book again!
Jan 04, 2021
This is one of the best RV parks we have stayed at. Very friendly staff and an awesome club house and pool area
Jan 03, 2021
The campground itself was beautiful! Clean and close to many restaurants. The staff, however, was a bit rude and uninviting. I think for this reason we will not be returning to this campground.
Dec 30, 2020
Excellent location. The only regret was that we were only there 2 nights. Next time longer.
Dec 30, 2020
It was nice, nashville koa is great, were just sorry that the incident downtown closed everything while we were there. See you next time.
Dec 29, 2020
The lady who was working the counter when we checked in and checked out was super nice and helpful. The man that was wearing the brown coveralls was extremely rude and hateful.
Dec 29, 2020
very nice only issue was nip trash cans when you clean up after pets
Dec 29, 2020
I have stayed here before! Love the cabins and area.
Dec 28, 2020
Very clean and nice people!
Dec 23, 2020
This is our second stay at this KOA. The first time we were in J15. Very nice and the weather was nicer in late October early November. This time in I10. Weather was somewhat cooler in December but a lot more rain. Our pad was flooded every morning after the rain. However the overall camp ground is very nice , clean and close to everything.
Dec 22, 2020
Wonderful- everyone associated with your KOA were very professional, courteous, and helpful. Everyone was just so pleasant and cheerful!!!
Dec 22, 2020
The roads are very narrow for long RVs. Internet is terrible. Beautiful park and close to things.
Dec 21, 2020
The grounds are very clean and well kept. we stayed in the winter, but there looks like a lot of fun things to do when it is warmer weather. WIFI was great. Sites were level, staff very friendly.
Dec 21, 2020
This was our first camping trip in our travel trailer. What a fun time! Clean, well-appointed, and had friendly folks working there. Unfortunately due to the cold temperatures, we did not use the pool and some of the outdoor game activities. I would like to return here in the warmer season to use those. Close to Opryland! Based on this experience I would definitely recommend this KOA.
Dec 21, 2020
Water, electricity, and sewer all working in the cold weather. How great is that! Merry Christmas!!
Dec 21, 2020
Very well kept place, quiet and peaceful, close to downtown and plenty of restaurants near buy. Only thing that would have been better is if our cabin held hotwater longer and if the would have gave us more coffee for 3 days of stay.
Dec 21, 2020
Very close to everything!
Dec 21, 2020
Great place friendly staff easy in easy out
Dec 20, 2020
Good location, not crazy about running out of hot water in the showers after getting soaped up ! And bathhouse was a bit cold! Propane was $$$ double what Camping world charges next door. But staff was friendly and the store was ok, carried no Nashville koa branded items.
Dec 19, 2020
Great place to stop. This time was only for one night but we'll be coming back for sure. The staff is very friendly and the bath house was warm and clean.
Dec 19, 2020
I read on the website that the laundry was 24/7 and when I arrived at 5 pm they informed me it was only open from 8-5 pm. I also could not find the locations to throw away my garbage besides a small bin by the bathrooms.
Jan 16, 2021
Very nice we only stayed one night but very nice great service from staff .we camped here years ago and we came back
- Merrill Blaser on Google
Jan 04, 2021
Great place Only issue is exit route not clearly marked
- Christine Merzario on Google