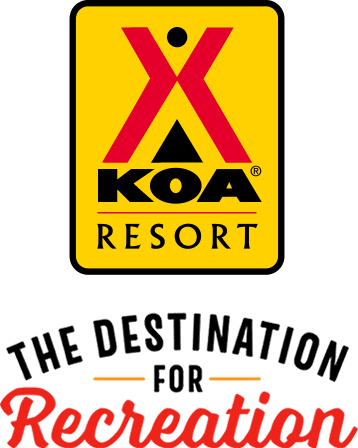 KOA Resort Campgrounds
KOA Resorts offer a carefree vacation in the great outdoors. Enjoy robust recreation and staff-led activities, kick back and relax by the resort-style pool, or grab a bite to eat, all while never leaving the campground. And with plenty of RV Sites with KOA Patios® and Deluxe Cabins with full baths to meet your needs, it's the ultimate camping getaway.
KOA Resorts Feature:
RV Sites with a KOA Patio®
Deluxe Cabins with full baths and linens
Premium Tent Sites
Resort-style pools
Indoor and outdoor group facilities
Directions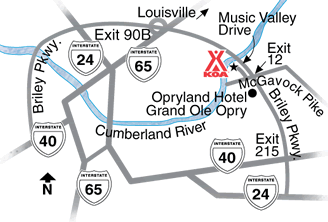 Exit 12 off Briley Parkway: Head west on McGavock Pike (toward Music Valley Drive). Turn right on Music Valley Drive. KOA is 1.5 miles ahead on the left.
Get Google Directions
Sep 20, 2021
Mosquitos were out ..day or night.. otherwise our gravel pad was very level and partly shaded.
Sep 20, 2021
We have stayed at this location 3 times now. Unfortunately we have to travel to Nashville every 3 months for medical treatments. We have reservations at this location for 3 more visits into the future. As unpleasant as the trips can be, this KOA, the people, it's cleanliness and atmosphere make the trips more bearable and as pleasant as they could possibly be.
Sep 20, 2021
Nice grounds. Unfortunately it rained for 2 days and our site was a big puddle.
Sep 20, 2021
We had 3 groups staying in different campsites and all agree this is overpriced. Nothing is clean (bathrooms/cabins had feces,ants, cobwebs, condoms). If you tell the staff there's an issue, instead of corrective action, you get "if I were you, I would leave," then if you don't leave, you are targeted, and the staff goes out of their way to be unprofessional and ensure your visit is unplea
Sep 20, 2021
Sides are tight, short, and rather muddy when it rains. Also can't book a premium for one night during the weekend which seems odd if they are empty.
Sep 20, 2021
Beautiful campground that is in a great area for a visit to Nashville.
Sep 20, 2021
they want to close at 7pm instead of 8. We arrived at 7pm the 1st nt & my daughter wanted to work out in the gym so my husband asked the front desk when the gym closed, they said 8. So she went right over (7:15) and someone was locking the door & told her gym was closed (coincidence?) 2nd nt i went to buy drinks at 7 & cashier asked me how i was paying bc she already counted the cash register!
Sep 20, 2021
I feel the price was a little high
Sep 20, 2021
The stay was great until the last night when we had issues with individuals taking our parking spot. We called the after hours number and they were no help. Made us park in the visitor parking and walk to our cabin.
Sep 20, 2021
Dirt instead of adequate rock on entry side of the coach caused dirt and mud to be tracked into coach because of the rain. Kind of spendy. Will shop around next time in Nashville.
Sep 20, 2021
Super clean beautiful area, our neighbors were really loud when they came back from Broadway, not mad about it, heck to be young again.
Sep 20, 2021
This campground is beautiful!!!! We stayed in the deluxe cabins and were very pleased with them. They were clean and comfy. The campground had tons of games and activities for kids and the pool area was very welcoming and beautiful. We will definitely stay again
Sep 20, 2021
We were disappointed that the jump pillow was out of order and that this was not communicated to us. When we finally asked about it, the staff said it had a hole and would be out of order for 3-6 months. We would stay here again, but would make sure everything is operational first. Very nice park.
Sep 20, 2021
Only stayed 1 night and rented a cabin with no bathroom,what little time I was there was good friendly staff clean accommodations...will stay again
Sep 20, 2021
The grounds are well kept
Sep 19, 2021
Great staff, level and shaded istes. Lots to do on site. First time at a KOA "Resort". Very impressed. The campground cats (Calico and a black cat) hung out with us during the evening hours.
Sep 19, 2021
Too many kids disobeying the signs and going in the hot tub. No recycling. However the facility is very nice and well-kept. Great location.
Sep 19, 2021
Very friendly Staff. Clean and quiet. Great place to stay. Shuttle into town was a great amenity. We'll be back next year
Sep 19, 2021
Wry nice facility. Had a band at the pool in the evening and the lady and gentleman did a great job. Great place to walk within the park. Love the pull thru. Will stay there again
Sep 19, 2021
Great location, love all the amenities! The park facilities were clean, the staff was friendly and helpful! Especially the Chef who cooked up an awesome breakfast!! Kind regards from the Grows.
Sep 19, 2021
Very clean, easy check in, love that they have a shuttle service to downtown.
Sep 18, 2021
Thank you for keeping such a fine facility. Clean with lots to do.
Sep 18, 2021
We had a wonderful stay at the Nashville KOA. The cabin was very clean and comfortable, The pool and hot tub were wonderful and beautiful, well kept grounds. The shuttle to downtown was a added bonus and very pet friendly!
Sep 18, 2021
Very well organized campground. Loved the room with pool and many other things. We will be back We were able to hear the live music before we checked out. Very nice feature.
Sep 18, 2021
It was wonderful except for a morning staff member I went in to purchase some souvenirs and a bag of ice went to pay and lady said she didn't have enough cash for change I couldn't believe a business would open and not some cash on hand that was ridiculous so I couldn't buy anything that day other than that it was great.
Sep 18, 2021
Beautiful campground. Excellent staff. Great entertainment. Close to Grand Ole Opry.
Sep 18, 2021
The staff was friendly and the facilities were well kept.
Sep 18, 2021
Nice place price is high compared to other campgrounds Pool could use a heater and more daily cleaning Last few times staying there pool had a lot of dead bugs and need vacuuming badly. Also noticed outside non guest people coming into use the pool at night. Could become a security problem if not addressed quickly . A front security gate with pass code would help problem
Sep 18, 2021
Very nice place with lots to do there and so close to downtown!!!
Sep 17, 2021
Very good time in Nashville. Your location just a mile from Opreyland was very good.
Sep 17, 2021
More than likely will never stay there again. Very nice looking & nicely maintained. Clothe washers were filthy. Had to wipe out 1 that had gunk/brown stuff all over it others soap pod remains stuck inside. The water pressure at our site was so low we had trouble keeping our on demand hot water working. And the shower near H-10 site had mold, hair, bugs and soap in 3 of the 4 showers. No Thanks.
Sep 17, 2021
We stayed in a cottage. It was clean and stocked with every thing we needed. Everyone was very nice and helpful. There was a slow water leak from the tub faucet but other than that it was perfect.
Sep 17, 2021
Very convenient to Grand Ole Opry and downtown. Even though highway was near the vehicle noise level was very low and most of the time didn't even hear them. Nice staff, clean campground
Sep 17, 2021
Very nice campground with tons of extras for family. We only stayed one night as we were passing through on our way home. We have already booked a return trip because we want to explore the area.
Sep 16, 2021
Everything was fantastic. The staff were friendly and polite. If you are looking for the best place to camp in Nashville this is it. The best campground we have stayed at in years. Covenant to everthing.
Sep 16, 2021
There were several issues that caused us to end our trip early.
Sep 16, 2021
Nice RV Park, most convenient to restaurants(close by & downtown Nashville) & the shuttle an added bonus!
Sep 16, 2021
Always enjoy our time at this park. Nice spacoius sites that are clean and level.
Sep 15, 2021
One of the most all inclusive Resorts we've stayed at
- Richard Plaatsman on Google
Sep 14, 2021
Nice people that work there and had a chuck wagon at pool that was great!
- christine johnson on Google
Sep 12, 2021
Koa is the nicest and cleanest upscale outdoor rv, tent, and small cabins...totally affordable... upscale ....definitely a must...close to everyone
- CAPTAIN BOBBY Hart on Google