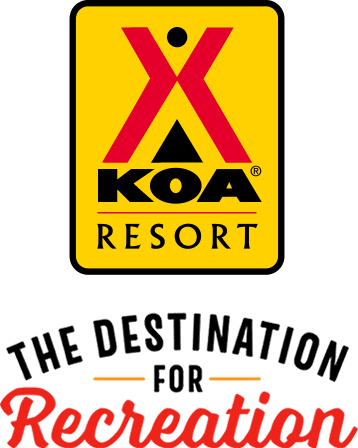 KOA Resort Campgrounds
KOA Resorts offer a carefree vacation in the great outdoors. Enjoy robust recreation and staff-led activities, kick back and relax by the resort-style pool, or grab a bite to eat, all while never leaving the campground. And with plenty of RV Sites with KOA Patios® and Deluxe Cabins with full baths to meet your needs, it's the ultimate camping getaway.
KOA Resorts Feature:
RV Sites with a KOA Patio®
Deluxe Cabins with full baths and linens
Premium Tent Sites
Resort-style pools
Indoor and outdoor group facilities
Directions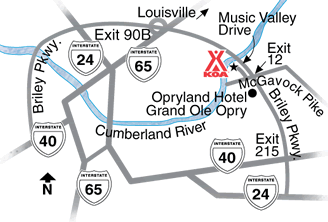 Exit 12 off Briley Parkway: Head west on McGavock Pike (toward Music Valley Drive). Turn right on Music Valley Drive. KOA is 1.5 miles ahead on the left.
Get Google Directions
Apr 06, 2021
Friendly staff Clean park and surroundings Great location
Apr 06, 2021
We enjoyed our stay, its our 2nd time there and if we come back to Nashville again we would likely stay again.
Apr 06, 2021
Super clean, love all the amenities!! Definitely want to come back
Apr 06, 2021
Clean, quiet and a great shuttle service to downtown.
Apr 05, 2021
Our family had some cabins and some of them had no a/c, no hot water, and many of them had ants. The KOA didn't do enough to make it right and no one that we talked genuinely seemed to care. We will not be going back to that campground ever. We also wrote reviews on every outlet we could find. This is completely unacceptable.
Apr 05, 2021
Very neat and clean one of the nicest KOA I have been to
Apr 05, 2021
Thank you for accommodating us extending our stay so our RV could get repaired. Our dogs enjoyed the camp canines and the full sized agility tunnel.
Apr 05, 2021
Very expensive, lot of games, grass is very long
Apr 05, 2021
It was late (10ish) when we pulled in. It was very dark in this park! There are no road signs, site makers, and you can barely see the roads until you are up on them. We have a 45 ft fifthwheel, maneuvering it around looking for roads and tiny site numbers on the power box only in pitch black was not fun! Yes we had a map, but I default back to the not seeing the roads.
Apr 05, 2021
It's pretty ridiculous that there are no internet towers in the back in sites because they're not 'premium' and when you go to the pull thru sites there are towers every third space and they have internet that works. $75 a night and all sites should have working wifi. C'mon now.
Apr 04, 2021
So clean...so roomy...we stayed in K8....I WILL be back.
Apr 04, 2021
Awesome as usual
Apr 03, 2021
Great clean site
Apr 03, 2021
This KOA was not our choice. We were 5owed here because our truck broke down. Was higher priced than we usually pay. Great place for children 3 people, Brad and Michelle Gates and Doug at the front desk were all so kind. The rest of the staff were not as friendly. Store was not stocked. No dish soap, butter, or basic essentials. Said they haven't stocked up for the season yet. Too, corporate fee
Apr 03, 2021
Very nice, clean park but expensive. We would return for a few days just because it's close to family.
Apr 02, 2021
We planned our fMILY VcTION We planned for 6 months our family vacation, it was pretty disappointing that we all had issues with our T.V.s during the storm, stuck in our cabins with nothing to do. Some of us had to deal with ants in our cabins, and others had to deal with no hot water, no air conditioner for their entire stay. I will not recommend this site to friends or family.
Apr 02, 2021
Trash all over the place. Grass was not kept up , showers were filthy , and no firewood . Plus you couldn't bring your own firewood. Will not be back!!
Apr 02, 2021
I did not know my sight was going to be gravel surrounded by a lot of mud. I should have specified concrete pad. I could also only scan in about 4 to 5 channels on their cable.
Apr 02, 2021
Nice stay. Great facility and amenities. Most of the staff were friendly, except for a younger man that appeared to be the manager or supervisor. He was abrupt and kinda rude to guests and the other staff. Besides that, it was a good KOA. This KOA has all the bells and whistles but doesn't have the "KOA feel." We have stayed at 20+ KOAs on our journey and most KOAs have a very friendly f
Apr 02, 2021
Exceptional period
Apr 01, 2021
We had approx 35 family members stay, and many things did not work and were not fixed. One family of 11, 9 of which had a stomach virus, had no hot water the entire stay, and they could not offer another cabin within the same complex. Many of the cabins had an ant problem. Some tvs didn't work. We will not stay here again.
Apr 01, 2021
Great location, grounds were very nice and staff very friendly. Met a lot of nice people and our dog had a great time playing in the dog park. Will definitely go back.
Apr 01, 2021
We had a lovely stay! Check in was well organized. Sites were simple and clean. Amenities looked lovely (we were too busy with other stuff to enjoy). Location is quite close to downtown. There is a shuttle provided by the KOA but we used Uber which was about $20 to town. Overall, a great experience!
Apr 01, 2021
We went on a family vacation and there were 40 of us with a total of seven cabins. In my cabin the TV did not work in the kitchen which I alerted the first day I was there maintenance man came agreed it wasn't working said he'd be back the next day with a new TV never showed up. Called again assured me that they'd be there never showed up. There was no cable the entire time I was there so for the
Apr 01, 2021
Loved the cabin but everything was to close. No privacy
Apr 01, 2021
Our site was very large, well kept and had plenty of room for our puppies to roam in their puppy play yard!!
Apr 01, 2021
Very enjoyable and clean!
Mar 31, 2021
Beautiful family park, Fantastic accommodations
Mar 31, 2021
As usual, we had a great time
Mar 31, 2021
Arriving after dark, the campground was very dark. Considering pivot points on a camper and being dark, we didn't see an unmarked Boulder on the side and got the camper hung up on it. The huge Boulder tore off our steps and scraped 1/2 of the side of the bottom of the camper. Then we tried to navigate in the darkness with unmarked roads of where to find our spot. Looking at $$$$ to fix it!
Mar 31, 2021
Beautiful well maintained grounds
Mar 31, 2021
Our t s didn't work the entire stay ..and we had ants everywhere including our bed ... Won't stay here again
Mar 31, 2021
Friendly, helpful, clean and quiet....
Mar 31, 2021
Awesome location with great amenities. Friendly staff. Shuttle availability to downtown is extremely convenient. Unfortunately it rained heavily while we were there, which is out of the resort's control. The problem is that there was 2-3 inches of standing water in our site because of this. Mud everywhere! Site S30 definitely needs to be looked at for drainage.
Mar 31, 2021
RVing across the country as a retirement trip. I only have a few campsites to compare to this experience. The site is located very close to Grand Ol opry. Unfortunately that site was closed due to covid. I enjoyed talking to "neighbors" and relaxing
Mar 31, 2021
Internet very weak. TV didn't work for most of our stay.
Mar 31, 2021
Staff was extremely friendly, park had a lot of to offer our family of 4 and everything was clean! We were a little nervous with the other noise concerns from reviews, especially when we arrived at our spot which was extremely close to the front road but wasn't bothered at all by it!
Mar 31, 2021
overnight stay from Illinois to Florida, but we have stayed here before while attending a wedding in Nashville. Clean park, friendly staff. Great location!
Apr 10, 2021
Really great place to stay... Very clean,well maintained grounds and facilities! You can even get Firewood delivered to your site!
- Chuck Thomas on Google