Nashville KOA Resort Recreation
We have restrictions and limited recreation available at the moment due to Covid-19 and county restrictions. We will continue to update this page on what is open.
How many fun activities can you pack into a KOA resort? Exploring our grounds is sure to surprise and delight kids ages 1-111! Discover how to play Pickle ball, roll a Bocce Ball, chill in our hammocks, warm up by the community fire pit, catch some rays poolside, bounce on the Jumping Pillow, toss a round of Corn Hole, play a little Ping Pong, or discover a sensory stream water feature; the list just keeps going!  During our summer season we'll have additional recreational activities scheduled on a weekly Activity Guide, including Barrel Train rides, ice cream socials, outdoor movies, and more. When you roll into Nashville KOA, Music City's premiere camping resort, make it a goal to experience as many of these recreation stations as possible! You may come to experience Nashville, and decide you just don't want to leave!
Tours & Tickets
Nashville is rich in history & culture. There's so much to do & see you won't know where to start. Our Grayline representatives can assist you with any tours or tickets to shows, and they pick you up right at the campground. From wine tours, to touring your favorite country artist's home, to exploring relics dating back to the civil war, there's a lot to see in Music City and we can help. Looking for tickets to the Grand Ole Opry? Not only can we get them for you, we can also arrange transportation to and from the Campground. All you need to worry about is relaxing!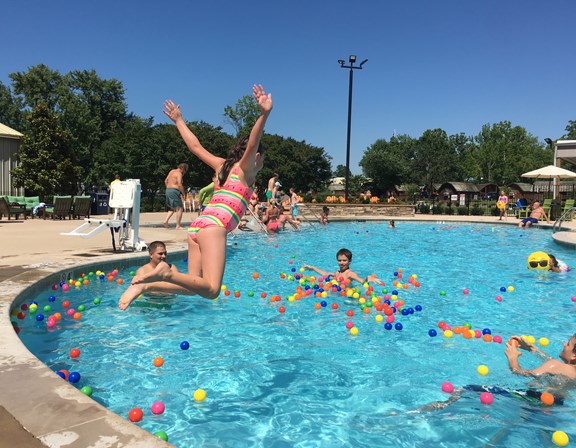 Pool & Hot Tub
Relax by the unheated pool and surf the net while you enjoy camping at its finest. Our resort pool deck is the launching point for many of our seasonal activities. It's the perfect place to unwind and catch some rays.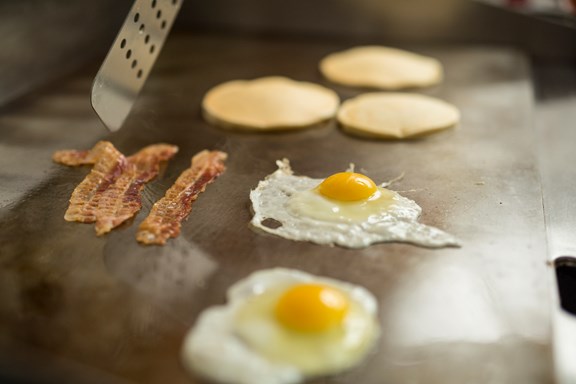 The Notes Cafe
Join us daily for made-to-order breakfast before you head out for a day of exploring, or all-day lounging at the pool!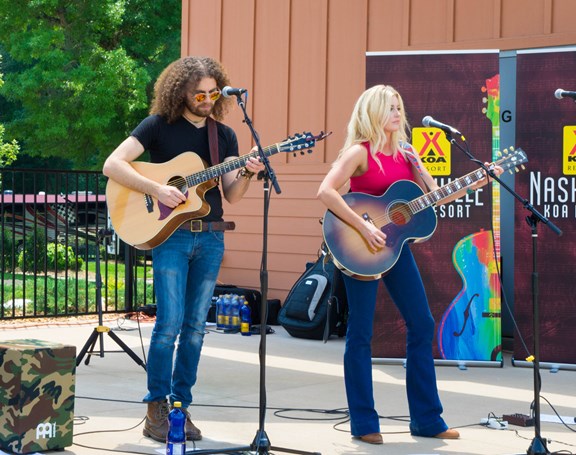 Live Music - Poolside
Enjoy Nashville's Live Music without leaving the campground! Join us for live music by our resort-style pool on Thursdays from Memorial Day - Labor Day.  
Check your weekly activity schedule for details.
Wine Tastings
Special Events: Sample great varieties of wines with friends. Check your weekly Fun Finder activities guide for details.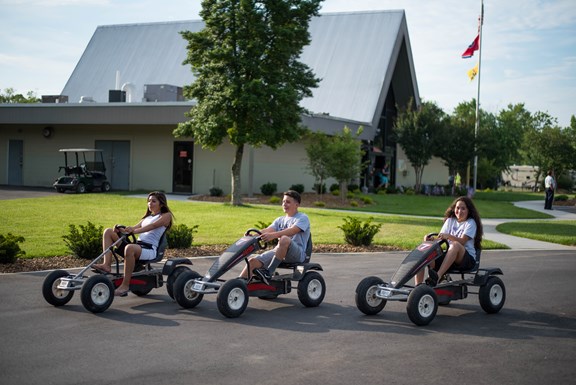 Fun Bike Rentals
Try out our fun bikes! You're sure to sleep well tonight! Available for rental at the front desk, $6 for 1/2 hour, $10 for a full hour.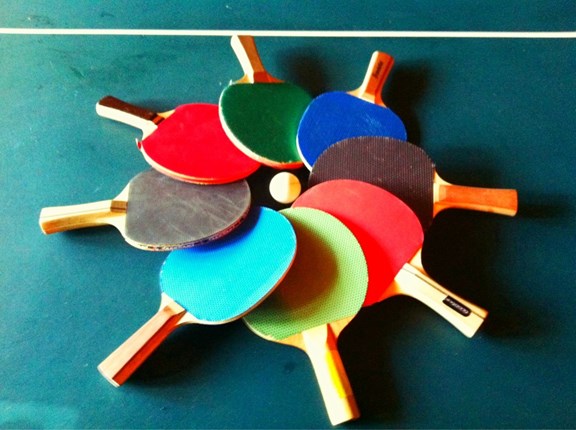 Ping Pong - Main Lounge
Calling all campers for Ping Pong in the main lounge - it's a great way to cool down on a hot day and challenge your fellow campers!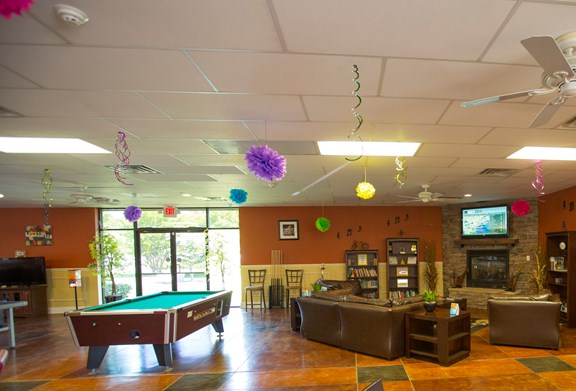 Billiards, Checkers & Games - Main Lounge
The main lounge is a great spot to relax in a beautiful setting with fireplace, TVs and great recreation! Come to the main lounge to play pool / billiards with friends.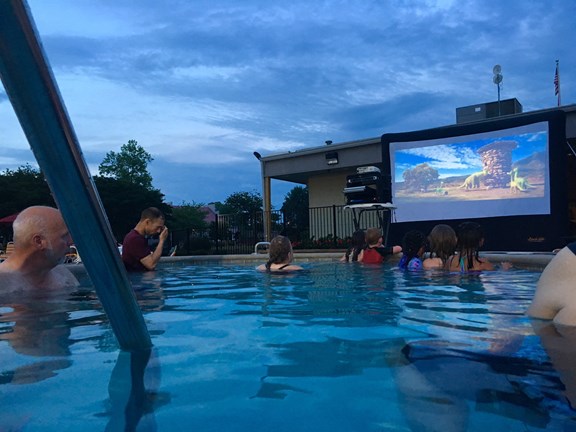 Outdoor Movies Under the Stars
The outdoor cinema is like a drive-in movie without the car. We set up on the pool deck, so feel free to pull up a deck chair, sit in the hot tub, or splash in the pool! Grab your blanket and some change for the general store for tasty treats and drinks. Be prepared to get comfortable and enjoy the show! We will show recent family friendly PG and PG-13 movies. The movies begin at dusk.
Memorial through Labor Day. Check your weekly Fun Finder activity guide for more details.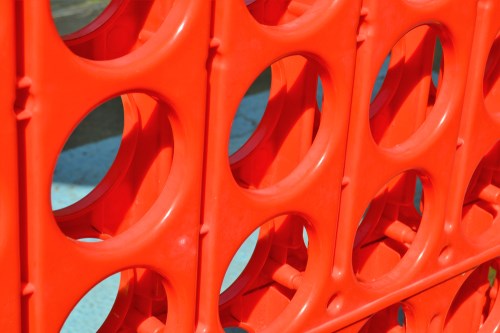 Giant Connect Four
Connect Four has remained a classic game for years, because it's great for kids of all ages! This fun and easy game is even more of a treat at the Nashville KOA because it's GIANT!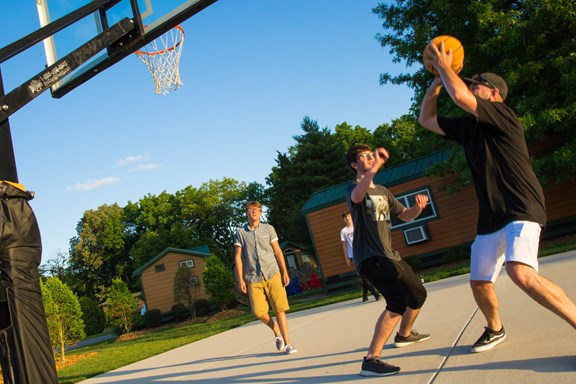 Basketball
A great way to work off steam after a day on the road - come meet some new friends on the basketball court!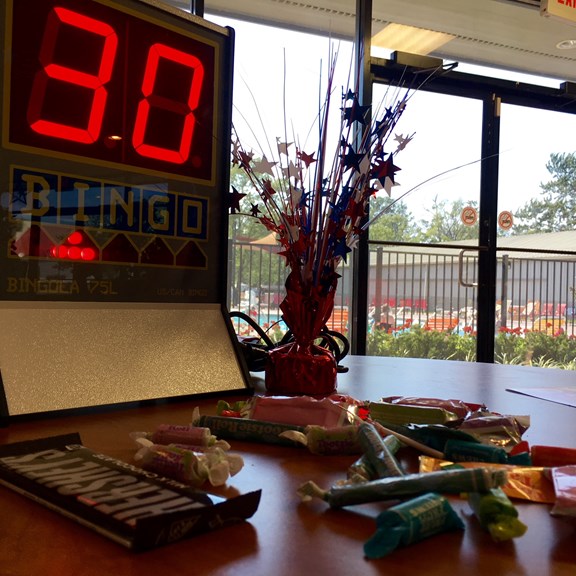 Candy Bar Bingo
Feeling Lucky? Come play Candy Bar Bingo with us! Stop by the general store and buy a full-sized candy bar, then check in with your recreation hosts in bright yellow shirts to pick up your Bingo cards. That's when the game begins. You'll play numerous rounds of Candy Bar Bingo (there are many variations and twists) to win different amounts throughout the game. Our enthusiastic game leaders build up the suspense and congratulate the winners at each round. The winners are loaded down with candy by the end!
Memorial Day - Labor Day. Check your weekly Fun Finder activity guide for details.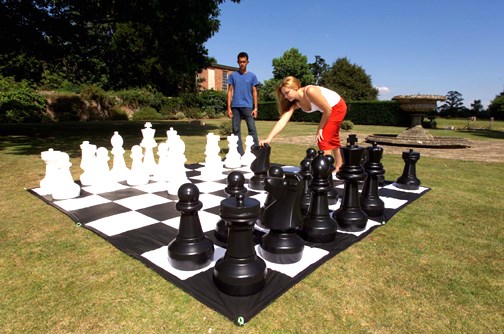 Giant Chess Set
Challenge your family or fellow campers to a chess match outside at our GIANT chess board!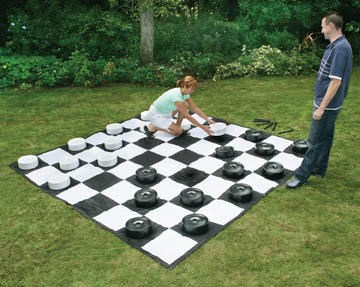 Giant Checkers
Adults and kids of all ages will love playing GIANT checkers outside on the giant board at the Nashville KOA!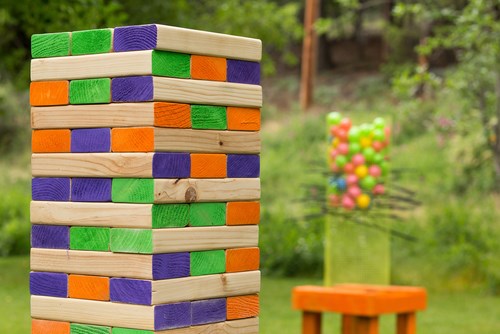 Giant Jenga
Join us in the Main Lounge, rain or shine, for Giant Jenga- a bigger than life game of physical and mental skill. Built on the simple premise of stacking blocks, Jenga engages players of all ages, across all cultures. Jenga's success rests on its solid play value. Players take turns to remove a block from a tower and balance it on top, creating a taller and increasingly unstable structure as the game progresses.
Natural Playground
Adventure awaits! Natural playgrounds and adventure playgrounds built using wood, stone, sand and water, are a growing trend thanks to their sustainability and their suitability in a wide variety of landscapes. We welcome everyone to discover what lies around the corner, through the tunnel, and at the top of the hill in our expansive Backyard!
Tie Dyed T-Shirts
Join us this summer for Tie Dye and bring a piece of your trip home with you!  Your tie-dyed t-shirt will be a wearable memento from your vacation. ($7 per shirt) With a demonstration and all supplies provided, this retro activity satisfies campers of all ages. Remember, there is no right or wrong way to tie-dye! Check your weekly Fun Finder activity guide for details.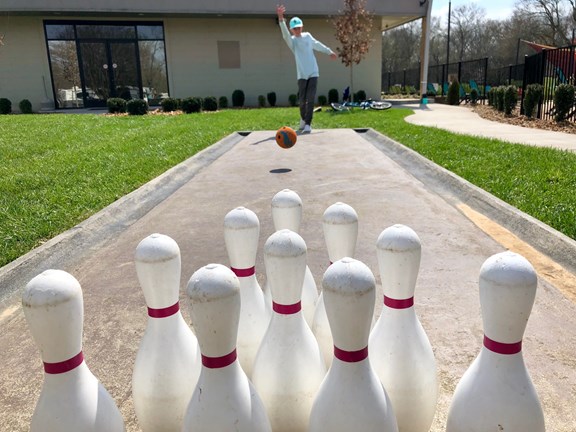 Bowling
Grab a friend and bowl a Strike! Check out the ball from the front desk and let the good times roll!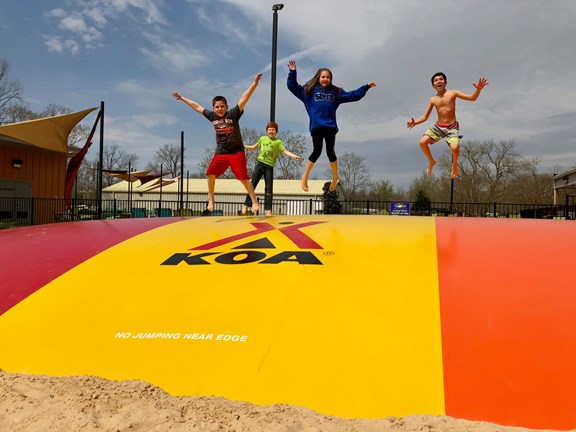 Jumping Pillow
What do you get when you cross a trampoline with a bounce castle? A Jumping Pillow! This safe activity provides countless hours of exercise and entertainment for the young and young at heart.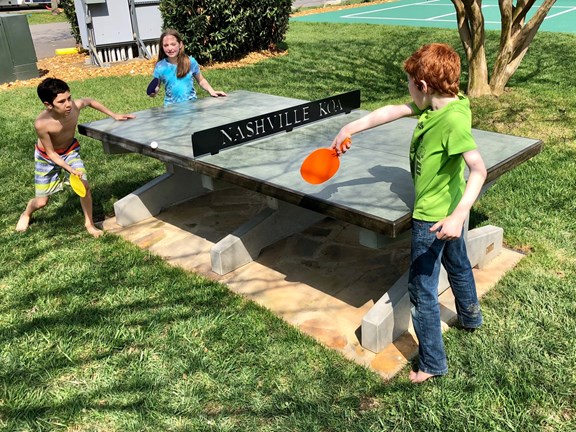 Outdoor Table Tennis
Singles or doubles? You decide! Table Tennis or Ping Pong, play it any way you like, just have a good time!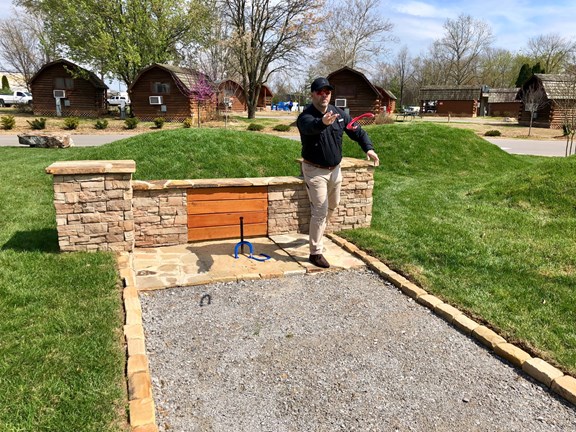 Horseshoes
Challenge your fellow campers to a horseshoe tournament!  This is one time when it counts to be close!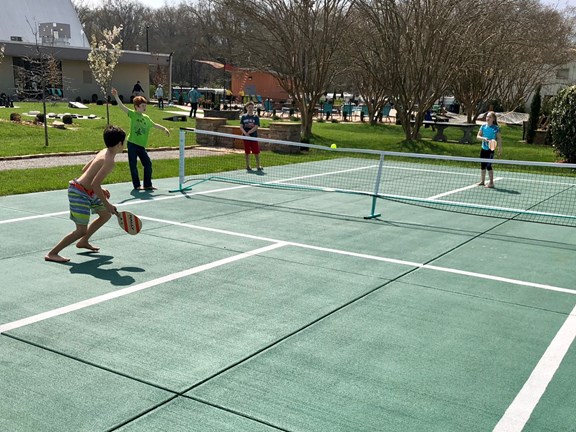 Pickle Ball Court
You've never played Pickle Ball? It's time to get in on the action!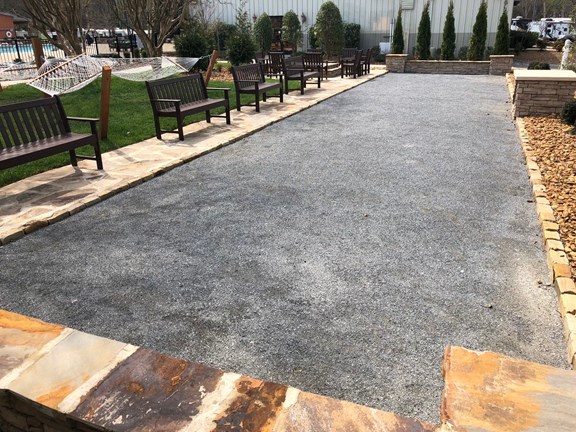 Bocce Ball Court
This game is best played with friends and a beverage in hand. Try your skill today!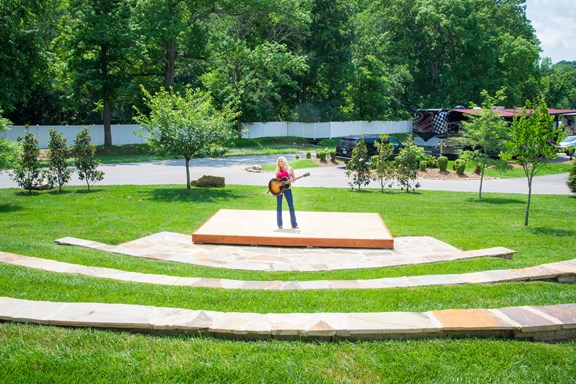 Ampitheater
We will have music events at our NEWLY built ampitheater.
Local Area Recreation