Alert
We OPEN for Kamping! Our Office, General Store, Restrooms, Mini-Golf, & Paddle Boats are open with enhanced Covid-19 procedures. Our Playground is open and disinfected daily. You can fish in our lake - no license needed! Our Organized Activities are suspended until further notice. Happy Kamping!!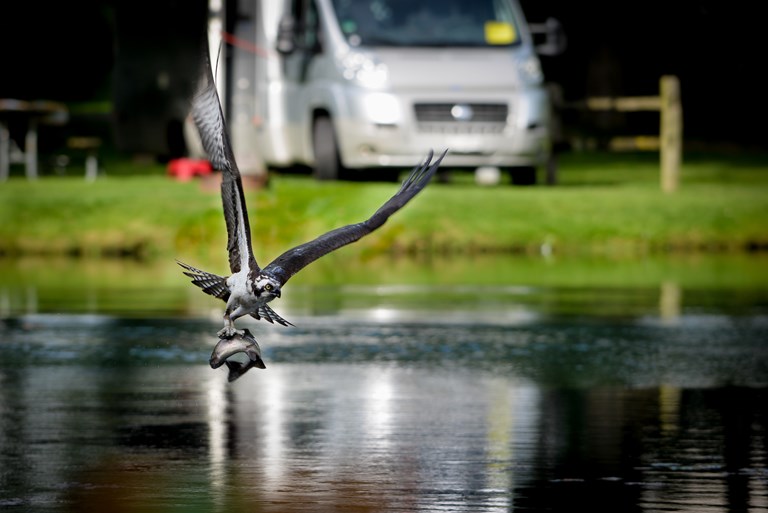 Lynden / Bellingham KOA Reviews
Spring into Summer!
Directions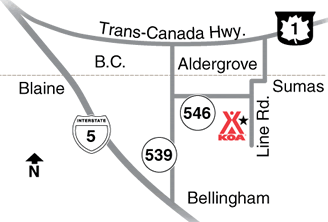 From I-5 N take Exit 256, Hwy 539, Guide Meridian. Travel 15 miles to Hwy 546, E Badger Rd, turn right. Travel 5 miles, turn right on Line Rd.
Get Google Directions
Jul 07, 2019
Never in our lifetime have seen so many fireworks from Lynden Washington KOA campgrounds and participating in all the excitement ��2019 Fourth of July!!!
Jul 07, 2019
Great for families with lots of kid friendly activities. Clean and close to town. Sites are very close together and we felt our site #4 had no privacy, limited space and we felt like we were in a parking lot visible to everyone. Some priority should be given to reservations made in advance to provide a more private site location.
Jul 07, 2019
Our stay was good. Just very packed!!
Jul 05, 2019
It was good once we got our camp site...the people before us did move out of the site until 1:30 pm...the family chose to snwin instead of packing up. So we sat around waiting for 90 minutes
Jul 05, 2019
Great activities for elementary school age kids!
Jul 04, 2019
overall, our stay was very pleasant;; 3 sites down from us was a family of 4-5 young adults; they play in the swimming pool and after it closed--had a party until almost midnight; someone needs to patrol the campsites and remind occupants regarding "quiet time" although our stay was pleasant, not sure we'll come back.
Jul 04, 2019
Great place to stay with grandkids! We had a really nice time. Lots of activities for the kids. The crew there really made an effort to keep things clean and tidy and run smoothly. The staff was friendly and helpful. Would we stay there again? You bet we would!
Jul 04, 2019
Great stay over Canada Long Weekend! Plenty to do with the kids and loved that you had "adult only" pool time 2x's a day. Staff were super friendly and helpful. Definitely, will be coming back again.
Jul 04, 2019
great people at front desk super nice�� this is our favorite campsite every year to celebrate canada day...great activities for the kids every year its getting better and better keep it up KOA family��
Jul 04, 2019
One night in a beautiful campground with superb amenities.
Jul 03, 2019
We visited from June 28-July 1st. We loved all the fun activities over the weekend. My only complaint was the noise overnight, it didn't affect me but our friends were tenting beside a noisy campsite. Other then that, we had a great time!
Jul 03, 2019
Very clean. Staff very friendly and helpful. But disappointed facilities were not wheelchair accessible. And no recycling.
Jul 03, 2019
In my 3 nights stay I found that the washroom was clogged more than few times. Plus it was not as clean. I have been there before and enjoyed the stay. First time tenting for me and our family have totally enjoyed it apart from the washroom issues. Thank you for your hard work to keep it clean and all the other activities provided for the families out there.
Jul 03, 2019
We had a great time and would have stayed longer if the site was available
Jul 03, 2019
Staff are always friendly and welcoming, Always clean and fun activities!
Jul 02, 2019
Best campground we have stayed at
Jul 02, 2019
Staff did a great job entertaining the kids and adults with fun games. Camp sites were extremely clean and staff making sure the campgrounds were well taken care of.
Jul 02, 2019
Our only real complaint is the lack of recycling. Any chance that will change?
Jul 02, 2019
Kids loved the stay. We had a good time but it was really loud at night. There were campfires and parties going till 3am. It made it pretty hard to sleep. Mini golf, arcade, pool, playground and activities were awesome. Lots for kids to do.
Jul 02, 2019
One of our favorite places to stay. Been coming here for years. The sites beside the lake are awesome.
Jul 02, 2019
We enjoyed our stay...had people partying until roughly until roughly 2 am and they were loud in our general area...not good when you have kids Bingo was fun...everything else as a parent and grandparent was nickel and diming ...as far as paddle boats /mini golf its not cheap to enjoy on a daily basis.
Jul 02, 2019
Fantastic experience. Exceptionally well maintained facility, friendly, helpful staff. Loved it!
Jul 02, 2019
It was great! The only disappointment was this was our 3rd year coming this wknd and there has always been fabulous fireworks. So we all went and sat out there...and finally realized none were being provided. If that was a change from previous years a heads up would've been nice. If it wasn't a change I can't believe all those fireworks in previous years were provided by the campers!! Kids c
Jul 02, 2019
We were tucked away in a corner surrounded by trees. It was a stark contrast to the hustle and bustle of the RV sites close to the pool. We loved the new wash area and outdoor shower.
Jul 02, 2019
Not a site for people looking to camp in the woods. I did not know that camping like this existed until i came here! it is actually perfect for family, social activities camping with kids. It is a giant park! RV site is a parking lot, and tent city. If it is not screaming kids all day, it is drunken loud adults at night. I packed up and left the next day with no refund given on my 3 night stay.
Jul 02, 2019
While the staff was great and the grounds were well kept and pretty, there are way too many people in such a small space. tent space was ridiculously small and the ground was so uneven ( nowhere to properly pitch tent) and the fact there is no recycling is a deal breaker for me. But the staff were fabulous and the grounds were clean. Bathrooms clean. But way too expensive for the space available
Jul 02, 2019
Historically, we feel comfortable allowing our children to explore the park without direct supervision. With that said, we have the following concerns: 1. the music choice for your dance party wasn't appropriate for young children. 2. Adults spent the entire day drinking at the pool. They used inappropriate language throughout the day. 3. Your staff is too young to enforce rules.
Jul 02, 2019
We found the campground over crowded. Our spot on the lawn was marginal with an extension cord and lawn hose for water and electric. Someone removed our picnic table while we were away and due to the "open lawn" environment, everyone spread into each other's space with vehicles, games, pets, etc.
Jul 01, 2019
This is the very best KOA we have ever stayed at. LOTs of activities and the kids just have the best time ever! Highly recommend!
Jun 30, 2019
Was great except for the last night, it was loud bangs sounded like a gun or fireworks �� couldn't sleep not knowing what was happening every 15 min repeatedly a shot would be fired or a firework was lighted up ! About 10 times , at times kids were scared cause we weren't sure what was going on , I called office and cops � and it stopped I think cops came out , I couldn't find an after
Jun 30, 2019
Very nice and clean friendly.... coffee gals need training.
Jun 29, 2019
We enjoyed our stay at the KOA. Our daughter loved the pool, mini golf, paddle boats, arcade and the ice cream! � We enjoyed watching all the pond wildlife as we sat by our campfire at our"waterfront" location. The bathrooms, the property and all amenities are kept in great condition and we all noted how friendly each of the KOA staff members are! We will definitely be coming back!
Jun 29, 2019
Incredibly clean and quiet! Highly recommend!
Jun 28, 2019
My wife really like this place. This year I brought her to another campgrounds, and we always come back here. Surely I have to agree with her that KOA Lynden is the best place to be. It is so close that my grandchildren can drop by also. Our home away from home.
Jun 28, 2019
Peaceful stay, beautiful clean sites, friendly helpful staff
Jun 27, 2019
Beautifull Campground, well maintained and very friendly and helpfull
Jul 06, 2020
Clean, Very Friendly and great customer service 👌
- Kristal Gollihar on Google
Jun 11, 2020
Great place. Friendly stuff. Loved our stay.
- Natalia V on Google
May 17, 2020
This place is so clean. Beautiful grounds. Customer service is 💯. We will for sure be back!
- Sarah Sonnentag on Google

Lynden / Bellingham KOA
Open All Year
8717 Line Road
Lynden, WA 98264
Check-In/Check-Out Times
RV Sites, Tent Sites
Check-in: 1:00 pm, Check-out: 12:00 pm
Accommodations, Kabins
Check-in: 2:00 pm, Check-out: 12:00 pm
Get Google Directions

© 2020 Kampgrounds of America, Inc.