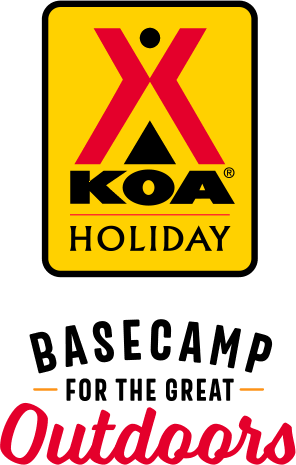 KOA Holiday Campgrounds
Whether you're exploring the local area or hanging out at the campground, KOA Holidays are an ideal place to relax and play. There's plenty to do, with amenities and services to make your stay memorable. Plus, you'll enjoy the outdoor experience with upgraded RV Sites with KOA Patio® and Deluxe Cabins with full baths for camping in comfort. Bring your family, bring your friends, or bring the whole group – there's plenty of ways to stay and explore.
KOA Holidays Feature:
RV Sites with a KOA Patio®
Deluxe Cabins with full baths
Premium Tent Sites
Group meeting facilities
Directions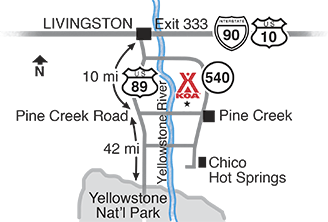 From I-90 Exit 333: Head south for 10 miles towards Yellowstone Park. Turn left on Pine Creek Rd. Drive slightly more than 1 mile, our KOA is on the left just across the bridge.
From Yellowstone Park: Take Hwy 89 north towards Livingston. Take a right Pine Creek Rd between mile marker 43 and 44. Drive just over one mile. 
The road getting to our KOA is at times a little rough. The state is planning to redo the road, but that project is a few years out. Please take your time and drive slowly. 
GPS: N45.51206. W110.57971
Get Google Directions
Sep 19, 2019
Beautiful setting. Friendly staff. Quiet.
Sep 18, 2019
Lovely campground in a beautiful setting!
Sep 18, 2019
Beautiful setting around the park.
Sep 18, 2019
Very friendly staff beautiful location very clean restrooms and shower area campground itself was also very well maintained would recommend this KOA to anyone visiting this area
Sep 18, 2019
Very helpful staff. Went out of their way to help with backing in and with getting to dump station. That stations location is awkward for getting to when exiting park as it is on left hand side coming into and right hand side exiting making for a few circles of the park to get oriented. We will stop again!
Sep 18, 2019
Beautiful campground right along the Yellowstone River. Staff was very friendly.
Sep 17, 2019
We stayed at the Livington/Paradise Valley KOA on our way to Glacier National Park. Our cabin was very clean and the Yellowstone River was just steps away from our cabin. We loved hearing the sound of the river flowing over the rocks during the evening. We did not have kids but the KOA seemed very kid-friendly. The KOA staff was friendly and seemed to be truly enjoying their work!
Sep 17, 2019
We were fortunate to escape the rain and spend a glorious long weekend in what I refer to as "My happy place."
Sep 17, 2019
Beautiful campgrounds, right by the Yellowstone River. Gorgeous scenery. Very quiet.
Sep 17, 2019
It was great; had nice weather too!
Sep 16, 2019
We love this KOA. We have been coming back every fall for 5 years. The only very small issue that I have is that we could never get the fireplace to turn on in our cabin so the first night we were a bit chilly in the main room. We will be back again next year for sure.
Sep 16, 2019
Everything about our stay here was perfect. The staff was amazing and went out of their way to assist us by delivering wood to our cabin. The sites are flanked between the Yellowstone River and mountain range. A great restaurant right up the hill and minutes away from the Livingston downtown.
Sep 16, 2019
Very friendly
Sep 16, 2019
I would love to tell you how bad our stay was however there are NOT enough characters in this box to explain. Will never stay there and frankly not impressed with KOA after this stay and how were treated. We have stayed at a lot of locations over the last 4 yrs but after this stay. Really reluctant to use KOA again.
Sep 16, 2019
Fantastic Time
Sep 16, 2019
Love this place! I stay here in early spring/late fall because I work in the area in the summer. The facilities are top notch, and the employees are wonderful! Everyone remembers me from previous stays which makes me feel right at home. I'm mostly a tent camper, but I just recently upgraded to a cabin for my most recent visit. Everything is above and beyond expectations! Thanks, and see you soon
Sep 15, 2019
Site's to close together people constantly walking thru campsite a,road to KOA horrible.
Sep 15, 2019
Nice facility. Great hosts.
Sep 15, 2019
Loved the property and scenic views. Would have liked that they put our group of three together as they did last week when we visited.
Sep 15, 2019
Friendly staff, location is nice and quiet, facilities were in working order, site should have been clean when we arrived, the road to the campground is rough.
Sep 14, 2019
What a great park. Very helpful staff, site 18 was right on level, restrooms were spotless and shower water pressure was great! Didn't take advantage of the indoor pool, but from what I saw it was totally nice. Excellent location from the north end of Yellowstone
Sep 14, 2019
Nice view of the mountains and the river.
Sep 14, 2019
Perfect location for sight seeing. Quiet, clean, attentive staff. A very cute, rustic dog run. Beautiful riverside location. Pool warm and inviting.
Sep 13, 2019
Our family was there for three nights with 3 RVs and rented 2 cabins. Everything was conveniently located clean, and the staff was helpful and friendly. We plan to make this an annual gathering.
Sep 13, 2019
It was great!
Sep 12, 2019
We were there for a 3 night stay paying for full hookups. Friday night there was an all night power outage so we didn't have electricity or water. Saturday night the cabin beside us #22 had 4 vehicles with several additional people sleeping in the vehicles and they partied very loudly outside The cabin until 7:00 am on Sunday morning. Sunday night stay was okay.
Sep 12, 2019
Convenient to Yellowstone. Camped in a dead end that was a bit crowded. Very friendly staff.
Sep 12, 2019
Wonderful stay, very nice people who worked there and helped us check in even tho it was late.
Sep 11, 2019
The campground was great overall. The grass around our site was rather worn - probably just the end of the season. The bathrooms were average - they need some upgrades. Need to look at the ones in the Billings KOA, they are the best we have seen.
Sep 11, 2019
our site was very nice and kept up. the staff there was very nice and helped.1 staff member went out of his way after working his shift helped us get into our site and helped us with our sewer hose.ours was broke. He showed us where to get one and helped us replace the old 1.the next morning while on his shift came to check on us even helped us break camp.this employee's name was Lance.YOU GO LANC
Sep 11, 2019
Everyone was so friendly and helpful. It's a beautiful campground right by the Yellowstone River! We loved staying there in our motorhome.
Sep 10, 2019
Very clean,staff was professional and friendly.
Sep 10, 2019
Convenient stopover on my way from Great Falls, MT to Yellowston Nat'l Park. My son enjoys the cabins and enjoyed the swimming pool.
Sep 10, 2019
Beautiful location on the Yellowstone River. Very friendly and helpful staff. We have stayed at 50+ KOA's and this is one of the best. Site 50 was awesome!
Sep 09, 2019
Really enjoy the natural setting with the Yellowstone River running through. Extra activities were utilized by the young adults with me. Swimming in the pool, outdoor large-motor play yard & they rented the 3 wheeler bikes! Been staying here since 2005, a real gem in the Treasure State!
Sep 09, 2019
Back-in sites are very tight and short.
Sep 09, 2019
My wife and I had a great time. The staff was wonderful. We had a great view of the mountains from are spot. Dad tagged along with his RV and had a great time as well! Even with the blue grass festival in town the spots we had were very quiet and peaceful. We will defiantly be making reservations for spring or summmer next year. Highly recommend staying there. On the river so bring them rods!
Sep 09, 2019
The cabin we rented was very nice, but there was a large group of young adults in the site next to us who were having a very loud party until the wee hours of the morning. If you've ever stayed at a KOA, you know that the sites are very close together. The loud yelling and partying made it very difficult to sleep.
CAMPGROUND RESPONSE / COMMENTS:
Thank for the review. We really appreciate your input. We are working hard to try to find a way to prevent incidents likes this from happening every night that there is a concert. We hope that you will give us another chance so that you can enjoy this beautiful park at its best.
Sep 08, 2019
Everyone was very friendly & accodating.
Oct 20, 2020
I enjoyed the place its everything you expect from a campground
- ww2 history boii on Google
Oct 02, 2020
Great campground with level sites. Ready in and out.
- Kim Autry on Google
Sep 30, 2020
Campground is right on the Yellowstone River. Cute cabins right on the shore that looked cool. We stayed in a full hook-up pull-through RV spot on the other side of the campground and it was an easy walk to the river. Gorgeous views of the mountains all around. Nice quiet atmosphere. About a 40 minute drive to Yellowstone which we were happy to do to avoid staying in West Yellowstone. Easy booking and check-in, super helpful employees. We needed a little later checkout and they accommodated us with no problems. Albertsons grocery right off the highway about 10 minutes away. Saw reviews saying they didn't like the highway noise but we heard none of that. Campground is about 1.5 miles off the highway-all we heard was cattle from the nearby ranch, and the river. Only reason for knocking off a star is that the facilities are pretty worn. Our patio was rough and the picnic table was pretty rickety. Laundry facilities (mostly) worked but machines look like they haven't been replaced in 30 years.
- MandiB75 on Trip Advisor