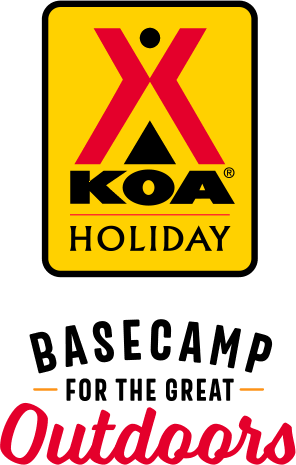 KOA Holiday Campgrounds
Whether you're exploring the local area or hanging out at the campground, KOA Holidays are an ideal place to relax and play. There's plenty to do, with amenities and services to make your stay memorable. Plus, you'll enjoy the outdoor experience with upgraded RV Sites with KOA Patio® and Deluxe Cabins with full baths for camping in comfort. Bring your family, bring your friends, or bring the whole group – there's plenty of ways to stay and explore.
KOA Holidays Feature:
RV Sites with a KOA Patio®
Deluxe Cabins with full baths
Premium Tent Sites
Group meeting facilities
Directions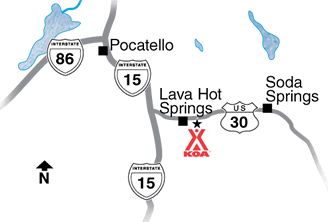 Take exit 47 off of I-15.

Turn East onto US-30

12.7 miles turn right onto Bristol Park Lane. Watch for big yellow KOA  Holiday sign.

There are two KOA Holidays in Lava Hot Springs; East and West. To save frustration do not exit under the speed slides, as this is the exit for Lava Hot Springs West KOA. Lava Hot Springs East KOA is located 1/2 mile east of the speed slides.

Get Google Directions
Oct 22, 2020
It was fine. Folks were kind, facilities were clean and the only thing that kept me awake at night was the wind and the train.
Sep 25, 2020
When we arrived we were assigned a tent site, but quickly realized our tent wouldn't fit. The lady on the office switched us to the one we knew would work without an issue. The restrooms were very clean and heated which was nice since we were there late September and the nights were chilly.
Sep 14, 2020
The campground was great and we enjoyed our group site, but on the downside we battled with a skunk on our site from 7 PM until two in the morning.
Sep 13, 2020
The location on the river is very nice, as is being able to walk to restaurants in town. The trains and interstate traffic did not bother me as much as I thought it would.
Sep 08, 2020
Bathrooms and showers were great. Grass was green and well kept. Loved the variety of tent sites RV sites and mini houses. The River tubing passes through the KOA was a little too expensive.
Aug 25, 2020
great grounds and very well maintained. The Trains during the night and the 6am Trash Truck made sleeping less than ideal. good people but distractions were not ideal
CAMPGROUND RESPONSE / COMMENTS:
Thank you for your comments. The train tracks do run parallel along hwy 30 as does the town of Lava Hot Springs. The trash is scheduled to pick up every Monday and Thursday.
Aug 20, 2020
SITE TT03 WOULD HAVE BEEN A 5 BUT: ONE OF THE 2 PICNIC TABLE BENCHES HAD NO SCREWS ANCHORING THE BENCH TO THE FRAME. MY WIFE SAT ON THE EDGE OF THE SEAT, THE SEAT FLIPPED OFF THE FRAME AND SHE FELL TO THE GROUND AND HURT HER BACK. I TOLD ONE OF THE GROUNDS CREW AND A LADY AT THE FRONT DESK AND NOTHING WAS DONE. A SERIOUS ACT OF NEGLIGENCE. THE ADJUSTABLE GRATE ON THE BBQ GRILL WAS MISSING.
Aug 19, 2020
We had a great time but it does get very loud with the train and freeway being so close to the campground. Bathrooms and showers were clean.
Jul 27, 2020
great stay, but needs more restrooms.
Jul 27, 2020
We had a blast!! You guys rock! So nice and helpful!
Jul 17, 2020
Beautiful, clean, green campground. The bathroom/showers are amazing!
Jul 14, 2020
Very nice property. The bathrooms were great.
Jul 05, 2020
My space was nice. The downside was that someone came through my tent site and stole one of my camping supply bags during the night. I reported it to the office the next day and the overnight counter person didn't report it to themain staff. I then reported it to the main staff and they reported it to the police since they'd had multiple other thefts during that same night.
Jul 05, 2020
Excellent. Everything was provided for. The store had everything a camper would miss to pack. The facilities were well kept. Would absolutely return.
Jun 15, 2020
The bathrooms and other amenities were very clean and well maintained. The staff was very attentive and very courteous.
Jun 01, 2020
All was well, very clean, loved the bathrooms. Only issue was the noisy freeway (not your fault) and mosquitoes, and wind (also not your fault)
Oct 13, 2019
Friendly staff and clean facilities
Sep 23, 2019
We LOVED staying here!! The site was very clean and felt safe! There was a grill at our site, and then the pavilion had a stove, nice grill, showers, bathrooms, and playground, tetherball, and a nice hiking area! We'll be back for sure!!!
Sep 17, 2019
The kids loved the playground, especially the tetherball, and we appreciated how quiet it was during the week. The bathrooms were very clean and we used the laundry room. We enjoyed our stay.
Sep 06, 2019
pretty expensive for one night for a little square, and to camp in the middle of a bunch of people you don't know ...
Sep 03, 2019
Era un fin de semana festivo pero todo estava bien limpio. Gracias KOA
Aug 19, 2019
We loved everything about the stay except for the loud train that rolls through all night long! The campsite was clean and very convenient. We were very close to a bathroom with showers and all were very lean and well taken care of. It was very close to the Hot Springs and pool! We loved our stay, but just wish the trains didn't keep us up all night :(
Aug 19, 2019
It was overpriced for what we got. It was $100 to put 3 tentson one site +2 cars. Maybe it was because we got the Wi-Fi?Also, it was very noisy! Lots of trains! Ear plugs didn't help. We also had campers who stayed up till midnight making lots of noise! Wish there were a rule about lights out at 10:30. The site was nice, lots of trees. It isn't near the hot pools though FYI.
Aug 14, 2019
Everyone at Lava Hot Springs KOA were very pleasant and helpful. This is our second time staying there and it was nicely kept both times.
Aug 04, 2019
We enjoyed the running water and ability to shower. My husband said "that was the hottest shower he has had in along time". My only regret is that I didn't know you had tent sites with power. My husband and I need to use medical equipment at night. This was a helpful resource to have power access. We were accommodated by moving our reserved site.
Jul 30, 2019
Wonderful tent site with quick access to town and always a very clean campground and one of friendliest places around.
Jul 29, 2019
KOA has really stepped up their game. I have already referred people to this camp ground. We will be back soon. Michael
Jul 29, 2019
They campground people are so friendly, and the place was very clean well organized and lots of shade. My family and I will be returning for sure
Jul 22, 2019
IT was amazing.. Like always.
Jul 22, 2019
Nice clean sites a little tight could have used more full service hookups
Jul 18, 2019
I would definitely stay there again the staff was great and super friendly the bathrooms and showers were always clean, the only thing that happened was that one of the neighboring camps was involved in a domestic and my husband had to go break it up and keep them separated until the cops arrived
Jul 11, 2019
There was a family reunion that had 120 people they over took all the amenities, rest room shows, and the WI FI didn't work. I felt like you are charging for every spot of grass you have.
CAMPGROUND RESPONSE / COMMENTS:
We only charge for sites that are rented and any extra people, cars, or tents. The 4th of July is a very busy time of year.
Jul 10, 2019
Friendly staff, knowledgeable host.
Jul 06, 2019
I loved staying here to camp I sure will stay again
Jul 05, 2019
The Quelway a lava Hot Springs at the upper end of the town, is a nice campground. The staff are friendly, the campground is clean, and there are lots of options. The restrooms and showers are also clean. One thing to keep in mind is if you are a light sleeper the train comes by constantly even during the middle of the night. This is not Kay always issue, but just be aware of it
Nov 18, 2020
Extremely comfy and cozy little cabin. Temperature dropped into the 20's both night's we were there. The cabin was toasty warm. Within walking distance to hot Springs and restaurants. Staff was great to work with, even answering several calls prior to arrival through check out.
- BRENDA SOMERS on Google
Nov 14, 2020
We stayed in a cabin. It was clean and comfortable. Has a fridge, great water pressure in the shower. Thank you koa for a wonderful stay.
- Jackie Lewis on Google
Nov 07, 2020
Great campground very clean. Friendly knowledgeable staff
- terry newman on Google