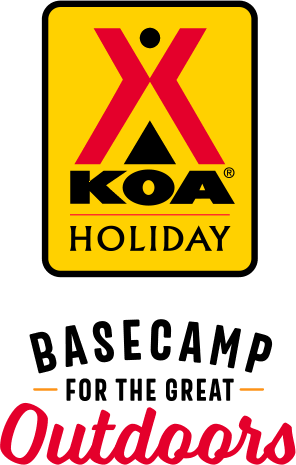 KOA Holiday Campgrounds
Whether you're exploring the local area or hanging out at the campground, KOA Holidays are an ideal place to relax and play. There's plenty to do, with amenities and services to make your stay memorable. Plus, you'll enjoy the outdoor experience with upgraded RV Sites with KOA Patio® and Deluxe Cabins with full baths for camping in comfort. Bring your family, bring your friends, or bring the whole group – there's plenty of ways to stay and explore.
KOA Holidays Feature:
RV Sites with a KOA Patio®
Deluxe Cabins with full baths
Premium Tent Sites
Group meeting facilities
Directions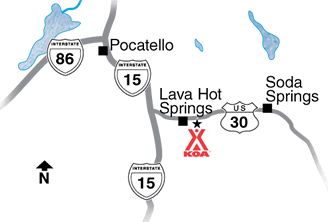 Take exit 47 off of I-15.

Turn East onto US-30

12.7 miles turn right onto Bristol Park Lane. Watch for big yellow KOA  Holiday sign.

There are two KOA Holidays in Lava Hot Springs; East and West. To save frustration do not exit under the speed slides, as this is the exit for Lava Hot Springs West KOA. Lava Hot Springs East KOA is located 1/2 mile east of the speed slides.

Get Google Directions
Jul 23, 2021
Had a good time! We will be back
Jul 23, 2021
My fault for not reading the fine print, but the dog fee was exorbitant especially as our site had very little grass for the dogs to walk on. The Camp K9 was a joke. A small fenced area without enough room to run in. A nice campground in a nice location but the new area needs more grass and less gravel.
Jul 23, 2021
perfect location, walkable to hot springs, tubing and cute town
Jul 23, 2021
Would be 5 stars except for the high price.
Jul 22, 2021
This was our first time here. It was wonderful. Only problem we had was that we showed up before the 3:00 check in time and they would not let us in. We had to go find a spot to hang out for an hour and a half. Lava is a small town and hard to maneuver a 37 foot trailer and truck. Our spot they put us in had an amazing patio. Great views.
Jul 22, 2021
We had a relaxing time . Our stay was to short. We will definitely come back.
Jul 22, 2021
Nice facilities, bathrooms with showers and sinks, laundry, a group pavilion with sink and stove/grill; campsite is a small patch grass, picnic table, shade tree, small fire pit, hook-ups water, electricity, sewer. But crowded close other campers. Price rivals cost of hotel room ($77 per night). I'm sure we were paying for use of facilities. We're used to camping wide,open spaces, own facilit
Jul 22, 2021
Had such a good time, lots to do close to the KOA and walking distance. Our cabin was quaint, clean and supplied with all the basics we needed for our stay. Would definitely recommend the KOA campground.
Jul 22, 2021
Need more bathrooms. Odd parking situation at some spots. Staff was not very informative of campground amenities. Was a convenient location. Liked listening to the river, and the trains.
Jul 21, 2021
Friendly and helpful staff. Clean park. Really nice improvements over the past couple of years.
Jul 21, 2021
Cabin very well done - somehow I missed that I needed my own knives, coffee, salt and pepper. We brought bedding and towels though. Queen bed was horrible, though. Just horrible. For $140 a night, I expected a good bed. Patio very cute, though, and we really appreciated the BBQ - although the lighter part of it was not working so I had to find a match.
Jul 21, 2021
This is a beautiful place to stay
Jul 21, 2021
Beautiful and convenient location, clean, friendly. Thanks for a great experience
Jul 20, 2021
Spent 4 nights, we had many families in our group. Nice shade close to rafting. We walked to town and rafting. Park was clean, neat. Restrooms clean. We loved it.
Jul 20, 2021
Great time in Lava and at this KOA as always!
Jul 20, 2021
The low rating is based upon the location, which is too close to the train tracks and roadway.
Jul 19, 2021
Appreciated being able to check in early, close to town within walking distance to everything. Activities and restaurants. Would recommend 78 as a good place to eat.
Jul 19, 2021
The restrooms were clean. We had a big campsite.
Jul 19, 2021
Nice newer cabins with a beautiful patio and view!
Jul 19, 2021
Great! No issues and I love the service.
Jul 19, 2021
I love the feel of this KOA. It's so clean and well loved. You can tell the owners love their property. The bathrooms are gorgeous and they even give you a covered patio with lots of tables and a stove and large grill! Walking distance to everything in town.
Jul 18, 2021
Traveled from bear lake to lava hot springs to spend a day rafting the river. Rented a cabin for our family of four. Very comfortable, had micro/fridge, a/c for warm summer afternoon and river view with nice patio to enjoy evening fire, clean bathhouse and well kept grounds. Small playground with tether ball and volleyball.
Jul 18, 2021
Shower floors were dirty Needs to be cleaned more often with all the sand asked for handicap spot third tier was not with curbing and hard to get over. Not handicap friendly Ive always enjoyed the lower area parking was dissappointed with stay this trip to LHS. KOA
Jul 18, 2021
Very clean, beautiful, and very accommodating people. Completely enjoyed our one night. Look forward to coming back
Jul 16, 2021
The RV area was shady, pleasant, and well maintained. The nearby train tracks made the night most unpleasant with the frequent freight trains passing by, and we cut our visit short because of the noise.
Jul 16, 2021
Very clean and beautiful. Staff was friendly and the new sites are nice. Love the grass and patio. Enjoyed the rocking patio chairs. Beautiful bathrooms. Great walk to town.
Jul 15, 2021
Enjoyed how close to the springs and fun center. Nice and shaded site. Campfire friendly.
Jul 15, 2021
Stay was awesome, place was clean.
Jul 14, 2021
This was an overnight stop for us. After staying at this KOA, we'll be sure to schedule an extra day in the schedule next time.
Jul 14, 2021
nice restrooms. showers, crews, etc. rated them a ten (10)..... very noisy area we were in, by a major highway (trucks using exhaust brakes, trains)..... the worst item in the 'wings' added to the camping sites. i was told they were to designate parking areas. but i couldn't get into the spot. actually had to put truck in four wheel and climb the concrete barrier around the grass
Jul 14, 2021
It was nice, clan and quite. I would highly recommend
Jul 14, 2021
We loved the paw pen!
Jul 13, 2021
The rates are ridiculous!! This is camping not a 5 star resort. The staff is great & knowledgeable. I hope they are paid well, for the prices we paid. We have stayed here before & didn't get a KOA discount.
Jul 13, 2021
The staff is very friendly and helpful. We come back each year and enjoy the accommodations. The only real complaint we had was the BBQ grill outside L32 (I think that's where we stayed. It's the cabin that sleeps 6) wouldn't light. I had to borrow matches from some other campers and get it to light. But overall, it's a great place and we enjoy it. This is probably our 10th year coming up.
Jul 13, 2021
The campground is well maintained by friendly staff. There is a busy train track across the road, so you might want earplugs at night. We stayed in an older, smaller mid-grade deluxe cabin along the road. It had a nice large mini-fridge but only one rather inconvenient cupboard and drawer. The newer same-sized cabins along the river have a sink and smarter shelving. But we had better shade!
Jul 13, 2021
We loved the Lava Hot Springs East KOA. It is in a great place and close to everything! The cabins were nice to stay in. The only problem was the cabin shock when you walked from one end of it to any other and the blinds on the door did not close all the way so we put a blanket on it for privacy. There is a great BBQ area with a fabulous view, table and 4 chairs as well as two rocking chairs.
Jul 12, 2021
We love staying at Lava East KOA and have been staying here during the 4th of July weekend for many years. The good: Very walkable to the town and river, concrete patio sites with tables overlooking the river. The negative: Prices keep getting higher and do not include a swimming pool or cable & the trees leave sap on your RV. They say certain sites have size restrictions when they shouldn't.
Jul 12, 2021
Absolutely loved our little deluxe cabin. Love the whole area. I even learned to love the sound of the trains.
Jul 12, 2021
Clean bathrooms and showers and our camp spot was perfect. We love this KOA!
Jul 12, 2021
Great access to down town. Bit pricey for normal KOA so if you are not here to go tube or swim at water park you may want to limit your stay. If you are using local activities then worth the premium price
Jul 12, 2021
My brother & his family were going to stay here, but their daughter got covid & they weren't able to come. We were very upset that we couldn't cancel or switch it to another weekend.
Jul 22, 2021
가격도싸고 너무조와요 8불 깨끗하고 친절하고..언제 다시올려나..아쉬움만 가득..
- Okyo Kim on Google
Jul 15, 2021
Clean bathrooms, little store in office, nice employees, clean grounds, spacious rv sites.
- Kristin D on Google
Jul 14, 2021
We had the best camping spot. Loved it. Great view of the river.
- Josette Silva on Google