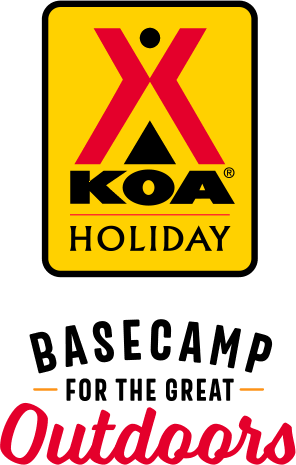 KOA Holiday Campgrounds
Whether you're exploring the local area or hanging out at the campground, KOA Holidays are an ideal place to relax and play. There's plenty to do, with amenities and services to make your stay memorable. Plus, you'll enjoy the outdoor experience with upgraded RV Sites with KOA Patio® and Deluxe Cabins with full baths for camping in comfort. Bring your family, bring your friends, or bring the whole group – there's plenty of ways to stay and explore.
KOA Holidays Feature:
RV Sites with a KOA Patio®
Deluxe Cabins with full baths
Premium Tent Sites
Group meeting facilities
Directions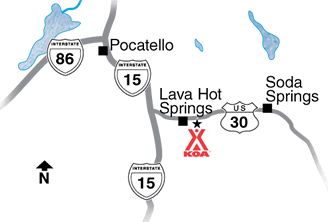 Take exit 47 off of I-15.

Turn East onto US-30

12.7 miles turn right onto Bristol Park Lane. Watch for big yellow KOA  Holiday sign.

There are two KOA Holidays in Lava Hot Springs; East and West. To save frustration do not exit under the speed slides, as this is the exit for Lava Hot Springs West KOA. Lava Hot Springs East KOA is located 1/2 mile east of the speed slides.

Get Google Directions
Nov 29, 2020
We absolutely love Lava Hot Springs and already booked our next stay there for May 2021. This is our favorite camping spot.
Nov 29, 2020
I was very pleased. Great place to stay
Nov 23, 2020
Love the improvements! The place looks amazing!
Nov 19, 2020
Very cozy and comfortable cabin. The temperature dropped into the 20's both night's were were there. Three cabin stayed toasty warm. All the staff were extremely helpful from answering calls as we drove in during a snowstorm through check out. Cabin was right on the river and walking distance to the hot pools and restaurants. Thank you KOA staff.
Nov 14, 2020
The facility is very nice and within walking distance to town.
Nov 10, 2020
Cute cabin, we arrived late the first night and the staff was very good about making sure we were taken care off. Awesome cabin with view of the river
Nov 09, 2020
The spots are too close together and there's not enough parking. If you want to enjoy a campfires you're right next to your neighbor. The area is beautiful and right next to the river. There is a nice walking path to the hot springs or into town.
Nov 08, 2020
We arrived late but the map was good and getting to the spot was easy. Pleasant sound of the river nearby and not unpleasant sound of trains through the night.
Nov 06, 2020
Beautiful spot! Nice people also
Nov 02, 2020
Great location along the river. Traffic and trains a little noisy. Campsite #12 was great.
Nov 02, 2020
This is a very nice koa, the bathrooms were awesome! One of the cleanest we have been too. It was also great cause the sheriff does random drive through just to look around, gives you a nice sense of security. The only down fall is the park for the children is right next to the main highway. The koa employees also drive around and they are very warm and welcoming
Nov 02, 2020
Very clean cabins. Had everything we needed ( we remembered to bring our own linens). We enjoyed a nice dinner on the patio and slept well. Front desk staff was very friendly.
Nov 01, 2020
Very nice facility, friendly staff.
Oct 31, 2020
We knew ahead of time the weather would be cold, management called ahead of time to ensure that we were aware of the situation and some additional requirements to protect us and our trailer. Much appreciated can't wait to come back!
Oct 30, 2020
We Love it there and will always go back. And and her staff are all so pleasant. It's our go to place, highly recommend it.
Oct 30, 2020
It was cold, but very enjoyable. Can't wait till summer.
Oct 28, 2020
Excellent location. Close to town. All the amenities!
Oct 27, 2020
All the facilities where very nice with helpful and friendly staff. Didn't know about the newer east addition, will try and get a patio spot next time.
Oct 27, 2020
Beautiful well maintained park with large level sites. All the staff are great !!
Oct 27, 2020
Lovely stay in a very nice camp ground. Bathrooms were clean and showers warm. Nicely situated with a trail to town. Staff were friendly and helpful.
Oct 26, 2020
Friendly, clean, loved our stay! Fresh coffee in the morning and super helpful staff.
Oct 26, 2020
Such a cute cabin! Very cozy and clean. All the workers there as well were friendly and nice! Will come back! :)
Oct 25, 2020
La The people at this campsite were very nice, but unless you stay at the bottom under the trees you are unlikely to want to come back to this campsite. A new area on a hill overlooking the existing campsites and about 20 feet from the truck filled freeway and the tiny dog park is next to the freeway. They built 2 ft high concrete curbs around each spot rendering it nearly impossible to park.
Oct 25, 2020
We love this KOA. The sites are clean and the staff is friendly and helpful.
Oct 24, 2020
New upper sites on East end had so much curbing that we had to back up several times to get into pull thru site without running over any curbing. Very hard to get into and out. Trash was overflowing at all dumpsters.
Oct 24, 2020
Staff is very friendly, helpful and informative about the area and available amenities.
Oct 24, 2020
Every interaction with staff was pleasant. Very accommodating.
Oct 23, 2020
We rented a cabin Nd they were so accommodating we didn't realize the cabin we rented didn't have a couch so they let us switch to one that did and made our trip special the staff was so helpful and friendly we will stay here again
Oct 22, 2020
It was fine. Folks were kind, facilities were clean and the only thing that kept me awake at night was the wind and the train.
Oct 21, 2020
It was pretty good. The only issue is that the fire pits were covered with leaves and both me and my wife stepped in them unknowingly and fell. She twisted her knee and my back was jarred.
Oct 21, 2020
Super friendly staff.
Oct 20, 2020
Perfect cabin experience. You can hear the river and it's so peaceful. The beds were comfortable too.
Oct 19, 2020
The staff was great which is why I gave it any stars however its unfortunate how close this campground is to train tracks. The train went by numerous times at night allowing almost no sleep. We has a group and rented 5 different spots at this campground nobody was able to sleep.
Oct 19, 2020
The grounds are clean. The store is nice. The staff is nice. The location, though, is terrible. The KOA is located right on a busy highway and within yards of a busy train track (a train went by about every three hours). If you want to sleep while you're visiting Lava Hot Springs, this may not be the KOA for you.
Oct 19, 2020
Came for a weekend getaway. The park was very clean and beautiful with the fall colors. The camp hosts were great. The Portneuf River runs right through the campground. You are about a 5-10 minute walk from the main town including the hot pools. Those pools are super relaxing and I would recommend going first thing in the morning before it gets crowded. I was impressed with the campground itself.
Oct 19, 2020
It was a beautiful spot.
Oct 19, 2020
We had a great stay at the Lava Hot Springs East KOA. I had a lot of questions when we first arrived and Jim was very friendly and helpful with everything I needed. Every employee I talked to over the weekend was very friendly and nice. The Koa itself was very clean and well kept.
Oct 19, 2020
Camp grounds are very well kept!! Beautiful Location, friendly staff!! Will def be staying again!
Nov 18, 2020
Extremely comfy and cozy little cabin. Temperature dropped into the 20's both night's we were there. The cabin was toasty warm. Within walking distance to hot Springs and restaurants. Staff was great to work with, even answering several calls prior to arrival through check out.
- BRENDA SOMERS on Google
Nov 14, 2020
We stayed in a cabin. It was clean and comfortable. Has a fridge, great water pressure in the shower. Thank you koa for a wonderful stay.
- Jackie Lewis on Google
Nov 07, 2020
Great campground very clean. Friendly knowledgeable staff
- terry newman on Google