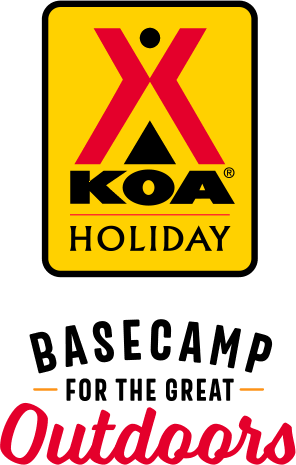 KOA Holiday Campgrounds
Whether you're exploring the local area or hanging out at the campground, KOA Holidays are an ideal place to relax and play. There's plenty to do, with amenities and services to make your stay memorable. Plus, you'll enjoy the outdoor experience with upgraded RV Sites with KOA Patio® and Deluxe Cabins with full baths for camping in comfort. Bring your family, bring your friends, or bring the whole group – there's plenty of ways to stay and explore.
KOA Holidays Feature:
RV Sites with a KOA Patio®
Deluxe Cabins with full baths
Premium Tent Sites
Group meeting facilities
Directions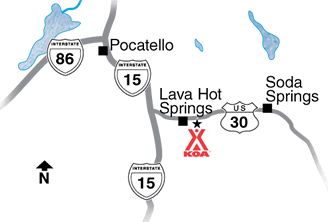 Take exit 47 off of I-15.

Turn East onto US-30

12.7 miles turn right onto Bristol Park Lane. Watch for big yellow KOA  Holiday sign.

There are two KOA Holidays in Lava Hot Springs; East and West. To save frustration do not exit under the speed slides, as this is the exit for Lava Hot Springs West KOA. Lava Hot Springs East KOA is located 1/2 mile east of the speed slides.

Get Google Directions
May 10, 2021
Excellent time at the campground. Very nice campground
May 10, 2021
clean showers and bathrooms propane grill was perfect to cook on ,excellent place to stay
May 10, 2021
The site was very clean. It's a beautiful site right on the river. We watched ducks, geese and squirrels run around playing. The walk to the hot tubs was easy and fast. We loved the table and chairs at the site.
May 10, 2021
We arrived shortly after 11:00 and the staff was able to get us in our spot early so we could head out exploring without having to take the camper along. The bathrooms and campground was clean. We had an enjoyable stay.
May 10, 2021
We love this campground
May 10, 2021
a very clean and beautiful place.... hope to be there again soon!
May 10, 2021
Very clean KOA and fantastic service! I would highly recommend this to anyone that is looking for a quick weekend getaway or even a stop on the way to a different destination. Gorgeous setting!
May 09, 2021
Very nice and making improvements while we were there. Would stay again.
May 09, 2021
Camp hosts are wonderful! Everything neat and clean! This KOA is walking distance close to town and hot spring pools. Looking forward to coming back!
May 07, 2021
Beautiful area convenient to the springs and right on the river, but heavy traffic and train tracks often made conversation with our group difficult. Bring ear plugs for quiet sleeping.
May 05, 2021
Staff was great and very friendly. The retired military guy with the dog was awesome. The park was clean. We'll certainly stay here again.
May 04, 2021
Pleased with the maintenance of the grounds and facilities. My only suggestion would be to plant more tree in between the campsites for a little more privacy.
May 03, 2021
Beautiful and well-maintained grounds. The restrooms were incredibly clean and very nice and updated. The staff was very friendly. Overall just a beautiful stay. We will definitely be back!
May 03, 2021
Alot of noise, kids from a lacrosse team. Yelling after dark, riding scooters into parked pickups, and a dog running loose with diarrhea. We'll be back we still love staying here! Thank you, jimmy &joanne
May 03, 2021
It is a great location and friendly place. But the sewer dump hole on site 92 was at the top of the hill which made it really hard to have the sewer flow through the hose even with the hose leveler
May 03, 2021
Beautiful spot. Wonderful staff. We will definitely stay again.
May 03, 2021
We stay in lava Hot Springs regularly and have yet to have a bad experience great staff great campground
May 03, 2021
Cabin was clean and the river view was amazing! Would definitely come stay again.
May 03, 2021
Clean space, friendly staff. We loved our stay here.
May 01, 2021
very friendly staff. We ere assigned a backin at the top of a hill. Because of the angle and the high curb we were not able to make the swing. Sandy worked with us to reassign a workable space. The park was clean and well cared for!
Apr 30, 2021
Only complaint is when it's windy branches from trees fall and hit your vehicle
Apr 30, 2021
Very clean cabins. Efficient and easy check in/out. All staff were very kind and helpful. Can't wait for our next trip there!
Apr 30, 2021
Very good Peggy was very nice and helpful. We booked 4 nights at your West location the end of July.
Apr 29, 2021
Love staying here! Always clean and the employees are always helpful! Highly recommend!
Apr 28, 2021
Such a pretty place to stay!! We had a blast.
Apr 28, 2021
We have always enjoyed KOA--this time we were given a site a wagon could barely get in. I had to use 4 wheel drive to get over the cement barrier (curb) and barely made it out; no room to spare. We had the worst camp site KOA had. I would never no back there again if I ever got that site again; I will warn anyone that asks to make sure to never take that site, next time I would leave.
Apr 27, 2021
Very friendly and accommodating staff. Lots of improvements very nice campground.
Apr 27, 2021
Too noisy with trucks and trains all night long. Cabin was clean and comfortable but bare bones.
Apr 27, 2021
We really enjoyed our stay here. Loved the space in each site and the dedicated tow vehicle parking! Very nice laundry/shower/restroom & pavilion area. Pet area is a good size, even for our giant breeds. The ONLY thing we weren't 100% happy with was the noise from the hwy & trains. We will definitely return though and request the upper level sites. Great experience!
Apr 27, 2021
Pull through sites in middle are so close together you can't put the awning out all the way, the electric and water hookups for the next door site are right at our steps. Other sites along the river are slightly better, but really limited for our 40 ft 5th wheel.
Apr 27, 2021
Our stay was fantastic. The deluxe cabin is so cute and had all the necessities we needed for our trip. the patio was by far my favorite part. We will definitely be back in late summer.
Apr 26, 2021
KOA Lava Hot Springs camping is our favorite place to go camping.Every time we come camping we see improvement..Staff are very helpful and VERY friendly.We are strongly recommending this camp ground...Hopefully we will be back camping again..
Apr 26, 2021
We were told with 4 adults there was a wall between beds and there was not . We also were sold wood and the fire pit was propane , so we didnt even need it.
Apr 26, 2021
We absolutely love this place! We have been to the KOA Lava Hot Springs twice within 2 months. It is so relaxing and an amazing place to retreat to. We love the fact that it is walking distance to the hot springs. The staff is absolutely amazing. (Thank you Jim and Michael for always being so friendly and caring.) The views are so serene. We can't wait to go back for a 3rd time.
Apr 26, 2021
Campground was very clean and well maintained, people working there were very nice and helpful! We enjoyed our stay very much and will be back again.
Apr 25, 2021
We enjoy staying at this KOA, however, some might not appreciate the noise of the trains and highway. We don't mind it and we stay here often. Nice facility!
Apr 25, 2021
WE were totally set up at site #82 & ready to enjoy our stay. However, my spouse was unable to remove the cast iron waste cap. He told the office. He was told they would call someone and take care of it. We waited 3 hrs. No one came & we so we asked to be moved. Poor follow up re: customer service. The next day, cap was changed. Evening shift was not communicated to by day shift.
Apr 25, 2021
The location was great. The only thing I would improve would be the WIFI. It was very limited where were located.
Apr 24, 2021
The campground had lots of nice trees and bathrooms were clean. We did have a tough time sleeping due to road noise and the trains.
Apr 23, 2021
We stayed in a cabin for 4 nights at Lava Hot Springs East. Overall, it is a lovely & comfortable place to stay. Yet, between the trains running throughout the night + the night traffic on Hwy 30 (constant semis), it was hard to get a good night's sleep. If you are someone that can sleep through anything, then this KOA will be just fine. If not, then I would not recommend this KOA.
May 09, 2021
Love the cabin!! Very special place. Will be back!!!
- Shannon Dreyer on Google
May 09, 2021
We enjoy this KOA every time! Thanks!
- Susan Anderson on Google
May 09, 2021
We were just on a quick weekend trip. We pulled in early and they got us right in our spot so we could drop our camper and head out for some exploring. The bathrooms were nice. Campground was clean. If you're a light sleeper, the traffic and trains may keep you awake. Otherwise, excellent place. We'd probably stay here again.
- valvaradi on Trip Advisor