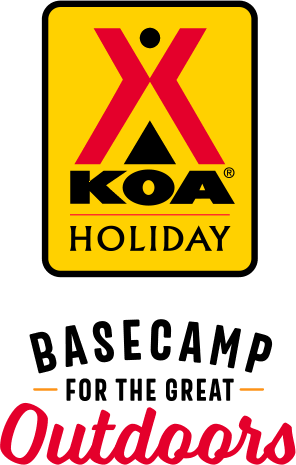 KOA Holiday Campgrounds
Whether you're exploring the local area or hanging out at the campground, KOA Holidays are an ideal place to relax and play. There's plenty to do, with amenities and services to make your stay memorable. Plus, you'll enjoy the outdoor experience with upgraded RV Sites with KOA Patio® and Deluxe Cabins with full baths for camping in comfort. Bring your family, bring your friends, or bring the whole group – there's plenty of ways to stay and explore.
KOA Holidays Feature:
RV Sites with a KOA Patio®
Deluxe Cabins with full baths
Premium Tent Sites
Group meeting facilities
Directions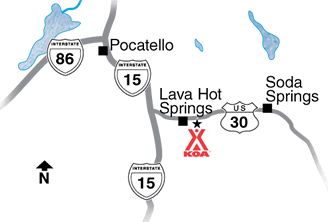 Take exit 47 off of I-15.

Turn East onto US-30

12.7 miles turn right onto Bristol Park Lane. Watch for big yellow KOA  Holiday sign.

There are two KOA Holidays in Lava Hot Springs; East and West. To save frustration do not exit under the speed slides, as this is the exit for Lava Hot Springs West KOA. Lava Hot Springs East KOA is located 1/2 mile east of the speed slides.

Get Google Directions
Jan 18, 2021
Awesome time and cabin. Definitely will book again in the future!
Jan 18, 2021
Andy was so helpful with our trip. We've never been out to Lava during the winter and it was beautiful. The kids and us loved the warm cozy cabin we stayed in and the camp ground was incredible covered in snow. The have the most beautiful trees. Thank you for the awesome trip.
Jan 05, 2021
There was no stove top in the deluxe cabin, but I was happy to see an electric hot plate. Unfortunately, it was broke and I needed a screw driver to fix it. I asked the front office for one and I was told he might have one in the back. We ended up buying a screw driver to fix it. I think we should have been able to borrow one to fix their broken appliance. Other than that, a great stay!
Jan 04, 2021
Our stay was very good except that the kitchen items were pretty limited. We had to go buy an electric fry pan to cook our food. No sharp kitchen knives or bigger bowls. I know that we came in winter and probably most cooking in the summer is done on the grill. We truly did enjoy the atmosphere of the cabin & the warm floors and plan on coming back. We would recommend the cabin to our friends.
Jan 03, 2021
Pleasantly surprised at how nice and clean the cabin was and all the amenities. The staff was very friendly and accommodating. We will come back again!
Jan 01, 2021
Fantastic stay, thank you for being there, we will see you next Christmas! :) Happy New Year to you all.
Dec 14, 2020
Clean and friendly campground. Easy walking distance to everything in Lava.
Dec 13, 2020
Cabin was right next to road and train tracks, and shook everytime a truck drove by making it hard to sleep. Cabin stayed warm and was cozy. Heater was also very loud and made it hard to sleep. Seemed overpriced for the noise from the heater, trains and road.
Dec 12, 2020
We had a girls overnight trip from Salt Lake City. We stayed in your 2 bedroom cabin and it was perfect! Great little place to stay, it was very clean, and close to town. Pretty setting along the river too. We'll definitely come back.
Dec 12, 2020
The cabin i stayed at was absolutely beautiful the beds were clean and cosey the water from the faucet was clean and tasted filtered, the propane grill on the patio was amazing and made it easy to make dinner. 10/10 i will be coming back again to these cabins
Dec 06, 2020
Awesome place to stay! Nice facility and location.
Nov 29, 2020
I was very pleased. Great place to stay
Nov 19, 2020
Very cozy and comfortable cabin. The temperature dropped into the 20's both night's were were there. Three cabin stayed toasty warm. All the staff were extremely helpful from answering calls as we drove in during a snowstorm through check out. Cabin was right on the river and walking distance to the hot pools and restaurants. Thank you KOA staff.
Nov 10, 2020
Cute cabin, we arrived late the first night and the staff was very good about making sure we were taken care off. Awesome cabin with view of the river
Nov 02, 2020
Very clean cabins. Had everything we needed ( we remembered to bring our own linens). We enjoyed a nice dinner on the patio and slept well. Front desk staff was very friendly.
Oct 26, 2020
Friendly, clean, loved our stay! Fresh coffee in the morning and super helpful staff.
Oct 26, 2020
Such a cute cabin! Very cozy and clean. All the workers there as well were friendly and nice! Will come back! :)
Oct 23, 2020
We rented a cabin Nd they were so accommodating we didn't realize the cabin we rented didn't have a couch so they let us switch to one that did and made our trip special the staff was so helpful and friendly we will stay here again
Oct 20, 2020
Perfect cabin experience. You can hear the river and it's so peaceful. The beds were comfortable too.
Oct 19, 2020
Staff was great and very friendly
Oct 18, 2020
It was perfect! The workers there were so friendly. Everything was clean, well taken care of, and beautiful!
Oct 13, 2020
very clean, great location , great view of the river, the mini house was brand new, but the bed it is not comfortable at all, it sunk in the middle of the bed.
Oct 13, 2020
We enjoyed our cabin. The doors rattled all night due to the road and trains. And the heat is hot! But overall we really loved it and would stay again.
Oct 13, 2020
It was an Awesome stay for 2 nights.
Oct 13, 2020
Popped into Lava Hot Springs for a Wedding celebration. The cabin was very comfortable and extremely clean - both very important details. Customer Service was amazing - Jim was most helpful and kind along with a great smile - very welcoming. Will definitely be back!
Oct 13, 2020
Throughly enjoyed our stay. We would usually stay at a hotel in town but they where all booked that weekend Found KOA online booked our stay at one of your Deluxe Cabins KOA will always be the place we will stay while in Lava Hot Springs
Oct 12, 2020
We had a great time. The cabins were very private with exceptional views and just a short walk to the springs. The staff we interacted with were friendly and helpful.
Oct 09, 2020
Loved the cabin. Concerned about the drop off from the back patio. Hoping you are going to add some railing.
Oct 08, 2020
Friendly people, I loved the cleanliness of the bathrooms too! I wish we could have been a little closer to our family's trailer spot, but with the campground being at capacity, I completely understand. It was such a small walk anyway, we enjoyed every minute of it! We even loved the trail from the campground into town! Walked it every time we went into town.
Oct 06, 2020
It could not have been a better experience. KOA grounds were nice and neat. Woman working front desk was thorough in explaining everything and was very friendly. We rented a cabin and it was so charming. We really enjoyed the fire pit. The hot springs and places to eat were within walking distance. My biggest regret was we only stayed one night. we really should have stayed the whole weekend.
Oct 05, 2020
Loved it! Beautiful site, friendly staff.
Oct 05, 2020
Friendly staff greeted us upon arrival and the cabins were very clean.
Oct 05, 2020
I feel they did not clean it well as we found a cigarette in one of the cabinets. The cabin says it fits 6 but only has utensils for 4 people people which doesn't make sense.
Sep 28, 2020
Nice and clean. Staff was very friendly.
Sep 28, 2020
We booked a tent site with electricity but, the site was at the end of the RV hookups and at the crossroads for vehicles. Not what anyone would hope for. We did upgrade to one of the tiny house spots. Very comfortable! if we hadn't been able to upgrade I believe our stay would not have been as enjoyable.
Sep 25, 2020
From my first interaction with Peggy at check in, everything was perfect! We ran into the owners in town and they are very friendly and take great pride in their camground. I would definitely come back!
Sep 24, 2020
Was fabulous thank you
Jan 05, 2021
Location, cleanliness, and comfort are the main reasons for staying here. We were in a deluxe cabin. They're right by the hot springs. We were able to take a couple minute walk to go soak. Also, right behind the cabin is the river. There's a wonderful deck with chairs, picnic table, grill and gas fire. The cabin was warm (has AC for the summer). The kitchen has dining ware, grilling utensils, cutting board, microwave, fridge and a hot plate. The shower had great pressure. I can't think of a rental where I've had a better bed. It was great! The staff was really nice and had great suggestions on where to eat.
- Aaron Rogers on Google
Nov 18, 2020
Extremely comfy and cozy little cabin. Temperature dropped into the 20's both night's we were there. The cabin was toasty warm. Within walking distance to hot Springs and restaurants. Staff was great to work with, even answering several calls prior to arrival through check out.
- BRENDA SOMERS on Google
Nov 14, 2020
We stayed in a cabin. It was clean and comfortable. Has a fridge, great water pressure in the shower. Thank you koa for a wonderful stay.
- Jackie Lewis on Google