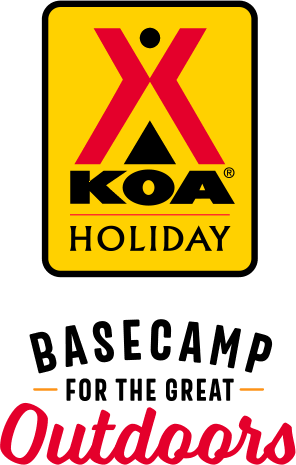 KOA Holiday Campgrounds
Whether you're exploring the local area or hanging out at the campground, KOA Holidays are an ideal place to relax and play. There's plenty to do, with amenities and services to make your stay memorable. Plus, you'll enjoy the outdoor experience with upgraded RV Sites with KOA Patio® and Deluxe Cabins with full baths for camping in comfort. Bring your family, bring your friends, or bring the whole group – there's plenty of ways to stay and explore.
KOA Holidays Feature:
RV Sites with a KOA Patio®
Deluxe Cabins with full baths
Premium Tent Sites
Group meeting facilities
Directions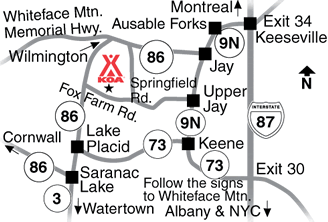 From the south, I-87 Exit 30, follow signs to Whiteface Mountain
From the north, I -87 Exit 34 9 N to Hwy 86
From the west, Watertown N.Y. take RT. 3 thru Saranac Lake to Hwy 86
From the east, take one of the ferries across Lake Champlain or take the scenic drive around the lake
Get Google Directions
Feb 01, 2021
Four generations of my family have been staying at this KOA in tents, RV, and cabins and it was always great except for the last time. The cabin had a clumsy stairway that had to be raised and lowered for access, but the worst part was when it flooded during the night presumably due to a storm drain issue. I was surprised that there was no onsite staff at night.
Nov 03, 2020
awesome location and grounds. The staff could not have been nicer.
Oct 28, 2020
Always beautiful! My favorite KOA ever! Everyone is super friendly, helpful and kind!!
Oct 27, 2020
The location is wonderful! We loved being on the mountain! The rustic cabin was very cozy even though the temps were starting to drop. We appreciated having the heater already on when we arrived. The river running the side of the campgrounds was beautiful! We took the trail and loved it but the second half was not marked well... We very much enjoyed the campgrounds and def plan on returning.
Oct 27, 2020
We booked lodging for the weekend. The deluxe cabin was clean and perfect for the two of us! The KOA is a short distance from Lake placid Village with nice small local shops and restaurants. We also enjoyed hiking the trails too!! We are booking soon for next years get away!
Oct 27, 2020
Beautiful camp ground! Only gave it 4 stars because the lock on our cabin was busted so we could not lock the door. Looked like it had been that way for a while. Not sure why it had not been fixed. Because of the busted lock you had to pull up on the handle real hard to get the door to even stay shut. Staff could have been friendlier.
Oct 27, 2020
We just got back from our stay and I can't begin to say what a great stay. The campgrounds were beautiful and not only were the staff friendly but the other guests as well. Our 2 dogs loved it as well. We took a gorgeous walk through the trail down to the Ausable River and falls...again beautiful. We were also very close to the Mirror Lake and the cute Main St. With all the shops. We will be ba
Oct 26, 2020
Great campground in a beautiful setting.
Oct 26, 2020
Located in an awesome area. This KOA is beautiful and well maintained. Friendly & Efficient Staff. We'll definitely be back!
Oct 26, 2020
Wonderful staff, clean campground, beautiful location. We had a fantastic time. Thank you!
Oct 26, 2020
Beautiful campground near hiking trails �ϋ�Loved our stay!
Oct 25, 2020
Beautiful campground, nicely wooded, friendly staff, well stocked camp store. Would definitely recommend this campground and would stay here again.
Oct 25, 2020
Loved the trees at the site but the trees did cause it to be more narrow than we were used to. First time we had to use level blocks on the tires - a little work on leveling would help next time users.
Oct 25, 2020
We are always more than happy to spend our time at whiteface koa. Grounds are always immaculate and everyone is extremely accommodating and friendly!!!!! Our favorite KOA!!!!!!!
Oct 25, 2020
Tried to buy coaxial cable none available, cellular service not working Saturday am, everytime we went into office area employees were at computer and ignored our presence for a period of time before acknowledgement. Majority of employees that we encountered seemed very friendly.
Oct 24, 2020
Have been making at least one trip every year for the last 30 years. A lot has changed since 1990, mostly good-some not so good. Tented in my younger days, now I enjoy the furnished cabins though I find them to be a bit pricey. One item you should look at is to strengthen your Wi-Fi. Every time I logged on to look at web sites of area attractions-my computer would just "grind" away and not load.
Oct 24, 2020
Everyone on staff was super nice and helpful. Definitely a friendly welcoming environment. Thank you!
Oct 24, 2020
Just very confused as to why when we extended our stay we had to change sites when so many remained open adjacent to the site we were in. Just wondering.
Oct 24, 2020
First time in Lake Placid. We will be back. Great experience.
Oct 24, 2020
Stayed for three nights at a tent site with a lean-to. Campground is very clean with ample bathroom/shower facilities. I will definitely be returning to this campground in the near future.
Oct 23, 2020
Campgrounds were nice with access to a lovely river trail. Only complaint is the bathroom was dated compared to other KOAs
Oct 22, 2020
Lovely location with lots of trees. Kind staff in the office and serving throughout the grounds.
Oct 22, 2020
Clean, quiet at night and in a beautiful location. The workers were friendly and helpful. This was our first time ever at a KOA.
Oct 22, 2020
Friendly, clean. Most facilities like food areas not open due to covid, but bathrooms and showers great and people wearing masks was great. Walkways and trails to flume fun!
Oct 21, 2020
Nice clean site, very spacious, great staff.
Oct 20, 2020
Very nice accommodations. The only issue was the cleanliness of the public bathrooms. They didn't seem attended to.
Oct 20, 2020
Great place to camp!
Oct 20, 2020
Beautiful very large campground. Staff was very friendly and helpful. Thanks to Tish for making us feel welcomed and for suggesting Rudys Challet for dinner.
Oct 20, 2020
Great place to hike and mountain bike, campground was quiet and quite large!
Oct 19, 2020
Excellent-Most enjoyable-We are scheduled to return for another visit.
Oct 19, 2020
Lake Placid KOA is a beautiful campground. The views and the walk by the river are amazing. The dog walk is top notch in my dog's book. There are a variety of sites to choose from. I do like the M section but did find site 25 a bit small compared to the others in this section. This campground is close to many of the area activities. The people who work at the campground are very helpful.
Oct 19, 2020
We love this campground. Peaceful and quiet wooded sites. The staff is always very helpful and friendly!
Oct 19, 2020
Really great experience. Check in was easy and our cabin was more then we expected with everything you would need for an extended stay.
Oct 19, 2020
Super great!! Clean and loved that they escorted us to our site and then we could check in! So much more smooth- especially since we were traveling with our cat.
Oct 19, 2020
Had a great time. Everyone was friendly and the facility was beautiful. Definitely will go again.
Oct 19, 2020
Everything was great except for other guests. The guest whom rented the cabin next to us decided to sit in his car and play his music excessively loud at 6am.
Apr 12, 2021
Stayed in a deluxe cabin and it was really nice. We loved that linens were included. Campground is about 10 miles from lake placid and about 5 mins from whiteface mountain. We enjoyed it so much in 2020, we are going back again in 2021!! Pictures are from a swimming hole right behind campground, whiteface mountain and lake placid.
- Bbohr on Trip Advisor
Apr 10, 2021
Amazing place to stay. Staff is fabulous!
- Michelle Houle on Google
Mar 03, 2021
We loved it here in June 2020 and are going back this summer
- Suzanne Williams on Google