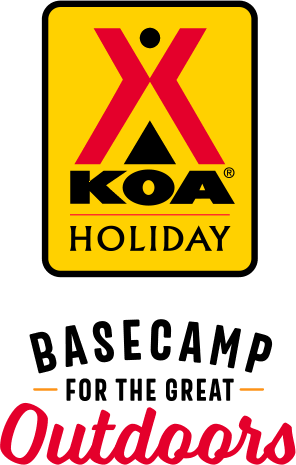 KOA Holiday Campgrounds
Whether you're exploring the local area or hanging out at the campground, KOA Holidays are an ideal place to relax and play. There's plenty to do, with amenities and services to make your stay memorable. Plus, you'll enjoy the outdoor experience with upgraded RV Sites with KOA Patio® and Deluxe Cabins with full baths for camping in comfort. Bring your family, bring your friends, or bring the whole group – there's plenty of ways to stay and explore.
KOA Holidays Feature:
RV Sites with a KOA Patio®
Deluxe Cabins with full baths
Premium Tent Sites
Group meeting facilities
Directions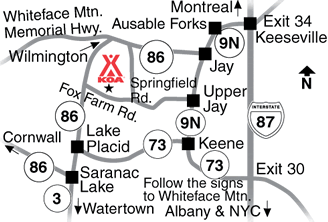 From the south, I-87 Exit 30, follow signs to Whiteface Mountain
From the north, I -87 Exit 34 9 N to Hwy 86
From the west, Watertown N.Y. take RT. 3 thru Saranac Lake to Hwy 86
From the east, take one of the ferries across Lake Champlain or take the scenic drive around the lake
Get Google Directions
Oct 19, 2021
The grounds were lovely with tall trees all around. It is located right on the Ausable River with plenty of hiking and activities nearby. The sites were level, clean and well equipped. I used the Pet Walk and Dog Park daily. All the KOA folks were friendly and helpful.
Oct 19, 2021
Great spot and location, friendly staff and clean bathhouses.
Oct 18, 2021
We definitely love L.P. KOA for RV sites and wooden cabins(R18)we've used. However, our daughter's modular-type "deluxe cabin' unit @ N03 is sub-standard with a moldy, gross bathroom that is jeopardizing our 3-family visits twice a year. We'd hate to stop visiting but we're a package deal and bathroom really repulsive. Perhaps switching to log cabin would help but need more info. 518-577-7471
Oct 18, 2021
Great time while there with loads of color left in the trees. Lots of pine needles and leaves coating the paths and roads cushioning your walk. Nice campfires at night.
Oct 18, 2021
Very clean cabin. Friendly staff. Overall great experience!
Oct 18, 2021
Very clean and quiet, also you were escorted to your site will definitely stay there again.
Oct 18, 2021
Great place. Easy to check in and friend staff.
Oct 18, 2021
This is my first visit, and I thought this place was spectacular. I just booked memorial day weekend with a friend.
Oct 18, 2021
Very nice camp, very quite and all sites are back under the trees.
Oct 18, 2021
I was only there for a night but the staff made me feel like I would be there for a week! Excellent faculties and everyone was very polite and most importantly quiet! I will be back next season!
Oct 17, 2021
We love this campground - very wooded, clean facilities, great staff.
Oct 17, 2021
The Whiteface KOA was clean and quite. Our only suggestion is to improve the internet service. We have T-Mobile as our provider, and we could not download anything.
Oct 17, 2021
We had a blast! The campground was easy to get to, had awesome amenities, and was reasonably priced. Thank you!
Oct 17, 2021
We didn't use all facilities since we stayed in our RV and primarily did hiking and sightseeing. Campground itself, one of the most spacious and beautiful KOA's or RV parks we have stayed at. Staff were friendly and helpful and we could see the park was well cared for. Excellent tent camping options. Gorgeous hiking trail was accessible from the campground. Great, would definitely stay again!
Oct 17, 2021
The most helpful staff I have ever encountered
Oct 16, 2021
Chip and Julie and their staff make the stay as pleasant as can be. I will miss seeing them next year. With the limited amount of cell service there, Wi-Fi is important for me to stay in touch with my family and job. Improvements to Wi-Fi speed and connectivity is the only improvement I can make. Otherwise don't change the thing
Oct 16, 2021
Chip and Julie make your stay as pleasant as possible. One couldn't ask for better managers. I would recommend this KOA to any and all. It is one of the top 5 campground I've stayed in and I have been across the USA 3 times, all over Alaska and the Canadian maritime.
Oct 16, 2021
The cabin was very nice and the clean . The camp ground are keep immaculate. Very nice koa
Oct 16, 2021
Was the only one in camping cabins area so it was very quiet. I go there often to relax & unwind. Was not expecting a television in the cabin, but just didn't use it.
Oct 16, 2021
One of our favorite stops! Great sites and friendly staff plus the beautiful surroundings..
Oct 16, 2021
Loved our stay - spacious site for 5th wheel and truck, wood delivered!! Appreciate the dog walk, exercise pen, bags and receptacles. We hiked the grounds as well, it is a huge facility. Neighbors in our section were respectful. Wonderful that you stay open until 10/31. We hope to come back next year.
Oct 16, 2021
I wish I could've stayed longer! Very accommodating and beautiful facility.
Oct 15, 2021
Beautiful property with spacious sites!
Oct 15, 2021
Friendly staff, nice sites
Oct 15, 2021
Pretty campground. Friendly staff. Nestled in the beautiful Adirondack mountains
Oct 14, 2021
Another great stay during the Halloween themed weekend. So sad to see Chip & Julie leaving after 12 years as hosts. They've done a great job & I hope the new hosts can continue the same great service has these two have over the years.
Oct 14, 2021
Our pull- through site was spacious. There was a lot of coming and going but the facilities were clean and people were helpful. The only reason I don't give it a 5 is because the internet was sketchy- would come and go periodically.
Oct 14, 2021
Except for the guy power washing his RV for two hours it was a wonderful stay.
Oct 14, 2021
I arrived at 4 pm. The camper directly across from me was power washing his rv from the moment we arrived until approximately 6 15. Others in the area were not pleased. Nor was I. ridiculously loud, worse than a loud generator. it was obnoxious. Noticed people with carts (assuming volunteers)drove by and never addressed issue. Will not be back. very disappointed
Oct 13, 2021
WE always love the KOA in October! It is our last camping trip of the season and we always find plenty to do with family and friends. We did miss the turkey dinner. We were spoiled by the dinner in the past. We have a favorite restaurant nearby to the KOA that we all enjoy. The leaves were beautiful as always this year. The staff is always friendly and it sure is "kid friendly". Thanks ! Lo
Oct 13, 2021
We have been staying at the lake placid KOA Columbus Day weekend since 2003. Always a fantastic time and great memories. The scenery is amazing and the activities are always enjoyable.
Oct 13, 2021
Had a great time, chip and Julie are wonderful, and the staff are awesome!
Oct 13, 2021
I enjoyed my stay, very quiet, and having cabin site 002, which over looks the River was such a bonus.
Oct 13, 2021
The staff that kept the grounds were awesome. Clifford was always eager to help us newbies.
Oct 13, 2021
Wonderful facility, great people. They really go all out for the Halloween time of year! Breakfast was spectacular.
Oct 13, 2021
Last minute Kamping Kabin stay. Beautiful location, nice campground. A little expensive for a cabin but worth it.
Oct 12, 2021
all was great Chip and the hole team were the best
Oct 12, 2021
Always love our stay at this KOA! Great staff in the office, love the escort to the site, love the food service, beautiful property!
Oct 12, 2021
Fantastic stay- as always! The staff at Lake Placid KOA are hardworking, helpful, and caring. The way that they go out of their way to be kind to our children and preserve the many holiday traditions at this campground deserves 5++++ stars!
Oct 15, 2021
After the first stay last October, we stayed 3 more times. Two of the times were in a double queen deluxe cabin which were very nice (much smaller and totally different inside than the 3 queen cabin we booked before). They were located toward the back of the park, but still a quick walk to the front where the pool, store, and playground are located. Friends went with us one of the times and stayed in the deluxe cabin with a bunk room. I was surprised at how comfortable the bunk mats were. We just returned from a trip where we stayed in the glamping tent. There's 4 tents located down a steep hill, along with with group camping sites, 2 camping cabins, and a lean -to. It's definitely not as accessible walking to the front of the park when staying down there so we had to drive each time. The upside is you're more isolated and right near the river, it was nice falling asleep to the sound of the ausable each night and waking up to the view each morning. There are 2 tents located right near the bathroom and the other 2 are down a small, but still kind of steep, hill (just something to keep in mind when hauling gear). There was 1 other group there in a glamping tent when we went and they up and left randomly 1 night around 9pm…we weren't really sure why. The next night we returned to find a raccoon inside the tent eating our raisins (which is probably the reason the other group left). Staff chased him out, but he returned several times in the middle of the night and we had to keep chasing him out. There is no real good way to keep out the critters because they can still sneak under the tent. Bathroom and shower facilities in that area were clean. It was 4 individual bathrooms, each with a shower. Hot water was great. The only thing I didn't like is the shower head was positioned kind of low. I'm only 5'7" and had to bend down to wash my hair. Overall the glamping tent was enjoyable, but I think I will stick with the deluxe cabins from now on.
- Destin293 on Trip Advisor
Oct 06, 2021
Very wooded. Nice and quiet.
- Linda Howatf on Google
Oct 03, 2021
Very clean & well maintained campground. Stayed here end of September & even though some things were closed for the season (pool) the campground was still worth it as a home base for Fall activities. Very convenient to Lake Placid and many other attractions. The trail down to the Ausable river is a nice hike too. Can't wait to stay here again.
- Ed Newell on Google