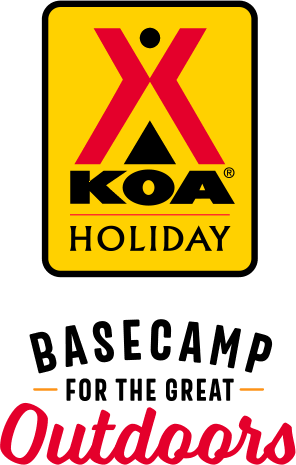 KOA Holiday Campgrounds
Whether you're exploring the local area or hanging out at the campground, KOA Holidays are an ideal place to relax and play. There's plenty to do, with amenities and services to make your stay memorable. Plus, you'll enjoy the outdoor experience with upgraded RV Sites with KOA Patio® and Deluxe Cabins with full baths for camping in comfort. Bring your family, bring your friends, or bring the whole group – there's plenty of ways to stay and explore.
KOA Holidays Feature:
RV Sites with a KOA Patio®
Deluxe Cabins with full baths
Premium Tent Sites
Group meeting facilities
Directions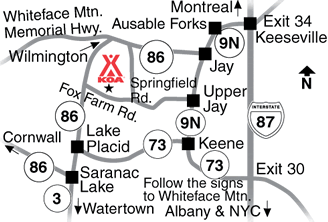 From the south, I-87 Exit 30, follow signs to Whiteface Mountain
From the north, I -87 Exit 34 9 N to Hwy 86
From the west, Watertown N.Y. take RT. 3 thru Saranac Lake to Hwy 86
From the east, take one of the ferries across Lake Champlain or take the scenic drive around the lake
Get Google Directions
Jul 24, 2021
Very nice trip everyone was great and helpful. Already scheduled for next year just waiting to hear back!!!!
Jul 24, 2021
Very nice campsite! Rained a lot during our stay but we still enjoyed the 5 days of camping!
Jul 24, 2021
Great time. Try to come every year.
Jul 24, 2021
We loved it, we even extended our stay! Thank you!
Jul 24, 2021
The campsites were beautiful. Very clean, friendly people. Great location. We will definitely be back.
Jul 23, 2021
This is a great campground and we really enjoyed our stay. The only reason I'm not giving it 5 stars is because the WiFi was unreliable. Both a blessing and a curse, I unfortunately need to work while I'm on vacation and struggled to get the WiFi to work.
Jul 23, 2021
Great site. Will call next time to lock in site. Excellent access to other hiking trails. Overall happy with stay. Pool was updated warm and nice!
Jul 23, 2021
Restroom #1 (near sites I01) need better ventilation, but were clean. The J row could work well as sites for "conversion vans" (i.e. Ram, Sprinter) as is or with just power. A lot of baby boomer tenters have moved into vans.
Jul 23, 2021
Good clean plenty to do and nice staff.
Jul 23, 2021
Awesome stay. Wish the weather had Bern different but that wasn't your fault. Spacious sites. Helpful associates especially the Hutchinson couple, Don & Deb�
Jul 23, 2021
The sites were very small and crowded. The staff was friendly.
Jul 22, 2021
The staff is the worst staff I experienced at all 30 koas I've been. The energy is poor and they are rude ,short, and charge you for things you are not supposed to get charged for RENEE was so very unprofessional. Never dealt with such a rude customer service agent. It's not a great day at this Koa. Choose lake George
Jul 22, 2021
Beautiful campground, very friendly and helpful staff and lots of kids activities!
Jul 22, 2021
Overall good, Good things Staff was Pleasant So here are things not so Good: The Sink was leaking in the bathroom The Circuit breaker went off in the night to the living room, bathroom and Small Bedroom. the staff had to replace a Battery in the Carbon monoxide detector (kept chirping). The area behind the Refrigerator had alot of mouse droppings. The Sheets in the main bedroom were sc
Jul 22, 2021
Wonderful campground. This is the campground that other KOA campgrounds should strive to be!
Jul 22, 2021
The grounds are very well maintained. The staff are super friendly and very helpful. Lets not forget the price is very affordable. The kids had a great time. There is SO much to do and see in the vicinity of the camp grounds. Highly recommend
Jul 22, 2021
We always have a great time staying at the KOA in Wilmington. My granddaughter really enjoyed the pool and the playground. Our tent did get flooded the first night of our stay, but we were able to dry things out the next day. It was helpful to have the washers and dryers there. I also like having the camp store to buy wood, ice and other supplies we may need. Thank You!
Jul 21, 2021
Had a wonderful time. Staff is super friendly which makes the vacation that much more enjoyable.
Jul 21, 2021
Very nice KOA We try & stay in KOA's. We are traveling across country & have booked KOA for our stays.
Jul 20, 2021
It was great
Jul 20, 2021
We always enjoy our stay in this KOA and always meet great travelers. Plus we love Big Slide and Hungry Trout and many more local places. Plus Chip, Julie and crew are great hosts!!!!!
Jul 20, 2021
Beautiful location and gorgeous campground. Friendly and helpful staff.
Jul 20, 2021
This was our 2nd time staying. Our cabin was great! The kids loved the playground, pool, and game area.
Jul 20, 2021
great customer service, Josh was super, stop the rain, although site handled water well.
Jul 20, 2021
Just wasn't happy on arrival about not being able to borrow a hose to fill up my camper. Felt like I got the run around, no one was straight forward with me that you wouldn't be providing one and ended up buying one. Next time just be forthright. I could've filled up as soon as I got there as well. Could've spoiled the whole trip.
Jul 20, 2021
We had a great stay in one of the cabins for the Christmas in July weekend. Great amenities and lovely location. The staff were fantastic, from escorting you to your site to delivering wood and ice right to your door!
Jul 20, 2021
campsite was clean staff friendly would stay again in the future
Jul 19, 2021
Overall the stay was good, nice location, decent size sites, mini golf could use a little attention. We will be back in 2022 and will try to book a site with the concrete patio, they look very nice. Plenty to do in the area ,can't wait to come back . Kids also really enjoyed the trip.
Jul 19, 2021
We loved how family oriented and well cared for the grounds were.
Jul 19, 2021
I wish the snack bar was open for more than just 3 days. We arrived on a Wednesday starving because there were no rest stops on the last leg of our journey with plans to eat at the snack bar only to find out it wasn't open.
Jul 19, 2021
My grandkids loved it
Jul 19, 2021
Such a great homey feel to the camp ground. Just rustic enough and so many things to do. The game room was fantastic to the mini golf. Wonderful walking trails to the Ausable river. I felt very comfortable letting my 10 yrs old ride his bike freely. The park is nicely shaded and you don't feel like your invading others space or vice versa. This was the 1st KOA stay for us, won't be the last!
Jul 19, 2021
We had an awesome time at the Lake Placid KOA and will definitely be back. It was surprisingly quiet for the amount of campers that were around. Everyone was friendly. Staff was incredibly accommodating. Facilities were clean and spaced nicely. Two thumbs up!!!
Jul 19, 2021
Always a great stay! Thanks again!
Jul 19, 2021
Great place to stay. Friendly and helpful staff and all amenities. Will definitely return.
Jul 19, 2021
What a nice place. Staff are so friendly and accommodating. Our site was perfect. Will stay here again.
Jul 19, 2021
The stay and facilities were outstanding. We would highly recommend a stay here to anyone. This was our 4th time at this location. We have stayed in a lean-to, camping cabin, deluxe cabin and a cottage. Each was very clean. Service was above expectations. Breakfast was very good. Special thanks to Chip and his wife for going above and beyond when we experienced unexpected car troubles. Thanks!
Jul 19, 2021
I included site preferences when I booked online and didn't receive a reply that were considered. I emailed the lake placid.Koa email several times but I response. When I finally called they said oh we don't know where the email on our website goes to but it's not to us so they never saw my emails. Then take the email off their website! I cancelled the 2nd night and was not pleased.
Jul 19, 2021
Stay was amazing. Friendly and helpful staff, clean bathrooms and beautiful location. Will definitely be back!
Jul 23, 2021
Loved this KOA. Deep In The forest, by The river. Very foresty feeling with many pine trees.
- Zofia Romanczuk on Google
Jul 21, 2021
I loved this campsite! Had a really cool waterfall, playground, and arcade! Would definitely reccomend.
- Trash on Google
Jul 19, 2021
Very nice campground.
- Eli Tuber on Google