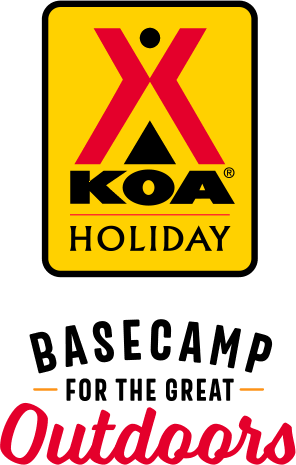 KOA Holiday Campgrounds
Whether you're exploring the local area or hanging out at the campground, KOA Holidays are an ideal place to relax and play. There's plenty to do, with amenities and services to make your stay memorable. Plus, you'll enjoy the outdoor experience with upgraded RV Sites with KOA Patio® and Deluxe Cabins with full baths for camping in comfort. Bring your family, bring your friends, or bring the whole group – there's plenty of ways to stay and explore.
KOA Holidays Feature:
RV Sites with a KOA Patio®
Deluxe Cabins with full baths
Premium Tent Sites
Group meeting facilities
Directions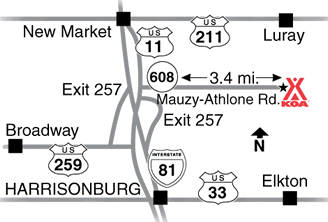 Please follow these directions:
From I-81 Exit 257, take 11N 1/10 mile.
Turn right onto Route 608 (Mauzy-Athlone Rd)
Continue on Route 608 for 4 miles.
Drive forward into our driveway at the end of Route 608.
Note: Please call for any clarifications needed!
Get Google Directions
Jul 26, 2021
We really enjoyed the Saturday activities for the kids and the many family-friendly amenities like Frisbee golf, pool, and games. The bathrooms were also a pleasant surprise. They were nice, modern, and very clean and we'll taken care of. The staff were all super helpful and kind as well. We very much enjoyed our stay!
Jul 20, 2021
Nice, small campground. Very quiet at night. Friendly office staff. Only wish they had more than one bathroom facility on site.
Jul 19, 2021
This review has been removed by the moderator for inappropriate or incorrect content.
Jul 19, 2021
Very Clean and the people were quite nice. They were trying to get the pool shocked, but they worked on it right away. It's a beautiful setting and out of the city. I liked the winding roads and the beautiful farm land out in the mountains. Don't miss kayaking on the Shenandoah River.
Jul 12, 2021
Love it camp site was large and the pool was clean and lot pool chairs the staff was amazing and friendly
Jul 07, 2021
Very pleasant stay, Clean bath house and staff all helpful. We were 2 families and they gave us adjacent site which is very spacious and nice
Jul 06, 2021
Excellent customer service and facilities. I felt welcome and safe. The areas were super clean. Family and pet friendly. I had an amazing time.
Jul 06, 2021
Good place. Tent site was accessible to main office/ store/ bathrooms, power, and water. Nice shade at site. Not too far from Western Slope and Northern VA.
Jul 06, 2021
Very nice KOA! I was surprised by the beautiful campsites and there was even a pool. I have stayed at a lot of KOA's and this one was very enjoyable and I will definitely be back sometime. Location is great and I travel to West Virginia one day and visited 3 parks and spent 2nd and 3rd day at Shenandoah National Park. The staff was super friendly and camp store was also nice!
Jul 05, 2021
Very very friendly and helpful staff made me feel welcome before I even entered the campground I called ahead with some questions and had all of them answered with everything ready when I arrived The campground is very beautiful, well maintained, user friendly, and has a great family atmosphere Will definitely be coming back!!!
Jun 30, 2021
We thoroughly enjoyed our stay. The restrooms and showers were very clean as well as the ground. The kids enjoyed the pool and playground. They were also very accommodating and let us change our camp space to better accommodate our toddler!
Jun 28, 2021
Everything was perfect!
Jun 28, 2021
Very great customer service! I checked in after midnight and they had a map with my site number waiting for me at the entrance of the camp office. The restrooms are the cleanest I've seen at a campground and I greatly appreciated the free showers and never ending hot water!
Jun 25, 2021
Just stayed one night during the week. Peaceful, quiet, beautiful sceneries nearby and clean facilities.
Jun 24, 2021
When checking in the staff was incredibly friendly! They offer to deliver firewood you purchase and they beat us to the campsite with the firewood! They also offer campsite delivered pizza! The facilities are clean! I would definitely stay here again!
Jun 22, 2021
We had a very good visit. The campground and facilities where nice and clean and people where friendly. The road coming in was a small country road. The fishing pond wasn't that great, but everything else was really nice!
Jun 21, 2021
This is our second time staying here and we've decided to open our summer with this location from now on. Great staff and incredibly peaceful site to visit.
Jun 14, 2021
good - very helpful staff members, kids plays area, Saturday camping had several kids activities in the afternoon not so good - lot of bugs, spiders and insects; almost entire group is struggling with insect bites that last for few days; the common toilet is a little too far particularly from the campsites we had; common water and electric outlets between two sites could be problem
Jun 14, 2021
Great first time KOA experience!
Jun 09, 2021
We typically stay at kOA campgrounds because of your excellent reputation. Poor score on this campground for consistently dirty bathrooms and no water pressure in shower. We had to heat water at the camp to rinse all the soap out. This happened in both men and women bathroom.
Jun 09, 2021
Very nice friendly staff , safe quite clean. Camp sites a little to close other wise I would rate 5
Jun 07, 2021
Stayed with my family; everyone enjoyed the stay. Staffs are awesome and very helpful throughout our stay. Pizza was very yummy , fresh ingredients and lot of cheese
Jun 07, 2021
Fourth time staying at this KOA and the first time with our dog Strider - have to say that the experience was fantastic. The team there is welcoming and helpful, the supply store stocked with the essentials, and the campgrounds itself were very well-maintained. The only complaint either of us had was that we couldn't spend more time there!
Jun 04, 2021
Staff and everyone there was Fantastic!! Very clean and quiet! Will be back in the future! Thanks
Jun 01, 2021
Our camping spot was very private and the staff was helpful.
Jun 01, 2021
Great RV site and nice tent site. Bathroom was above usual KOA facilities. Good laundry room and the pool was heated. This place offers more than your average KOA.
Jun 01, 2021
The campground and site were great! The amenities were also fun. They were short staffed though and the store was only open until 5. It happens, but there was no way to get firewood after 5, which was really inconvenient especially on a cold weekend. They should have set up a self serve. It's the first campground I visited where there wasn't self serve.
May 29, 2021
Loved the campground.
May 26, 2021
Wonderful stay! Very clean and nice amenities.
May 25, 2021
Super friendly- very clean… loved our stay!
May 25, 2021
Quick stay on a tent site, very nice place and store people
May 24, 2021
Very friendly golf cart attendant
May 19, 2021
It is a very pleasant campground. My family enjoyed our stay there. The staff is super friendly and very helpful. Only down side I found with the site is the tent area was a little too small for my tent and I wished the tent sites were a little more spread out. We had a neighbor right on top of us.
May 18, 2021
Everyone was friendly, the facilities were clean, and we had some pizza brought to us on a drizzly afternoon when no one felt like cooking!
May 18, 2021
Staff was top notch, grounds mostly quiet. Kids enjoyed the pool. We enjoyed the trails. Next time hope to stay longer Only complaints were we wish the webpage or app would've said the pool was open, and people follow the rules would be appreciated. Campsite next to ours had lots of people and multiple vehicles coming and going most of the night, loud little consideration given during quiet hou
May 17, 2021
The staff was very friendly, hard-working, and helpful. The amenities were amazing, the bathrooms were spotless. Pick tent sites carefully as some are a little too close to the main exit road and hearing all the RVs blast past at 6 AM is unnerving. You can probably do nothing about this because I think it was from a nearby property, but some distant dogs barked all night and terrified my pup.
May 10, 2021
Great quiet get away....
May 05, 2021
We arrived after hours and were able to set up camp quickly. In the morning, I could not access the wifi to teach, the employees there bent over backwards to get me up and going so that I could teach my students. They were incredibly accommodating and I am SO thankful for them.
Jul 24, 2021
Nice campground
- Rose Lessard on Google
Jul 21, 2021
Great place. Very quiet. Helpful staff. Especially want to thank the assistant manager with his help to get our TV working
- John Baker on Google
Jul 12, 2021
Very nice campground. It's a KOA which is a plus since they allowed all 6 of my dogs in. Shaded sites with mature trees everywhere, nice playground for children, clean pool and a small dog park. Sites have fire rings too.
- Barbara Gableman on Google