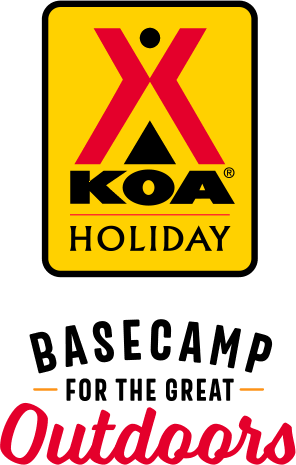 KOA Holiday Campgrounds
Whether you're exploring the local area or hanging out at the campground, KOA Holidays are an ideal place to relax and play. There's plenty to do, with amenities and services to make your stay memorable. Plus, you'll enjoy the outdoor experience with upgraded RV Sites with KOA Patio® and Deluxe Cabins with full baths for camping in comfort. Bring your family, bring your friends, or bring the whole group – there's plenty of ways to stay and explore.
KOA Holidays Feature:
RV Sites with a KOA Patio®
Deluxe Cabins with full baths
Premium Tent Sites
Group meeting facilities
Directions
From Rt 116: Turn north onto Knoxlyn-Orrtanna Rd (Needle & Thread at corner). Go 2.2 miles. Bear left onto Knox Road.
From Rt 30: 3 miles west of Gettysburg turn south on Knoxlyn Rd. Follow to end. Turn right onto Knoxlyn-Orrtanna Rd. Go 1/2 mile. Bear left onto Knox Rd.
Get Google Directions
Oct 14, 2020
Cable was pretty bad. Too many cars at several sites. Overall the stay was great.
Oct 14, 2020
The best KOA I've ever stayed at, love the area and kids enjoy it everytime.
Oct 14, 2020
Great visit on a Fall weekend. All staff was very friendly from arrival and thru our stay. Facilties were all clean. Really can't say enough good about how well this weekend visit went.
Oct 14, 2020
Great get away weekend with fantastic folks working here. Will definitely be back.
Oct 14, 2020
The staff was very helpful. Special kudos to Mr. Ray for the assistance. Our family had an outstanding stay. Thanks!
Oct 14, 2020
Such nice staff and a BEAUTIFUL campground! Will be back!
Oct 13, 2020
We've been coming for the past four years and will return again for a fifth year. Staff is always friendly and helpful. The only negative that I have is the poor wifi, my son had homework to do and was unable to work on it due to poor connectivity.
Oct 13, 2020
Really loved the campground and all of the trees. Security was very strict at 10p. We were not loud at all and were approached. Made for an early night which was unfortunate as we traveled a ways and had other friends who rented spots also.
Oct 13, 2020
Great friendly staff, clean facilities. But very disappointed with the loud vulger neighbors we had, so thankful we didnt have children with us and it hope if we come back we dont have to endure that again
Oct 13, 2020
Loved the camp ground and cabin. 1st time there. Will surely go back again.
Oct 13, 2020
Great campground and staff that make you feel at home. It starts as soon as you pull in and they escort you to your site and help you get back in etc.
Oct 13, 2020
Our Favorite place to stay! Love Gettysburg KOA! The owners are so Friendly along with their KOA crew! �ϋ�������
Oct 13, 2020
We had a great stay. Campground and restrooms were nice and clean. Campground was quiet and the environment was beautiful with lots of trees for shade. We were extremely satisfied with the friendliness of the staff and Bob who volunteered help my husband back in our camper was amazing! Saved us a lot of stress of backing in ourselves!! We wish every campground had someone who did that!
Oct 13, 2020
It was great!
Oct 13, 2020
It was beautiful, clean and the staff was very friendly. Definitely coming back.
Oct 12, 2020
We had a great time we in � joy are time
Oct 12, 2020
Great location and a very clean sites that are will maintain but best of all the staff is super! Both Bob and Skip are the experts in getting my 38' 5th wheel backed in to my site.
Oct 12, 2020
We enjoyed a wonderful weekend at your campground and appreciate the constant effort you do to continually upgrade. We will come back as often as possible. Thank you.
Oct 12, 2020
Met at the gate with a friendly 'Hello' and it was all UPHILL from there. Great weekend!
Oct 12, 2020
We had a great time. Really enjoyed our time in Gettysburg. My wife grew up there.
Oct 12, 2020
Clean site, family atmosphere and plenty to do and see in the area! We have stayed 4 times and always have a great experience! Very friendly staff!!!!
Oct 12, 2020
We loved it!! Property is well maintained and staff are helpful and very nice... we can't wait to go back in the spring!!:)
Oct 12, 2020
See you next season wish you guys were open up during the winter
Oct 11, 2020
Great sites, friendly and informative staff, great location to Gettysburg. Met lots of new dog friends!
Oct 10, 2020
Very nice to be back after a few years of hurricanes and Disney world. Will be back next year for the china virus free Apple Fest in a new rig . We brought along some new campers in their rig and they loved it also. They too will be back next year . Border Collies were relaxed and rested .
Oct 10, 2020
We had a very pleasant stay.
Oct 10, 2020
KOAs are always great! It was my friend's first stay at one, and she loved all the amenities — power, showers, clean camp spots, ice cream :)
Oct 10, 2020
It was so much fun! The cabin was very nice and clean!
Oct 10, 2020
Friendly staff clean restrooms great location
Oct 10, 2020
I liked everything about this place. Not a fan of the the rocks though
Oct 10, 2020
all good but the showers are like a pressure washer, no adjustments for safety. your skin will tear if to long under.
Oct 09, 2020
We always love camping at the Gettysburg Koa, The staff & owners are very friendly and helpful. We never go to any other campground, when we are up in Pennsylvania,Pa. Thank you to the Bergeron Family
Oct 09, 2020
Never again. Most unfriendly KOA I have stayed. Have stayed at many
Oct 09, 2020
Amazing stay, clean cabin friendly staff. If I was to suggest any improvements it would be some type of fire poker set for the fire pit in case there is a need to re arrange the logs safely. And string lights or an extra porch light on the patio side as at night it gets very hard to see on that side of the cabin. Other than that our way was amazing.
Oct 09, 2020
We had a great tent site! Very nice staff. Restrooms are super clean and well lit. Will visit again!
Oct 09, 2020
Restrooms and showers were immaculate! Grounds were well maintained. Staff members were friendly and helpful. The campsites were situated to maximize privacy and felt cozy without bring claustrophobic.
Oct 09, 2020
One of the nicest KOA campgrounds. People are great. Beautiful sites. Well kept grounds. Will definitely be back!
Oct 09, 2020
Beautiful KOA! Sites are large, private and very well kept. The staff is amazing. They not only drive you to your site, but they stay with you and help you situate your rig.
Oct 08, 2020
Convenient location with well equipped level shaded sites. Gettysburg information and tour tickets available at office. Excellent campground.
Nov 09, 2020
We spent our tenth Halloween here with a large friend group. We've camped at five area campgrounds and this is our favorite. The wooded setting is perfect especially in the fall. The staff always does a a great job with activities. Some activities were changed due to COVID, but we were able to trick or treat as usual and every kid went away with plenty of candy.
- MattFromPA73 on Trip Advisor
Nov 04, 2020
We had a great time there. Staff was friendly close to amenities. Would love to go back.
- Anthony S on Google
Oct 30, 2020
Great atmosphere! Friendly and helpful staff, well maintained and clean. The sites were well laid out and pretty cool :) we will be back!!
- Robert Winters on Google