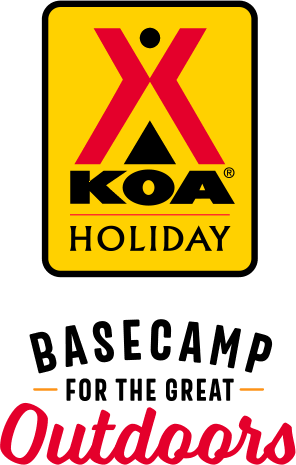 KOA Holiday Campgrounds
Whether you're exploring the local area or hanging out at the campground, KOA Holidays are an ideal place to relax and play. There's plenty to do, with amenities and services to make your stay memorable. Plus, you'll enjoy the outdoor experience with upgraded RV Sites with KOA Patio® and Deluxe Cabins with full baths for camping in comfort. Bring your family, bring your friends, or bring the whole group – there's plenty of ways to stay and explore.
KOA Holidays Feature:
RV Sites with a KOA Patio®
Deluxe Cabins with full baths
Premium Tent Sites
Group meeting facilities
Directions
From Rt 116: Turn north onto Knoxlyn-Orrtanna Rd (Needle & Thread at corner). Go 2.2 miles. Bear left onto Knox Road.
From Rt 30: 3 miles west of Gettysburg turn south on Knoxlyn Rd. Follow to end. Turn right onto Knoxlyn-Orrtanna Rd. Go 1/2 mile. Bear left onto Knox Rd.
Get Google Directions
Jun 14, 2021
Wonderful time!
Jun 14, 2021
This is one of the nicest KOA's (nicest campground in general) we have stayed at! Stayed in a full hook-up back in gravel site with a beautiful glider—-such a nice touch! Site shaded & so level(didnt need any blocks). Pool was nice&clean. Close to many attractions. Definitely will return!
Jun 14, 2021
Very nice. Good camping atmosphere. Liked the newer bathroom facilities... not too far from town.
Jun 14, 2021
Great!! Beautiful campground, tons for kids to do & the pancake breakfast on the weekends is super handy, especially when leaving to head home on a long drive & do not have to worry about food! Will be back for sure
Jun 14, 2021
This is one of the smaller KOAs we've been to but was one of the best. Nearly all the sites are wooded and the staff were amazing. Our site guide not only directed us to our site but expertly directed in during a downpour. Above and beyond.
Jun 14, 2021
We had a great time at your park. WE LOVED THE ABILITY TO HAVE BREAKFAST IN THE NEW BUILDING!!! I can see why this park was a President Award winner.
Jun 14, 2021
We enjoyed the cabin and loved all the amenities. There was tons of activities and the staff was lovely! Cannot wait to visit again!
Jun 14, 2021
Love this campground. Is my favorite koa around
Jun 14, 2021
The sites were very spacious. Very easy to pull in and out of. They also have great activities for the weekend. I also loved how they found creative ways to have fundraising events.
Jun 14, 2021
Everything was perfect, staff were super friendly, bathrooms were clean, the extras were great. Always love our stay at this KOA!
Jun 14, 2021
Very clean and conveniently located. Enjoyed the hiking trail at the camp which was enough to get a little exercise but not too much that I needed a nap after walking it. Great staff, very friendly and helpful. This was our first visit to Gettysburg and when we make it back this will be at the top of our list of places to stay.
Jun 14, 2021
Staff very friendly. We will be back again. Very happy with our stay. Gift shop was great!
Jun 14, 2021
Family rented 3 cabins (all different sizes) and loved each one 6/11-6/13. Only suggestion is perhaps discrete handles for the toilets and tubs for the comfort of the older camping population. Looking forward to coming back several times a year with the whole family again. Beautiful campground!!
Jun 14, 2021
Fast check in clean cabin friendly staff
Jun 14, 2021
Stay was great, staff was courteous and friendly met some great folks. Easy to get to. We only wish that it hadn't rain all weekend so we could have enjoyed the park a lot better.
Jun 14, 2021
Great communication
Jun 13, 2021
This KOA was one of the best we have ever stayed. We stayed for two nights as a stop over on our way home from the coast. The people were extremely friendly and very helpful. The grounds are well kept and the landscaping is very pretty. They have many fun things to do, like miniature golf, shuffleboard and a nice pool. We would definitely stay again if the opportunity would happen.
Jun 13, 2021
Even though the sites are next to each other. You don't feel cramped because of the trees between the sites. Been to campgrounds from Maine to Montana the last 3 years. This has the some of the nicest showers. Nice little dog park for our 8 month old puppy that was tired of being cooped up in the RV. Pancake breakfast on weekends was a nice treat before we hit the road.
Jun 13, 2021
The campground is a diamond in the rough. The sites are large and there is some level of privacy. The staff was friendly and knowledgeable. Its just far enough away from the hustle and bustle of Gettysburg. But close enough to drive into town to see the attractions. There is a shuttle to The battlefield Tour stop on weekends. Also they provide a number so You can text the staff if needed.
Jun 13, 2021
Nest RV park we have ever stayed at.
Jun 12, 2021
Beautiful setting with great sites. Very clean ! Pleasant stay for sure and I love the added touch of all the cicadas !
Jun 12, 2021
Even though the space between units is small, landscaping and trees is so well done, privacy of space is still maintained... A beautiful camping environment...
Jun 12, 2021
Tent camped for 3 nights. Facility was immaculate, staff friendly and helpful, campground very quiet. Would absolutely stay again!
Jun 12, 2021
Oh my God. This is such a wonderful campground. I often go to KOA campgrounds when I travel in my Class A Mobile home, but I have to say that this KOA is outstanding. Thank you all who work there for keeping it so clean . ---Bob D
Jun 12, 2021
The campground was beautiful, very family friendly. The only problem I had was the bathrooms by the office. Every time we went in the smell was terrible.
Jun 11, 2021
Nice campground! We werent in camp much, but did enjoy it. Not sure what is with KOAs lately, but the last few we stayed at had small amounts of garbage in the camp sites. I know it falls on us as campers to clean up after ourselves, but the small pieces were very noticeable in the last few KOAs. Otherwise this was a great place.
Jun 11, 2021
Nice, quiet, clean campground.
Jun 11, 2021
Check-in was quick and easy. The cabin was everything I expected. The guys in the golf carts were very helpful. We felt clean and safe both nights. The campground was quiet and family oriented. We would certainly stay there again if we ever return to Gettysburg.
Jun 11, 2021
Beautiful campgrounds with gorgeous trees and lots of fun activities to do with the kids. We loved it!
Jun 11, 2021
Super friendly staff, very clean sites and restrooms. Maintenance people were constantly buzzing about tending to things and the office ladies were extremely helpful in arranging a city bus tour for us. Great camp!
Jun 10, 2021
Very nice campground. Loved the nice touch of the plantings/flowers at many of the sites. Liked the short drive to Gettysburg and the battlefield. Only drawback is our pull through site (#51) was a bit short for our rig (33' plus truck). Also, dog park is close to the road and there is no holding area so that dogs already off leash can't escape when someone comes in.
Jun 10, 2021
Beautiful KOA, staff is very helpful and so friendly!
Jun 10, 2021
Absolutely lovely campground. Fun amenities, and kind staff. The only disappointment was there was no trampoline/marshmallow pillow like shown on the website.
Jun 10, 2021
Very clean, well-maintained campground. Level site.
Jun 10, 2021
Great place to stay. Staff was very accommodating, cheerful and helpful. Lots to do at the park from little one to us older one's.. Staff recommended a great tour and helped us book it. Thank you!
Jun 10, 2021
We travel a fair amount and have stayed at a large variety of campgrounds, including National and State parks as well as commercial campgrounds. This KOA campground was the best campground that we have ever stayed at. The facilities are excellent. There is a pool. Our dog had fun in the dog play area. We had good wifi internet. Good electric and water. And finally very friendly and good staff.
Jun 10, 2021
Beautiful setting, great sites, lots of trees, secure, clean, dog park. Everything looked to be in great shape and up to date. Pool area was sunny and secure with lots of seating/lounges. Very family-oriented!
Jun 09, 2021
The campground was pretty clean and comfortable. We stayed in a camping kabin which was pleasing to us except the air conditioner was not working right and the kabin was very warm and made sleeping pretty tough.
Jun 17, 2021
Highly recommend this nice shaded campground. Amenities are great. Campground and bathrooms are clean. Staff is absolutely wonderful. Battlefields are close and there is a ton of stuff to do in the area. Will be coming back. Will recommend to friends.
- Joshua Darnell on Google
Jun 15, 2021
Love, love, love this place!!!
- Anne Schwartz on Google
Jun 15, 2021
Great place to visit. Clean and ......Power?! At the campsite!! Good for families.
- Papa Bear01 on Google