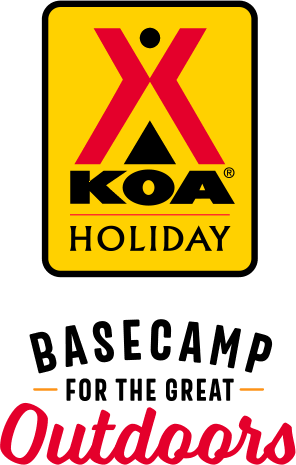 KOA Holiday Campgrounds
Whether you're exploring the local area or hanging out at the campground, KOA Holidays are an ideal place to relax and play. There's plenty to do, with amenities and services to make your stay memorable. Plus, you'll enjoy the outdoor experience with upgraded RV Sites with KOA Patio® and Deluxe Cabins with full baths for camping in comfort. Bring your family, bring your friends, or bring the whole group – there's plenty of ways to stay and explore.
KOA Holidays Feature:
RV Sites with a KOA Patio®
Deluxe Cabins with full baths
Premium Tent Sites
Group meeting facilities
Directions
From Rt 116: Turn north onto Knoxlyn-Orrtanna Rd (Needle & Thread at corner). Go 2.2 miles. Bear left onto Knox Road.
From Rt 30: 3 miles west of Gettysburg turn south on Knoxlyn Rd. Follow to end. Turn right onto Knoxlyn-Orrtanna Rd. Go 1/2 mile. Bear left onto Knox Rd.
Get Google Directions
Apr 06, 2021
Great Campground
Apr 06, 2021
Nice variety of activities.
Apr 06, 2021
We loved the easter egg hunt that was provided, my son had an amazing time. The staff was amazing �
Apr 05, 2021
My husband and I always enjoy our stay here. It's quaint & peaceful. Our sight included a duel glider, a stone fire pit and was private and cozy. The bathhouses are always clean and the water pressure in the shower is phenomenal!!! Staff members are very friendly, and BOB or JOHN are the BEST at guiding you and your camper into your sight, even in the dark!!
Apr 05, 2021
Staff was very pleasant. Grounds were well cared for and tidy.
Apr 05, 2021
Loved that someone helped us back into the spot and delivered firewood to us! We will definitely be camping with you again!
Apr 05, 2021
This was a fantastic stay. Staff are wonderful. I honestly can't say enough about the peasant interactions and kindness each individual shared. At my late arrival Brian made sure I didn't need anything and made for a great welcome. Your coffee is good and the ladies were a positive way to start my mornings. I plan on coming back as many times as I'm able. Thanks so much.
Apr 05, 2021
It was a nice campground. The sites were good sized and level. WE had very few interactions with the staff but the ones we did have were very friendly.
Apr 05, 2021
We had a great time staying at Gettysburg KOA and all the activities they have were great! Will be returning soon!
Mar 02, 2021
The entire staff is over the top WONDERFUL! My son and I were treated beautifully! It was our first time Glamping!!! And now we are hooked! Spring Break is already reserved!
Feb 28, 2021
We had a fantastic stay! Our campsite was great, and the entire campground was very nice and clean and well-kept. The whole family enjoyed all the amenities, including the pool, the playground, the fabulous mini-golf course, the pedal cars, the gem mining station, and shuffleboard. We also really enjoyed the nature hike! Great location for visiting historic Gettysburg and the battlefields.
Nov 14, 2020
This KOA was great, albeit a bit crowded..meaning the spots were tight and yes, the place was full. The gentleman who helped guide us into our spot, had us way too close to the hook-ups so we did have to reposition our motorhome. Nonetheless, the area was quite cozy, the staff was very nice and friendly... We would come back again if in the area....
Nov 11, 2020
Thoroughly enjoyed our stay. Such a friendly campground. Owners and staff were SO helpful. Campground very well maintained and "fresh". Love the dog park. We live about an hr. drive away. Will definitely stay again.
Nov 05, 2020
We stayed 3 weeknights, leaving on a Friday. We stayed in a smallish travel trailer, 2 adults, no pets. Our site was beautiful and we enjoyed the glider and the very nice picnic table. We did not get to try the hiking/nature trail, perhaps next time. We stayed in October, and during pandemic, so I am sure it is different in the summer, with the pool and activities for children.
Nov 04, 2020
Everything was great as usual. We have been coming here for three years now. We do not consider any other campground in the area. See you next year.
Nov 04, 2020
We have been to the campground for roughly 24 years now for the Halloween weekend. We had a great time as always and the campground staff did an outstanding job. Cannot wait to be back in 2021 to enjoy the campground - we are actually planning a spring trip and are already looking forward to it.
Nov 04, 2020
Absolutely amazing is all I can say! We can't wait to come back! Thanks for the friendly staff and the exceptional cleanliness!
Nov 03, 2020
I typically enjoy our Halloween weekend stays. I will say that I hope the door latch on cabin 15 gets fixed so that the screen door can stay closed.
Nov 03, 2020
Very good; really be glad when the restaurant reopens
Nov 03, 2020
Fun weekend, as always. You guys did great making it fun and complying with social distancing and COVID restrictions.
Nov 03, 2020
This weekends' stay marked our 23 year in a row that we have been going to the Gettysburg KOA. Our family had a great time. This has become a tradition that our kids have grown up with. We all cherish this weekend and look forward to it all year long. Our numbers continue to grow, as more family and friends want to be a part of the Special time that we cherish. Thank you so much Lorelle and Jon
Nov 03, 2020
We only stayed for 1 night but will probably be back next year!
Nov 02, 2020
awesome you handled the kids candy parade great,liked it that way better than the previous way
Nov 02, 2020
The activities were great for the kids. Enjoyed the Halloween treat or treating
Nov 02, 2020
Awesome weekend! The staff is so friendly and are always ready to help you with anything. We love Gettysburg KOA!!
Nov 02, 2020
We stayed in a Deluxe Kottage with a full bath and small kitchen. The queen bed in the actual bedroom could use a new mattress. It seem pretty soft and worm out in the middle. Other then that we had a good stay.
Nov 02, 2020
One of the most beautiful campgrounds! Great activities for the kids and a well stocked camp store.
Nov 02, 2020
Very friendly folks. Very clean and well maintained campground.
Nov 02, 2020
We just spent our tenth Halloween at Gettysburg KOA. As usual the weekend was very well run. Our group has grown to eight families and everyone looks forward to going. This is the best campground in the area to visit in the fall. The wooded setting is perfect and the owners continue to make improvements. All our kids have a great time.
Nov 02, 2020
Nice clean campground. Nice staff that make the stay enjoyable. Fun time!
Nov 02, 2020
Always enjoy our stays at this KOA, terrific people, site, 53, and location in general!
Nov 02, 2020
My family and I had a wonderful time. The grounds and restrooms were both kept very well. Also, the gentleman that helped back us into our site, made our morning. Very pleasant experience all around!
Nov 02, 2020
Great campground with family friendly atmosphere & pleasant staff!
Nov 02, 2020
Very enjoyable
Nov 02, 2020
Family weekend
Nov 02, 2020
It was a great Halloween Weekend, I just what to Thank the staff at the Koa for an amazing season this year. Can't wait until next Spring to do it again. Happy Holidays and New Year , See you in 2021.
Nov 01, 2020
The camp staff was very kind and friendly. The physical location of the KOA is absolutely perfect. I have tent camped at many KOA's across the country; this KOA's physical space is superb. The orientation of the tent sites and the wooded environs made my son and I feel like we could enjoy the solitude, fall foliage, and wildlife (e.g. owls!) usually reserved only for backcountry campers.
Oct 31, 2020
Easy check in with escort to site. Office area looked great as was decorated for upcoming Halloween weekend. Site clean with all utilities working well. Water pressure great. Cable good. Didn't bother with WiFi so can't comment on that. Also just used our own facilities. Great atmosphere! Peaceful and quiet. Owner and staff are all fantastic. Already have reservations for next year! Can't wa
Oct 31, 2020
Clean and people helping pull campers in were very helpful!!
Oct 31, 2020
The campgrounds were clean. The staff very friendly. And my tent site was perfect. I enjoyed my experience
Oct 30, 2020
Little cool the first night since central heat did not work, however portable heater was able to maintain cabin at a comfortable temp.
Oct 30, 2020
Only stayed one night but campsite very nice and staff friendly and helpful
Apr 18, 2021
Beautiful, clean, tidy, well planned, wooded campground, Best KOA we've been to. Sites are well spaced and sized. Not only a play yard for the pooches but also a walking path. Store well stocked. Friendly, informative staff. Easy access to Gettysburg National Park.
- Susan Showalter on Google
Apr 15, 2021
We have a short list of campsites we like, and this one is now on the list. It's tucked away in the hills, with trees and nature everywhere. Crushed rock everywhere, so no mud. Lots of things for everyone to do, including a nature trail. Spacious sites, neat as a pin, great camp store, nice people and sparkling clean showers. Very close to Gettysburg and all that it offers. We'll be back and stay a few days the next time.
- Chuck Hollis on Google
Apr 12, 2021
Very pleasant experience at the camp ground. Staff is great, entire place is well maintained. Team cleans bathroom multiple times, even though we had our RV trailer, we did use the facilities. The store is well equipped. Each site is quite roomy, and adequate trees in surrounding to feel private. There is trail at the back of ground, and not too far from battlefields.
- Nil Dhanani on Google