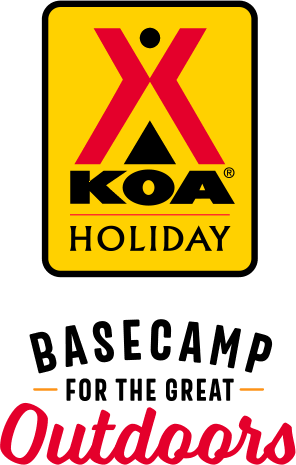 KOA Holiday Campgrounds
Whether you're exploring the local area or hanging out at the campground, KOA Holidays are an ideal place to relax and play. There's plenty to do, with amenities and services to make your stay memorable. Plus, you'll enjoy the outdoor experience with upgraded RV Sites with KOA Patio® and Deluxe Cabins with full baths for camping in comfort. Bring your family, bring your friends, or bring the whole group – there's plenty of ways to stay and explore.
KOA Holidays Feature:
RV Sites with a KOA Patio®
Deluxe Cabins with full baths
Premium Tent Sites
Group meeting facilities
Directions
From Rt 116: Turn north onto Knoxlyn-Orrtanna Rd (Needle & Thread at corner). Go 2.2 miles. Bear left onto Knox Road.
From Rt 30: 3 miles west of Gettysburg turn south on Knoxlyn Rd. Follow to end. Turn right onto Knoxlyn-Orrtanna Rd. Go 1/2 mile. Bear left onto Knox Rd.
Get Google Directions
Sep 16, 2021
It was okay but the water smells bad like sewer. If I was warned about it, at least I know what to expect.
Sep 15, 2021
Evereyone was so friendly and helpful. Our accommodations were extremely clean, and there was a wide range of activities for all. Keep up the good work!
Sep 15, 2021
Staff work very hard keeping everything clean & orderly..... bath houses, grounds, etc.
Sep 15, 2021
Very nice and clean campground, especially the bathrooms. Reasonably priced. We liked that it is a wooded property. Unfortunately various nuts were falling on our trailer all night. Very loud! But that's all part of the camping experience. We will stay here again.
Sep 14, 2021
Except for the 5 am Skunk, everything thing was fine. Glad the pancake breakfasts are back.
Sep 14, 2021
Had a great weekend
Sep 14, 2021
We had an awesome site, the campground was extremely clean and well managed, and we loved the ghost stories!! This is a great campground!
Sep 14, 2021
It was our first time for my wife and I to visit the campsite or even go camping we love the cabin everyone there was very nice and very helpful if we had a problem it was addressed immediately everything was clean the people were all very friendly and we had a great time we definitely will be back
Sep 14, 2021
The campground was very clean and all the sites were cleaned after every stay which is nice. Mr. Adam's recommended this campground to me and my wife. We will return next year hopefully more than once. I only have 1complaint per se I was in site 70. It was a little tight getting around down there with that site in the middle of the round about.
Sep 14, 2021
Nice clean campground good spot
Sep 14, 2021
We stayed in a cabin and it was everything we hoped it could be, clean and very modern. The camp ground was family friendly, relaxing and very organized. The staff was very welcoming and kind. AND best of all for a family of young children we didn't see loud, rowdy behavior or drinking. We camp all over and this is usually a common issue, but not here. Thank you for a wonderful stay.
Sep 14, 2021
First time at a KOA campground. Enjoyed everything about the site and location near Gettysburg. Bathroom and showers very clean. Grounds and sites clean. Easy in and out of site and campground.
Sep 13, 2021
Consistently clean campground. Staff is always helpful.
Sep 13, 2021
In typical KOA fashion our cabin and lot were spotless. This is an amazing campground and very friendly staff!
Sep 13, 2021
My dogs wouldn't pee on all the stones. It was a hassle having to walk to the road every time. After our camper was locked up and ready to leave I walked to the bath house to use the facilities and came to find out they were all shower/toliet which were all occupied. There should be just restrooms available somewhere. On the upside. It's a beautiful campground and very well maintained.
Sep 13, 2021
Very friendly staff, campground a little smaller than usual for us but very clean, sites a little tight but we loved our location. We will be back!
Sep 13, 2021
We camped for a weekend. Was just the 2 of us, no kids. But the playground and activities looked very nice. We enjoyed the breakfast on Sat morning. Not a good campground for bike riding, but enjoyed the mountain setting. Enjoyed the ghost story teller that visited on Sat evening. Very entertaining. Sites are spaced nicely with lots of trees.
Sep 13, 2021
We found the staff extremely courteous and helpful. The park is very clean and well maintained. The campsites are a little close together but not a deal breaker.We will definitely camp there again.
Sep 13, 2021
Excellent and friendly staff, spacious and well groomed campsites, and an excellent location. We were very pleased.
Sep 13, 2021
Spotty WIFI connection in the RV, had to walk near the store for good reception. It was quiet and relaxing, but it got to 60 degrees and I wasn't ready for that. All in all It was okay.
Sep 13, 2021
Relaxing. Large beautiful sites
Sep 13, 2021
The campsites are beautiful and the campgrounds is so well maintained!! One of my favorite koas that is in our area!! We will definitely be back to stay.
Sep 13, 2021
It was great….We will return…a shuttle would be nice but Uber worked for us
Sep 13, 2021
Everyone was very helpful, nice and knowledgeable. Campground is well maintained. We stayed in a deluxe cabin and it was very clean. The ladies handling the weekend breakfasts have alot of energy. The cinnamon pancakes are amazing.
Sep 13, 2021
The campground was fantastic! The staff was friendly and extremely helpful in meeting all of our requests. Thank you for a great stay.
Sep 13, 2021
Very friendly and helpful staff. Clean and neat campground. Loved the individual showers. Enjoyed our site which was wooded and tucked into the curve of the loop. Would definitely stay there again and recommend to others.
Sep 13, 2021
As has always been our experience at KOAs, the staff was very attentive and we thoroughly enjoyed our stay.
Sep 13, 2021
Clean comfortable friendly and quiet!
Sep 12, 2021
Have already made reservations for a second visit.
Sep 12, 2021
Beautiful campground. Very friendly helpful staff. Wish we were there for a longer stay.
Sep 12, 2021
Clean and quiet!
Sep 11, 2021
Very family oriented. Enjoyed all the shaded spaces
Sep 11, 2021
So relaxing and enjoyable! Love staying here. The staff is always helpful, cheerful and polite. Grounds so well maintained. (We always stay in a cabin and they are so clean and inviting). Thanks for a relaxing get away!
Sep 11, 2021
Battlefield Holiday KOA was recommended by a friend and fellow camper. As a first time RVer we will now judge all future campgrounds by our experience at Battlefield KOA. THe staff was so friendly helpful (especially John) who always made himself available with a smile and patience. Battlefield Holiday KOA has set a high bar for other campgrounds to reach.
Sep 11, 2021
Very friendly staff. Really enjoyed staying. Will be back again. Campgrounds are keep super clean .
Sep 11, 2021
As tenters we loved the sites done in ledge pack we were even placed on a site to ensure we wouldn't be flooded by the storm how thoughtful restrooms were very clean shower too and free grounds are wooded and very well maintained staff was friendly
Sep 11, 2021
Good location, easy access to camping sites, very nice bathhouse, friendly staff. I would definitely stay again!
Sep 10, 2021
Everyone of the staff was so kind and friendly. The camp site was level and very well kept and maintained. The camp store is very well stocked with all kinds of thin. We are differently coming back next year and stay longer. There is a staff member on a golf cart to guide you your camp site which was great. It is a most to stay at KOA if you are visiting Gettysburg for a few days or longer.
Sep 10, 2021
Excellent place to stay! Service was great from both front office and grounds crew! Was very very pleased with our stay! Would definitely stay again and would also recommend to others!
Sep 10, 2021
Wonderful...loved the semi private spaces, very clean bathrooms and very nice staff!
Sep 13, 2021
Was a great family place to go, close to the battle field, and everyone on their staff was friendly and informative, will go again!
- Francis Pietrinferno on Google
Sep 12, 2021
Very relaxing campgrounds. Beautiful large sites
- Missy Zeltwanger on Google
Sep 10, 2021
What a hidden gem. Well placed sites. Not to big and not to small. Will come again.
- Ken Junior on Google