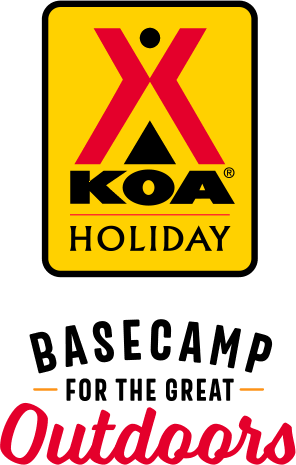 KOA Holiday Campgrounds
Whether you're exploring the local area or hanging out at the campground, KOA Holidays are an ideal place to relax and play. There's plenty to do, with amenities and services to make your stay memorable. Plus, you'll enjoy the outdoor experience with upgraded RV Sites with KOA Patio® and Deluxe Cabins with full baths for camping in comfort. Bring your family, bring your friends, or bring the whole group – there's plenty of ways to stay and explore.
KOA Holidays Feature:
RV Sites with a KOA Patio®
Deluxe Cabins with full baths
Premium Tent Sites
Group meeting facilities
Directions
From I-45 take Exit I45 to 61st Street. Turn right at 61st Street then turn right at Seawall Blvd. We are located 15 miles from the end of the Seawall. Look for large blue "Isla del Sol" water tower. We are located 1 mile on the right. From Hwy. 288 take Exit 288 to 332. Follow 332 until it ends and then turn left onto 257/Bluewater Highway. Follow 257 and cross the Galveston Toll Bridge. Galveston Island KOA Holiday will be 3 miles on the left.
Get Google Directions
Sep 21, 2021
We love this place and the people that work there. Wide open spaces and level spots!!
Sep 16, 2021
Very relaxing and lots of room for our two pups to hang out.
Sep 15, 2021
Had a great time. Staff was just wonderful and very helpful. Sadly had to leave early due to Hurricane Nicholas. Already planning our next return to this wonderful KOA. Cheers. John R
Sep 15, 2021
Very nice facility and personel. Easy access and great location.
Sep 14, 2021
Had a great time. Park is clean and open, and they stay on top of everything. Great location too, close enough to everything but also quiet. Will definitely be back!
Sep 14, 2021
Very nice location & great, clean facilities. Wonderful access to the beach. Trip into town takes awhile (20-30 minutes). Can't say anything good about the free wi-go & the pay-to-use wi-fi was not much better.
Sep 14, 2021
Fantastic stay! The staff went above and beyond to help me with an issue I had this weekend with my trailer. A+ service on Friday 9/10 morning by the people working around 11AM! The park is super clean, well spaced sites and lots of fun activities. We will be back!
Sep 14, 2021
The staff was super friendly always. This is my second trip here and it was wonderful. Will for sure be back!
Sep 14, 2021
Everything was great....friendly and helpful staff, wonderful activities, amenities, entertainment......plenty to do and enjoy!
Sep 14, 2021
We were a late check in. The WiFi # was written in, the emergency # was not clearly identified. We were put into a spot that was already occupied. I called all numbers provided but could not reach anyone. This led to the people in our spot harassing us for over an hour while we set up in a different spot we picked on our own (their actual spot). Management did not seem sorry or helpful.
Sep 14, 2021
This was the nicest KOA campground we have ever stayed. So clean. Lots of activities for the campers. We will stay here again!
Sep 13, 2021
It was great Lots going on Do not like wearing arm tags
Sep 13, 2021
This place is very clean and the service is great. Everyone was very helpful. The lazy river and the pool was always very clean. The beach was at a walking distance which was nice. And really enjoyed the Pina Colada's.
Sep 13, 2021
We enjoy your campground so much! Lazy river is wonderful, the pool is wonderful, and the hot tub is so relaxing. Yet all of this fades next to the wonderful management and staff of the park. Y'all rock! Our dogs love the dog park. Oh, I'd be remiss if I didn't mention the delicious pina coladas from the office. So amazing! We will be back again. Until then, stay safe y'all!
Sep 13, 2021
We had a great time. Loved the access to the beach. If we turned right from the campground we could drive on the beach. If we turned left we could park at the beach. Also the beach access was easy to walk to. The campground is neat and clean and provides great activities for the entire family. The staff was extremely friendly and helpful! We will definitely be back.
Sep 13, 2021
The property is great... it's laid out well and very clean. The staff is always easy to work with. It makes for a great stay. Thank you, Chris Shields
Sep 13, 2021
Staff friendly and hospitable. Fun activities. Informative. Very clean
Sep 13, 2021
Great clean site. We loved the amenities especially the pool and camp store. Lots of space between sites and easy access to the beach. See you again soon!
Sep 13, 2021
Clean park, great condition, delightful and helpful staff, nice amenities.
Sep 13, 2021
very enjoyable. We have stayed at koa's all over the u.s. and have to rate your park at the top of the list.
Sep 13, 2021
One of our favorite places to stay! Staff is friendly, attentive accommodating.
Sep 13, 2021
It was amazing! The staff were very friendly with fun activities for us. The RV site was spacious and clean. We really loved it and plan to go back again.
Sep 13, 2021
We really enjoyed our stay my only suggestion would be turn the air conditioner down in the shower.
Sep 13, 2021
Very nice sites and the staff was excellent!
Sep 13, 2021
Friendly staff, clean facility, level pad sites, good water pressure. All-in-all, a very pleasant experience.
Sep 13, 2021
Great - except the WiFi which was slow and erratic. Like most KOA's. Why even bother to have a WiFi if it is so slow and drops you off the net ever few minutes.
Sep 13, 2021
Very nice quick stay with KOA rewards weekend. We love this campground and facilities.
Sep 13, 2021
We have always enjoyed staying here, and that hasn't changed since they have become a KOA. In fact, we joined as members due to this campground. Clean, spacious sites, plenty to choose from. Ability to pick a spot was a bonus! The office makes yummy adult drinks. After hours check-in is a breeze. We enjoy the pools, and even though it is quite a drive to anything, we like west end.
Sep 09, 2021
The park was very clean. The staff was very friendly and welcoming. I enjoyed the RV Q&A on Saturday morning and my family enjoyed the activities.
Sep 09, 2021
Wonderful staff. Tammy has put together a great staff that works to make sure every customer has a great experience. Internet service or lack thereof was the biggest negative. We wanted to stay another month but KOA winter rates didn't go into effect until October and comparable RV parks in the area winter rates went into effect after labor day. Loved the KOA but price was double.
Sep 08, 2021
Wonderful. Perfect place for a family. We love it.
Sep 08, 2021
We used to love this place. Now it's grown in sites but the amenities stays the same. That means the pool and the lazy river was way over crowded. We went to pool and stayed there less then an hour because it was shoulder to shoulder with people. We stayed at the site all weekend. Need to add another pool to count for the people that stay. The grass was to long and fire ants were everywhere.
Sep 08, 2021
The campground was clean and well spaced out. Staff was very friendly. We wished though that there was a playground for our grandson. Also, The lazy River was taken over with people who just were drinking and not moving which discouraged us from going in.
Sep 08, 2021
we had a great time took my grand kids and they had a blast enjoyed the lazy river and the pool
Sep 07, 2021
Very clean and nice pool. Great staff! Only down side was all the mosquitoes at night time. Has a great time anyways.
Sep 07, 2021
We've been coming for years and have to say that there needs to be another pool or two for the number of spaces you have now. Your pool pump can't keep up with how much nastiness is on people's bodies when so many are in the pool. With that being said, we we still come back because we love the location and we enjoy the park. We meet Marc on Thursday and he was very friendly and a hard wo
Sep 07, 2021
Friendly and fun! We loved the proximity to the beach and all the amenities at the park. Live music by the pool and kids activities were offered. Would definitely stay here again .
Sep 07, 2021
We were liked it there...friendly staff
Sep 16, 2021
Great place to go near the beach easy beach access very friendly people they even offer frozen drinks in the office very fun pool nice place to go for a get away.
- Steve Mordaunt on Google
Sep 16, 2021
Great RV park with big sites and a short walk to the beach. We will definitely return.
- Gary Aliano on Google
Sep 05, 2021
So surprised I didn't know they had a K O A so close by to Galveston.. Can't wait to go there
- Patricia Ibarra on Google