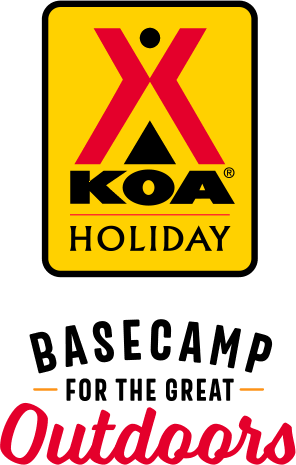 KOA Holiday Campgrounds
Whether you're exploring the local area or hanging out at the campground, KOA Holidays are an ideal place to relax and play. There's plenty to do, with amenities and services to make your stay memorable. Plus, you'll enjoy the outdoor experience with upgraded RV Sites with KOA Patio® and Deluxe Cabins with full baths for camping in comfort. Bring your family, bring your friends, or bring the whole group – there's plenty of ways to stay and explore.
KOA Holidays Feature:
RV Sites with a KOA Patio®
Deluxe Cabins with full baths
Premium Tent Sites
Group meeting facilities
Directions
From I-45 take Exit I45 to 61st Street. Turn right at 61st Street then turn right at Seawall Blvd. We are located 15 miles from the end of the Seawall. Look for large blue "Isla del Sol" water tower. We are located 1 mile on the right. From Hwy. 288 take Exit 288 to 332. Follow 332 until it ends and then turn left onto 257/Bluewater Highway. Follow 257 and cross the Galveston Toll Bridge. Galveston Island KOA Holiday will be 3 miles on the left.
Get Google Directions
Oct 19, 2021
Loved the park and the staff! And the detailers to work there and clean my trailer!
Oct 19, 2021
Staff was very nice & helped me get a spot near the restrooms yet close to beach access. Thank you! I really appreciated the clean bath & shower. The grounds too were immaculate good job. I'll be back
Oct 19, 2021
This is our second time here and still as friendly as the first time. Definitely would come back
Oct 19, 2021
Clean friendly and good amenities.
Oct 18, 2021
Galveston KOA was a great place to stay. The staff is friendly & helpful. Everything was clean & the spaces are large.
Oct 18, 2021
Still do not understand why there is a need to add $20 to reserve a campsite?? If it is open, just keep it reserved for the stay. The campground was not even half full??
Oct 18, 2021
Great facility. Great location. Beach access could have been better.
Oct 18, 2021
Loved it. Nice neighbors. Helpful staff. Very very clean facility.
Oct 18, 2021
The staff was friendly and helpful. The bathrooms, pool hot tub and lazy river werevwell maintained. The grounds were also kept clean and it was such a close walk to the beach and gulf. I really had an enjoyable time & can't wait to visit again.
Oct 18, 2021
Very clean site. Staff was nice and helpful.
Oct 18, 2021
It was great! Tons for the kids to do, staff were all very friendly!
Oct 17, 2021
The park was clean and well kept. I would certainly suggest to anyone going that way to stop and stay. One complaint I have about ALL KOA parks is the dog barking problem. I don't currently own a dog and I get tired of other dog owners not "hearing" the barking of THEIR dog. It's not fair to the rest of us to have to listen to it. I understand this is not something that's not easy to control.
Oct 17, 2021
Very nice stay, campground and facilities are first rate, cable service far above average. Access to beach is a 3 minute drive to a drive on or car free area
Oct 17, 2021
Had a nice time. A little expensive to lock in a site we picked for $20.00 when no one was even near us the hole 5 days we were there. Other than that we had a good time.
Oct 15, 2021
This campground is nice. It's large with a beautiful pool and hot tub. The staff was very friendly.
Oct 14, 2021
We had a great time at the Galveston KOA. The staff was very friendly, the sites were very leveled and had plenty space between sites. The swimming pool was good and the lazy river, even though they are not that big for an RV Resort. They had some activities throughout the weekend. The KOA was very close to the beach access, clean restrooms and clean park.
Oct 14, 2021
Enjoyed every part of it. The extra activities were a welcome option.
Oct 14, 2021
Great service and great amenities!
Oct 14, 2021
Staff was great!!!!! Will come again
Oct 13, 2021
The camp sites were nice. The staff were not very friendly and seemed uptight. The resort seemed to cater to families with children primarily.
Oct 12, 2021
Great park! Very clean and well taken care of. Loved the atmosphere. Have already mentioned it to friends. And we will be back again
Oct 12, 2021
The staff are so friendly!! Kevin went above and beyond. The kids had a blast at the beach and lazy river. We will be coming back.
Oct 12, 2021
Great time and great location
Oct 12, 2021
Very fun place to stay. The sites are spacious. There was activities all weekend. Access to the beach is close.
Oct 12, 2021
Excellent place and friendly staff. I definitely will be returning!!!!!!
Oct 11, 2021
This was our 4th or 5th time to stay there this summer with our 5th wheel - always nice people, clean and enjoyable atmosphere. Best kept secret of Freeport/Galveston
Oct 11, 2021
This was our second trip to Galveston KOA, both trips were great. The staff is super helpful, informative and pleasant. This is our new favorite Galveston camping spot. The property is well maintained and clean. Sites are spacious!! Reasonable rates!
Oct 11, 2021
Great weekend. Staff is very accommodating and helpfull Great campground
Oct 11, 2021
Campgrounds were very clean and well taken care of. The check in process was extremely easy & staff was very helpful! The area itself was lovely and the amenities were plenty. Also, all communications throughout the stay were prompt and very helpful! I will definitely be a reoccurring guest at these facilities! Thanks KOA for making our trip a memorable one!
Oct 11, 2021
Amazing! Staff was great, campground was clean with lots of amenities. Loved the activities!
Oct 11, 2021
We stayed one night and the kids had a blast. The place is very clean. The sites are leveled and spacious.
Oct 11, 2021
Great staff, great facilities, very friendly atmosphere.
Oct 11, 2021
Great way to celebrate my birthday, 3 days enjoying what KOA had to offer and the golf coast just across the street. We stayed in a cottage, family of 5, very nice. Thank you!
Oct 11, 2021
This is a very clean park with a very attentive staff that cares . The swimming pool and lazy River was very relaxing and very clean . The RV spots were spacious and clean and level . We will definitely be coming back to stay again
Oct 10, 2021
First time there loved it! The beat part was when back at campground no sand and was able to feel clean after a day at beach can't wait to go back oct 23rd
Oct 09, 2021
Great place to stay! The beach is hands down one of the best one's I have ever visited. Next visit will be for more than a week!!
Oct 09, 2021
Clean, safe and nice amenities. Friendly check-in. Right next to a quiet beach. Overall we really liked our stay. Only reason not a 5 star stay is the WiFi. It was bad…really bad. I know it is a third party vendor but they should consider a new vendor for sure.
Oct 09, 2021
We traveled from Michigan to Texas and this not only the best park we stayed at, it's also the best KOA. This is an amazing park with great staff and amenities. We hope to return some time soon.
Oct 14, 2021
Me gustó la visita a Koa en Galveston ya que pase varios días excelentes.
- Rosalba Chacón Gómez on Google
Oct 10, 2021
Very nice place friendly staff
- Charles Sherrouse on Google
Oct 09, 2021
Great place for Families
- Matthew Randall on Google