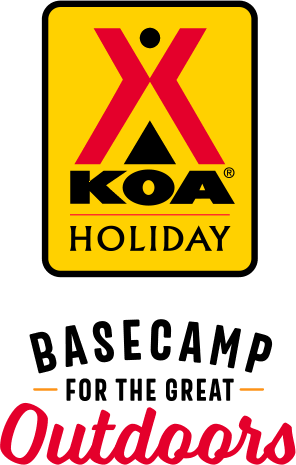 KOA Holiday Campgrounds
Whether you're exploring the local area or hanging out at the campground, KOA Holidays are an ideal place to relax and play. There's plenty to do, with amenities and services to make your stay memorable. Plus, you'll enjoy the outdoor experience with upgraded RV Sites with KOA Patio® and Deluxe Cabins with full baths for camping in comfort. Bring your family, bring your friends, or bring the whole group – there's plenty of ways to stay and explore.
KOA Holidays Feature:
RV Sites with a KOA Patio®
Deluxe Cabins with full baths
Premium Tent Sites
Group meeting facilities
Directions
From I-45 take Exit I45 to 61st Street. Turn right at 61st Street then turn right at Seawall Blvd. We are located 15 miles from the end of the Seawall. Look for large blue "Isla del Sol" water tower. We are located 1 mile on the right. From Hwy. 288 take Exit 288 to 332. Follow 332 until it ends and then turn left onto 257/Bluewater Highway. Follow 257 and cross the Galveston Toll Bridge. Galveston Island KOA Holiday will be 3 miles on the left.
Get Google Directions
Sep 09, 2021
We had a wonderful time. We can't wait to come back the staff was great!
Sep 04, 2021
We stayed in Cabin B along with our dog. There were treats for the dog waiting. Our boys had a blast selecting who would sleep in the loft and who would have the bunk. We didn't use the dog park because the entrance had a huge puddle due to rain, but there were plenty of stations. Our family had a blast!!
Aug 31, 2021
The Staff was great, although the Manager was not very friendly. The location and the Amenities were great!
Aug 30, 2021
Clean and super friendly staff. We had a great weekend! ��
Aug 25, 2021
We stayed in the cabin. Clean and perfect for our family. Staff was super friendly and helpful. Kids loved the pool and mom and dad loved the frozen cocktail machine in the main office. Was a relaxing weekend.
Aug 23, 2021
staff was very friendly. the park was well maintained.
Aug 18, 2021
Clean, courteous, communicative, capable. We look forward to another stay.
Aug 16, 2021
Very nice n relaxing Fun for all Family's and friends
Aug 13, 2021
Our stay here was absolutely amazing. It was right across from the beach which we spent lots of time at and when we weren't there, the campground was perfect for our three kids ages one, seven, and eight. There was so much for them to do the camp store was perfect for last minute items and saved a lot of time from having to drive 30 minutes to the nearest Walmart. We definitely plan on coming back
Aug 12, 2021
Awesome staff. Friendly and helpful. Really enjoyed it. Will be back for sure.
Aug 09, 2021
We had a blast! The grounds were nice and the staff was so friendly! Can't wait to come back.
Aug 07, 2021
We had a great stay. Staff was friendly and eager to help resolve issues.
Aug 06, 2021
Overall the cabins and staff were nice. Frustrated w the added parking fee that was not on the website. The mattress in the loft was absolutely terrible. We tossed and turned for three nights and were dragging during the day.
Aug 03, 2021
We had a great weekend with family. We had RV sites 115, 116 and cabin B. I think the pool and lazy river could be treated better so the water would be clear. Restrooms could be cleaned better and more often. All the staff we dealt with were friendly and helpful. I like how this KOA sends out text message alerts for activities in the park and for weather. Wish all KOA's would do it. Will be ba
Jul 31, 2021
The campground itself is nice, however the cabins are a complete dumb. Highly disappointed in the condition. Very very dirty. Fan was loud and shook like it was going to fall out of the ceiling. The bedroom air conditioner was malfunctioning and loud so we couldn't run it. There was mold in both of them. Water damage everywhere, dirt all over the walls. It definitely wasn't COVID friendly. Dir
Jul 29, 2021
Was very disappointed in our experience this time.. we have been coming to this rv resort since day 1 . ( before KOA). It was disheartening to be treated rude at front desk( except for Jason ). I understand there are policies but everyone needs to be on the same page.. We spent a lot of money for our stay and still felt like we were getting nickeled and dimed .. Not sure if we will be back ..
Jul 28, 2021
Everything was mostly great, but a few things to make things even better. We stayed in the tiny house E. It could use a new coat of interior paint, the AC units were very loud and made it really hard to sleep, the AC filters needed to be cleaned as well. Other than two nights of not great sleep, we had a great time!
Jul 24, 2021
This is an great KOA. We will be back soon.
Jul 19, 2021
Very nice Campground. Clean and staff was nice. Think the sites have outgrown the amenities though. Need to supervise the lazy River better as people were clogging the river by standing and drinking for hours at a time while other families wanted to float. We had ants in our cottage, minor inconvenience.
Jul 07, 2021
We were in a cabin as we do not have an RV. I only rate the likeliness of recommendation because we likely wouldn't stay there in a cabin again, but would refer our RV friends to go there.
Jul 01, 2021
The office staff was very nice and accommodating. The cabins were clean and outfitted with everything we needed for a comfortable stay.
Jun 21, 2021
Very clean park. The pull-through sites are spacious, concrete pads that are very near level. After changing to KOA, the WiFi availability in the park is much improved, albeit at a small daily charge for all but very basic service. The good news is that the site is 15 or so miles from Galveston so not a lot of the associated noise and traffic. Bad news - Cell Coverage is minimal at best.
Jun 19, 2021
Great place to stay. Very nice pool and lazy River fir the kids. Easy beach access.
Jun 10, 2021
The campground was pretty awesome! Loved the lazy river, pool, horseshoes and basketball court. The kids favorite part was the lake. The best part of that was throwing out some chicken legs and catching the crabs. Threw them all back, but it was still fun The cabin we stayed in was perfectly sized and the kids loved the loft. Small problem with the ac leaking, but maintenance was on it
May 19, 2021
Rain storms made it so we had to leave early
May 18, 2021
Check-in was easy. Friendly staff. Cabin was clean and had everything we needed to enjoy our weekend stay. Camp amenities were fantastic. Will stay again.
May 07, 2021
Great staff members! Helpful and had all the right answers and always asking what can they to help us! I'll be booking a stay as soon as we are ready for another vacation!
Apr 26, 2021
Had an amazing time. Park is right across the street from the beach. Amenities @ the park were awesome.
Apr 25, 2021
A lot of work being finished while we were there, all with an expectation of "a week". Spoke with other residents who share the same sentiment, after being there for 6 weeks. Problems outstanding when we left: No heat in lazy river (very cold), no heat in main pool, hot tub only partial functioning (heat not bubbles), On site laundry not functioning. Some small issues with the cabin as well.
Apr 25, 2021
We stayed in cabin E and had a great time.Very quite at night with several nice places to eat very close.Hope to visit again in the future.
Apr 23, 2021
It was very clean & nice. The grounds are well kept too.
Apr 12, 2021
We went to the pool to swim before leaving the island after checking out. Scott (an employee) rudely kicked us out. We were in the pool and didn't want to lock dogs in the car so we put them on leashes where we could see them outside the pool area (w/ shade, water, and food). He said this was against a rule and we apologized. He told us to leave the park. Everything else about the stay was nice.
Sep 16, 2021
Great place to go near the beach easy beach access very friendly people they even offer frozen drinks in the office very fun pool nice place to go for a get away.
- Steve Mordaunt on Google
Sep 16, 2021
Great RV park with big sites and a short walk to the beach. We will definitely return.
- Gary Aliano on Google
Sep 05, 2021
So surprised I didn't know they had a K O A so close by to Galveston.. Can't wait to go there
- Patricia Ibarra on Google