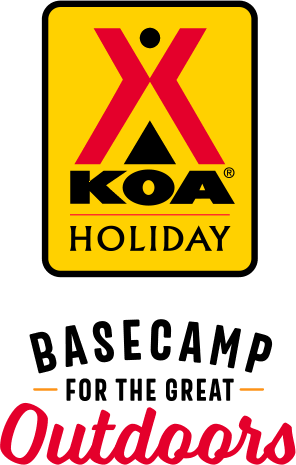 KOA Holiday Campgrounds
Whether you're exploring the local area or hanging out at the campground, KOA Holidays are an ideal place to relax and play. There's plenty to do, with amenities and services to make your stay memorable. Plus, you'll enjoy the outdoor experience with upgraded RV Sites with KOA Patio® and Deluxe Cabins with full baths for camping in comfort. Bring your family, bring your friends, or bring the whole group – there's plenty of ways to stay and explore.
KOA Holidays Feature:
RV Sites with a KOA Patio®
Deluxe Cabins with full baths
Premium Tent Sites
Group meeting facilities
Directions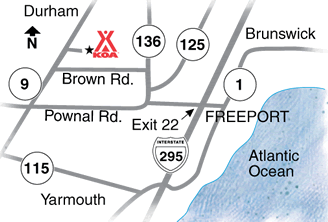 From I-295 North or South: Take Exit 22, (125/136) toward Durham. Bear R onto Durham Rd; go 3 miles. Turn L onto Brown Rd; go 2.6 miles to stop sign. Turn R onto Hallowell Rd (Rt. 9); go 0.4 miles. Entrance on right.
GPS: Use 1430 Hallowell Rd, Durham, ME 04222.
Get Google Directions
Aug 30, 2021
Great site along the tree line. Very, very hot weather taxed the campground's power supply. Had just one day out of the 17 days staying with inadequate power. Bob was great helping with the power at our site.
Aug 30, 2021
Bathrooms was out of paper towels several times during my week long stay. Everything else was well maintained.
Aug 30, 2021
Needed more activities on site for kids
Aug 30, 2021
Helpful and friendly staff. Clean facilities. Hayrides and children's train rides. Quiet and restful.
Aug 30, 2021
Picnic table at site a10 needs help. Might want to check out site between campers, little things on the ground. Everybody was very nice each time we called
Aug 30, 2021
Big Skye lane and roads in the CG are in need of work. Our site was extremely sloped so our MH front tires were off the ground when we leveled. A CG worked noticed and left us 3 cement blocks to act as a step thus making it safer. We were grateful. The sewer hookup was not at the proper grade on our site. Fenced in dog park needed mowing and there were huge holes dug by dogs in it making it unsafe
Aug 29, 2021
Pool was great. Very clean
Aug 29, 2021
Site E37, low electrical at 106V (unable to run AC in 95 deg heat). "We can't do anything about it." Dump Station had no way to flush tank. We will not be staying here again and am leery of staying at KOA again.
Aug 29, 2021
Campground has electrical issues when weather is extremely hot and humid. We stayed for 5 hours then left for home due to not being able to use our AC. We live close by. We received a full refund. Staff was helpful but were not able to remedy the electrical issue while we were there. We had stayed at this campground many times in the past with no issues but it was never this hot and humid.
Aug 29, 2021
Nice campground except need tables with umbrellas around the pool. Very friendly staff. Really close to Freeport for shopping or grabbing a quick bite. We had an excellent shady spot in the back of the campground, and will return again.
Aug 28, 2021
This is our 2nd time here and it was just as great as the first . Everyone is super nice and helpful. It is convenient to everything we wanted to do and see . Will be back next year too!
Aug 27, 2021
There was no breaker on the 30 amp access. We have a surge protector. We could not use AC or charge the rig. The inverter overloaded. Fortunately we sustained no damage. The owners were very responsive. And refunded our night's stay.
Aug 26, 2021
It was great
Aug 25, 2021
I love staying here. The sites are very large, and level.
Aug 24, 2021
Level sites, quiet, maintaining voltage a problem, programs affected by help shortage, currently in dispute over amount charged for stay.
Aug 23, 2021
Great place to stay!
Aug 23, 2021
It was nice but the electrical needs updating, low voltage.
Aug 23, 2021
We go to the campground 2-3 times a summer and always have a great time.
Aug 23, 2021
Had a great time with family thank you for call me back right away for an opening very clean site only problem was the dog area was full of poop because people didn't pick up after there own dogs not the KOA had a wonderful time peaceful at night as well thank you looking forward to come back �met some very nice couple beside us from Newport Rhode Island Very helpful lady's at the front des
Aug 22, 2021
Stay at this location every year to visit family in the area. Every year the grounds appear to deteriorate a bit more. The road in and around the CG are gravel/dirt and are in terrible condition. Flower beds haven't been tended to in years and grass trimming is rare. Staff couldn't be any nicer.
Aug 21, 2021
Wonderful staff and very helpful. Owner was visible and involved in day to day. Horses on property were very much enjoyed by my grandson. Having a lockable handicapped bathroom and shower was very much appreciated. I strongly request all KOA Owner's follow their lead. We will stay there again. Thank you for a great vacation.
Aug 21, 2021
Large wooded sites. Cabins and tenting areas With large family groups. Not quiet or peaceful but great for family reunions and horse lovers.
Aug 21, 2021
Camp sites pretty bad, bathroom were clean. This KOA will do if you no where else to go. Huge holes in the roads, sites had no gravel just dirt/mud. Owners need to spend a little money. They advertise Freeport believe me it is no where near Freeport
Aug 21, 2021
Great campsites, very kid friendly and the staff are friendly and helpful.
Aug 21, 2021
Very easygoing and helpful staff. Nice sites and very clean facilities.
Aug 20, 2021
There is a reason why we keep on coming back, they make you feel like family and very well kept up grounds and facilities. We will be returning again in October for another week of fun. We are planning for 2 more weeks next season. Keep up the good work. �
Aug 20, 2021
We are a senior citizen couple. We usually camp at quiet remote smaller campsites so this reservation was an opportunity for us to expand our options. This was also our first experience with a KOA. I have to say we were very pleasantly surprised during our stay. The staff, to a person were very friendly and helpful. The site was more than roomy enough for our 30 ft travel trailer.
Aug 17, 2021
It was a nice and relaxing campground.
Aug 17, 2021
What a great spot hidden away just far enough to be a mix of quiet and convenient to some wonderful places.
Aug 17, 2021
Very dusty. Poorly maintained roads with large potholes. No cable. Poor wi-fi. Couldn't help but drag dirt into the RB whenever you entered. Probably would not return.
Aug 16, 2021
Stay was great! Looking forward to the pizza and breakfast coming back though. Thanks!
Aug 16, 2021
We love this campground. The staff is amazing and very friendly. The only problems we had seemed to be with kids who showed up at pool without adult and just felt entitled to do whatever they wanted, jumping in on people, etc. They were also yelling and riding bikes after quiet time. Other than that it was great as always. We are already reserved for next year.
Aug 16, 2021
Park is clean and well maintained with a friendly staff. Restrooms and showers were a little dated but exceptionally clean. Low rating given for lack of adequate power resulting in brownouts with temps at 90. Even without running the ac, EMS shut off power for half of the afternoon. If the don't have the power they should restrict all hookups to 30 amp.
Aug 16, 2021
Love the site and the spaciousness of the Campground. Employees especial Pete were outstanding. The big issue which will prevent our return is the electricity. Common knowledge that the camp has low power . Kept tripping our Hughes surge protector with 109 or less. Got slightly better at night but still only reached 114. This problem needs resolution.
Aug 16, 2021
Very organized and friendly staff. Will visit again.
Aug 15, 2021
Great staff! Despite the campground being full, the evenings were quiet and serene. The pool is a major plus but my daughter enjoyed all the facilities and activities on offer. We can't wait to go back!
Aug 15, 2021
Nice site, but could use more trees. Too far from the highway.
Aug 15, 2021
Our stay was very short, we were trying out an old retro that we have rebuilt.
Aug 14, 2021
Clean campground, it was nice to be able to see the horses.
Aug 14, 2021
Advertised as a 30 amp site. Could not even run a single air conditioner. Electric way out of date. Only provided 100 volts. Employee said "we always have issues on "E" row you can't run AC there". If they know it is a problem why do they rent those sites. Employee at counter not at all helpful with local activities. She said "I am from Louisiana I don't know. "
Aug 14, 2021
Nice clean campground and all the amenities
Aug 14, 2021
It was a last minute trip to Portland. Wanted a tent site for 2 nights but non available. Went with the basic cabin. Worked out perfectly. Showers and bathrooms were very clean. Pretty much just slept there. Up and out early and came back late. Easy drive to Portland . Highly recommend