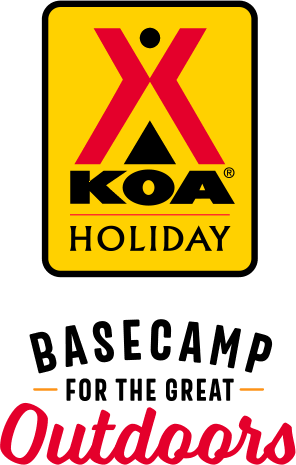 KOA Holiday Campgrounds
Whether you're exploring the local area or hanging out at the campground, KOA Holidays are an ideal place to relax and play. There's plenty to do, with amenities and services to make your stay memorable. Plus, you'll enjoy the outdoor experience with upgraded RV Sites with KOA Patio® and Deluxe Cabins with full baths for camping in comfort. Bring your family, bring your friends, or bring the whole group – there's plenty of ways to stay and explore.
KOA Holidays Feature:
RV Sites with a KOA Patio®
Deluxe Cabins with full baths
Premium Tent Sites
Group meeting facilities
Directions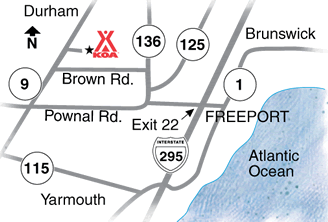 From I-295 North or South: Take Exit 22, (125/136) toward Durham. Bear R onto Durham Rd; go 3 miles. Turn L onto Brown Rd; go 2.6 miles to stop sign. Turn R onto Hallowell Rd (Rt. 9); go 0.4 miles. Entrance on right.
GPS: Use 1430 Hallowell Rd, Durham, ME 04222.
Get Google Directions
Oct 12, 2021
Stayed over the long weekend in a Moosh Room and it was clean and well appointed - plates, forks, knives etc. It was nice having our own bathroom and shower - both very clean - and having linens provided. So spacious, my family of 4 and our dog didn't feel cramped. The patio and fire pit were great we used it every night. Grill was a nice bonus. Loved the activities for kids. Everything was great!
Oct 12, 2021
We stayed in a basic cabin. It was clean and in excellent condition. Also, the public facilities were very well kept.
Oct 10, 2021
Our kabin was very clean. During COVID, it was reassuring to smell bleach when we entered. A small snafu with the key was handled promptly. We got a free awesome pizza. You can tell that the owners and staff take great pride in maintaining the property. We totally enjoyed our stay.
Oct 05, 2021
I was pleased with the Freeport/Durham KOA. It is in a lovely location not too far from Freeport. I enjoyed the fact that it had a refrigerator, microwave and a heater. The shower house that I used was modern and very clean. I can't think of anything negative.
Sep 27, 2021
Cabin was clean. Service at the desk was Siberia. Will be back again for a longer stay!
Sep 18, 2021
Clean, quiet campground & the staff was always friendly & helpful.
Sep 14, 2021
Always enjoy our visit! Lisa & Lenny
Sep 14, 2021
It's was really great ! The grounds were clean and well maintained. It was a quiet camp ground for its size!
Sep 05, 2021
We stayed here while we explored the Freeport area. It was a very close drive and made it really affordable and easy. We rented a cabin for two nights. The cabin itself was great although the beds weren't very comfortable. Both my husband and I who aren't overweight felt like we were sleeping on the wood. The showers were free but could use some attention and better/ more frequent cleaning.
Aug 20, 2021
There is a reason why we keep on coming back, they make you feel like family and very well kept up grounds and facilities. We will be returning again in October for another week of fun. We are planning for 2 more weeks next season. Keep up the good work. �
Aug 16, 2021
Stay was great! Looking forward to the pizza and breakfast coming back though. Thanks!
Aug 14, 2021
It was a last minute trip to Portland. Wanted a tent site for 2 nights but non available. Went with the basic cabin. Worked out perfectly. Showers and bathrooms were very clean. Pretty much just slept there. Up and out early and came back late. Easy drive to Portland . Highly recommend
Aug 14, 2021
Chris, Mike, Gwen and the whole crew are friendly, fun, and so helpful. Enjoying my stay here very much!
Aug 09, 2021
Everything in perfect condition, the grounds, campsite, everything.
Aug 09, 2021
fun time with family. love the dome accomodations
Aug 09, 2021
Absolutely wonderful! The layout of the grounds was perfect to have our families as close as possible. The cabin was clean & efficient. The thin mattress was somewhat uncomfortable for this 78 y.o lady with arthritis!!! But, I understand! I, totally loved the breakfast hut on site, a real plus! Some of the family has already booked for 2022! Look for the Group name "GREENLER'' See you then
Aug 09, 2021
Thicker toilet paper in the bathroom would be much appreciated.
Aug 09, 2021
Staff was extremely helpful and accomodating (they went above and beyond to help us out). Cabin was very nice and clean.
Aug 08, 2021
We enjoyed the cabin. It was well equipped and clean. The dog park was great but the barrel needed emptying the whole time. The bathrooms were clean. People were friendly. It was close to many locations to be able to go out and enjoy.
Aug 07, 2021
We had a great time during our stay at a deluxe cabin. It was a little strange that our shower room wasn't attached to the cabin, but turned out to be fun. In the advertisement of the cabin it did say that there was a cook top in the room, there wasn't. Also it said there was a grill top on the fire pit, there was not. Everyone was very nice and we had a great stay. We will be back. Thank you.
Aug 06, 2021
Great campground! Didn't see staff "on patrol/available" as other KOA properties, but space was well maintained and bathrooms clean. We stayed in a camping cabin and it was really nice they are spaced so far apart.
Jul 31, 2021
Best Pizza Great Fun Family and Friendly Activities Very Well Cared For Camp Grounds. Very Clean Knowledgeable on surrounding Area and where to Find Your Answer on places visit. Gift Shop plenty of choices to work with, if you forgot pack. Lodging made camping easy and very clean. Thank you
Jul 30, 2021
We were part of an extended family reunion.,WeI appreciated the site delivery for firewood, etc. Even though our many family members were located at different sites, we were able to use the field for family games for the kids, and our large group meetings at one place. We appreciated the flexibility in grouping tables, etc., for eating. We enjoyed all KOA had to offer.
Jul 26, 2021
We were not disappointed once again with our stay and very much enjoyed the Glamping Tent for the first time.
Jul 23, 2021
I absolutely loved my stay at Durham KOA. The cabin was very comfortable and clean. My family loved visiting me their from their home in Brunswick, Maine on Sunday. The grill worked great also. The Shower house was so convenient to my cabin which was a big plus! I hope to visit again in the future!
Jul 23, 2021
Cabins, showers and restrooms are super clean, beds are comfortable, staff are nice. I was pleasantly surprised and will stay again.
Jul 19, 2021
We brought our family including parents, sister w/ her family & our kids with grandbabies. Everyone thoroughly enjoyed visiting with the horses, playground & riding bikes. The weather wasn't great for the pool but we still managed to make the best of the weekend. We'll be back next year!
Jul 16, 2021
Stayed in Deluxe Cabin with full shower. Everything was clean, comfortable, and had good provisions.
Jul 10, 2021
This was our first time at KOA camp ground everyone was super friendly and we will be booking again real soon.
Jul 09, 2021
The staff were amazing, the facilities were spotless and I have no complaints. The only reason I'm not giving them 5 stars is because during the week they don't have many of the amenities that were listed on their website. No pancake breakfast, or water slide, or kids crafts, etc.
Jul 09, 2021
Very quiet clean restrooms but not a lot to do there
Jun 29, 2021
We absolutely enjoy our stay each and every year. Our large group gathering has many many memories here, and we always look forward to coming back. If I had to mention one disappointment it would be the slight change in cleanliness. The cabin, though in a wooded area, had cobwebs and the walls were dusty. The bathrooms and showers were not as spotless as they have been in the past.Otherwise A+
Jun 20, 2021
Lovely time, very clean and very nice staff. Only down side was our mini fridge did not have a temp dial so everything froze. Not a problem since we were only there 2 nights. Went out to eat instead.
Jun 18, 2021
We enjoyed our tent and stay. It was pretty apparent that the tent doesn't get rented out a lot by the amount of mouse poop, dead and alive bugs, and dust that was found, especially when lowering the shades. The playground seemed like it can use some love too.
Jun 15, 2021
We had a fabulous time! I reserved a cabin that happened to be next to the campers that my extended family were staying at. We even had a family kickball tournament in the field. It was a great time.
Jun 15, 2021
Very nice deluxe cabin. Never left our site we enjoyed it so much.
Jun 11, 2021
Cleanest campground in the state of Maine! We stayed in your basic cabin and it was lovely and sleeps six! Clean restrooms, pool, playground.
May 17, 2021
We stayed in a deluxe cabin and we're very impressed with the accommodations. The kitchen was fully equipped and we had plenty of space. Like other reviewers said, the grounds have less features than other KOAs, but the kids loved the playground (pool wasn't opened yet). Our only issue was that we didn't realize the office closed so early so we had to run to a mobil station for wood our first day.
May 03, 2021
We stay in the Mushroom Cabin and it was awesome! The cabin was beautiful, the staff was super friendly and the other campers around were great. We went early in the camping season so not many of the extra amenities were open, but my child had a blast on the playground and seeing the horses/pony/donkey and my dogs loves the huge and beautiful dog park.
Oct 26, 2020
Bob, Christine and the staff went above and beyond making us feel at home and especially safe during these trying times. The grounds and common area's were sparkly clean, and they are super accomadating if you need anything. The dog park is one of the best we have seen in a KOA, 2 huge bath stations...special kudos to Marty's Washstation. We can't wait for next season, many thanks!
Oct 14, 2020
Everything was great except the small electric heater in the cabin didn't keep it warm unless we set it at the highest setting and shut the door to the second room. Next time we will be sure to bring a couple extra blankets! Other than that it was a great weekend!