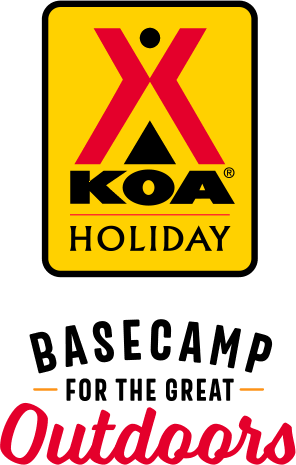 KOA Holiday Campgrounds
Whether you're exploring the local area or hanging out at the campground, KOA Holidays are an ideal place to relax and play. There's plenty to do, with amenities and services to make your stay memorable. Plus, you'll enjoy the outdoor experience with upgraded RV Sites with KOA Patio® and Deluxe Cabins with full baths for camping in comfort. Bring your family, bring your friends, or bring the whole group – there's plenty of ways to stay and explore.
KOA Holidays Feature:
RV Sites with a KOA Patio®
Deluxe Cabins with full baths
Premium Tent Sites
Group meeting facilities
Directions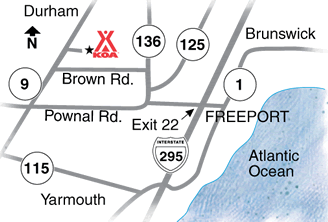 From I-295 North or South: Take Exit 22, (125/136) toward Durham. Bear R onto Durham Rd; go 3 miles. Turn L onto Brown Rd; go 2.6 miles to stop sign. Turn R onto Hallowell Rd (Rt. 9); go 0.4 miles. Entrance on right.
GPS: Use 1430 Hallowell Rd, Durham, ME 04222.
Get Google Directions
Sep 24, 2021
Place was awesome.restrooms were clean.for a first timer like me staying at a campground.
Sep 20, 2021
I had such a great experience staying at the Freeport KOA while I waited for my apartment lease to start! Bob (owner) is such a helpful, friendly person. He even let me set up my tent under the pavilion during a particularly rainy 24 hrs. I was VERY grateful to stay dry that night. :D Everyone who works at this KOA was so sweet and welcoming. I'd stay again in a heartbeat!
Jul 28, 2021
Nice, clean tent spot for us among the RV community. Bathroom is very clean, it doesn't smell like a public toilet at all. Staff are friendly, courteous and very accommodating. Our stay was comfortable and relaxing.
Jul 26, 2021
Every thing was great, just wished we had the cabin that we booked instead of tent camping.
Jul 09, 2021
I checked in late and the late check in package was great. I'm a tent camper and the bathroom was probably the best I've ever used at a campground. I want to come back and try out one of the dome cabins, they look awesome!
Jul 07, 2021
Super friendly staff!! Nice tent place and not too close to others.
Jun 28, 2021
Great locale. Very clean. Good weekend activities. Nice staff. Great pizza. A little too.loud late at night sometimes. Some campers like to scream.
Jun 01, 2021
Everything about the campsite and the people there was awesome, bath house was clean and well maintained, site was good. Big drawback was quiet hours, reading reviews for this place we were excited about how quiet it would be, yet every night we had radios and big parties and drunk campers. Spoiled the weekend for us more than the rain. At multiple points we didn't feel safe next to our neighbors.
Aug 10, 2020
Bathrooms and washrooms were very Clean. The reason for the three star ratings was because our site had no privacy from the tenters next to us and the fact that I picked up trash that was laying around that wasn't mine in hopes others would have a better experience.
Aug 09, 2020
The facilities are adequate. Not much in the store. Some groups were loud.
Aug 04, 2020
Great campground. Bathhouse and showers were immaculate.
Jun 22, 2020
My family visits multiple times a summer to camp here because we love it so much. However, this stay I called and asked for wood to be delivered. It never was. We were tenting and were placed very far from the one open bathroom unit. I am confused as to why there is only one bathroom open, with COVID I would assume you would want them all open to minimize the risk of exposure but that's just me.
Jun 20, 2020
Facilities we're super clean, staff was very friendly. The people in the lot next to us were so loud, even after quiet hours. We were so tired we fell asleep anyway,but they seemed to live there and they should not be allowed to do so. They disturbed the peace and ruined the whole atmosphere.
Jun 20, 2020
Our first stay was wonderful, granted we were so tired we fell asleep while it was still daylight. The facilities we're all super clean and the staff was very friendly. The people who were staying at the lot next to us, were so loud all night long. They were drunk and arguing. The man could be heard throwing up outside, and he even ventured to take a wee by our tent! They seemed to live there.
Sep 25, 2019
Just the one night but the bath facilities were excellent, the location quiet and beautiful, and everything clean, tidy and well-maintained.
Aug 22, 2019
Great stay! Very accommodating! It was a little odd that a nature trail went right through t2, we did not like all the other campers walking through our tent site, it did not feel private. But the koa was awesome! Facilities were super clean, very happy.
Aug 20, 2019
Great visit - all went well no problems or issues.
Aug 06, 2019
My fifth year at various KOAs. We had a group of 17. Did not know there was no electricity /water until we arrived. One of us has CPAP machine. After @ an hour and me mentioning my friends medical condition they plugged in my 25' extension chord. I had to press them because I felt I was being blown off. Ultimately we got power and will use other KOAs in the future.
Jul 20, 2019
We had a great time. Clean, quiet, and very nice.
Jul 18, 2019
Would like to give a better rating but unfortunately, I arrived after midnight and left before 7 am. Wasn't there long enough to see anything other than the showers, but they were great.
Jun 19, 2019
I enjoyed coming for the second stay but the night before we departed we had a small issue with some neighbors stealing the last of our wood. That wasn't so pleasant considering I had 2 kids 1 year and a 5 year old with us. My son wanted s'mores one more time before we left and I couldn't. So that made my stay very uncomfortable. I'd love to come back though!
Jun 05, 2019
Beautiful campground with awesome and clean amenities! Staff was super friendly too!
Jun 01, 2019
It was lovely. The only reason I gave it four stars instead of five is because it doesn't have Wi-Fi. If you don't need it though, this place is perfect.
May 28, 2019
Nice campground! Pool was closed due to weather issues. Lots of space at the site (we stayed in one of the camping areas). Friendly staff. Close to Freeport!
May 12, 2019
We really enjoyed our stay! We were only stopping here for about 12 hours but we were pleasantly surprised. The park had a great outdoorsy feel with very clean bathrooms and plenty of room for kids and pets to play. It was overall very clean and the Wifi was a great addition! We enjoyed our stay and would return if stopping through Maine again.