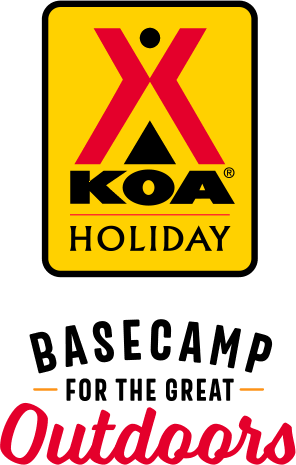 KOA Holiday Campgrounds
Whether you're exploring the local area or hanging out at the campground, KOA Holidays are an ideal place to relax and play. There's plenty to do, with amenities and services to make your stay memorable. Plus, you'll enjoy the outdoor experience with upgraded RV Sites with KOA Patio® and Deluxe Cabins with full baths for camping in comfort. Bring your family, bring your friends, or bring the whole group – there's plenty of ways to stay and explore.
KOA Holidays Feature:
RV Sites with a KOA Patio®
Deluxe Cabins with full baths
Premium Tent Sites
Group meeting facilities
Directions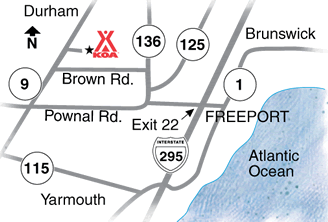 From I-295 North or South: Take Exit 22, (125/136) toward Durham. Bear R onto Durham Rd; go 3 miles. Turn L onto Brown Rd; go 2.6 miles to stop sign. Turn R onto Hallowell Rd (Rt. 9); go 0.4 miles. Entrance on right.
GPS: Use 1430 Hallowell Rd, Durham, ME 04222.
Get Google Directions
Jun 15, 2021
We had a fabulous time! I reserved a cabin that happened to be next to the campers that my extended family were staying at. We even had a family kickball tournament in the field. It was a great time.
Jun 15, 2021
Very nice deluxe cabin. Never left our site we enjoyed it so much.
Jun 14, 2021
Very well maintained and owner is very pleasant Will definitely visit again
Jun 14, 2021
Friendly staff. Didn't put requests into consideration when making a reservation over 4 months ago but were able to help with accommodating needs after the fact. Still would recommend due to friendliness, cleanliness, and the fact it is a great location.
Jun 11, 2021
Cleanest campground in the state of Maine! We stayed in your basic cabin and it was lovely and sleeps six! Clean restrooms, pool, playground.
Jun 09, 2021
Wi-Fi was terrible the campgrounds were infested with poisonous caterpillar's other people that were staying at the campground we're blasting unappropriate music at the pool. This campground is OK for a one or two night stay but I wouldn't stay longer than that.
Jun 07, 2021
I love the sites and the playground area for the kids, and the pool was nice! We spent the whole weekend with Brown Tail Moth Caterpillars everywhere, and now suffering with maybe rashes!!! Was told they didn't spray early enough! :(
Jun 07, 2021
Very nice campground. Playground needs to be updated a bit as it is old and wooden so nail heads are protruding out a bit (safety concern for the kiddos), but they are in the process of adding a new panning for gems station. Wishing they had more activities going on, but with just coming out of the pandemic, but it is understandable. Campers and staff are VERY friendly. Will definitely go back.
Jun 03, 2021
Almost everyone in our camping group got a rash from brown tail moth caterpillars.
Jun 03, 2021
We enjoyed ourselves very much despite the rain, etc. Breakfast was good. The staff friendly and helpful. Activities for kids. Beware of the Browntail moths (catepillars) though; wish someone had told us about them! Would do again another time of year.
Jun 03, 2021
It was a quick stay but as always this campground was very accommodating and our site was terrific.
Jun 01, 2021
We always have a great time! See you next year
Jun 01, 2021
Had a wonderful time wish the weather was better but oh well. Everything went well
Jun 01, 2021
Love the campground but not our site. B15 went uphill to the sewer and if you put your camper in line with the sewer the slideouts were over the neighbors fire ring.
Jun 01, 2021
Everything about the campsite and the people there was awesome, bath house was clean and well maintained, site was good. Big drawback was quiet hours, reading reviews for this place we were excited about how quiet it would be, yet every night we had radios and big parties and drunk campers. Spoiled the weekend for us more than the rain. At multiple points we didn't feel safe next to our neighbors.
May 31, 2021
Would highly recommend this camp ground from July on. Our stay was adversly affected because of the brown tail moth catapillars One person in our group had to leave.was very allergic and will probably feel the affects for weeks to come I have never seen such an infestation. These catapillars apparently develop into moths in july so would highly recommend this campground then.
May 29, 2021
Everything was great except for the brown tail moth infestation. I have a terrible itching rash on the entire upper part of my body. The dY we left someone was spraying the trees but that should done alot earlier before they open for the season
May 24, 2021
I'll be back!!
May 19, 2021
Excellent work-camper staff, very friendly and most helpful to all that venture down the scenic roads to reach this destination KOA. The wide open pull thru spaces are very suitable for our 45 foot Motorhome home with our truck in tow. Very quite, and a very suitable place for a family reunion. Thanks for the comfortable stay!
May 18, 2021
Great place to stay with great lots and a lot for kids to do! Love that it is pet friendly.
May 17, 2021
We stayed in a deluxe cabin and we're very impressed with the accommodations. The kitchen was fully equipped and we had plenty of space. Like other reviewers said, the grounds have less features than other KOAs, but the kids loved the playground (pool wasn't opened yet). Our only issue was that we didn't realize the office closed so early so we had to run to a mobil station for wood our first day.
May 16, 2021
The campground is nice, and the spot we ended up in was excellent, better than what we had reserved. The reservations however were the issue - the owner had completely messed that up, gave our 'pick your spot' site to somebody else, did not notify me if this, and tried to put us in a spot that had to other spots backed into it. It worked out but I'd advise extra confirmations for any reser
May 15, 2021
Nice place. Sites are close together in spots so privacy tough. But lovely park. Great fields for star gazing !!
May 12, 2021
Very accommodating staff. We had vehicle trouble and they directed us to a very prompt and skillful sole proprietor repair facility.
May 12, 2021
A great campground to stay at! The grounds are taken care of well, all the staff are very friendly and helpful whenever its needed. My family frequents this location multiple times a year and will continue to.
May 06, 2021
We got there and immediately felt like we actually made it to a great clean and comfortable campground. The staff was extremely friendly and accepting. Great place.
May 04, 2021
Very nice place for kids
May 03, 2021
Staff was wonderful, location is good for Freeport and Brunswick, very rural setting.
May 03, 2021
Well-maintained. Quiet and friendly place.
May 03, 2021
We stay in the Mushroom Cabin and it was awesome! The cabin was beautiful, the staff was super friendly and the other campers around were great. We went early in the camping season so not many of the extra amenities were open, but my child had a blast on the playground and seeing the horses/pony/donkey and my dogs loves the huge and beautiful dog park.
May 03, 2021
Clean and quiet. Luv the on-site trash pickup
May 01, 2021
Excellent campground and we will use it again on our travels!
May 01, 2021
Staff very helpful & friendly.
Apr 28, 2021
Wonderful location even if just for one night. Very friendly staff.
Apr 27, 2021
It was rough part of the year and they hailed water to us in a tank. Was very thankful for that.