Directions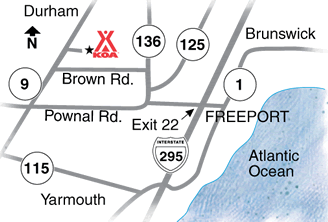 From I-295 North or South: Take Exit 22, (125/136) toward Durham. Bear R onto Durham Rd; go 3 miles. Turn L onto Brown Rd; go 2.6 miles to stop sign. Turn R onto Hallowell Rd (Rt. 9); go 0.4 miles. Entrance on right.
GPS: Use 1430 Hallowell Rd, Durham, ME 04222.
Get Google Directions
Feb 03, 2021
The owners are very helpful. We are enjoying our stay and will be staying for the season.
Dec 25, 2020
Winter camping isn't fun anyway but up grading the water systems would be much easier to do it
Dec 06, 2020
Great people great place
Nov 02, 2020
Christina was amazing she was able to accommodate our last minute late arrival. This is a clean camp site with full hookup for our RV. The shop has all you need in case of last minute forgotten items. Her friendly manner was a pleasure. Wish we could've stayed to see the moose cross through the camp. Good luck with your future endeavors.
Oct 30, 2020
The Host was very Kind. Beautiful clean place. We will definately be back. KOA Durham The Kelleys
Oct 27, 2020
Very pleasant and relaxing... Owners were very nice... Would definitely stay again... Love the KOA' S
Oct 26, 2020
Something should be done to curb the constant barking of dogs. Some at least try as others make it worse by screaming at their pets. I love pets, don't get me wrong, but some people should not have them.
Oct 26, 2020
Bob, Christine and the staff went above and beyond making us feel at home and especially safe during these trying times. The grounds and common area's were sparkly clean, and they are super accomadating if you need anything. The dog park is one of the best we have seen in a KOA, 2 huge bath stations...special kudos to Marty's Washstation. We can't wait for next season, many thanks!
Oct 22, 2020
Neat and tidy, well maintained, quiet
Oct 15, 2020
so good we have made reservatins for next year
Oct 15, 2020
It was cold but nice, quiet and we loved our sight in the woods. I hope the next time we come that we can request being in the woods.
Oct 15, 2020
The campground is very family friendly. The sites are large and easy hookups. The only complaint is the dirt road coming into the park. We would stay again
Oct 14, 2020
Would camp at KOA again . Well kept Facility ! Cordial office attendees ! Quiet atmosphere at night ..
Oct 14, 2020
Everything was great except the small electric heater in the cabin didn't keep it warm unless we set it at the highest setting and shut the door to the second room. Next time we will be sure to bring a couple extra blankets! Other than that it was a great weekend!
Oct 13, 2020
We come to the koa in Freeport/Durham over Columbus Day weekend as our last trip of the season and the pumpkin fest horseshoe tournament. Always have a great time.
Oct 13, 2020
Stay was great. Awesome facilities and super clean. Showers could use a little attentions as shower vents were not working and there was a bit of mold. Otherwise everything was great
Oct 13, 2020
We had a wonderful stay. The staff was very friendly and helpful. The accommodations were clean and comfortable. The craft activities they provided for the kids were awesome, It gave the kids something fun to do while the adults could sit and relax. We stayed in the Glamping Tent and were impressed, especially the shower, who expects a rain shower head and jets in a shower when camping.
Oct 13, 2020
Our stay was wonderful! It is a beautiful campground with an environment that is perfect for family. We had so much fun, and the staff was wonderful. Everyone was so friendly and accommodating. The campground was clean and in peak condition. It was an amazing experience! I cannot wait to go back!
Oct 13, 2020
Always a good time.
Oct 13, 2020
had a great time and we booked a site for next year
Oct 10, 2020
Staff was friendly, efficient, welcoming. Facilities were immaculate and RV's were nicely spaced apart. Quiet, clean grounds and nicely decorated for the Fall season. WE spent a week, here and would not hesitate to return.
Oct 08, 2020
Just a stop over to break up the trip. Perfect "go to" Kampground. Thanks.
Oct 06, 2020
Very clean and quiet but there wasn't much to do compared to other koa's
Oct 06, 2020
Beautiful, clean and so much fun!! A real treat.
Oct 04, 2020
Larger than expected site. Clean and staff was very nice to us
Oct 02, 2020
Nice park. Need a shuttle to LLBean
Oct 02, 2020
Nice people great place
Oct 02, 2020
I would to have liked to stay an extra night, but it was time to head home.
Sep 30, 2020
They always make you feel at home, could not ask for a better host. We will be back again next summer and years to come. We really love this KOA
Sep 30, 2020
Our site was littered with cigarette butts! Dog droppings were not picked up around the tree line.
Sep 29, 2020
Nice place. Management friendly and very accommodating. Wide open sites -- hardly anyone there. No neighbors in close proximity. Clean and lots of grassy areas. NO MUD! A plus. Will likely stay again. The community needs to work on upfixing their roads. Pretty rough 5 miles to get there from I-93. Thirty-five mph too fast for the crummy conditions.
Sep 28, 2020
I am guessing it is due to Covid 19 that the maintenance of the campground was a little lacking. However, we had a nice time and we will return as long as the prices don't get out of hand.
Sep 26, 2020
Nice quiet location. Well maintained in difficult times.
Sep 22, 2020
overall stay is good, quite and lots of thing to do.. my only concern is KOA charge us the cleaning fee but then the inside of the dome cabin has a spider web in the ceiling and somehow a little bit dusty inside the cabin. but overall its a nice experience..
Sep 22, 2020
Our site was in a crowded area and we asked to change. The campground was full but the hostess offered a late arrival site as the only alternative. We used that. Considering the crowd our stay was fine.
Oct 30, 2020
Great place to stay, clean, well maintained, with friendly staff. The amenities are in abundance. Highly recommend staying here even just for the night. Thanks Christina.
- Shannon Milne on Google
Oct 10, 2020
Camp staff was friendly and efficient. Facilities were well maintained and clean. RV sites were nicely spaced apart. Very quiet. Spent one week here and would not hesitate to return to this lovely spot!!
- SamFixit Guy on Google
Oct 03, 2020
Great place for family fun in the great outdoors.
- Katelin Howell on Google