Alert
*LIMITED NUMBER OF WINTER RV SITES ARE AVAILABLE! Short term or long term W/E/S 50/30amp Pull-Thru sites. For information and pricing, please call the office.

UPDATED CANCELLATION POLICY FOR HOLIDAY WEEKENDS: Beginning May 1st the cancellation policy is as follows:
3 night deposit due at time of reservation for ALL site types. No refunds for cancellations. Dates can be changed to avoid loss of deposit.

Holiday weekends are Memorial Day, July 4th, and Labor Day. Columbus Day Weekend requires a 2 night deposit.

Thank you for your patience.
- Freeport/Durham KOA

Freeport / Durham KOA Reviews
Directions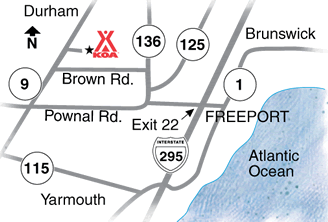 From I-295 North or South: Take Exit 22, (125/136) toward Durham. Bear R onto Durham Rd; go 3 miles. Turn L onto Brown Rd; go 2.6 miles to stop sign. Turn R onto Hallowell Rd (Rt. 9); go 0.4 miles. Entrance on right.
GPS: Use 1430 Hallowell Rd, Durham, ME 04222.
Get Google Directions
Sep 22, 2020
overall stay is good, quite and lots of thing to do.. my only concern is KOA charge us the cleaning fee but then the inside of the dome cabin has a spider web in the ceiling and somehow a little bit dusty inside the cabin. but overall its a nice experience..
Sep 22, 2020
Our site was in a crowded area and we asked to change. The campground was full but the hostess offered a late arrival site as the only alternative. We used that. Considering the crowd our stay was fine.
Sep 21, 2020
We stop here for an overnight or two traveling to and from home and Acadia. Nice area, friendly, accommodating staff and clean facilities. Had an issue with my assigned site backing in and was given another site that was easier to maneuver into. I believe there are a few trees that could be removed to allow better access to Section E. Thank you.
Sep 21, 2020
Not what we expected, disappointing stay. Our set up was in the middle of a field, no trees. Also the charge for our son and his wife just to have dinner with us was too night, so we did not have them come to our campsite. As far as KOA's go....not up to their usual standards.
Sep 21, 2020
The office never returns phone calls. Left 3 different messages on two different days. The campground was pretty nice overall but the management leaves a lot to be desired.
Sep 21, 2020
Appreciated the casual feel to the office and setting in the open field. Great playground area.
Sep 21, 2020
It was a sad visit - no bright yelllow shirts, or anyone for that matter, out and about. Nothing much in the store. We were hugely disappointed with campers feeling the need to hang out large political banners and flags (US flags are fine - I am talking about political candidate flags) - I mean, really, why was that necessary???? We don't go camping to have to deal with that.
Sep 14, 2020
It was pleasant and quiet
Sep 14, 2020
Had a very relaxed weekend and we booked 3 days for next year.
Sep 12, 2020
Nice wooded park. Unfortunately COVID limited most of what amenities they can offer. Staff was extremely helpful, all serevices were excellent and facilities clean. I do like this park. Can't wait to return.
Sep 10, 2020
It was quite different than previous years but plan on going back next year and hope that things will be back to normal
Sep 08, 2020
Had a lot of fun. We made our own activities.
Sep 08, 2020
Not much to do there and this KOA always splits up our group even though we are blocked together.
Sep 08, 2020
Great place to stay. Staff is very nice and helpful. Glad to see all the sites full considering everything that's going on. Will be back that's for sure maybe even try one of the cabins.
Sep 08, 2020
Very relaxing. Beautiful KOA. Staff very helpful
Sep 04, 2020
Beautiful KOA and very nice and helpful staff. We will return.
Sep 01, 2020
Close to Freeport shopping. Clean and neat.
Sep 01, 2020
Friendly owners! Clean campground. Spacious sites. Easy online booking
Aug 31, 2020
The site we we're at flooded when it rained. There was absolutely NOTHING for the kids to do
Aug 30, 2020
Very enjoyable two-night stay. Spacious campground, well maintained. Staff was very accommodating when we wanted to come a day early.
Aug 29, 2020
Bathrooms were never cleaned
Aug 28, 2020
Did not see the value for a park that was older and out of the way. Nothing special. This was the most expensive park I have stayed in since we started full timing rv 2 years ago.
Aug 27, 2020
We stayed in the "Glamping" tent and it was wonderful! Such a great accommodation. The only thing that was an issue is that we had asked the first day for the main zipper to be fixed and it never was.
Aug 27, 2020
Had a great time
Aug 27, 2020
We pulled into the Freeport/Durham KOA late in the afternoon right before a huge rainstorm! The campground itself was well maintained. Due to Covid-19 we did not go into the office. Our check in was done by a cute white paper bag hanging on a clothesline with all our paperwork inside and a phone call! Our site was nice in size. We had a full hookup and a nice view of the ball field!
Aug 26, 2020
I would not want to go any other place.
Aug 25, 2020
Great pool clean restrooms had a great time
Aug 25, 2020
While our cabin was comfortable, there were a few issues. We had requested a camping cabin in a wooded area so that we could avoid people due to COVID, but were assigned M01, right in the middle. There was fresh dog poop on the next to the picnic table, and the fire ring was still smoldering when we arrived at 6 pm - one of our kids didn't realize it was hot and almost burned himself.
Aug 24, 2020
I stayed in a little cabin which was really adorable. The location of the cabin was in a nice shaded and semi private space that I loved. I stayed 4 nights. I was disappointed with the public showers which I thought were pretty dirty. They said they were cleaned everyday, but I saw the same tissue on the floor in the same spot everyday, the same dead squished bugs in the same place in the shower.
Aug 24, 2020
The campground was disappointing. The sites were unattractive, and the staff members were unfriendly. We were pleased by clean bathrooms and hot showers. This place didn't quite measure up to our usual positive experience at a KOA
Aug 24, 2020
It was an ok stay. Quiet hours were violated often...loud talk and loud trucks in and out. The security gate on the weekend was a joke. One car had the pass key but a second or third car would race thru before the arm came down. On Sunday the drop and was completely disengaged because it did not open with the pass key!
Aug 23, 2020
We were just having a quick trip to Maine and couldn't find a place to let us camp for one night (especially a Friday) and this KOA was the first and easiest place to offer one night no problem. Thanks all!
Aug 22, 2020
Great time as always. Clean ,friendly, and always helpful .We will see you next year .

Freeport / Durham KOA
Open April 26 - November 1
82 Big Skye Lane
Durham, ME 04222
Check-In/Check-Out Times
RV Sites, Tent Sites
Check-in: 12:00 pm, Check-out: 11:00 am
Accommodations
Check-in: 2:00 pm, Check-out: 11:00 am
Operating Hours
Sunday: Open 10:00 AM to 4:00 PM
Monday: Open 10:00 AM to 4:00 PM
Tuesday: Open 10:00 AM to 4:00 PM
Wednesday: Open 10:00 AM to 4:00 PM
Thursday: Open 10:00 AM to 4:00 PM
Friday: Open 10:00 AM to 4:00 PM
Saturday: Open 10:00 AM to 4:00 PM
Get Google Directions

© 2020 Kampgrounds of America, Inc.