Directions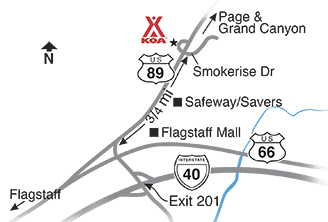 NE of downtown on 89N. From I-40 exit 201, 1/2 mile on US 89 to Page. Turn left at light at Smokerise Drive.
GPS: N35.234192, W111.575673
Fax (928) 527-8356.
Get Google Directions
Sep 06, 2020
Love staying here just way to hot this time. Need more shade!!
Aug 31, 2020
Positive: trees, temperature, proximity to hiking & facilities. Negative: we were placed between two families who were together. They had 4 adults, 2 dogs and 10 children approx. 12 and younger. It was constant kids running through our campsite, stray footballs, etc. We asked management if we could change to a different site & were told "no." This was a preventable problem by management.
Aug 30, 2020
We have stayed here many times! Most recently, August 2020. As always, all of the facilities were very clean! The staff was very pleasant too! The garbage cans were emptied often. One of my favorite things about this KOA is how well stocked the camp store is - no need to even cross the street for anything! One of our favorite KOA Campgrounds!
Aug 29, 2020
basic tent camping parking was a little annoying with bump. Noise of traffic was not so relaxing showers were nice. Nice trails from campsite
Aug 27, 2020
Covid19 closed down all of their amenities, even morning coffee. We were grateful they allowed tent camping...most campsite want you to be self contained.
Aug 26, 2020
I stayed 2 nights and 3 days. Slept in my van in a tent spot and couldn't have had a better experience �ϋ� Thank you !! I'll be back �
Aug 25, 2020
Staff selected site #76 which was a downgrade to what I payed. They then assigned me to site #125. The KOA campground is on a flight path, lots of noise from other campers, there was always light which kept me awake. It was also near the highway so there was constant noise from road traffics. I thought fires were restricted. I was wrong and it was super windy which made the environment unsafe.
Aug 24, 2020
Was very clean, nice staff and premises
Aug 24, 2020
The tent pad was plenty big for our 10 person tent and the spot had lots of shade. The staff was very accommodating. I look forward to staying there again soon.
Aug 23, 2020
very pleasant. thank you
Aug 23, 2020
Tent campsites were very small and not much room for backing your car out of site, also very noisy
Aug 23, 2020
Beautiful campground surrounded by shade trees with friendly staff
Aug 22, 2020
Great staff. Great location. I'll be back for my birthday!
Aug 22, 2020
Our stay at the Flagstaff KOA was great. I loved that the restrooms and showers were clean at all times.The only downside was that our campsite, wood/ mulch tent padding. Other than that, we enjoyed the amount of room we had between the tent sites.
Aug 22, 2020
Beautiful location. Comfortable but Limited bathrooms for the number of guests.
Aug 21, 2020
Our stay was wonderful! The only down side is it is right next to a major highway so there is some traffic noise If you are in a tent (us) although, it does come in handy when you are trying to travel to other areas as you can just hop onto the highway and go. The facilities are SO clean and the showers are warm plus there is a dishwashing sink which is great. Super dog friendly as well.
Aug 18, 2020
Location is convenient, staff is professional and friendly. Site is well maintained and clean.
Aug 18, 2020
The grounds were beautiful! Facilities well maintained and super helpful staff. Unfortunately our campsite had a ton of bees that prevented us from cooking. Other than that we were could back in a heartbeat.
Aug 18, 2020
Check in was easy, I was provided with a map and an escort to my camping location. The restrooms were cleaned daily and the staff were kind. Very pleasant stay.
Jan 06, 2021
Beautiful park nice people
- Cathy K on Google
Jan 02, 2021
Great "woody" location. Staff is always friendly and helpful. I seem to camp there frequently because of its distance from LA.
- Stephen Lindsey 2112 on Google
Dec 29, 2020
Super nice KOA. Love the amenities, nice store and backdrop of a mountain is awsome.
- Marc Peterson on Google