Directions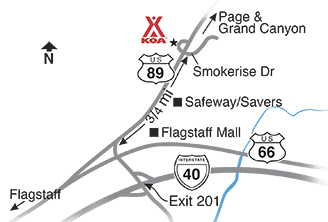 NE of downtown on 89N. From I-40 exit 201, 1/2 mile on US 89 to Page. Turn left at light at Smokerise Drive.
GPS: N35.234192, W111.575673
Fax (928) 527-8356.
Get Google Directions
Jan 16, 2021
Clean, easy, and enjoyable
Jan 16, 2021
We were arriving late....in the dark.... No entrance sign visible from the street, address for the park does not match it's physical location. Map is hard to follow in the dark. We had listed our rig as a 43' fifth wheel, but were assigned a spot that would have been difficult to get into in the daylight. Water was frozen from the time we arived until the time we left. Great campground otherwise.
Jan 15, 2021
Great location with walking trails so close. Friendly staff. Will be back!
Jan 15, 2021
The sites were too small & hard to get an RV in. $50.00 was overpriced for the site & only staying one night. The KOA has a time of leaving your site at 11:OO in the morning. We were just finishing & getting ready to take off at 10:45 when one of the workers came by & asked if we were finishing up. I felt that was very rude especially when we had another 15 min. & the park was not even full.
Jan 13, 2021
Had a great time the only thing was my site wasn't leveled
Jan 13, 2021
Staff was very helpful and getting my site leveled and taking me back to my site. The front desk was so professional and willing to help with anything that I needed during my stay. The Internet was good the site is absolutely beautiful there was snow on the ground and the temperatures were cold to my family and I. It was nice to burn wood, the campsite offers a nice fire pit at each site.
Jan 13, 2021
Great stay, well organized site. Definitely need to stay here in the summer to take advantage of all the amenities.
Jan 10, 2021
Staff was super helpful and pleasant. Loved privacy in each site. Definitely will stay again!
Jan 09, 2021
great place to stay. Would stay there again
Jan 09, 2021
Had a great time! The Deluxe Cabin was roomy and had everything we needed. All linens, towels, dishes and utensils were available. Hiking trails that are family friendly are connected right to the campground. Hosts and employees were welcoming and helpful.
Jan 08, 2021
This is what we were looking for in a vacation. Pine trees everywhere, very relaxing and the staff were so very kind.
Jan 08, 2021
Office staff extremely rude, bad attitude!!!
Jan 08, 2021
The showers require me to kneel down to virtually knee level in order to be underneath the shower head (and I am only 5'8"), they should have been updated decades ago. The sewer line or septic tank at my campsite #178 was full or clogged, of course I had no way of knowing this until I dumped my trailer's black tank and sewage overflowed. Horrible experience, last time I stay here.
Jan 07, 2021
This is the most beautiful KOA we've ever stayed at. Great location and friendly staff.
Jan 06, 2021
The employee who checked us in and took care of us couldn't have been more friendly or accommodating. Such a great reception after getting off the road. I really appreciated his hospitality.
Jan 05, 2021
We stayed for new years weekend at the spot #27 has full hook-ups It's was level and clean with patio and furniture! Also the Wi-Fi was strong connection. We loved the KOA!!! The mountain and trails behind the camping are beautiful. Good place to stay with the family. We'll come back for sure! Peaceful place!!!
Jan 05, 2021
Fantastic, Hospitable Staff! They made us feel very welcome! Please thank your staff for us.
Jan 05, 2021
Clean, well kept areas, friendly service.
Jan 04, 2021
Excelente servicio
Jan 04, 2021
overall I was happy with our stay and would come back. It was easy to check-in, our site was clean, public bathrooms were cleaned, dog + kid park were a nice touch, Oh and the walking trails were great, the only gripe I have is the internet could be better, my wife and I continued to get kicked off, and when I was able to get on it was super slow when trying to check/respond to basic emails.
Jan 04, 2021
Staff wasn't very friendly upon check-in and didn't offer to show were the site was. Only had two small portable heaters. Cabin didn't get past 49 degrees all night. There was no fire alarm.
Jan 04, 2021
This KOA is larger than it appears, but that's a good thing as you still feel like you're in a private space. We were close to the bathrooms, which ended up being a good thing as our tanks froze at some points. It was our first winter trip where we had to deal with that stuff. The park is clean. The staff is very friendly and helpful. We had good access to some hiking trails. Overall a good time.
Jan 04, 2021
The person that checked me in was very helpful and pleasant. I was awakened by loud music at 1:00 a.m. I was in space 78, and the 6 people sitting next to the RV in space 77 had music playing loudly. No staff member asked them to quiet down. At 1:30 a.m. I left the KOA and continued my journey. I won't be back.
Jan 04, 2021
We really enjoyed our stay here & will be back in the warmer weather.
Jan 04, 2021
Our site was extremely un-level and was not able to be fixed with any of the usual actions such as blocks or automatic levelers. Also, there were several piles of dog mess all around our site that we had to clean up or move. Overall the park looked run down and unkept. The one good thing about this park was the two nice men helping with the propane. They get 5 stars.
Jan 04, 2021
The stay was pleasant, however, there were some tent campers right next to my back in spot who had a foul mouthed altercation at about 10 o'clock at night which lasted 3-4 minutes. Felt like I was in the hood for those few minutes instead of a beautiful wooded area.
Jan 03, 2021
very very naice
Jan 03, 2021
This particular KOA was very nice and clean. The staff was also very helpful and friendly. This has been one of our favorite KOAs.
Jan 03, 2021
We stayed here for five days with our four children. Kids had a great time enjoying the park walking around and playing at the playground. The bathroom were kept very clean and staff was very friendly.
Jan 03, 2021
Great customer service very fast when ordering wood or propane very clean we will definitely be staying there agian
Jan 02, 2021
It's a beautiful place, but the sites are sliver-sized. The roads are narrow. Can't figure out why it won the President's award. Nice enough, I guess, but I'll opt for somewhere else next time.
Dec 30, 2020
Stayed in our 40' Motorhome for 6 nights and we watched the cutest furry-eared squirrels that we had never seen before scurrying about. The park was neat as a pin and the employees were very kind and helpful. The showers are hot as well as clean! The view from the base of the mountain is nice as is the hiking trail. The dog parks are kept spotless as well. We intend to come back!
Dec 30, 2020
Exceptionally beautiful and well located KOA. Plus a well stocked store. Great staff as well! Plus they worked with us when we were a bit late getting out.
Dec 30, 2020
Clean, beautiful trees, easy to find, all amenities
Jan 18, 2021
This is a beautiful park! Well kept with great public restrooms with hot showers!
- Renee Monaco on Google
Jan 15, 2021
This is by far one of the best KOAs I've stayed at. We have stayed at a ton of RV parks also and this out ranks them. All the staff is friendly and nice. They have 2 dog parks and really nice trails to walk or walk your dogs. The kids loved playing on the playground. Due to covid some stuff was closed but that was ok. They have lots of cute little cabins and the restrooms were cleaning. Having trash cans at each camp site was so convenient, and the views are pretty good.
- David Hernandez on Google
Jan 06, 2021
Beautiful park nice people
- Cathy K on Google