Flagstaff KOA Reviews
Check the Current Status of Recreation and Amenities Openings During COVID-19
Directions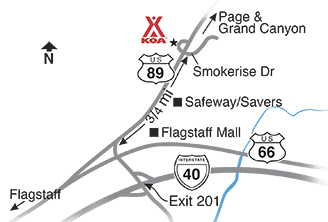 NE of downtown on 89N. From I-40 exit 201, 1/2 mile on US 89 to Page. Turn left at light at Smokerise Drive.
GPS: N35.234192, W111.575673
Fax (928) 527-8356.
Get Google Directions
Aug 11, 2020
It was great! We'll be back next year!
Aug 11, 2020
Loved the setting, hookups were all solid and dependable, and the staff practiced diligent COVID-19 safety measures
Aug 11, 2020
The place was packed but we still had a great time! Our first time staying in a tent space, we usually do a cabin or teepee. I was staying alone with 3 children & grateful the playground was open. One suggestion, could you add a step stool or box in the restrooms to make it easier for kids to brush their teeth & wash their hands?
Aug 11, 2020
Very helpful and prompt check in. We were escorted to our site and shown the hookups and info on the electric box. The upper sites in my opinion are better, quieter and away from the tent camping and partying crowd.
Aug 11, 2020
My family and I had a great time!!!
Aug 11, 2020
I would have given a 5, but my premium patio site had the patio bricks falling off the legde and a trip hazard for safely walk around. I feel that this should have been fixed before someone pays to use the site. When I pay more for "more" I expect to not have problems like this. It was somewhat disappointing. Other wise we always enjoy our stay at this KOA.
Aug 11, 2020
Tiny showers, not enough and not very clean, and a little pricey
Aug 11, 2020
Great amenities, clean, and friendly staff
Aug 11, 2020
Friendly staff, clean, great location. Quiet. Everything we wanted. But busy, so out of firewood. Oh well, we were tired anyway so earlier to bed was fine :)
Aug 11, 2020
First RV trip ever, was planning to do dispersed camping but for the last night of our trip we wanted to have hook up. Chose this camp based on positive reviews, and it was good. I have nothing to compare it to, but I am guessing it is a nicer than average site, clean and busy but no problems with noise or bad neighbors. The hiking trails are excellent for walking the dog and family adventures.
Aug 10, 2020
Nice location but very tight spots and our spot was not level.
Aug 10, 2020
Beautiful area, nice hiking trails, wonderful staff They accommodated us nicely after the cabin mix up
Aug 10, 2020
Friendly employees and clean facilities!
Aug 10, 2020
This is a fine location, but needs to have less sites. People are packed in here. There is no site security. A motorhome drove in at 10:20 PM made noise until 11:45 and left between 4:30 AM and 5:00 AM. They had no reservation and a security gate would help this immensely. Cars could go and come 24 hours a day, a real security issue.
Aug 10, 2020
great stay. love the hiking in the back of the park. good wifi for the most part. nice safety procedures and location.
Aug 10, 2020
We were there only one night but it was very pleasant. Loved the trees.
Aug 10, 2020
restrooms ancient but clean. REAL PROBLEM- LITTLE CHILDREN ON 3 WHEEL TRIKES GOING AROUND ENTRANCE, THEY ARE VERY LOW TO THE GROUND (NOT MORE THAN 2 FT TALL) NO FLAGS UP IN THE AIR ON ANY OF THE TRIKES SO NO ONE CAN SEE THEM COMING- A DISASTER WAITING TO HAPPEN. NO CHECK IN PARKING SPACES MARKED FOR PEOPLE, SMALL CURVED ROADS IN THE PARK.
Aug 10, 2020
Nice get away from the Phoenix heat. Kamp breakfast was very good and a nice thing to offer!! KOA definitely needs someone to weed wack all the weeds and over grown grass/weeds throughout the property! Would definitely help with the look of this KOA
Aug 09, 2020
We had been on the road traveling for 40 days, so we had stayed at other KOA locations. We were very disappointed with this KOA and the site we were given. The site was not level, we couldn't dump our black or gray water. We were in the back and found the sites to be too close together and noisy. Way too crowded!!
Aug 09, 2020
Well run with sensible COVID mitigation policies. Clean bathrooms, quiet, neat and attractive overall. Rates very reasonable considering the location and season. Great breakfast canteen. Easy access on the edge of town. Hiking trails accessible directly from the campground. Lots of trees and mostly shaded. Friendly staff. A few unsavory odors from the mobile park on the north end. It's a win!
Aug 09, 2020
Was disappointed to find that there was no sewer connection, but guess that was my fault because I didn't notice that when I booked. I saw 50 amp and assumed it was full hookup. Our lot 93 was too small for our rig and difficult to get out of without help. Overall, I got what I paid for... cooler weather.
Aug 09, 2020
Site 144 Has inadequate sewer connection.
Aug 09, 2020
Enjoyed our two night stay. The park was full but very quiet at night. The staff was friendly and helpful. We LOVED the breakfast at Kamp Kitchen, they do a marvelous job and we so friendly. Offering breakfast for campers is a great idea and was very appreciated by many. The dog park was great, we have a large dog who likes some off leash time. Overall a great stay and we will be back.
Aug 08, 2020
lousy internet, no level sites, otherwise very nice.
Aug 08, 2020
One night, quick in and out, backed up to the forest. Convenient and quiet.
Aug 08, 2020
Seeing trees and mountain side was marvelous!
Aug 08, 2020
OUR ONLY ISSUE WAS THE LACK OF ADULT ACTIVITIES.
Aug 07, 2020
We have stayed here at least 4 times and the last was the least favorite. I know it's because of COVID19 that the park was so crowded, which created a less-than relaxing stay. The park is very clean and the people are nice. My suggestions would be closing the play area a little earlier and not allowing fires. Sites are too close together and smoke travels.
Aug 07, 2020
The staff was very friendly and helpful, and the facilities are well maintained. This is a clean and well run KOA. The negatives are that the sites are small and packed tightly together, and the front sites are close to the highway - there is significant road noise.
Aug 07, 2020
Very nice KOA. Cool breeze and tons of shade. It was a very nice spot for our over night stay. We'll be back.
Aug 07, 2020
Beautiful park with lots of trees and mountain with hiking trails adjoining.
Aug 07, 2020
I don't see why they don't have curbside check in after I Already checked in online. Pure laziness. Otherwise campground was clean and well maintained.
Aug 07, 2020
Only negative comment is there are no containers at any of the camp sites to put your recycleables in. Which is too bad, because KOA is missing an opportunity to set an ethical example of protecting the environment by keeping recyclables out of landfills.
Aug 07, 2020
The people in front office were good. Our site was not very level, very narrow and NO shade. We were there for two nights and wished we had a better site and there were others on our row. For one night we could have endured the lack of shade. We did not have shade until the sun went behind the mountain. Please assign the less desirable sites for the one nighters.
Aug 07, 2020
Staff are phenomenal, our requirements and length of stay changed after we arrived and the front desk staff were able to make adjustments that met our requirements. Site was clean, level and great views. Highly recommend KOA Flagstaff.
Aug 07, 2020
It was so peaceful and cool just a happy place to stay ��
Aug 07, 2020
Friendly and helpful staff, all appropriately wearing masks. No water access at the tent space # 200, where we stayed, and staff not aware until we informed them. They suggested we could tap at any nearby outlet, which we did, though the closest one was too old to screw our water filter onto. We found a newer one about two tent spaces down that worked. Great hiking access.
Aug 07, 2020
Level wooded sites. Hiking trail out the back of the campground. Plenty for the kids to do. Would stay here again
- Sefra A'sal on Google
Aug 05, 2020
I loved if it's was so peaceful and quiet
- you know who it is duarte on Google
Aug 05, 2020
Very friendly staff and we really liked the location. Very convenient.
- Don Sahota on Google

Flagstaff KOA
Open All Year
5803 North US Highway 89
Flagstaff, AZ 86004
Check-In/Check-Out Times
RV Sites, Tent Sites
Check-in: 12:00 pm, Check-out: 11:00 am
Accommodations
Check-in: 2:00 pm, Check-out: 11:00 am
Get Google Directions

© 2020 Kampgrounds of America, Inc.