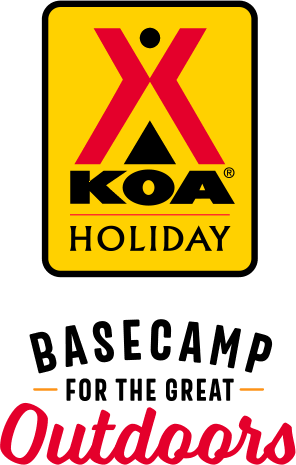 KOA Holiday Campgrounds
Whether you're exploring the local area or hanging out at the campground, KOA Holidays are an ideal place to relax and play. There's plenty to do, with amenities and services to make your stay memorable. Plus, you'll enjoy the outdoor experience with upgraded RV Sites with KOA Patio® and Deluxe Cabins with full baths for camping in comfort. Bring your family, bring your friends, or bring the whole group – there's plenty of ways to stay and explore.
KOA Holidays Feature:
RV Sites with a KOA Patio®
Deluxe Cabins with full baths
Premium Tent Sites
Group meeting facilities
Directions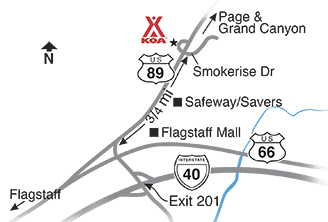 NE of downtown on 89N. From I-40 exit 201, 1/2 mile on US 89 to Page. Turn left at light at Smokerise Drive.
GPS: N35.234192, W111.575673
Fax (928) 527-8356.
Get Google Directions
Sep 25, 2021
The spot we were in was just really close together to others would have liked a bit more secluded tent site.
Sep 22, 2021
We got there after dark for a tent campsite. We're advised there was a fire ring on the site. There was not. The actual tent spot was broken down and not as nice as the others we saw in the morning. May have just been this particular site.
Sep 21, 2021
Very nice place to stay.
Sep 20, 2021
Please warn campers that there are thefts happening. We had all of our firewood stolen from a closed plastic bin while we were at the picking in the pines music festival. Luckily we had not left anything of value at the site while we were gone.
Sep 20, 2021
Just one night stay on motorcycle road trip. Was well kept and a relaxing setting.
Sep 18, 2021
This was a fabulous stay. Clean everything!! Very friendly, courteous, informative staff. Lots of activity for the children. Most definitely will stay at the Flagstaff KOA again. I'm looking forward to my next visit.
Sep 14, 2021
All of the staff were very friendly and accommodating! We loved that there were so many activities for kids with the jumping pillow, barrel train rides, playground, banana bikes and a dog park (for the furry kids). The bathrooms and showers were always clean. It also saved us a lot of time and room when packing that a yummy breakfast was available on site for a low price.
Sep 14, 2021
Beautiful sites among large pines and firs. Very attentive staff. Clean restrooms and good showers and laundry facilities.
Sep 13, 2021
Our camping spot should have come with earplugs! We have stayed there multiple times in the back of the property and those spots are great. You should change the tent sites at the front and move them back further.
Sep 13, 2021
Siempre es bueno hospedarse ahy el lugar muy limpio y las personas muy amables
Sep 11, 2021
Wonderful. I sneak away to Flagstaff during the week to escape the heat of Phoenix. They managed to arrange my stay in space 134 which is the shadiest tent sight. I relaxed, read two novels and enjoyed the quiet and cool. Thank you. Lee Meyer
Sep 10, 2021
Clean well kept facility. Really like the breakfast trailer and the ladies that work there. Their version of a sausage and egg and cheese sandwich puts the Golden Arches to shame. And the coffee is excellent as well. When there was a big rain event the soil and grave washed all over the roads, etc. The next day is was an "all hand on deck" response. I appreciate how hard the staff worked to fi
Sep 07, 2021
They need to enforce quiet hours of some kind. Two group were playing music and extremely loud well past 1230am! Incredibly disrespectful, especially with the close quarters. We loved the trip, but the close proximity etiquette was poor.
Sep 06, 2021
This is one of my favorite Campsites. The staff are all very polite and I love the breakfast spot.
Sep 06, 2021
We had a great time. Thank you
Sep 06, 2021
Great campground, lots of kids activities, staff was very friendly. Facilities very clean. Definitely will stay again.
Sep 04, 2021
Bathrooms were very clean. Staff was friendly. Nice little tent pads with soft mulch.
Sep 04, 2021
Nicest KOA I've seen so far in my travels. The manager was very kind to reimburse me for my sleeping bag that burned in the dryer. Great customer service!
Sep 03, 2021
The campground was in a beautiful area close to town. The staff was friendly. It's also nice they don't charge for showers.
Sep 01, 2021
The laundry facilities were clean but nearly half the machines were out of order and the change machine was out of order.
Aug 31, 2021
Really liked the KOA Cafe! Breakfast was as good if not better than Denny's! However, KOAs have gotten pretty pricey these days.
Aug 30, 2021
Reservation #9129368 Staff can't read, or understand, a Reservation made online. Left a Google Review. Read that.
Aug 25, 2021
everything excellent
Aug 23, 2021
Great place to tent camp! Very well maintained campground and the staff in the office were so friendly and informative of the area.
Aug 23, 2021
I loved my stay here. The campground is clean and well taken care of. The showers were hot with good water pressure and the Kamp Kitchen was such a great perk. The food was great and it was such a nice way to meet happy morning people.
Aug 23, 2021
We had a nice stay but we have been coming to this KOA for 12 years and the kids activity center has always been open. It appears to be permanently closed now. We missed the build your own ice cream sundae, flashlight treasure hunt, t'shirt coloring, movie night, lawn bowling, pool table, foosball table and all the other activities this KOA used to have.
Aug 23, 2021
When we arrived, after 5 pm, the tent site was dirty!! Had a shoe, some kind of wadded up tarp and leftover water on the cement table. Uncool to pay $50 a night for a dirty location. Highly disappointed!!
Aug 21, 2021
Flat site. Stay here several times a year. Like it,
Aug 21, 2021
We had a GREAT time. We were only there one night but it was awesome. Just enough KOA charm and convince along with the natural beauty of the area. Don't miss walking the nature trails or the pancakes at the Kamp Kitchen.
Aug 20, 2021
Very good, clean rest rooms, friendly and helpful staff. Only negative is that the tent site didn't have wood chips, and had gravel instead. Minor issue.
Aug 19, 2021
We had a great experience. First time using KOA and this definitely left an impression. Staff was very friendly and helpful. Only complaint was the rain and wind....but we can't control the weather lol
Aug 19, 2021
First time guest. Staff was very accommodating. Everything was clean and functional. We had a very nice experience. Would definitely do it again.
Sep 19, 2021
Great place for camping. We stayed three nights here and really enjoyed the location & amenities. The camp breakfast that is available to purchase was very good and reasonable.
- mark klink on Google
Sep 19, 2021
All I can say is good people clean facilities
- Samuel Eberle on Google
Sep 13, 2021
Nice location very nice and amenities offered are excellent.
- Mike Wong on Google