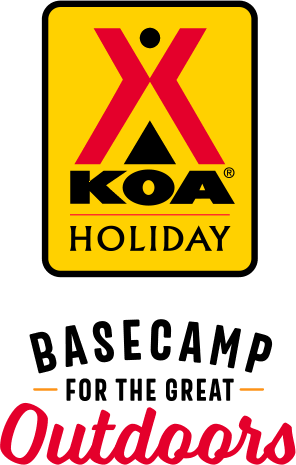 KOA Holiday Campgrounds
Whether you're exploring the local area or hanging out at the campground, KOA Holidays are an ideal place to relax and play. There's plenty to do, with amenities and services to make your stay memorable. Plus, you'll enjoy the outdoor experience with upgraded RV Sites with KOA Patio® and Deluxe Cabins with full baths for camping in comfort. Bring your family, bring your friends, or bring the whole group – there's plenty of ways to stay and explore.
KOA Holidays Feature:
RV Sites with a KOA Patio®
Deluxe Cabins with full baths
Premium Tent Sites
Group meeting facilities
Directions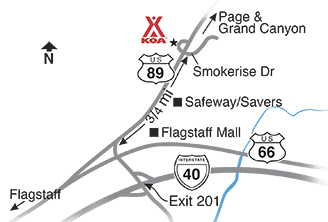 NE of downtown on 89N. From I-40 exit 201, 1/2 mile on US 89 to Page. Turn left at light at Smokerise Drive.
GPS: N35.234192, W111.575673
Fax (928) 527-8356.
Get Google Directions
May 04, 2021
Restrooms and showers were very clean and nice. Tent space were very very small. My tent did not fit on the platform. Luckily one of the people I went with had two platforms so we could set up cooking area.
May 04, 2021
The KOA itself was nice but unfortunately we had to go stay in a hotel both nights due to a wind storm.
May 04, 2021
Great facilities, extremely clean and tidy, well run.
May 04, 2021
Employees were very helpful and friendly, we will definately visit again if we are in the area. The little camp kitchen food spot was excellent!
May 04, 2021
Wish the front end of the shower stall had just a bit more room. Glad there's a breakfast option on site.
May 04, 2021
8 out of 10 washing machines were broken
May 03, 2021
Clean and kid friendly
May 02, 2021
We had a great time! My kids loved it. I rate it at 4/5 only because the bouncy thing, horse shoes and family center were closed (with the Friday night movie) and you guys need to change your website to reflect that or fix those things. It's not honest to falsely advertise for things you can't use. Other than that, we really enjoyed our time!
May 01, 2021
Very nice campgrounds and the staff was amassing! I rated as a 4 star because the bathrooms could have used a good cleaning or possibly a remodel.
Apr 27, 2021
This KOA was a blast staff was helpful
Apr 26, 2021
well I had reservation for 3 nights I was charged for 3 nights and 4 days., Unfortunately, on my last night when I arrived from Sedona to sleep my tent and belongings where put away and gave my space to another family. I tried calling the emergency phone number 10 times without luck. I didn't have a place to sleep and had to sleep in the car. Very disappointed
Apr 25, 2021
We arrived after dark, but we were able to figure out where we needed to be super easily. The restrooms were impeccably clean. Our site was exactly what we needed. This was my first time at a KOA, and based on this experience I would totally return and plan trips around other locations!
Apr 25, 2021
I went on a road trip and this KOA was by far the most beautiful. I would recommend to bring extra layers of clothes because it was very chilly ����
Apr 22, 2021
Very busy and noisy. Too many packed into a small area by a busy highway. The laundry room was a joke with only 2 washers working and you get totally ripped off by the dryers and having to stand there and feed it quarters every 6 minutes. Took me 2 hours to do 2 loads of laundry.
Apr 19, 2021
Great service. Clean bathroom.
Apr 17, 2021
Always clean and friendly people.
Apr 12, 2021
Weather was perfect, sites were well maintained. Office staff was friendly and very helpful.
Apr 12, 2021
Very friendly staff with clean facilities. This site is about an hour drive to the south rim of Grand Canyon, which had some amazing views. Also, Sedona is a short drive south with beautiful views and a rainbow trout farm that the kids really liked. We would definitely be back.
Apr 12, 2021
I reserved tent site with electric but staff sent us to stayed at the site no.76 that has no pole to plug in. We stayed the whole night without electric!!!!!!! We didn't move to another site because office already closed when we get there. Next morning they sent staff to spot me where the pole is but all poles are for another sites !!!!!!!!!
Apr 12, 2021
We loved the stay & atmosphere, the only problem we had was masks wasn't enforced on those walking around, & keep distance from each other.
Apr 12, 2021
My family and I had a great time the staff and the other guests were very friendly. Fantastic atmosphere.
Apr 10, 2021
We stayed 2 days to see Sedona and Grand Canyon, the park was in a great location but a little on the dirty side. Bathrooms and showers need some serious attention, staff was friendly but not knowledgeable about the area. I would not stay again
Apr 05, 2021
The staff was very friendly and helpful. Even though they were full, they managed to move our site so my cigarette-smoke sensitive husband could enjoy a better site. The bathrooms were clean & the showers were hot. Will come again!
Apr 03, 2021
As always - excellent time at Flagstaff KOA. The staff is always friendly, polite, and helpful! The restrooms are clean and all the trash cans are emptied often! This is one of our favorite KOA Campgrounds!
Apr 01, 2021
The bathroom was a bit dirty and the shower heads were ridiculously low. Even when titling to a 90 degree angle I had to bend at a 45 degree angle to be able to wash my hair.
Mar 29, 2021
It was clean. Workers were very friendly.
Mar 22, 2021
Very nice stay. Showers are a tad small, but they were clean. It was very crowded when we stayed, it is a large park. So lots of room for lots of people!
Mar 16, 2021
Quick overnighter
Mar 12, 2021
Many blessings to all!�
Mar 11, 2021
Perfect for us, nice beautiful location, fair price
Feb 26, 2021
We tent camped on a gravel RV pad. Not the "mulch tent pad" as advertised. Other than that, clean bathrooms and well kept.
Feb 21, 2021
The staff members were very friendly and helpful. The facility was very clean. We loved it and can't wait to go again!
Feb 11, 2021
I love that recycling is available, I just couldn't tell where it should go vs. The trash. It was nice to have showers!
Dec 29, 2020
Este es uno de los mejores lugares para quedarte. Súper limpio... agua caliente siempre....el personal sumamente atento!! Cerca de todo. Muy grande y con varios servicios. Súper económico!!!
May 06, 2021
Awesome place
- Derrick Paddock on Google
May 04, 2021
We loved this campground!! Loved the walking trails behind the campground. I mean, the squirrels that stole our snacks off the picnic table were a bit much. I really wish they would have put them up at night. JK!! They were cute! But don't leave your food out.
- Donna Evans on Google
May 07, 2021
Not the best KOA but the girl at registration was super nice. First, the tent sites are small and there aren't much vegetation/privacy; 2nd, it's too close to 89a, so it's noisy; 3rd, our tent could not stand up straight due to the heavy wind-an indication that the place doesn't have enough trees.
- Jason ZH on Google