Flagstaff KOA Reviews
Check the Current Status of Recreation and Amenities Openings During COVID-19
Directions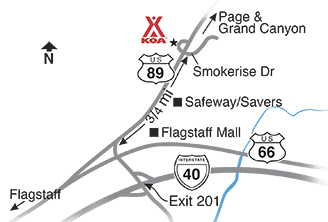 NE of downtown on 89N. From I-40 exit 201, 1/2 mile on US 89 to Page. Turn left at light at Smokerise Drive.
GPS: N35.234192, W111.575673
Fax (928) 527-8356.
Get Google Directions
Nov 07, 2020
The staffs were very helpful and friendly. When we checked in in the dark, one staff guided us to our site, we felt so relieved. We were pleased to get the best tent site. But our electricity and water got shut down by mistake the second night. We asked them and got discount for that. Our overall experience was good and we will come back next time.
Nov 03, 2020
Everything with our stay went smoothly and the staff was great. I would say that the sites were very close together and not well arranged. Our neighbor's car was parked less than 2 feet from where our tent was. The biggest problem was that there were two big pieces of metal (maybe some sort of electrical equipment?) that stuck up in the middle of our site, which was a big safety issue at night.
Nov 02, 2020
Hosts were great, the site is quite pretty and woodsy, Covid-19 protection from staff is great but the other campers are not very compliant with the Covid-19 rules....quite disappointed and not feeling very safe there. Minimal use of masks at public restrooms.
Nov 01, 2020
I arrived just before the office closed at 8, but they were all ready for me and super helpful. This is just a great campground with wonderful facilities. Can't wait to come back.
Oct 27, 2020
Great place. We tent camped. All accommodations were perfect. Mindy was a true blessing and made our stay the best. We'll be back!�
Oct 26, 2020
All staff was very helpful and friendly. The campsite was clean including the bathroom facilities which is a huge plus for tent campers. Road noise was present but not terrible. I would definitely recommend the location.
Oct 26, 2020
We left a day early. We reserved an electric only tent site so that we would be with other tents. Instead we were placed in between two rvs on an extremely tiny site that had electric and water. The pad was only 10x10 so our tent didn't even fit. Plus it backed to a concrete wall where a mobile home Park is located. The rv next to us had their led lights shining on us the entire night. Horrible!
Oct 26, 2020
Great site! Required masks. Outdoor sink for washing dishes was great. Campsite was large and felt safe.
Oct 26, 2020
The hosts were very kind. They were very welcoming and I felt comfortable during my stay. Thank you.
Oct 24, 2020
Great friendly staff. Clean facilities and excellent hiking trails right out the backboor.
Oct 22, 2020
Not only did I have a pleasant overnight stay, I had forgotten to bring a hammer to drive my new tent stakes into the ground. Gratefully, KOA provided me one. Very happy with the site and staff.
Oct 21, 2020
Staff were friendly, bathrooms clean, good basics in the store. Wish there were more cabins available
Oct 21, 2020
Nice campground with clean facilities! Thanks!
Oct 20, 2020
The restroom facilities were not well kept. The front desk person was friendly but their camp porter was rude.
Oct 19, 2020
It was great! As usual. Greatful for the awesome play ground!
Oct 19, 2020
Amazing stay! super friendly staff that helped checking me in, great camp sites, nice central location, really close to good hikes. Would stay here again!
Oct 17, 2020
Showers were not clean & we used them right after the time they "supposedly" cleaned them.
Oct 16, 2020
Love to come back after crude over
Oct 16, 2020
We pulled in late but our name and spot were clearly marked and it was easy to find. The trees were beautiful and it was a clean establishment.
Oct 14, 2020
Everything was just wonderful and clean
Oct 13, 2020
Great and accommodating! LOVE the simple late night check in, VERY useful for road trips!
Oct 12, 2020
Great location near hiking and biking trails. Nice grounds.
Oct 12, 2020
I always enjoy my stay!!
Oct 11, 2020
Pretty campsite and Great camping location next to mt elden trails!. Great amenities and staff was so nice and very accommodating. Very happy to be able to use laundry facilities and that they had laundry soap for sale. One caveat - I tried 3 different dryers and none of them seem to accept quarters past 12 minutes , I had to change dryers 3 times to dry my clothes for 30 minutes. Thx!
Oct 08, 2020
I have been camping at at the Flagstaff KOA since I was a kid, 40+ years ago. I now bring my family. We made made 3 trips up here this summer. Even though some of the kid friendly activities were not offered (due to pandemic), we all enjoyed our stay. The staff are friendly, the grounds are kept clean, bathrooms are clean. Location is perfect for access to Flagstaff amenities.
Oct 07, 2020
I just stayed the one night. I was on my way to Colorado and just needed a stop over. I stayed the night in my SUV and I was comfortable. I only needed the bathroom and I was up and on my way in the morning. I appreciate the safety of your KOA and the service.
Oct 07, 2020
The camp was very comfortable with clean facilities with showers and hot water. The staff was very polite and helpful. I had a good experience to stay there, Thank you.
Oct 07, 2020
My family and I were traveling West and glamping along the way. We decided to pitch the tent at the Flagstaff KOA and were we really happy we did. The KOA offered a hot breakfast and the lady chefs made some great food. We felt like this was the first real meal we had in over two weeks on the road. The bathrooms were clean and the playground was a welcome site for my two kids. Absolutely wonderful
Oct 07, 2020
Trains &.traffic...noise No shade camp was unbearable for 9 hrs People.checking in all hours of the night. Left early
Oct 05, 2020
It was a great site easy check in ! Scott was super super helpful !
Oct 05, 2020
spots are a little close together however this is a nice place to stay. Very clean and friendly
Oct 05, 2020
Was AWESOME n Thk U
Oct 03, 2020
It's clean enough but it's just so tightly packed. You hear every whisper and rustle. People were respectful and quiet though. It's a good enough stopover while traveling but for rent camping, I wouldn't stay more than one night. They are following all Covid-19 guidelines though and as I said, everything there feels very clean.
Oct 02, 2020
Got there late but my spot was ready, bathrooms clean, so was shower. Can't really say nothing bad I only spent the night but as far as my stay it was good.
Oct 01, 2020
I wish it had been for now than just overnight. Planning a longer stay with family for next year. Cannot wait to be there again!
Oct 01, 2020
Neighbors had their lights on all night. Was hard to sleep in our tent with the bright lights. :(
Sep 29, 2020
There had been an issue with people partying till 2am and when it was brought to the offices attention they resolved the issue immediately.
Sep 29, 2020
This is our 4th time staying here and we have never stayed in this space. I don't know why they gave us this one when the others were all open. Our tent pad was right next to the people's RV next us dump.
Nov 21, 2020
Great place to take the family
- Steve Kean on Google
Nov 18, 2020
Clean, friendly, and great forest access
- christopher rogers on Google
Nov 18, 2020
Very nice staff. Pretty narrow roads. Our spot, 173, was pretty level and nice.
- Matt Roelfs on Google

Flagstaff KOA
Open All Year
5803 North US Highway 89
Flagstaff, AZ 86004
Check-In/Check-Out Times
RV Sites, Tent Sites
Check-in: 12:00 pm, Check-out: 11:00 am
Accommodations
Check-in: 2:00 pm, Check-out: 11:00 am
Get Google Directions

© 2020 Kampgrounds of America, Inc.