Directions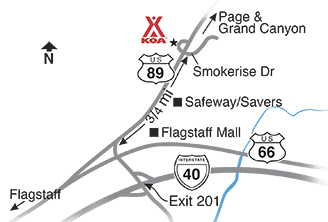 NE of downtown on 89N. From I-40 exit 201, 1/2 mile on US 89 to Page. Turn left at light at Smokerise Drive.
GPS: N35.234192, W111.575673
Fax (928) 527-8356.
Get Google Directions
Dec 01, 2020
Staff was very welcoming! Showers were warm and clean.
Dec 01, 2020
We stayed in a patio site right up against the forest. It was perfect, beautiful. The whole campsite had so many trails, and it was very pet friendly--perfect for our family that likes to hike with our dog. The campsite is well maintained and very clean. It was also a convenient location that made it easy to go visit many other places nearby. We will definitely return.
Dec 01, 2020
I have stayed at the Flagstaff KOA numerous times. Love it there!
Nov 30, 2020
Over the Thanksgiving weekend, it was quite cold (not your fault). Still, the stay was quite pleasant because I, my son and daughter were close together with our RV's. The facility, itself, was neat, clean and well-maintained. The office staff was very helpful. I had never been to this KOA before but I'll be back!
Nov 30, 2020
The staff was the best I have ever seen!
Nov 30, 2020
Patio sites are awesome! Campsite is close to everything, well maintained. Great all around experience.
Nov 30, 2020
The wifi didn't work very well, and the trash was overflowing, but the staff were very friendly and the site is beautiful.
Nov 30, 2020
Awesome. Staff are amazing. We had a minor issue on our awning, staff brought a ladder, offered to assist however they could. Really appreciated!!!!! Facilities great too!
Nov 30, 2020
Campground was easy to find. Staff was friendly and helpful. Sites were clean and easily accessible. The bathrooms were clean, well maintained, and warm! The area was quiet with lots of large trees - a delightful campground.
Nov 29, 2020
Great kids play area and cute photo ops. I booked site 52 for a higher price based on the fact it said "The best site." That was a complete Lie! This site is about a 20% slant to which NO amount of leveling equipment could fix!! Upon asking the front desk to switch sites, even offering to switch sites daily, we were told NO siting that the entire campground was full every night which seemed un
Nov 29, 2020
Had a wonderful stay and each Interaction with employees was great. Good spots and great accommodations ( would be better if more was open but I understand)
Nov 29, 2020
The camp is very beautiful. The customer service was excellent. All the camp sites were well large and well maintained.
Nov 29, 2020
We loved it, simple as that. Staff was great, grounds were kept up.
Nov 28, 2020
Friendly, responsive staff.
Nov 28, 2020
Terrific accomodations and kind staff. Jim helped me with slightly frozen hose.
Nov 28, 2020
Quick overnight stay. Location was convenient and everything worked as expected.
Nov 28, 2020
The staff was very helpful and courteous. Their contactless check-in and check-out was very easy and effective. They also helped me with the hookup.
Nov 27, 2020
Very friendly.
Nov 27, 2020
This KOA was nice enough and the girls at the front desk were nice and friendly. But we were put next to a large compound of two families. The one family had a huge canvas tent that had a wood burning stove inside! The chimney was about 6 feet away from our small rv. Smoke from the stove was excessive. The smoke leeched into our rv so that my eyes were burning. We asked to be moved and we did.
Nov 27, 2020
Beautiful , a friendly staff, patient to questions. Very refreshing.
Nov 26, 2020
Very pleasant place to stay. Enjoy nearby walking trails. Appreciate staff keeping grounds clean and frequent trash can dumps.
Nov 26, 2020
We had a great site near the mountain. Great hiking and dog walking in the National Forest steps from the trailer. The site was set up with a fire pit, bbq and a picnic table and trash cans near by. The staff was very friendly and helpful. Our site was very quiet. We will definitely be back.
Nov 26, 2020
Excellent service and camp sites.
Nov 26, 2020
This place was amazing... looking forward to coming back this summer when we can stay for a while. Friendly staff, clean restrooms and showers... beautiful campground/RV Park..
Nov 25, 2020
Nice bathrooms, nice playground. All the kids loved it, however when we drove through Williams it looks like they have a newer bigger playground and a little go kart track.
Nov 25, 2020
Very easy and nice check in process. Great and friendly staff. However, site 51 should come with a warning about the buzzing light that never turns off. Also, my children had to literally run away from people who decided not to wear masks while getting very close to others. So that was scary for them. Wish the guests were as safe as the staff.
Nov 25, 2020
We found the staff curtious. Our space was a little snug for our 35 ft 5th wheel. Site us close to many sights
Nov 24, 2020
We did have an issue because we arrived after office hours but to be honest, this campground exceeded our expectations and we are very happy we camped here. Very clean, very organized, and the staff is very helpful. We will definitely come back!
Nov 24, 2020
Friendly staff, great bbq and firering and comfortable chairs! We will be back!!!
Nov 24, 2020
Field staff friendly & effective. No water at site & electrical post malfunctioned.
Nov 23, 2020
We loved the location and hiking access ! The kids had so much fun playing, well be back !
Nov 23, 2020
The campsite was easy to set up. We walked up the trail at the top of the campground. Nice hike.
Nov 22, 2020
Great environment. Great staff. Definitely be back.
Nov 22, 2020
Overall it was what you expect at a KOA. Friendly staff, clean park, and things for kids to do, 2020 style. ( even access to hiking trails) The sites have a lot of shading from tall pine trees but some are a bit steep, front to back. Bring some blocks! Some are a bit tight getting in and out. A nice addition is a grill, fire rings and picnic tables in each site. We will stay again.
Nov 22, 2020
The park is in need of renovation. Signage showing where to turn into the park and where to stop to register is not easily seen. Roads within the park are very narrow and in need of resurfacing. Dead trees both standing and fallen across fences need to be removed. Not big rig friendly. Narrow pull through sites leave little room to turn out upon departure due to narrow roads and boulders.
Nov 22, 2020
The park was very busy and closing for the season, still was fairly well maintained. Sites are tight, next door had very young children using a provided fire pit and burning all the brush and branched they could collect, apparently a procedure they learned in Alaska. Okay, the fire was close and the smoke was troublesome after a bit.
Nov 22, 2020
Very accommodating for Covid safety. Allowed us to check in by calling and not needing to go in the office. Nice location among pine trees.
Nov 24, 2020
Great customer service and very pet friendly. Lots of places to walk dogs.
- Jack B on Google
Nov 21, 2020
Great place to take the family
- Steve Kean on Google
Nov 18, 2020
Clean, friendly, and great forest access
- christopher rogers on Google