Flagstaff KOA Reviews
Check the Current Status of Recreation and Amenities Openings During COVID-19
Directions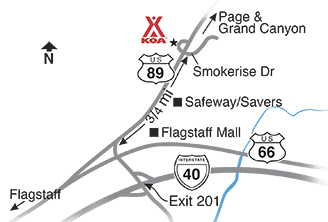 NE of downtown on 89N. From I-40 exit 201, 1/2 mile on US 89 to Page. Turn left at light at Smokerise Drive.
GPS: N35.234192, W111.575673
Fax (928) 527-8356.
Get Google Directions
Sep 22, 2020
Had a wonderful time! The resort has rustic charm and is always friendly and clean. Staff really goes to extra effort to make sure that everything runs smoothly, and they are always pleasant, cheerful, and helpful. Will definitely return as soon as we can!
Sep 22, 2020
We had a very relaxing time. You are close to so many things. It was very convenient.
Sep 22, 2020
We loved our stay at site 145. We would have expected cleaner bathrooms though. You reduced the on-site food kitchen hrs drastically...but you should have upped the tidiness of the bathrooms.... because I believe Covid spread is greater in the bathrooms.
Sep 22, 2020
Great time. A bit dusty but that's Flagstaff in the woods
Sep 22, 2020
The bathrooms overall are not handicap accessible and this should be a given these days. Our campsite we left cleaner than when we arrived as we had to pick up trash from the previous people, there are a ton of "yellow shirt" camp workers yet none tidied up the trash before we checked in. We did not have "mulch and wood chips" either as we were supposed to. It was all dirt with no pad like others.
Sep 22, 2020
Dirt pads which are not level. Had a hard time getting our class A motor coach level. Very narrow spaces without much privacy. Will not stay there again. Staff very helpful and friendly.
Sep 22, 2020
The only suggestion I would make is to get your signage closer to the road, as we had difficulty finding you via our maps app. No sign can be seen from the road. Other than that, very nice place!
Sep 22, 2020
One night stay on way to Grand Canyon. Spots are very tight
Sep 22, 2020
People were nice, campground is pretty well worn out, needs some TLC.
Sep 22, 2020
Beautiful park. Good WiFi and cable. Only issue was at dump site need longer hose to connect tank flush. Will stay again.
Sep 22, 2020
Showers out of date and meant for people way under 6'. The pads are also uneven.
Sep 22, 2020
Many trains in the we hours of the night. Beautiful park.
Sep 21, 2020
Site had a lot of trash on ground from previous campers. Very difficult to maneuver big rigs through streets in campground.
Sep 21, 2020
Reminder for people to pick up in dog park
Sep 21, 2020
This is a very beautiful KOA. The staff was Verde very friendly an courteous. Greeted us at check in and took us to our sure. Sites are very spacious and easy to get into. I would recommend this koa to all.
Sep 21, 2020
This is our second stay at this KOA. We really enjoy getting away from the heat in Tucson. We stayed in one of the full hookup spaces where the view was the mountains. It was beautiful. The campground is welled cared for. The bathroom are very clean. The staff is very friendly. We would definitely recommend this KOA
Sep 21, 2020
Great time at Flagstaff KOA. Helpful staff, always friendly and available. Camp ground is clean with many new improvements. Patio spots are great! Staff frequently check the propane appliances on the patios, BBQ & fire pit. See a-lot of people at the food trailer picking up breakfast, smells great. Nice relaxing environment, able to enjoy your stay without any distractions.
Sep 21, 2020
We stayed in campsite 6. It is our favorite site. This time we had great signs put up so that people knew not to bring their dogs there to go potty. Trouble this time was it had a lot of trash in it. When we said something we were told oh well were sold out and were too busy to deal with it. Other than that it was good.
Sep 21, 2020
Everything was amazing, this was our family first time camping. None of is wanted to leave.
Sep 21, 2020
Our favorite AZ spot! We will be back.
Sep 21, 2020
We love this KOA we stay here as often as we can
Sep 21, 2020
Friendly, helpful service staff and exceptionally clean grounds and restrooms along with the off-leash dog park made our first KOA stay awesome!
Sep 21, 2020
Sites are very tight. I booked a drive through site but couldn't use it. I had to disconnect my tow vehicle since the utility pedestal wasn't in the middle. The sites were not level. You all need to improve this site. It's an embarrassment to the brand.
Sep 21, 2020
Friendly staff, great park, definitely coming back! Thank you for such an awesome experience!
Sep 21, 2020
Very crowded campground, good location
Sep 21, 2020
Very nice for families
Sep 20, 2020
Always love our stays here, so happy they put a light in the Dog Run could use one more, we will be staying again in a few weeks on our way thru town.
Sep 20, 2020
Well there's was 2 major things that occurred during my stay that I highly disappointed with. But what can say.. People are just so inconsiderated and lack respect for themselves and others. The KOA personnel were fair on there customers services skills. But need to be more greetable. And stay off their phones and be more attentive. Campground need more more maintenance.
Sep 20, 2020
Small sites, dirty and dusty. Very dirty laundry.
Sep 19, 2020
Spent 4 nights. Beautiful setting amongst the pines. Very convenient. Offers lots of amenities. Very friendly and accommodating staff.
Sep 19, 2020
While everyone was kind and everything worked, the roads and sites are narrow unless you had a premium site with patio. Seen more than one big rig hit bushes or boulders trying to make the turn into or out of sites.
Sep 19, 2020
Good well kept campground spoilt by most sites not level in 2 directions making it difficult to level a motorhome without lifting the back wheels off the ground.
Sep 19, 2020
Nice and clean and friendly staff!
Sep 19, 2020
My site patio was crumbling. There is a huge stone protrusion right in front of it that makes putting down a mat unsafe. The cable did not work. The showers in the women's bath house are a disgrace! They are old, the fixtures don't regulate, the tile is dirty, the ceiling vent is filthy, the plastic flooring inside them is deteriorating. The whole shower area needs to be gutted and replaced.
Sep 19, 2020
The staff, including the maintenance crew, are AWESOME!! However, the park is in need of some TLC (dead trees, weeds, bad roads, etc), the sites are too small and they're not level.
Sep 19, 2020
Old but clean very nice people, will stay there again.
Sep 19, 2020
Great atmosphere and friendly, helpful staff would recommend
Sep 18, 2020
Good cable great Wi-Fi unfortunately we needed to make an emergency call after hours the security voice box was not available
Sep 18, 2020
We really love this KOA, but we will never stay there again. Since the new owners have taken over the park has gone downhill. It use to be that they leveled the spaces! Not now. The lower down the lane you are the worse the space. I realize with the Covid 19 things can get strange, but this was ridiculous! I hope they get there act together!
Sep 18, 2020
Lovely campground and our patio sight was exceptionally nice including privacy fencing between sights. First teepee rental experience also which was fun.
Sep 18, 2020
For our needs, the Flagstaff KOA is one of the best KOA's we stay in. You can hike straight from your campsite up Mt. Elden, there are mountain biking trails right out of the campsite as well. It is a little out of town so things are usually quiet and the campers are usually respectful of others. My only beef is that its frequently full in the summer time and hard for us to find a spot!
Sep 22, 2020
We stayed here for 5 nights. The campground is in the middle of everything. Some of the back-in RV areas bumped up next to a neighborhood housing area. We were along the back-side or far end where the nature trails are. This was a wonderful location. We paid for a premium spot. Some of the camp areas looked quite large. I would stay again.
- Susan Robertson on Google
Sep 16, 2020
Clean but old needs up grading. Nice people to deal with.
- Bob Husk on Google
Sep 16, 2020
We had planned on staying 2 nights here but actually ended up staying 3. We were at campsite 201 for the first 2 nights and 127 for the last night. 201 was pretty good, water and electric hookup and was slightly away from other campers. Both campsites were a short walk from the restrooms, laundry room etc. The staff were friendly and helped to point us in the right direction when we needed a minor repair on our suv. The campsite backs onto Mount Eldon and there is lots of hiking. We did the fatman loop trail, it was fab! The location is perfect for exploring historic flagstaff and all the original route 66 sites. Didn't give it 5 stars because it is slightly more expensive than other campgrounds.
- tashadel on Trip Advisor

Flagstaff KOA
Open All Year
5803 North US Highway 89
Flagstaff, AZ 86004
Check-In/Check-Out Times
RV Sites, Tent Sites
Check-in: 12:00 pm, Check-out: 11:00 am
Accommodations
Check-in: 2:00 pm, Check-out: 11:00 am
Get Google Directions

© 2020 Kampgrounds of America, Inc.