Flagstaff KOA Reviews
Check the Current Status of Recreation and Amenities Openings During COVID-19
Directions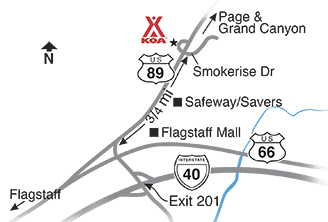 NE of downtown on 89N. From I-40 exit 201, 1/2 mile on US 89 to Page. Turn left at light at Smokerise Drive.
GPS: N35.234192, W111.575673
Fax (928) 527-8356.
Get Google Directions
Nov 09, 2020
We had a blast at this campground. It was kept very clean and the staff was accommodating. We understand that due to COVID there wasn't any food service open. Perhaps invest in a catering company that can deliver COVID safe food and the campers have to prepay for meals. When it's cold weather, it's quite inconvenient to go out to get food. Also, I hurt my foot on the front door of lobby.
Nov 07, 2020
Communication was great! The cabin we reserved was not available so they called us in advance and upgraded us to an available deluxe cabin. Everything was clean and comfortable. Only issue we had was not being used to the elevation.
Oct 28, 2020
Thank you very much
Oct 28, 2020
Very happy with my stay! It was much colder than anticipated so the cabin wasn't as warm as I'd hoped but that's what happens when it's 9° outside. I'll be back!
Oct 27, 2020
Teepee was very comfortable, heater was a very nice touch as we got some snow the last night of our stay. Would definitely stay in them again!
Oct 26, 2020
Two issues. We rented the deluxe cabin that sleeps up to 8. The dishwasher was out of service and there was no hot water out of the kitchen faucet. I think the faucet needs replaced. Cold water comes out when its on hot or cold position.
Oct 23, 2020
Chinock was dirty, all the counter tops and horizontal surfaces had had dust all over. Bedsheets had hairs on them and the floor had crumbs! What was nice was the back patio, The only thing needed to back patio should be a wall between the cabins for privacy and covid separation. We stay at KOAs in California and their campgrounds are in immaculate condition, we automatically assumed the Flagsta
Oct 20, 2020
Very dark skies, pretty camping area (though crowded). Deluxe cabin was mostly clean, but under the beds was super gross, sink was clogged, dishwasher leaked water everywhere. Staff was very friendly.
Oct 19, 2020
We had a great experience. We only stayed one night but employees were nice and everything was very clean.
Oct 17, 2020
Another closer bathroom would have been nice, but overall we were very happy with the camping cabin. The swing was lovely.
Oct 17, 2020
The stay was good. When I reserved online it didn't say anything about all the stuff that was closed.
Oct 16, 2020
as always, we had a great time. our only issues where the sink in the cabin bathroom didn't really drain well and the stove top didn't really work well.
Oct 15, 2020
We had a good time and enjoyed the weather and beautiful surroundings. We would like to come again. We were disappointed that the bounce pad was not available and there were so few bikes for rent. Also, our cabin wasn't very clean. I only mention these things because otherwise I would have rated 5 stars.
Oct 11, 2020
We had an incredible time, we had stayed at your camp ground before but in a tent and with COVID having our shower and bathroom made it that much better.
Oct 09, 2020
The deluxe cabin was great and the camp ground friendly. Can't wait to staff again!
Oct 06, 2020
staff was great, camp sites are to closes together, camp kitchen was great idea, good easy trails in back of camp grounds , closes by markets, clean bathrooms, showers are nice and hot very short shower head placement. the best staff working there in flagstaff, way better than others we will be back
Oct 04, 2020
Stayed in a camping cabin. Needed cleaning and has a bug problem. Cute but the bed was so uncomfortable and hard.
Oct 04, 2020
Stayed in TP. Perfect with two little ones. They had fun on playground. Breakfast in morning on site was great. Bathrooms really clean. Very friendly staff.
Oct 02, 2020
Just amazing! Staff was very pleasant, felt very safe with the staff pro-trolling the area. The park was very clean included all the facilities.
Sep 27, 2020
Problem is no one at the facility answers calls after 8:00pm. We tried to leave a message for security no answer and voice mail was full. I left a message at the main number, regarding electricity in our cabin went out. We couldn't get any one in the facility to help, and lucky for us we found the problem to be circuit went out and we were able to restart the electricity. NO ONE EVER CALLED US!!
Sep 26, 2020
Loved it. All accommodations are amazing. We stayed in the wigwam.
Sep 25, 2020
Great time thank you.
Sep 21, 2020
too cloudy and dirty ,totally no personal space. staff not friendy. will never back again.
Sep 20, 2020
I love this KOA. Maybe the best one I've ever stayed at!
Sep 19, 2020
This place was amazing We stayed at deluxe cabins very nice cabins People on camping ground very nice Staff in office very friendly I really like the trail to hike beautiful views I would definitely recommend this place Close to Grand Canyon and Sedona
Sep 14, 2020
Very nice staff and clean restrooms.
Sep 12, 2020
One night stay so we could visit Walnut Canyon NM . Good área, quiet at night. Very very friendly staff in office. We stayed in Waptuki teepee Fun and a heater your Jeep ya warm at night � . All kinds of choices fir campers, RV, small cabins to big cabins. Definitely a great Koa experience!!
Sep 11, 2020
Teepee canvas appears to be very moldy. Consider power washing the canvas with bleach. Didn't feel very clean due to the moldy appearance. Other than that, Everything else went smooth.
Sep 08, 2020
Great stay overall. Campsites are quite close to one another however and it can be a bit noisy. Love the ammenities however which includes the cafe where we enjoyed a nice breakfast before hitting the road.
Aug 31, 2020
Loved it! Stayed in a teepee, we will definitely stay again. It will be our first choice for the area!!
Aug 29, 2020
Easy, friendly, very accommodating to our issues.
Aug 24, 2020
We stayed in the Sinagua Deluxe Cabin for one night. The front and side patios were very nice in a shaded area. The outdoor grill was nice too. The cabin was very expensive and the dishwasher and one of the stove's elements was not functioning. There were no cooking essentials such as cooking oil, salt and pepper. For the high cost of lodging the above mentioned items should be provided.
Aug 24, 2020
We enjoyed the cabin, but wished there was a little more room in the living space 3 adults and 2 kids was max amount of people for us. Our dishwasher was broken and the bouncing pad was closed. The kids enjoyed the park and bikes to ride! We would visit again and possibly try an RV next time. The staff was friendly and helpful.
Aug 23, 2020
Very clean! Will definitely be back.
Aug 23, 2020
First time in a teepee. Enjoyed it very much!
Aug 21, 2020
We were only in town for one night, but the bike rentals and hiking trails were perfect for giving us something to do. Plus our deluxe site, came with a bbq plus propane, furniture and a fire pit. We had a great time and would definitely stay here again!
Aug 18, 2020
The Flagstaff KOA is located in a beautiful area. It is right next to an amazing mountain. There is a park and bike rentals for kids.
Aug 17, 2020
We live this KOA, but it was our first time staying in a deluxe cabin. For the price of the deluxe cabin, the value is not there. The floors were dirty, the sheets on the pullout couch were not changed prior to our arrival (still on the bed), there weren't any glassware (just a few plastic wine glasses), etc. And right now, the bounce pillow and Korral were closed which was hard for the kids.
Aug 17, 2020
We stayed in a teepee for two nights, and that was the most wonderful camping experience of my life. The bathrooms were very clean, friendly staff, and a very peaceful nature trail at the back of the campground. My time in the Flagstaff KOA was glorious.
Aug 17, 2020
Had such a fun time staying a teepee with friends! Super friendly staff, clean campground and bathrooms, overall great stay!
Nov 24, 2020
Great customer service and very pet friendly. Lots of places to walk dogs.
- Jack B on Google
Nov 21, 2020
Great place to take the family
- Steve Kean on Google
Nov 18, 2020
Clean, friendly, and great forest access
- christopher rogers on Google

Flagstaff KOA
Open All Year
5803 North US Highway 89
Flagstaff, AZ 86004
Check-In/Check-Out Times
RV Sites, Tent Sites
Check-in: 12:00 pm, Check-out: 11:00 am
Accommodations
Check-in: 2:00 pm, Check-out: 11:00 am
Get Google Directions

© 2020 Kampgrounds of America, Inc.