Flagstaff KOA Reviews
Check the Current Status of Recreation and Amenities Openings During COVID-19
Directions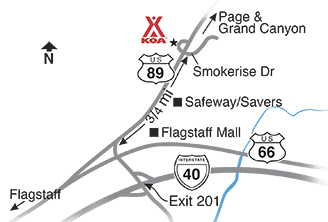 NE of downtown on 89N. From I-40 exit 201, 1/2 mile on US 89 to Page. Turn left at light at Smokerise Drive.
GPS: N35.234192, W111.575673
Fax (928) 527-8356.
Get Google Directions
Jul 06, 2020
Fab-U-lus!!! always good!
Jul 05, 2020
Overall, a very fun experience for me and my kids. The cabin was great. The trails were closed though, with no explanation sign at their entrance, which was disappointing. The main problem though was the staff on the day we checked in. The lady who "helped" us (Caucasian, middle age, Longer hair, yellow KOA face mask) was really rude to me.
Jul 04, 2020
We stayed in the wigwam cabin and had a great time. Friends came from scottsdale to visit us and we spent an enjoyable evening.
Jul 04, 2020
Loved the campground and tee-pee. The campground was set back in a rustic environment but close to amenities if needed. Very clean and cozy
Jul 04, 2020
No A/C in the cabin. It was very hot and hard to sleep.
Jun 30, 2020
I had a wonderful time it's my 6 visit to this site in the same cabin and I will be returning in September. And next month I will be at A KOA in Ludington, Mi.
Jun 29, 2020
Close to town. grounds were great, bathrooms clean and staff was friendly and helpful.
Jun 29, 2020
We loved our stay- the showers were great and tricycles were fun. We are excited to come back. We just wish there were more teepees available so our group could be together and the campsites weren't so close together.
Jun 28, 2020
Beautiful park. Lots of trees and shade. Friendly front office staff.
Jun 27, 2020
Very friendly staff and beautiful, quiet location. Perfect getaway in trees.
Jun 27, 2020
A fun time camping in teepee, eating a yummy Friday breakfast at Kamp Kitchen cafe... Helpful, attentive, accommodating employees.
Jun 23, 2020
We rented both an RV Full Hookup Camp Site and Family Deluxe cabin. Best Idea ever! We used the cabin in the middle of a 5 day trip to take a break from the RV and relax in a full kitchen, bathroom, patio steak dinner cabin camping experience in the pinewood Forrest. The staff members, Club house, general store and breakfast grill menu items were all amazing!
Jun 22, 2020
It was great! Kids loved the playground. They were a bit disappointed the jumping pillow was down, that was what they were looking forward to the most.
Jun 17, 2020
Absolutely beautiful!
Jun 15, 2020
Informed the front desk that the fridge wouldn't keep food cold. All meat was ruined. Called maintenance and they just said "sorry we can just take an amount off" which didn't happen. Chips popcorn and crackers left in sofa sleeper, bunk beds, and queen bedroom. When asking the staff of bedding is cleaned they said yes. And said well sorry we can let someone know about the fridge. For $300
Jun 09, 2020
The park was very clean and the staff was very nice. They were doing extra cleaning due to COVID.
Jun 08, 2020
For 2 nights we were in a tent site and it was amazing! On the last night we stayed in the deluxe cabin and it was so beautiful and I can't wait to come back!
Jun 06, 2020
We stayed in one of your deluxe cabins. The cabins are adorable with great patios and fire pit areas. However the inside of the cabin was filthy. Tremendous amount of dirt by and under the sofa sleeper. Dirt and dust on top of coffee pot and fridge. We found a dead mouse under the bathroom sink and shower dripped terribly. With that said the staff is amazing!!! We will be back
Jun 06, 2020
The cabin was nice enough for our needs. It was hot, though. We appreciated the fan. I loved the dog walk trails. Bathrooms were clean.
Jun 04, 2020
This was our first time staying at a KOA. Despite a minor issue with a bed in the camping cabin, it was a great one-night stay! My family will be back :)
Jun 03, 2020
Other than some things being closed to covid it was clean and fun experience
May 28, 2020
The kids had fun, wish the park was open...great cabin, fire pit and staff. Very clean, will stay again
May 27, 2020
The amenities were appreciated, that I'm grateful for. The teepee was fun w/decent space however the inside walls had dirt spots and made me nervous for its potential for fungus, mold, cocci? A wipe with a paper towel proved that pressure wash could remedy the potential for an illness. I did take family pictures & was disturbing to see these spots.
May 26, 2020
Stayed in the Tee-pee. Very clean and comfortable. One concern was at the bicycle rental. Staff did not sanitize each bicycle after they were used. The staff was friedly and helpful. The breakfast crew was awesome!
May 20, 2020
Great staff and a nice location. Will stay here again for sure.
May 18, 2020
My issue is that the rules were not enforced for every one. There were several campsites with wood fires going that were not told to put them out but the guy next to me was told not to use charcoal in his grill... The camp site on the other side of the way from me had 8 kids and three adults at one campsite and they were screaming till midnight. Otherwise, it would be a five star.
May 11, 2020
The beds in the KOA Kabins are terrible. Extremely firm and uncomfortable. Outside of the bed everything else was acceptable.
Apr 24, 2020
My favorite KOA in Arizona. Clean grounds, amenities and very friendly staff. Even though the playground, clubhouse and blob were closed, our kids still had fun hiking the trails nearby and riding their bikes. Our two dogs also enjoyed the dog park and walking the trails. We stayed in a camping cabin this time around and it had wonderful views and was super cozy on very cold nights.
Apr 13, 2020
Great little cabin. Beautiful hiking trails.
Mar 12, 2020
Love the playground!
Feb 22, 2020
One of the burners on the stove was broken. Otherwise good stay.
Feb 05, 2020
Good. I would have wished that the overhead light in the cabin worked and that the p0rch light worked as well. Very dark coming back at night. Was the TV supposed to work? If not, then I would advise removing it.
Feb 04, 2020
Front desk and camp ground staff were very friendly and helpful. The cabin was clean, but I think the heater was going bad :( it wasn't keeping the room very warm. Bathrooms were clean and the grounds were quiet. I love this KOA and will stay there many times in the future.
Jan 06, 2020
This was the 4th KOA that we stayed at and was the worst. We came very late to very cold bathrooms. The others were so warm and cozy, I thought the cabin would be warm but it was miserable. There wasn't a heater on though we had called to let them know we would be late. The heater provided never warmed the room in the 6 hours we stayed and this site was as much as the hotel room we rented next
Dec 31, 2019
We stayed in a deluxe cabin and it was beautiful and very cozy. They had space heaters which were more than enough! Tons of snow on the ground but they do a good job cleaning off drive way. Only complaint I had was the bathroom smelt like gas or cleaner really bad. We had alarms so we knew it was safe but we had to keep the window open to air it out, which made it freezing. Would stay again!
Dec 30, 2019
First time staying at a KOA and we thoroughly enjoyed the Wigwam cabin. It was exactly what we needed for our trip.
Dec 23, 2019
Showerhead was dripping splashing water on rug, had to take it outside. Looked like a used towel hanging in bathroom. Went to bed noticed a large amount of dust on fan, afraid to turn it on might get a dust shower. Cob webs growing in corners. When leaving the room looked under the bed dust bunnies Galore. Not a very pleasant stay.
Dec 16, 2019
Everything was clean and cozy. We would absolutely stay again!!
Jul 03, 2020
Wish we could have stayed longer. The area and campground were great. Showers were user friendly with separate changing area. Bring leveling blocks as many spaces weren't level.
- Glen B on Google
Jul 08, 2020
Was a very Nice stay
- Ricky Harmon on Google

Flagstaff KOA
Open All Year
5803 North US Highway 89
Flagstaff, AZ 86004
Check-In/Check-Out Times
RV Sites, Tent Sites
Check-in: 12:00 pm, Check-out: 11:00 am
Accommodations
Check-in: 2:00 pm, Check-out: 11:00 am
Get Google Directions

© 2020 Kampgrounds of America, Inc.