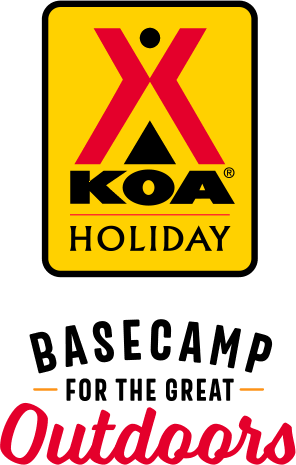 KOA Holiday Campgrounds
Whether you're exploring the local area or hanging out at the campground, KOA Holidays are an ideal place to relax and play. There's plenty to do, with amenities and services to make your stay memorable. Plus, you'll enjoy the outdoor experience with upgraded RV Sites with KOA Patio® and Deluxe Cabins with full baths for camping in comfort. Bring your family, bring your friends, or bring the whole group – there's plenty of ways to stay and explore.
KOA Holidays Feature:
RV Sites with a KOA Patio®
Deluxe Cabins with full baths
Premium Tent Sites
Group meeting facilities
Directions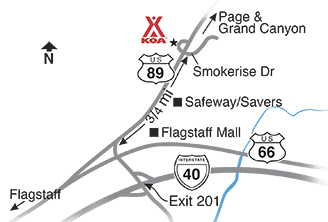 NE of downtown on 89N. From I-40 exit 201, 1/2 mile on US 89 to Page. Turn left at light at Smokerise Drive.
GPS: N35.234192, W111.575673
Fax (928) 527-8356.
Get Google Directions
Jul 27, 2021
Cabin did not have patio space, nor fire ring. Would not recommend staying in a cabin. Huge camper at site across the road had all the outdoor comforts they also have inside the huge camper. Did not make sense to us. Camping spots too close together.
Jul 27, 2021
STAYED IN TEPEE WAS COOL .
Jul 25, 2021
We stayed in one of the teepees. It was not weatherproof and due to my own knowledge of teepees I know the flap was placed incorrectly on the inside. The canvas leaked on the sides and the pole hole let in an absolute flood of water. The entire top bunk was soaked and water ran on us all night. Our items were soaked. When we told staff the next day nothing was done to help.
Jul 22, 2021
This was my first time at a KOA. The staff and facilities were stellar. Thank you and all the employees that work to make the KOA so welcoming and comfortable. :)
Jul 12, 2021
We enjoyed almost everything about the facility and our cabin, however the AC unit that was in our cabin was not working correctly which was really frustrating each evening when we wanted to spend any time indoors and it was too hot (also sleeping in the heat was not our expectation when we reserved the cabin). Other than that unfortunate problem, the cabin and campground were very nice.
Jul 09, 2021
Cabin felt very dirty. Park was very cramped with limited bathrooms.
Jul 09, 2021
Great stay! Fun things for the kids to do, dog run for the pup, and hiking trails immediately behind our cabin. Can't wait to come back!
Jul 09, 2021
Stayed in a cabin, beautiful views. Lots are a bit close together. Lots of kids activities - park, bounce pad thing, bikes for rent, fun gift shop. Location was close to amenities, which can be good or bad depending on what you're wanting. I liked that it butt up to a hiking trail. Very cool. The cabinets should really have AC in the summer …it was pretty brutal at 98.
Jul 07, 2021
Cabin and facilities were nice, including breakfast truck. I had an electric vehicle, and limited charging operations were available. Would be great if that could be better accommodated.
Jul 06, 2021
Dish wash area a bit beat up and dusty… great breakfast at lamp kitchen!
Jun 28, 2021
We stayed in a teepee onsite and it was such a cool experience! We would definitely do that again. The staff upfront were very friendly and helpful!
Jun 24, 2021
I stayed in one of the rustic cabins and had a great stay. The staff is very friendly. The trash cans were emptied several times a day so they were never overflowing. Restrooms and showers are very clean. In general, the campground could use a little TLC, but I would stay here again.
Jun 22, 2021
Great stay, very clean. We really enjoyed the breakfast kamp kafe. The staff was really helpful with information about visiting the Grand Canyon.
Jun 21, 2021
This was our first time staying at a KOA. It was a great experience. We were very happy to see no employees wearing a mask. We will be back to stay with the whole family.
Jun 20, 2021
Great breakfast at the Kamp Kitchen. We'll be back.
Jun 15, 2021
Staff was very friendly, and park was quiet at night.
Jun 13, 2021
Super good time! Staff is so helpful and kind
Jun 11, 2021
Our stay was absolutely wonderful. The staff was great they were on top of everything. The ladys at the breakfast nook were great cooks. Cabin was just what we were looking for and everyone was very friendly around the campground!!
Jun 08, 2021
Nice stay, check in was easy. We stayed in a cabin, it needs some work , but it was enjoyable! The bathrooms need some help, only one shower worked and the bathrooms were out of to. The handicap ramp kept popping up on you and I almost fell. The playground is great! Would stay again.
Jun 05, 2021
Overall very good. Stayed in a cabin. Would have preferred a ceiling fan over a TV.
Jun 01, 2021
I thought the campground was nice but unfortunately very few of the kids activities mentioned on the website were available-no jumping pillow, train, movie or game room. These were the reasons my family came and it should be removed on your website if these things are no longer available.
May 31, 2021
My daughter and I had a wonderful time staying in a Teepee at the Flagstaff KOA, This KOA was very clean and the staff very helpful and friendly, thank you again for all the fun :) Best Regards, Ron Lynn
May 22, 2021
It was great
May 22, 2021
My sister, 83-year-old mom & myself stayed in one of your large teepees! What a fun experience. We loved being among the trees and enjoyed the hiking trail that started right from the campground. The breakfast at the Cafe was so yummy, and ALL the staff we encountered were friendly, knowledgeable.
May 22, 2021
Fabulous, love the little cabin and the coffee shack - such a great idea for morning coffee and breakfast. All staff were friendly, competent, helpful, and represented you well. Thank you.
May 19, 2021
We LOVE Flagstaff KOA!! We've traveled thousands of miles, stayed at several KOA's, & Flagstaff KOA is in the top 3!:) The facilities are super clean, bathrooms are heated, all Staff are very welcoming, friendly & helpful & the views are spectacular!! We're looking forward to returning soon! Thanks for a most wonderful experience!!:) Larry & Annamarie
May 17, 2021
The cabin was perfect for us and enjoyed our stay.
May 16, 2021
We stayed 2 weeks in total at an rv site and camping cabin. The staff was very helpful and went above and beyond. They were always friendly and even printed paperwork for us last minute- + delivered. This was our first KOA experience, it will be hard to beat. Downfalls were the jumping pillow is broken still from last season and of course covid related stuff that is out of the KOA's control.
May 07, 2021
The bathrooms are bad. They are dirty and the showers were unpleasant to use. Our teepee had mold on the walls. I have pictures if you would like to see. The teepee door strings were ripped. I had to tie them back together the best I could to feel safe sleeping inside. The only thing we enjoyed was the hiking trails available in the back
May 03, 2021
My family and I enjoyed our stay. Our cabin was clean inviting and restful. Only 1 thing I would ask, how possible would it be to put ramps everywhere there are steps, the cabins and store. There are 3 handicap family members, 1 cane user, 1 walker user and 1 who suffers with arthritis in the knees....ramps would give us more freedom to enjoy the beautiful fire side patio.
Apr 28, 2021
Was exciting staying first time in a Teepee. Clean restroom and well kept. The staff were very nice to mention Darian always helping our stay and adventure more pleasant.
Apr 28, 2021
They were very accommodating and quick to get us squared away.
Apr 25, 2021
Short stay, staff was helpful, facilities were clean. Great selection of essentials at the store. Convenient location to other needs in Flaggstaff
Apr 25, 2021
Great stay, staff did all they can to accommodate customers.
Jul 24, 2021
We have stayed in quite a few RV parks and this one was great! I see why KOA's are so highly recommended. Had to do a bit of leveling but loved how many trees and things for the kids, felt very at home here. Would recommend!
- Marissa Shipp on Google
Jul 24, 2021
About a month ago my Wife and myself truck a/c went out and we only had one night there at the Flagstaff KOA. We needed a longer stay and they went and made accommodations for us. We has to stay an extra 3 nights their staff went out of their way. Wanted to thank them.
- Mike Garcia on Google
Jul 22, 2021
Great employees. Nice location near Elden mountain
- Michael Karberg on Google