Directions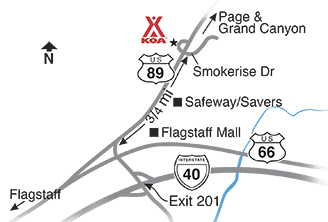 NE of downtown on 89N. From I-40 exit 201, 1/2 mile on US 89 to Page. Turn left at light at Smokerise Drive.
GPS: N35.234192, W111.575673
Fax (928) 527-8356.
Get Google Directions
Oct 08, 2020
I have been camping at at the Flagstaff KOA since I was a kid, 40+ years ago. I now bring my family. We made made 3 trips up here this summer. Even though some of the kid friendly activities were not offered (due to pandemic), we all enjoyed our stay. The staff are friendly, the grounds are kept clean, bathrooms are clean. Location is perfect for access to Flagstaff amenities.
Oct 07, 2020
I just stayed the one night. I was on my way to Colorado and just needed a stop over. I stayed the night in my SUV and I was comfortable. I only needed the bathroom and I was up and on my way in the morning. I appreciate the safety of your KOA and the service.
Oct 07, 2020
The camp was very comfortable with clean facilities with showers and hot water. The staff was very polite and helpful. I had a good experience to stay there, Thank you.
Oct 07, 2020
My family and I were traveling West and glamping along the way. We decided to pitch the tent at the Flagstaff KOA and were we really happy we did. The KOA offered a hot breakfast and the lady chefs made some great food. We felt like this was the first real meal we had in over two weeks on the road. The bathrooms were clean and the playground was a welcome site for my two kids. Absolutely wonderful
Oct 07, 2020
Trains &.traffic...noise No shade camp was unbearable for 9 hrs People.checking in all hours of the night. Left early
Oct 05, 2020
It was a great site easy check in ! Scott was super super helpful !
Oct 05, 2020
spots are a little close together however this is a nice place to stay. Very clean and friendly
Oct 05, 2020
Was AWESOME n Thk U
Oct 03, 2020
It's clean enough but it's just so tightly packed. You hear every whisper and rustle. People were respectful and quiet though. It's a good enough stopover while traveling but for rent camping, I wouldn't stay more than one night. They are following all Covid-19 guidelines though and as I said, everything there feels very clean.
Oct 02, 2020
Got there late but my spot was ready, bathrooms clean, so was shower. Can't really say nothing bad I only spent the night but as far as my stay it was good.
Oct 01, 2020
I wish it had been for now than just overnight. Planning a longer stay with family for next year. Cannot wait to be there again!
Oct 01, 2020
Neighbors had their lights on all night. Was hard to sleep in our tent with the bright lights. :(
Sep 29, 2020
There had been an issue with people partying till 2am and when it was brought to the offices attention they resolved the issue immediately.
Sep 29, 2020
This is our 4th time staying here and we have never stayed in this space. I don't know why they gave us this one when the others were all open. Our tent pad was right next to the people's RV next us dump.
Sep 27, 2020
As always I loved my stay. Very peaceful. I took my brother from out of state camping for the first time and He absolutely loved it.
Sep 27, 2020
Came to get away from Phoenix and work remotely. WiFi was surprisingly reliable, which was a necessity for me. Very pleased with that. Bathrooms were kept up. However, the tent site was nestled in between two RV sites. I had literally ZERO privacy or room. I had my tent and table all setup about 10ft apart from my neighbors with no separation. This should be one site, not two. Ridiculous.
Sep 27, 2020
Large group was partying and playing music until 1am! I thought quiet hours started at 10pm?? Electrical outlet was not at my site. Had to share with unit 126 Mulch pad is not good when windy. Stakes don't stay in.
Sep 27, 2020
Good except for the noisy group across from us. Wouldn't shut the f up until 2am. Called security and no answer.
Sep 26, 2020
I am on a cross country trip to visit family. I am ot comfortable with flying in an airplane now days, so I elected to do a quick road trip. I checked in late and left early, so I didn't have time to really check out the campgrounds. Reserving, checking in were smooth and efficient. I was surprised that 50% of the guests wore masks though pleased that 100% of the staff wore masks.
Sep 24, 2020
The camping was FIREEEE, would recommend.
Sep 22, 2020
Loud party until 0100 am.
Sep 22, 2020
The tent sites are too close together and too many. There were many large groups or mixed families together and was not peaceful at all. The bathrooms had no paper towel dispensers so you were touching soggy paper towels. The shower heads are about 5 ft high so had to crouch down to use them.
Sep 22, 2020
We love this KOA. Clean and comfortable. The staff is awesome. Will come back very soon.
Sep 22, 2020
Beautiful location, great prices, lots to do and high quality showers and laundry. The staff were friendly and fast with check in, the store has a lot to offer. An RV checked in late next to our space and he couldnt find his power, we couldnt find ours either. Check to make sure you have power in your space before you start set up if you aee a late arrival as not to disturb other campers.
Sep 21, 2020
We chose this campground for the annual KOA member appreciation weekend. It's close to everything we like to do in Flagstaff and is easily accessible. Bummed that all of the kids activities were closed due to Covid-19 except for the playground. Don't understand why kids can climb all over the playground but can't play on the jumping pillow or enjoy a train ride. Overall we were content.
Sep 21, 2020
Beautiful setting with easy access to hiking trails, however very crowded w/limited facilities (bathrooms & showers). Lax enforcement of quiet time. Lots of noise late into the night, at least when I stayed there.
Sep 21, 2020
Thanks so much! Breakfast was great and our camp site was clean and well maintained.
Sep 14, 2020
Our tent site was well maintained and all facilities were super clean! Nice upgrades being made to the property.
Sep 14, 2020
Overall pleasant. On my final night there were a group of kids running around late in the evening, banging on camper windows. Loud music til nearly midnight and saw a few large campfires going even though they weren't allowed. The place is very nice and clean. Easy to get to local places. The hiking trails were top notch.
Sep 11, 2020
The place is great with just a few items, other than a few things, that were out of your control. Unfortunately it did not feel like camping just because its so close to the street and I heard every car and truck in the night. Also I called 2 nights prior and asked about camp fires, and it was allowed, then we checked in and it was not allowed or even BBq's. Too Cold so we checked out 1nt early.
Sep 11, 2020
Loved the Campground! Only complaint is the restrooms are a little far from the tent camping. Would definitely return!
Sep 11, 2020
Very accommodating. Nice campsite, people friendly and a lot to do.
Sep 09, 2020
My dog and I liked the trails but the camping spots were to close with no privacy for the cost.
Sep 08, 2020
First time staying in a koa campground and we loved the experience. Knowing the many opions we have all around the country.
Sep 08, 2020
It was fun, nice showers and bathrooms lot of people there though right next to a roadway
Sep 07, 2020
Every thing was perfect. Except for ONE person je was a worker he drives the Golf Cart he is white Male older and wears sunglasses and has dirty blond long hair to his shoulders. He would drive by our camp site and stare at us. Then he stopped by and picked up a piece of trash by us and shook his head. I asked him if he could help on cleaning out our fire pit but he NEVER did. I cleaned our site
Sep 07, 2020
The campsite located right next to the highway made for a noisy night the campground was cramped with not much room per campsite overgrown weeds a dying peach tree from the neighbors yard and our 8 person tent didn't even fit on the designated tent pad. No shade to hot to enjoy never again.
Jan 06, 2021
Beautiful park nice people
- Cathy K on Google
Jan 02, 2021
Great "woody" location. Staff is always friendly and helpful. I seem to camp there frequently because of its distance from LA.
- Stephen Lindsey 2112 on Google
Dec 29, 2020
Super nice KOA. Love the amenities, nice store and backdrop of a mountain is awsome.
- Marc Peterson on Google